IVG 2400 Disposable Vape Review: A UK First with 8mL Capacity

The vaping landscape in the UK faces regulatory limitations unseen in other markets, notably the Tobacco Products Directive's (TPD) 2mL maximum e-liquid capacity for disposable vapes. While restrictive, one brand leveraged innovation to create an extended capacity disposable that adheres to the rules.
IVG, a renowned UK e-liquid manufacturer, tackled the challenge head-on with their groundbreaking 2400 puff disposable vape – the IVG 2400. By utilizing a multi-pod format, they've provided vapers with over 3 times the typical disposable's juice capacity along with the freedom to swap flavors on the fly.
Let's dig into the clever design that enables the IVG 2400 to maximize both battery life and e-liquid volume under the confines of TPD regulations.
IVG: A UK Vaping Staple Blazing New Ground
As one of the UK's premier e-liquid companies going back over a decade, IVG has cemented themselves as a vaping staple for their diverse flavor portfolio. Their commitment to quality ingredients and smooth nic salt formulations built a loyal customer base across the nation.
The IVG 2400 represents their first foray into hardware, demonstrating the brand's knack for innovation. By working within limitations to enhance the user experience, IVG shows a customer-centric ethos that shaped the multi-pod disposable concept.
Rather than lament the TPD's restricted 2mL e-liquid allowance, they brainstormed a solution using the separate pod loophole. This novel approach embodies the resourceful mindset IVG poured into developing an extended capacity disposable for the UK market.
Unboxing and First Impressions of the IVG 2400
When my IVG 2400 test unit arrived, I was eager to see if it matched the expectations set by its bold claims. The disposable arrives cleanly packaged inside a rectangular paperboard box colored in IVG's signature white and blue branding.
Inside, the 2400 device itself awaits – along with four pre-filled pod cartridges containing 2mL of nic salt e-liquid each. Right away, the 2400's imposing proportions grabbed my attention. It measures a staggering 127mm in height – practically mini flashlight dimensions!
The durable plastic and metal construction also gave it some serious heft. While intimidating at first glance, the size results directly from the 2400's revolutionary multi-pod extended capacity design.
And despite the ginormous scale, the 2400 remains just portable enough for public use if you have roomy pockets. But there's no denying this disposable's imposing first impression.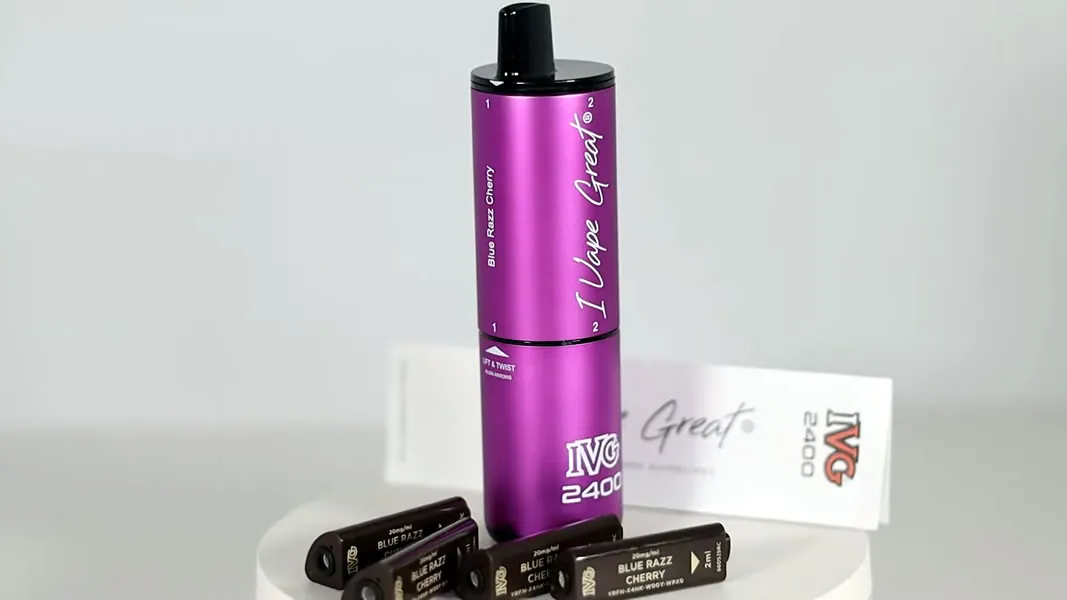 Clever Pod Carousel Design Prevents Interruption
Here's where the IVG 2400 displays sheer ingenuity – the pod carousel. Eliminating disposable vaping's cardinal sin – sudden vapor cessation when pods run dry – it enables seamless switching between 4 flavors.
A quick twist of the mouthpiece rotates the next pre-loaded pod into position, providing continuous vaping enjoyment. You always have 75% of your juice capacity remaining. No more being stranded podless!
The retro feel of cycling through pod selections evokes memories of switching between colorful pens by clicking the top. It feels oddly nostalgic while providing obvious advantages.
By essentially integrating 4 complete disposable vape systems into a single device, IVG overcame limited capacity. The pod carousel distills the benefits of a multi-device setup into one convenient package.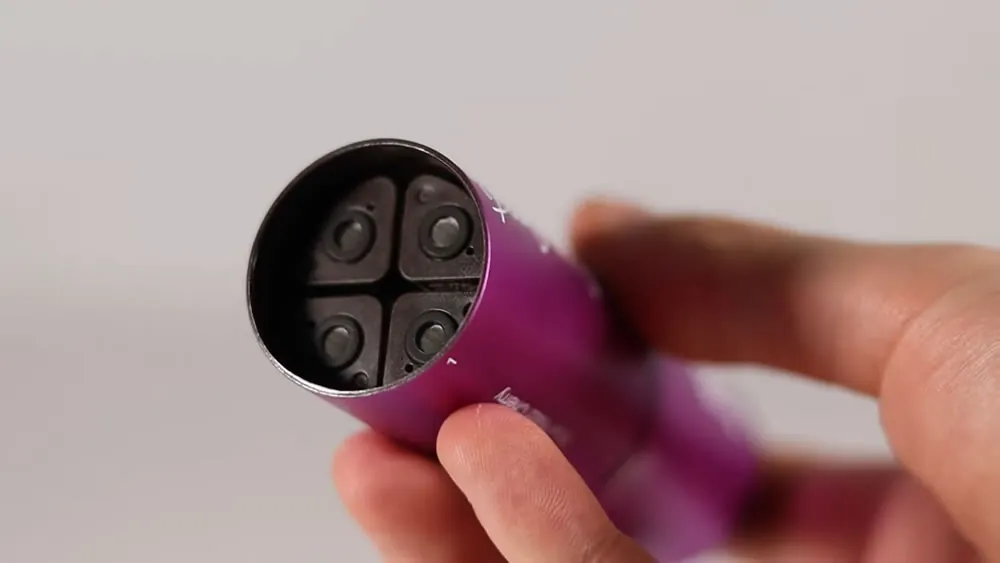 Maximizes Battery Life and Puff Count
Constructed of plastic with a metallic aesthetic, the IVG 2400 measures 127mm tall by 32mm wide. The enlarged proportions compared to standard disposables result from the multi-pod internals. But it retains a slim, pocket-friendly silhouette.
The mouthpiece provides a subtly looser draw that still elicits robust flavor. And the auto-fire functionality enables easy vapor production without pressing buttons. Just take a puff and vape.
The 1500mAh battery should satisfy most vapers, but heavy users may deplete it before consuming all pods. I squeezed just over two days from the non-rechargeable cell by puffing steadily. Battery life ultimately aligns closely with the e-liquid capacity.
By integrating a rotary pod system into a enlarged yet slim automatic disposable format, IVG hits the sweet spot between battery life and juice volume. The IVG 2400 maximizes both within a portable, user-friendly package.
Nic Salt E-Liquid Profiles Cater to Diverse Tastes
IVG's e-liquid mastery shines through in the IVG 2400's flavor offerings. Ranging from cool minty blends to creamy tobacco varieties, over 20 nic salt options exist. Having tried numerous selections, the authenticity and layering impressed me.
The fruity flavors exhibit especially remarkable accuracy – juices like Blue Raspberry Ice and Fizzy Cherry capture an uncanny nostalgic essence. Icy undertones featured prominently, adding cooling dimension to the sweeter varieties.
The four included pods in the Multi Flavor Editions provide an exemplary starter option to sample IVG's range. I'd love to see additional nicotine strengths beyond the current 20mg offering to further extend the selection for different users.
By honing exemplary flavors perfect for pod-based systems over a decade, IVG had a deep well of sensational e-juices to draw from for their innovative hardware debut.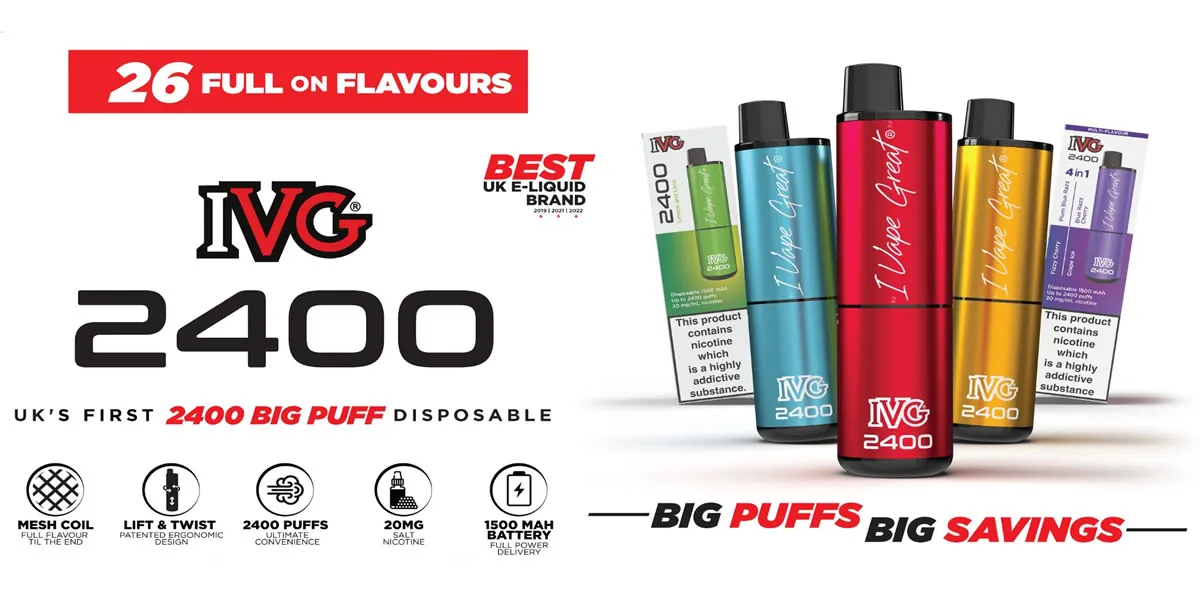 Top 5 IVG 2400 Flavors Reviewed
After extensive use, these five flavors emerged as my top picks:
Multi Flavor Blue Edition
This flavor variety pack provides four tantalizing berry-focused options: Blue Raspberry Ice, Blue Fusion, Ice Pop, and Professor Blue. It showcases a spectrum ranging from candy sweet to tart and fruity.
The blue raspberry leans sugary while the blue fusion evokes fresh-picked berries. The icy popsicle flavor cools the palate as professor blue intrigues with botanical notes. Enjoy immersing your tastes in this wheel of berry profiles.
Lemon Lime
Embark on a vibrant citrus journey with this sun-kissed blend. The bracing lemon opening immediately awakens the senses, calling to mind wandering through lemon groves under the Mediterranean sun.
The lime provides a wave of additional zest, a ripple of sweetness and tartness across the palate. A touch of chill concludes the experience, as if a cool coastal breeze just swept through the orchards. This renewing profile promises aftertaste as bright as its flavors.
Fizzy Cherry
Indulge memories of leisurely sipping a fizzy cherry soda on a nostalgic summer day. The profile captures the essence of cherry at its juiciest ripeness – a balletic dance between sweet and tart.
The frivolous fizz introduces a spritz of playfulness with every puff, reminiscent of those first crackling sips from a freshly opened glass bottle. A touch of frost on the finish evokes beads of condensation running down the glass.
Blue Raspberry Ice
Revisit the whimsical world of childhood treats with this blissful blend. Sweet yet tart candy blue raspberry takes center stage, calling to mind those coveted artificially hued gummy treats.
Each puff unwraps a burst of flavor nostalgia. The cooling top notes sharpen the saccharine raspberry, adding frost reminiscent of freezer pops. This icy joyride elicits smiles with every pull.
Blueberry Fusion
Embark on a stroll through the misty depths of a blueberry patch at dawn. Plump blueberries dominate, evoking the experience of plucking freshly ripened berries still covered in dewy droplets.
Hints of tartness add depth, capturing both facets of the berry. The lingering chill brings to mind the dissipating morning mist as the sun rises over the patch. This authentic flavor profile transports you back to the source.
An Upgrade Over Standard Disposables in Every Regard
Despite a larger silhouette, the IVG 2400 improves upon disposables in every meaningful metric:
E-Liquid Capacity: 8mL total across 4 pods trounces typical 2mL
Puff Count: 2400 puff rating dwarfs the 600 puff average
Battery Life: 1500mAh lasts over 2 days for many users
Flavor Variety: 20+ juice options with multi-pod ability
Cost Savings: Just £12.99 versus £6-8 for 2mL competitors
By coupling extended capacity with diverse flavor options, IVG manages to enhance both the longevity and enjoyment of the disposable vaping experience.
The fact that they expertly pulled this off within the challenging TPD regulatory environment makes the achievement even more impressive. IVG found a way toThink different and provide more for UK vapers when limitations said otherwise.
How to Use IVG 2400 Disposable Vape
IVG 2400 uses a 4 chamber revolving system which allows the user to insert 4 pods into one device. Each pod can give up to 600 puffs totalling a massive 2400 puffs whilst still being legal according to the TPD law.
Using the 4 chamber system, users are able to carry 4 pods with pre-filled 20MG nicotine salt inside and switch pods whenever you like! You can also buy multi flavour packs to ensure you never get tired of vaping the same flavour!
IVG 2400 Disposable Vape Review Summary
Pros
Pioneering reusable pod design that redefines longevity
A truly monumental 2,400 puff capacity
Satisfying vapor production from the mesh coils
Precise and multidimensional IVG flavor replication
Smoother draw than average disposables
Cons
Battery falls just short of lasting all 4 pods
The substantial size may deter more discreet vapers
Final Verdict
By consistently vaping the IVG 2400 until the battery fully depleted, I gained an intimate understanding of its capabilities. The novel multi-pod implementation stands as a design triumph, eliminating disposable vaping's biggest nuisance.
Between the flavor variety, extended capacity through clever engineering, and compact yet user-friendly format, IVG nailed their ambitious goal. Creating a better disposable vape within the confines of stringent TPD regulations is no simple feat.
The IVG 2400 manages to provide nearly triple the puffs and e-liquid of standard disposables using sheer ingenuity. When restraints demanded limitations, IVG envisioned possibilities – a mindset that UK vapers will surely be thankful for.
https://ecigator.com/wp-content/uploads/2023/10/1696187107-IVG-2400-Review.png
650
1200
Ecigator
https://ecigator.com/wp-content/uploads/2023/04/ecigator-logo-white.png
Ecigator
2023-10-01 19:35:18
2023-10-05 14:54:57
IVG 2400 Disposable Vape Review: A UK First with 8mL Capacity