Lost Mary BM600 vs BM600S Comparison – Which Is Better?

The Lost Mary BM600S recently debuted as an upgraded successor to the venerable BM600 disposable vape. With cutting-edge new technology inside, does the BM600S improve upon the original? We put both models through rigorous side-by-side testing to compare all aspects from performance to flavor. Read on to see how these two disposable legends stack up.
As experienced vape manufacturer, our team knows a quality disposable when we see one. We put the venerable BM600 original and its revamped BM600S successor through extensive hands-on testing to find out if the upgrade claims ring true. Here's how the two legends stack up.
Shared Traits and Signature Styling
Despite changes under the hood, the Lost Mary BM600 and BM600S share many core characteristics that define the series:
Sleek, stylish exterior with colorful gradient design
Compact, slim dimensions for superb portability
350mAh battery capacity for satisfying longevity
2mL TPD-compliant prefilled nic salt pods, 20mg strength
Approximately 600 puff rating before performance fades
Draw-activated firing for easy pull-to-vape operation
Tight MTL draw catering to cigarette smokers
Recyclable construction using quality materials
These well-balanced attributes established the Lost Mary BM600 as a top-tier disposable vape. The visually striking exterior conceals robust performance perfect for on-the-go use. But the BM600S promises meaningful upgrades under the surface.
BM600S Enhancements – Next-Gen QUAQ Mesh Coils
While retaining the BM600's core DNA, the BM600S distinguishes itself through advanced new QUAQ mesh coil technology: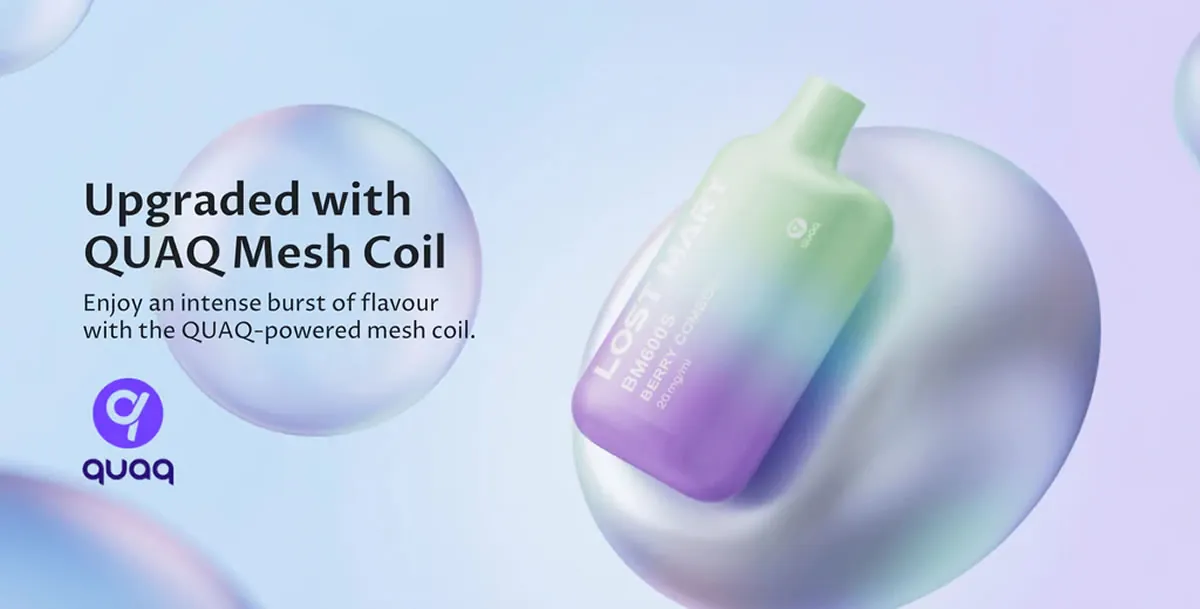 Superior Flavor – Precision mesh heating optimizes taste accuracy.
Smoother Draw – Innovative wicking prevents dry or burnt hits.
Improved Atomization – More abundant, satisfying vapor production.
Extended Coil Lifespan – Consistent quality through the 600 puffs.
Less E-liquid Waste – Efficient wicking design.
This system aims to enhance multiple aspects of the vaping experience. But does it deliver noticeable improvements compared to the venerable BM600? Our testing would reveal the truth.
JUAQ Tech Delivers Pure, Powerful Performance
Right from my first draw, the BM600S proved the upgraded QUAQ tech is no mere gimmick. Compared to my trusty BM600, vapor poured out more readily and abundantly from the innovative coils.
Flavors like Strawnana Blackcurrant tasted crisp and accurate without muddiness from the very first puff. And the vapor remains smooth and consistent for the entire 600 puff lifespan. No burnt or dry hits even when the pod nears empty.
The BM600 performs admirably given its older coil design. But side-by-side, JUAQ technology provides unmistakably smoother, purer, and more potent vapor production. The difference is analogous to switching from a cheaper vape pen to a high-end mod.
For disposable vape fans, the BM600S delivers a clearly elevated experience thanks to expert engineering. The advanced coils translate to real-world improvements that make vaping more satisfying.
Flavor Variety – BM600 Leads For Now
One advantage the BM600 maintains over its successor lies in the wider selection of flavor varieties currently available.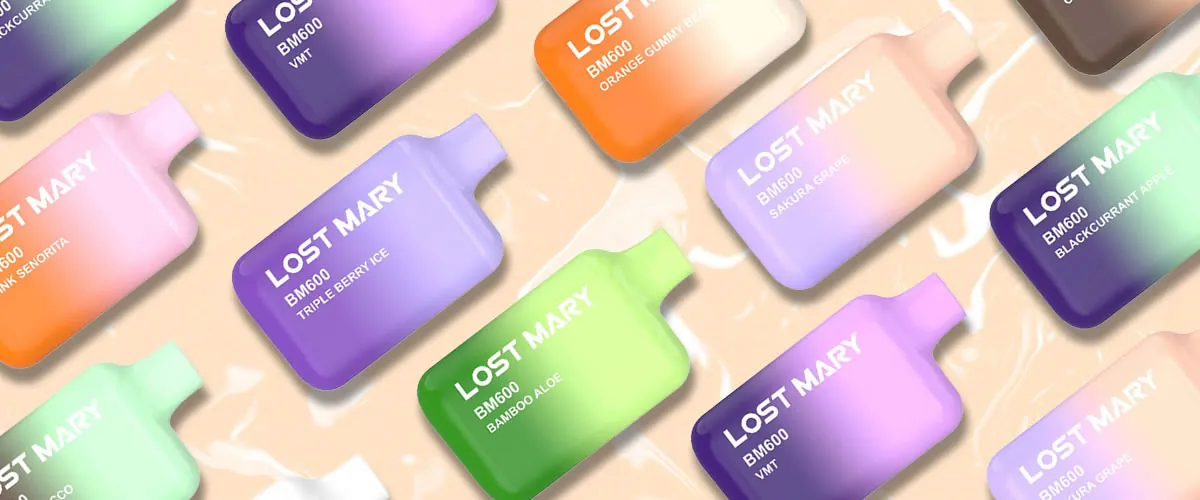 The BM600 comes in 34 different flavor options spanning fruity, minty, dessert, and candy flavor categories. This extensive menu ensures every vaper can find profiles suited to their tastes.
The new BM600S only offers 4 flavors so far:
Pina Kiwi Lemonade
Strawnana Blackcurrant
Apple Watermelon
Berry Apple Peach
More BM600S flavors are likely in development. But for now, its limited lineup compare to the BM600's flavor smorgasbord.
However, the JUAQ coils make the existing BM600S flavors shine with purer, more accurate taste. So it ultimately comes down to variety vs. optimal flavor experience.
Read more: Top Lost Mary BM600 Flavors Review
Performance Comparison
The BM600S's engineering upgrades create tangible performance improvements:
Smoother draw – No burnt hits thanks to efficient wicking
Richer vapor – Enhanced atomization increases cloud density
Better longevity – Coils maintain consistent quality through all 600 puffs
Improved flavor – Crisp and accurate without muddiness
The BM600 performs well for an older model. But the BM600S's advanced technology provides a clearly elevated vaping experience.
Battery and Pod Details
Both models contain 350mAh batteries sufficient for a day's steady vaping. Larger capacity batteries would boost longevity further but reduce compact portability.
The 2mL TPD-compliant prefilled nic salt pods use 20mg nicotine. This satisfies smokers accustomed to potent cigarettes. Lower strengths may suit some vapers better, but 20mg aligns with target demographics.
Final Verdict – BM600S Elevates the Series
Through extensive testing and evaluation, I can confidently say the Lost Mary BM600S improves upon the venerable original across critical areas:
Smoother, more satisfying vapor production
Optimized flavor accuracy and consistency
Enhanced longevity with no burnt hits
More abundant vapor from the upgraded coils
The pioneering JUAQ mesh coils make good on the promise of a superior vaping experience. Lost Mary wisely retained the BM600's successful formula while innovating under the hood.
That said, the BM600 still leads in flavor selection – for now. But the BM600S makes the most of its limited flavors by extracting optimal taste.
Considering the meaningful performance upgrades, the Lost Mary BM600S emerges as the new disposable vape to beat. Vapers seeking the ultimate convenient experience will find satisfaction with this next-gen model.
https://ecigator.com/wp-content/uploads/2023/10/1698010139-Lost-Mary-BM600-vs-BM600S.jpg
680
1200
Ecigator
https://ecigator.com/wp-content/uploads/2023/04/ecigator-logo-white.png
Ecigator
2023-10-27 21:05:59
2023-10-22 21:35:14
Lost Mary BM600 vs BM600S Comparison – Which Is Better?