Top 10 Lost Mary OS5000 Flavors You Must-Try in 2023
Lost Mary has taken the vaping world by storm with their incredibly delicious disposable vape flavors. With dozens of tantalizing options available, it can be difficult deciding where to begin your flavor journey. This in-depth guide explores Lost Mary's top selling e-liquid flavors to help you discover new favorites that suit your tastes.
Introducing Lost Mary Disposable Vapes
Lost Mary aims to assist vapers in finding joy through high-quality devices and a vast range of flavors. They offer two models of convenient, easy-to-use disposable vapes:
MO5000 – Featuring a 13.5mL e-liquid capacity and a 650mAh battery for 5000 satisfying puffs per device.
OS5000 – With a 13mL juice capacity and 500mAh battery, also providing 5000 puffs before disposal.
With 34 mouthwatering e-juice flavors available across fruit, dessert, menthol and candy taste profiles, Lost Mary has options for every vaper's preferences. Let's explore some of their most popular flavors.
Top 10 Lost Mary OS5000 Vape Flavors
Here are the 10 highest rated OS5000 vape flavors that vapers are loving in 2023: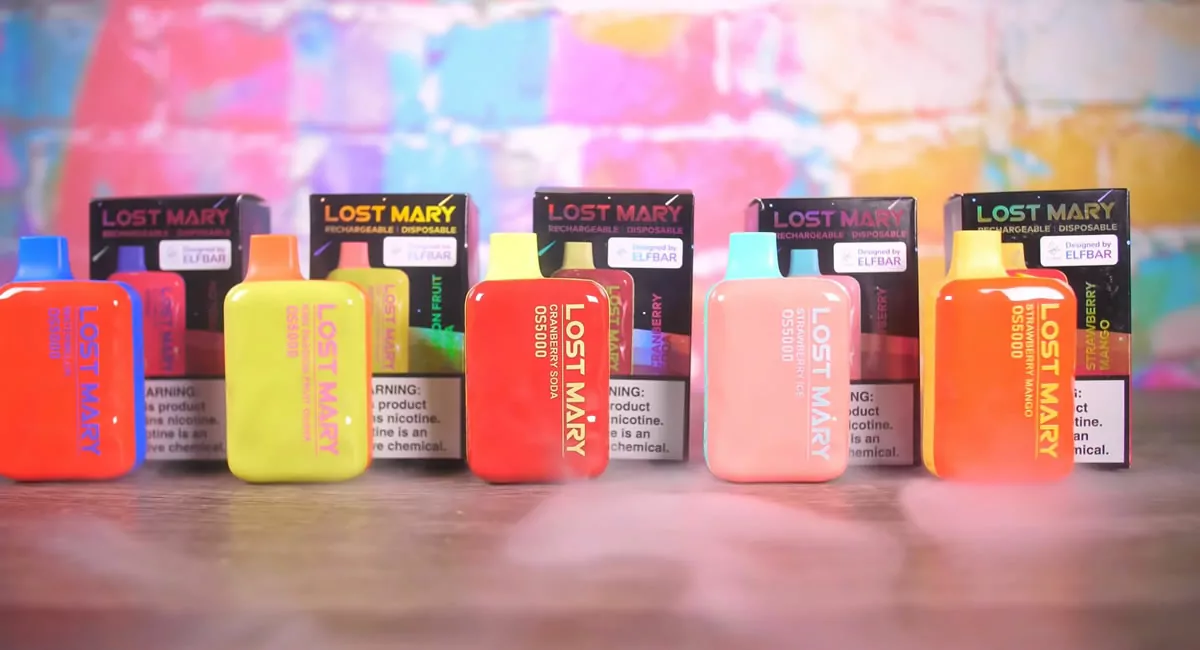 1. Pineapple Mango
This sunny tropical combo blends sweet, golden pineapple with lush mango fruitiness. The pineapple brings dominant bright sweetness with acidic zing, while the mango supplies smooth, rich, creamy fruit vibes. An uplifting escape to the tropics!
2. Strawberry Pina Colada
Transport yourself to tropical paradise with a fusion of juice-dripping strawberries and creamy coconut pina colada. The strawberry leads with mouthwatering juicy berry sweetness, while the pina colada provides a subtly smooth coconut cream background.
3. Blue Cotton Candy
This spot-on flavor excellently captures the light, fluffy, melt-in-your-mouth essence of cotton candy, with a touch of sweet blueberry adding extra fruity goodness. The cotton candy flavor provides pillow-soft sweetness, rounded out by hints of blueberry. 50mg nicotine gives a solid throat hit.
4. Watermelon
On a hot summer day, few flavors satisfy quite like deliciously sweet, thirst-quenching watermelon. This e-liquid perfectly encapsulates the mouthwatering crisp essence of chilled watermelon. Each puff feels like sinking your teeth into a fresh watermelon slice on a sizzling day.
5. Strawberry Mango
For a fruity fusion of flavors, strawberry and mango make a perfect pair. Sweet, ripe strawberries contribute a familiar juicy berry taste, while tropical mangos deliver an extra layer of tangy, exotic fruitiness. A smooth and satisfying blend.
6. Juicy Peach
Sweet, tree-ripened peach is undeniably the headliner in this flavor, with authentic ripe peach essence and bonus peach pit notes adding depth and realism. Well-balanced juicy peach goodness makes this an easy all-day vape.
7. Blue Razz Ice
A thrilling flavor fusion of sweet blue raspberries chilled by icy menthol breezes. Inhale waves of juicy blue raspberry and blueberry essence intertwined with cooling menthol for exhilarating fruit with a frosty kiss.
8. Cherry Cola
A beloved classic combo, this juice blends sweet cherry goodness with a splash of fizzy cola. The ripe cherry flavor takes center stage, with a subtle cola effervescence bouncing along in the background. Nostalgic, fun and tasty.
9. Strawberry Ice
Cooling menthol enhances juicy strawberry essence to create a frost-licked berry treat. Bask in the glory of ripe, sweet strawberries smoothed out by icy menthol breezes. Uplifting and happiness-inducing!
10. Peach Mango Watermelon
One satisfying puff delivers a symphony of sweet juicy peach, watery refreshing watermelon, and rich tropical mango. A masterfully mixed medley with abundant 50mg nicotine.
More Incredible Flavor Options from Lost Mary
Beyond the top 10, other mouthwatering flavors worth trying include:
Mary Dream – Sweet, velvety vanilla custard swirled with juicy strawberry.
Blueberry Ice – Chilly menthol wraps around sweet blueberry.
Strawberry Sundae – Sweet strawberry ice cream drenched in fudgy chocolate sauce.
Watermelon Lemon – Sweet watermelon with a smash of zesty lemon.
Mad Blue – Sweet blueberry fundamentals with icy menthol highlights.
With so many e-liquid options from fruity fusions to creamy desserts and chilling menthols, Lost Mary has a flavor to match every vaper's preferences.
Some FAQs
How long does one Lost Mary device last?
Each disposable Lost Mary vape lasts approximately 5000 puffs before needing disposal, thanks to the built-in battery.
What nicotine strength is used?
Lost Mary vapes contain 50mg nicotine salt, giving a solid and satisfying throat hit.
Why does my Lost Mary taste burnt?
Potential causes of burnt taste include low e-liquid levels, burnt out coil, overcharging, or a faulty device.
How do I recharge a Lost Mary?
Lost Mary vapes are not rechargeable. Simply dispose of and replace the device when the battery or e-liquid is fully depleted.
Are Lost Mary flavors universally sweet?
Yes, Lost Mary is known for their wide range of sweet fruit and dessert flavors designed to appeal to many vapers' tastebuds. But they offer some more refreshing minty and menthol options too.
Discover Your New Favorite Lost Mary Vape Flavors
With its huge selection of flavors, Lost Mary has options catering to all vapers' tastes. Try out the tropical fruit blends, creamy custards, icy menthols and more to find new all-day favorites. The extensive variety ensures you'll discover flavors that perfectly match your preferences.