Prime Bar 8000 Disposable Vape Review

The Prime Bar 8000 disposable vape checks all the boxes for what adult vapers look for. It has an ample 15ml e-liquid capacity, an impressive estimated 8000 puff count, a rechargeable battery, a tasteful appearance with LED screen, and quality DuraMesh coil technology. On paper, the Prime Bar 8000 seems ready to shine as an elite disposable vape. But with so many comparable products, what truly makes this vape primetime ready?
An Introduction to Disposable Vapes
First, a quick primer on disposable vapes. They appeal to adult vapers thanks to their ready-to-use design right out of the box. Disposables are easy to operate, require no filling or maintenance, deliver robust flavor using nicotine salts, and offer a satisfying vaping experience in a compact format without much vapor production. For most adult vapers, disposables check all the boxes for convenience and enjoyment. No buttons or mess, just remove the stopper and puff away.
The best disposables are almost always rechargeable now. This allows for a smaller battery while dedicating more space to e-liquid capacity. In the past, disposable vape designs required tradeoffs between battery life and juice capacity. Adding a charging port eliminated this issue. A large 15ml disposable would need an enormous non-rechargeable battery. But with a USB-C charging port, the Prime Bar 8000 fits comfortably in your hand while packing impressive battery life and puff count.
Prime Bar 8000 Specs
Draw activated firing
650mAh rechargeable battery
USB-C fast charging
DuraMesh coil (1.0Ω)
~8000 puffs per device
15ml e-liquid capacity
50mg nicotine strength
LED screen shows e-liquid and battery levels
Dimensions: 75" x 1.875 x 0.85"
Key Features of the Prime Bar 8000
The stylish and compact Prime Bar 8000 delivers. No variable airflow, just a bright LED screen clearly displaying the key vaping info you need. The intuitive color coding makes it easy to check battery life at a glance.
The e-liquid level indicator is also easy to understand. After each puff, a droplet icon displays how much juice remains based on a simple green, yellow, red color convention.
LED Screens for Battery and E-Liquid
Disposable vapes are closed systems with fixed e-liquid levels, only the battery recharges. But with higher capacity designs like the Prime Bar 8000, an LED screen becomes vital. Older low-capacity disposables left you guessing on remaining battery and juice levels due to limited visibility.
As disposable vape quality and longevity improved substantially, this lack of information became problematic. A higher capacity disposable represents a larger investment, so visibility on battery and especially non-refillable e-liquid levels is now a must-have feature. The Prime Bar 8000's LED screen expertly addresses this need.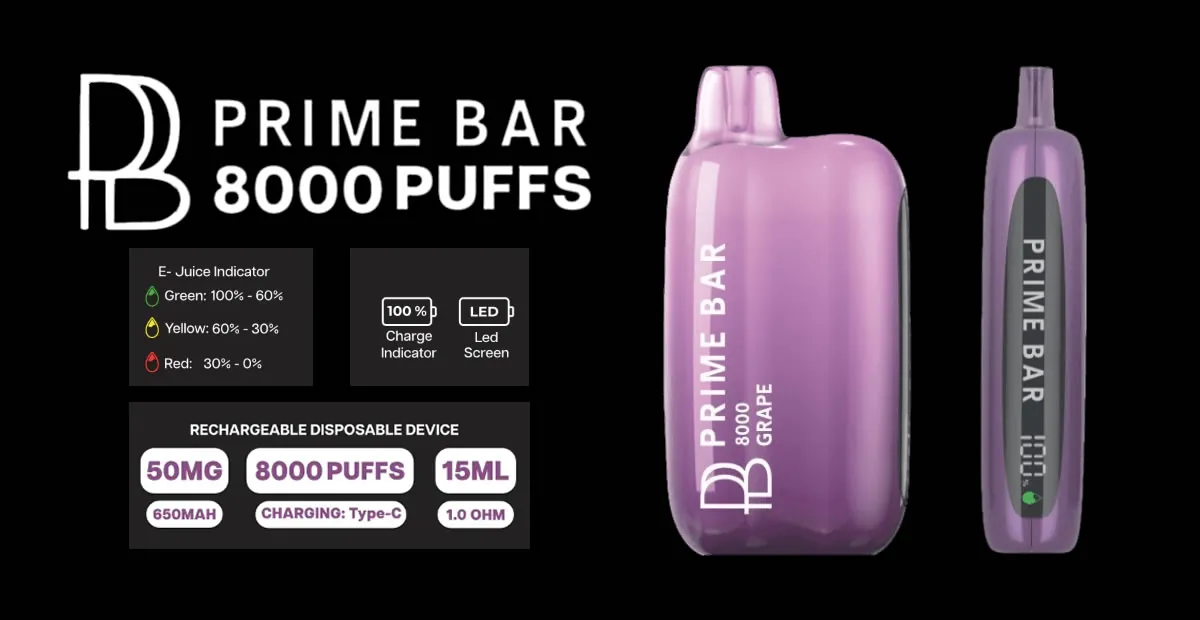 Reviewing the Prime Bar 8000 Performance
The Prime Bar 8000 delivers a pure mouth-to-lung experience consistent with disposables on the market. Closing the airflow holes won't significantly impact performance. It's a well-built device with tight tolerances and ergonomic shaping akin to modern disposables. But excellent flavors make or break any vape, so let's explore those next.
Responsible Battery Disposal
One quick note first on safe disposal. While puff quality declines as the battery runs down, the 3.7v output remains consistent. Disposables aren't advanced mods. Their lithium-ion batteries require proper disposal once the e-liquid is depleted. Respect electronic waste regulations in your area and discard responsibly.
DuraMesh Coil Technology
Differences in ramp-up speed and longevity for disposables come down to coil design, battery charge level, and other factors. The Prime Bar 8000 has a fast ramp-up and instant vapor production.
The DuraMesh coil aims to optimize flavor from the first puff to the last of its estimated 8000 puff lifespan. Engineering specifically for disposables helps maintain consistent performance when vaping 15ml of salt nic e-liquid. Shorter drags can further aid flavor.
Overall the Prime Bar 8000 has quality construction to match its impressive specifications. Now let's see if the flavors deliver on the promise.
Flavor Review
With 50mg nicotine salts, a 1.0Ω DuraMesh coil, 3.7v output, and mouth-to-lung draw, the Prime Bar 8000 aims to provide exceptional flavor. There's heavy overlap in disposable flavors and profiles. Every brand targets the same popular options adult vapers crave. Nuanced differences in coils and liquids determine the best incarnations.
While disposable flavors can seem indistinguishable, veterans know slight variations make all the difference. Excellent coils, airflow, and ingredient blending ultimately set quality vapes apart. Let's see where the Prime Bar 8000 flavors land against the competition.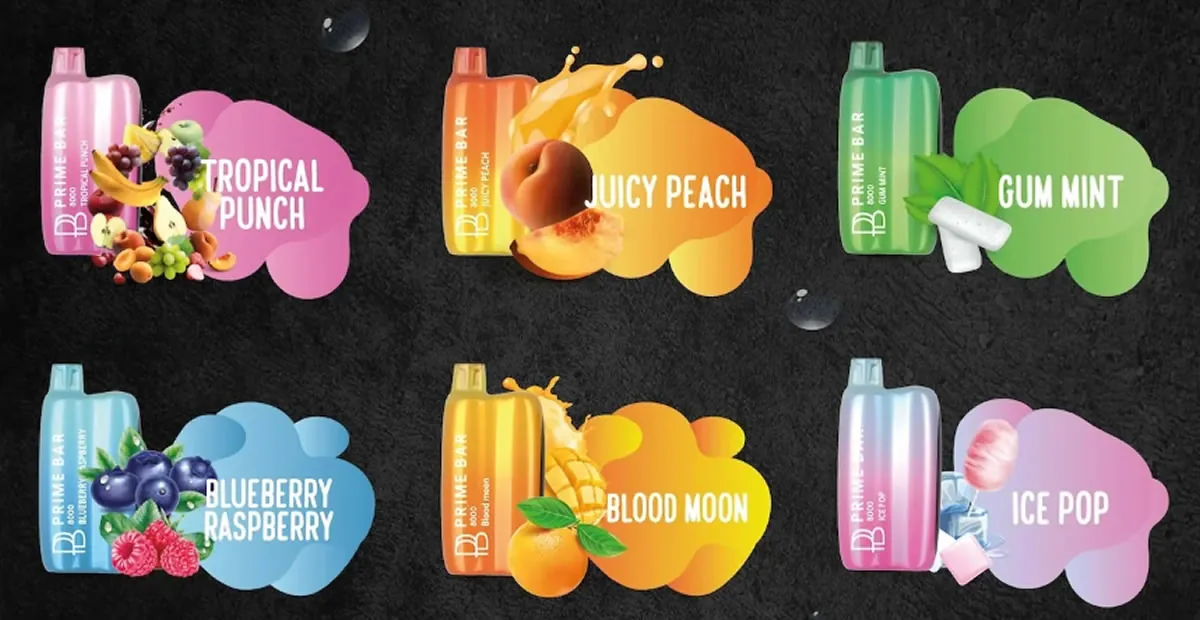 Blood Moon – Blood Orange and Ice
Blood Moon brings something new to the table. Its blood orange base provides a refreshing semi-sweet citrus flavor unlike common disposable flavors. Hints of tropical fruit and a moderate icy finish make this unique flavor a nice change of pace. Its balanced profile offers an intriguing alternative for vapers tired of cloying sweet flavors.
Blue Razz Ice – Sweet Blue Raspberry with Cooling Menthol
A disposable classic. Sweet, juicy blue raspberry candy blended with icy mint delivers one of vaping's greatest hits. Since the early days of vaping, blue raspberry flavors like this have earned their enduring popularity. The Prime Bar formula compares well against top brands like Elf Bar. When done right, classic fruity menthols satisfy.
Cool Mint – Crisp Minty Menthol
Mint reigns supreme as the signature nicotine salts flavor. Even after most flavors disappeared, mint persisted as Juul's most popular. But the Prime Bar Cool Mint improves on that minty standard. A blast of icy cooling enhances the crisp mint without becoming overwhelming. This would outclass any mint Juul pod.
Grape – Sweet Concord Grape with Cooling Effect
While grape ice is common, this flavor hasn't reached market saturation yet. The Prime Bar Grape nails the sweet Concord profile rather than a floral grape variety. Fans of grape soda and candy will love this authentic sweet grape vape with a hint of icy coolness.
Gum Mint – Sweet Mint with Icy Cooling
Gum Mint lives up to its name. The icy finish accentuates rather than mutes the sweet mint. The result is a more interesting and layered flavor that stays enjoyable even after extended vaping. Hints of other flavors add nuance beyond a simple mint or spearmint gum.
Ice Pop – Watermelon Gum Confection
Despite the name, this isn't a cola flavor. Ice Pop offers sweet watermelon candy flavor reminiscent of a chewy watermelon gum. The creamy melon pairs nicely with cool minty undertones. Don't let the confusing name throw you off.
Juicy Peach – Sweet Peachy Blend with Icy Finish
Few can resist the appeal of juicy peach candy. This Prime Bar flavor balances the sweet peach candy essence with enough natural peach flavor to keep it from becoming artificial. A touch of cooling balances out the sugary peach for an authentic and satisfying vape.
Laffi Taffi – Banana Candy and Tropical Fruits
Laffi Taffi blends sweet banana candy flavor with a medley of tart tropical fruits. The fruit helps cut the candy banana nicely. A moderate icy finish gives a well-rounded profile, though a touch less tartness would nail that namesake flavor.
Lemon Lime – Tart Citrus Blend with Icy Notes
As expected, the Lemon Lime offers candy citrus flavors rather than pure lemon. The blend of lemon and lime gives a nice tart pop balanced with cool minty undertones. Vapers wanting authentic lemon may find it too sweet, but this candy-flavored profile hits the spot.
Tropical Punch – Icy Tropical Fruit Mix
Tropical Punch shines thanks to pronounced flavors like mango, pineapple, and passionfruit tied together with a chilling menthol effect. Fans of tropical blends will appreciate how the fruits complement each other rather than compete.
Watermelon Ice – Sweet Watermelon Candy with Mild Cooling
The Watermelon Ice keeps things simple, with juicy sweet watermelon candy flavors and mild cooling. The lack of heavy menthol allows the nuances of the watermelon to stand out. Watermelon candy fans need look no further for a satisfying vape.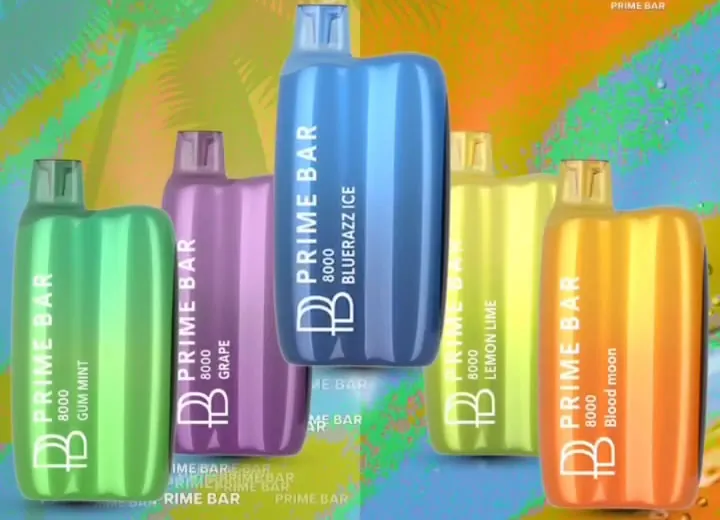 Final Verdict on the Prime Bar 8000
The Prime Bar 8000 delivers quality across the board. From battery life to construction to LED screen, it checks every box you could ask of a modern high-capacity disposable vape. Most importantly, the flavors edge out the competition with unique options and excellent renditions of classic disposable profiles.
Standouts like Grape, Gum Mint, and Blood Moon prove that innovation still thrives even among broadly overlapping disposable flavors. For quality, performance, and flavor variety, the Prime Bar 8000 is primed for success.
https://ecigator.com/wp-content/uploads/2023/11/1700389559-PRIME-BAR-8000-DISPOSABLE-VAPE-REVIEW.jpg
675
1200
Ecigator
https://ecigator.com/wp-content/uploads/2023/04/ecigator-logo-white.png
Ecigator
2023-11-19 11:11:51
2023-11-19 11:11:51
Prime Bar 8000 Disposable Vape Review