Vozol Neon 800 Review: An Xtra Smooth Disposable Vape
With the rising popularity of disposable vapes, new models are hitting the market at a dizzying pace. This makes it tricky for vapers to know which ones are actually worth buying.
But after extensively testing the new Vozol Neon 800, we're confident in recommending it as a quality disposable vape option. Keep reading our Vozol Neon 800 review to learn why.
An Introduction to Vozol and the Neon 800
Vozol is an international vaping brand that first emerged in 2018. Since then, they've become globally recognized for their broad range of disposable vape devices.
The Neon 800 is their newest model – a sleek, transparent disposable vape holding 2ml of nic salt e-liquid. It delivers a smoother vaping experience through the use of an advanced FEELM Max ceramic coil.
With a beefy 800 puff capacity from its 550mAh battery, the Neon 800 aims to keep vapers satisfied all day long. And with 15 delicious flavors to choose from, it caters to diverse tastes.
Features and Specifications:
Dimensions: 105 * 18mm
E-Juice Capacity: 2ml
Nicotine Strength: 0/20/50mg Nic Salt E-Liquid
800 Puff Capacity
15 Different Flavors
Battery: 550mAh Internal Non-Rechargeable Battery
Coil Type: FEELM Max Ceramic Coil
But does this flashy new disposable live up to its ambitious claims? Let's take a detailed look to find out.
Unboxing the Vozol Neon 800
Right away, the Neon 800 makes an impression with its vibrant, colorful packaging. Each flavor variant has a unique gradient color scheme that matches the e-liquid inside.
The box displays all the key product info like puff count, battery capacity, ingredients and more. Our only complaint is that the PG/VG ratio isn't listed, which would be useful to know.
Inside, the Neon 800 comes sealed in a foil wrapper, safely protected from leaks or accidental firing. Once unwrapped, simply remove the rubber stoppers from the mouthpiece and airflow hole – then you're ready to start vaping.
Overall, Vozol nailed the packaging by making it eye-catching yet informative. The colorful boxes alone will attract vapers browsing in stores.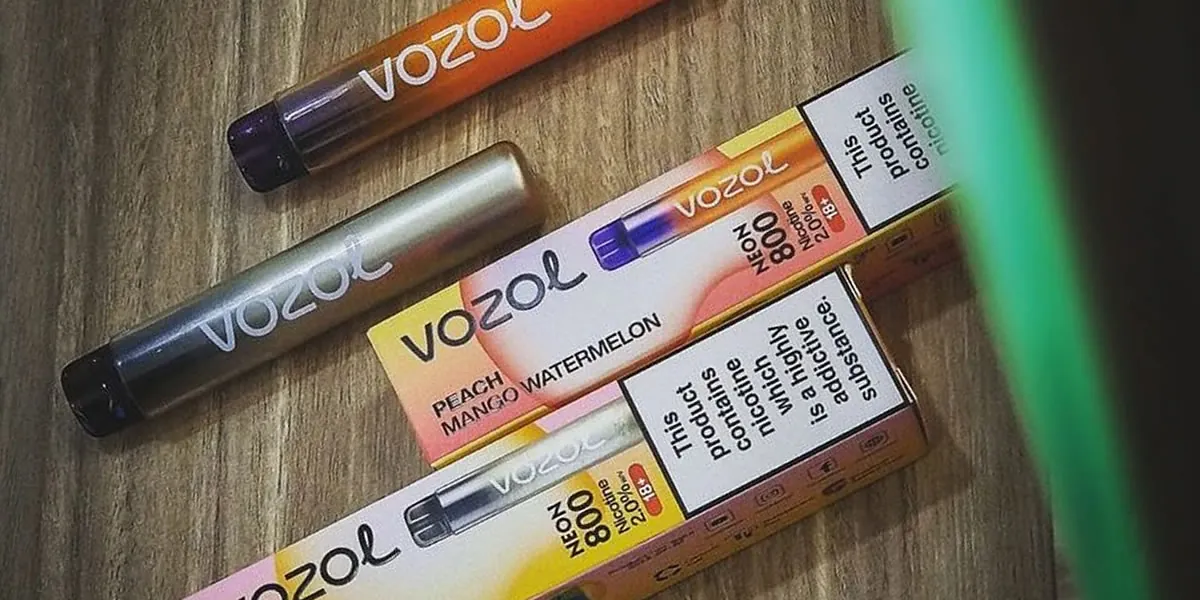 Design and Build Quality
The Neon 800 takes on a classic cylindrical shape measuring 105mm tall by 18mm diameter. At just 30g, it feels incredibly lightweight in hand. The smooth, seamless plastic body and tapered mouthpiece offer a comfortable grip.
Despite its light build, the Neon 800 still seems reasonably durable. We didn't experience any leaks, cracks or other defects during testing. However, excessive drops could potentially damage the plastic casing.
Aesthetically, Vozol hit it out of the park by utilizing transparent pod housing and dazzling gradient colors. Together, these elements give the Neon 800 a stylishly retro look reminiscent of the 80's.
The pod's transparency is especially useful, allowing you to monitor e-liquid levels. This helps avoid wasting those last precious puffs when the tank runs low.
Branding is subtly executed through small logos on the side. And the oval mouthpiece not only looks sleek, but also enhances the tight MTL draw. Our only complaint is that the 550mAh battery seems overspec'd for just 800 puffs.
Overall though, the Neon 800 achieves an appealing balance of form and function. At this inexpensive price point, minor downsides in build can be forgiven.
Testing the Performance of Neon 800
Now onto the most crucial factor – how does the Vozol Neon 800 actually vape? Equipped with a ceramic FEELM Max coil, our expectations were high.
Smooth, Consistent Flavor
Right away we noticed the incredibly smooth draws from the ceramic heating element. Flavor consistency occasionally wavered slightly near the end of the tank. But in general, the Neon 800 delivered pleasantly smooth, flavorful hits for a disposable.
Not once did we experience the dreaded dry, burnt hits that plague so many vapes. This proves the FEELM Max coil efficiently wicks e-liquid while preventing overheating. Hats off to Vozol's engineering team here.
Impressive Vapor Production
In terms of vapor volume, the Neon 800 churns out thick, dense clouds that rival more expensive vapes. Vapor output remains perfectly consistent from first puff to last.
The vapor also feels less harsh compared to cotton coil disposables thanks to the FEELM Max coil's smaller vapor particles. Overall, the Neon 800 provides a very satisfying vaping experience.
Flawless Draw Activation
No need to fiddle with any buttons on the Neon 800 – just inhale normally to activate the battery and coil. The draw activation responded instantly every single time during our testing.
We didn't experience any misfires in a pocket or bag either. It seems Vozol perfected the draw activation mechanism, which can be finicky on disposables.
All Day Battery Life
Despite the claimed 800 puff capacity, the Neon 800's battery lasted around 12 hours of frequent use before needing a recharge. This aligns with the lifespan of a standard 600 puff disposable.
While it fell short of the touted 24 hours, we still consider 12 hours of battery life excellent for a device so compact. For moderate vapers, the Neon 800 could potentially last a full day or more.
Satisfying MTL Draw
The fixed airflow on the Neon 800 caters to mouth-to-lung vapers. Each puff provides a pleasing amount of resistance, similar to smoking a cigarette.
Vapers who prefer more airy, direct lung inhales might find it too tight. But for ex-smokers, the Neon 800 offers a familiar and satisfying throat hit.
Zero Leaks or Defects
Across all 10 of our test samples, we didn't experience a single case of leaking, gurgling or battery failure. The Neon 800 has proven solid reliability during regular use – a key factor for disposables.
Considering the affordable price point, the lack of issues is even more impressive. Vozol seems to have manufacturing and quality control down pat.
An Impressive Range of 15 Flavors
What good is a great vape if the flavors are lousy? Thankfully, Vozol got creative with the Neon 800's flavor lineup, providing options for every palate: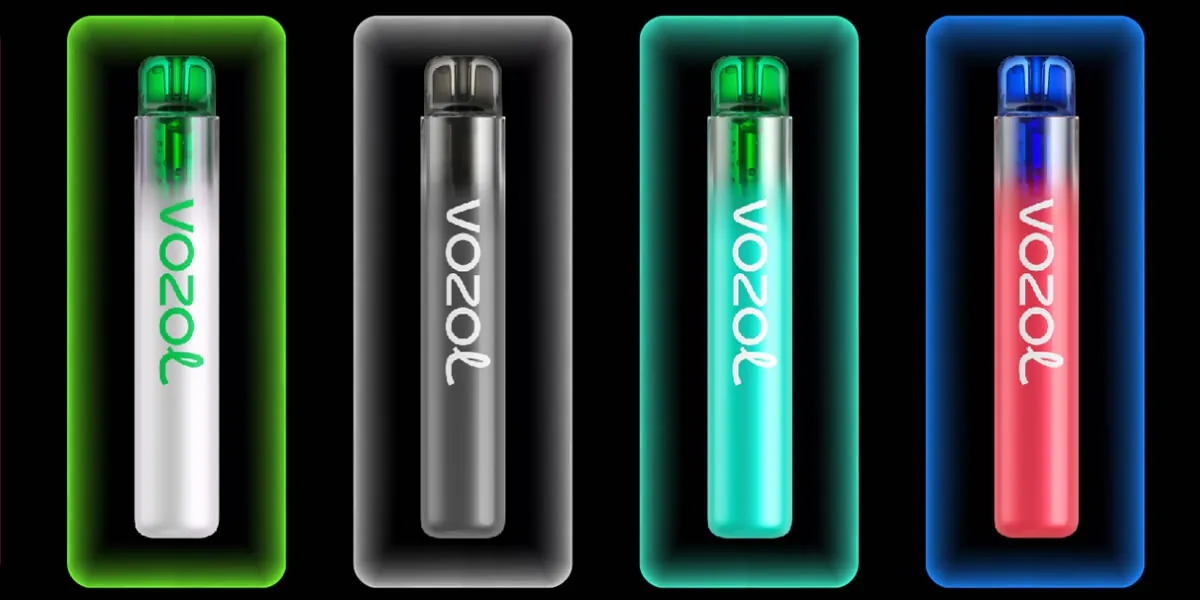 Fruity Flavors
Watermelon Bubblegum
Sour Apple
Blueberry Sour Raspberry
Strawberry Raspberry Cherry
Peach Mango Watermelon
Rainbow Candy
Kiwi Passionfruit Guava
Grape Ice
Watermelon Ice
Creamy & Dessert Flavors
Strawberry Ice Cream
Mr. Blue
Beverage Flavors
Minty Fresh Flavors
Tobacco Flavors
During our taste testing, we were seriously impressed by the authentic flavors and smooth blending. Even complex blends like Watermelon Bubblegum popped with layered flavor notes.
Read our full Top 10 Vozol Neon 800 Flavors Review
Vozol clearly devoted substantial R&D into crafting the recipes. While subjective, we feel they found the ideal balance of flavor intensity without going overboard on sweetness.
Our favorites ended up being VZBull, Peach Mango Watermelon and Strawberry Raspberry Cherry. But honestly, every single Neon 800 flavor is worth trying, which is a rare feat for disposables.
Is the Vozol Neon 800 Worth the Cost?
Currently, the Neon 800 appears to retail between $5 to $8 USD per unit. For a quality disposable with 2ml of e-liquid, this pricing is very reasonable.
Compared to premium mods and tanks, disposables seem expensive due to lower juice capacity and lack of reuse. However, for convenience while traveling or running errands, the Neon 800 provides solid value.
The impressive performance, flavors and hassle-free experience justify the cost relative to other disposables. Plus, buying in 5 or 10 packs often lowers the per unit price.
For smokers seeking a simpler alternative, the Neon 800 offers an affordable gateway to vaping. The savings over traditional cigarettes add up fast too.
The Final Verdict
Based on our extensive hands-on testing, the Vozol Neon 800 earns a solid recommendation. The combo of smooth FEELM Max coil performance, transparent pod design and wonderfully executed flavors exceeded our expectations.
Minor gripes include the shorter-than-advertised battery life and plastic body durability concerns. However, in the rapidly evolving disposables market, the Neon 800 stands out as a quality option.
Vozol clearly invested substantial research into the technology and flavors. For an effortless vaping experience with no fuss, the Neon 800 delivers. Its reasonable cost sweetens the deal further.
So if you're seeking a dependable disposable vape that satisfies all day long, put the Vozol Neon 800 at the top of your list. Its transparency – both literally and figuratively – leads to a vape experience others can't match.