Top 10 Best Elf Bar BC5000 Flavors Review 2023
Elf Bar has quickly become one of the most popular disposable vape brands thanks to its smooth hits, long battery life, and variety of flavors. The Elf Bar BC5000 is their premium disposable vape pen that delivers enhanced performance. With over 30+ different options, it can be tough deciding which flavors to try. Our detailed review will cover the 10 best Elf Bar BC5000 flavors to help you discover your new favorite!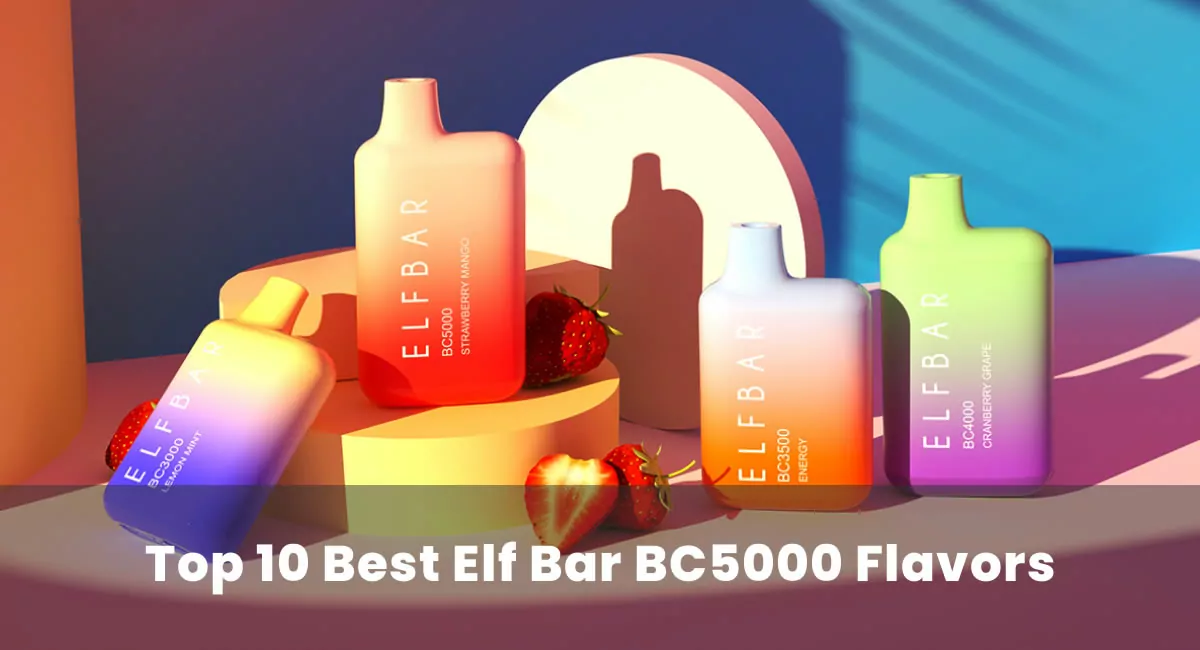 What is the Elf Bar BC5000
Elf Bar BC5000 is a popular vape device known for its compact design and user-friendly features. It is designed for those who are looking for a hassle-free and portable vaping experience. The device comes pre-filled with e-liquid, eliminating the need for manual refilling. This makes it an ideal choice for beginners or vapers on the go. Let's look at what sets the Elf Bar BC5000 apart:
13ml E-juice Capacity – Holds more vape juice than most disposables for longer lasting use.
0, 3, 5% Nicotine Strength – Satisfies stronger cravings with higher nicotine concentration.
650mAh Battery – Rechargeable to support nearly 5000 puffs, outlasting smaller vapes.
Draw-Activated Firing – Inhale to vape without pushing any buttons or adjustments. Extremely user-friendly.
USB-C Fast Charging – Fully recharges in just 30 minutes for a quick boost if you run low.
Sleek Design – Comfortably compact despite the high capacity and battery life. Fits easily in your pocket.
With impressive specs and performance, the BC5000 delivers powerful flavor experience with its dual coil technology.
10 Best Elf Bar BC5000 Flavors
Let's delve into the top 10 best Elf Bar BC5000 flavors available in 2023. Each flavor listed below offers a unique and delightful vaping experience, so you can find the perfect match for your taste buds.
1. Watermelon Ice
Watermelon is always a quintessential flavor for fruit vape fans. The Watermelon Ice BC5000 combines the juicy taste of watermelon candy with a minty menthol undertone. Unlike actual watermelons, it tastes just like sweet Watermelon Jolly Ranchers or Airheads. The chilly menthol accent elevates the melon candy essence. Overall, it has amazing flavor balance that avoids being cloyingly sweet. Watermelon lovers must give this one a try.
2. Blue Razz Ice
For a more candy-like fruit vape experience, Blue Razz Ice hits the spot. It captures the mouthwatering flavor of sugary blue raspberry candy, with a hint of icy menthol to round it out. Every puff delights your taste buds with sweet and tart blue raspberry candy essence, cut by the frosty cooling menthol. From start to finish, it's a thrilling rush of icy blue razz candy. The touch of menthol prevents the saccharine flavor from becoming too overwhelming.
3. Strawberry Watermelon
This flavor blends two quintessential fruits – strawberries and watermelons – to perfection. You get the sweet juicy taste of strawberries and watermelons in candy form, without a hint of menthol. The flavor is bold, yet smooth. The strawberry essence comes through slightly more on the inhale, while the watermelon candy flavor dominates the exhale. Each puff transports you to summer with these refreshing blended fruits.
4. Malibu
This tropical flavor starts with a sweet and tangy orange burst on the inhale. As you exhale, the pineapple and peach flavors emerge to create a delicious tropical medley. The orange remains present but the pineapple and peach become more pronounced. Throughout the vape, a subtle hint of coconut lingers in the background adding a creamy, nutty finish to the blend of fruits.  Malibu is evocative of a sunny tropical vacation with its blend of juicy citrus and exotic fruits. This flavor profile makes it an ideal summer vape.
5. Strawberry Mango
Strawberry Mango is one of the tastiest dual fruit e-liquids from Elf Bar. The strawberry and mango work together seamlessly to create fruit salad in your mouth! The strawberry hits your taste buds first with an authentic juicy berry flavor. As you continue inhaling, the mango kicks in to complement the strawberry. The mango is tropical and sweet with a slight tartness that pairs perfectly with the ripe strawberry. You get an intriguing fusion of berry and tropical fruit.
6. Strazz
Fans of both sweet and tart e-liquids will certainly enjoy Strazz's berries and cream type of flavor profile. Strazz is a delicious blend of strawberry and raspberry with a hint of cooling freshness. The strawberry flavor hits first with its natural sweetness mellowing out the more tart raspberry. The raspberry adds a pleasant tartness that cuts through the sugary strawberry. The mild cooling effect adds freshness that's especially noticeable on the exhale. It vapes like a warm berry vapor.
7. Peach Ice
For another take on mixing fruit and menthol, the Peach Ice is a delight. It captures the mouthwatering taste of juicy, ripe peaches at their summertime best. Every puff tastes like taking a huge delicious bite of fresh peach, with a cooling menthol undertone. The icy freshness integrates perfectly with the sweet peach candy flavor. It may even remind you of biting into a frozen peach popsicle on a scorching day. If you like peaches, this is a fantastic flavor.
8. Strawberry Kiwi
Strawberry Kiwi makes for an extremely refreshing and pleasant all day vape. The strawberry delivers a candy-like sweetness while the kiwi provides a zesty tropical kick. Together they create a harmonious fusion that vapes as a singular strawberry kiwi flavor. On the inhale you get the sweet strawberry with the kiwi subtly lingering in the background. As you exhale, the tangy kiwi emerges to complement the sugary strawberry.
9. Watermelon Bubblegum
Watermelon Bubblegum is ideal for those with a sweet tooth craving a delightful mix of watermelon and chewy bubblegum in vape form. The first note you get is the spectacular watermelon flavor Elf Bar is known for. It's sweet and juicy like taking a sip of watermelon smoothie. Mixed in is the unmistakable sugary sweetness of classic bubblegum. Together these flavors recreate that nostalgic experience of blowing bubbles with gum while enjoying juicy watermelon candy.
10. Pineapple Coconut Ice
Kicking off the countdown we have Pineapple Coconut Ice – an incredible tropical flavor fusion. It blends sweet pineapple, creamy coconut, and cooling menthol beautifully. The pineapple delivers a juicy tropical sweetness while the coconut provides a smooth, creamy background note. Together they create a delightful piña colada-esque flavor. The icy menthol adds a refreshing cooling effect that perfectly complements the tropical fruits. It gives a frosty sensation on the tongue and throat.
With over 30+ total flavors, the Elf Bar BC5000 lineup has options for every taste preference. But the 10 flavors above represent the very best Elf Bar has to offer. Try a few to discover your new ADV today!

Choosing the Best Elf Bar BC5000 Flavors For You
With so many flavored nic salt options to choose from, deciding on your next Elf Bar vape can be difficult. Here are some final tips when selecting your ideal Elf Bar BC5000 e-liquids:
Stick to familiar flavor profiles – If you know you enjoy fruity or dessert flavors, try those Elf Bar varieties first.
Be adventurous – Step outside your comfort zone and sample some unique flavors. You may find a new all day vape!
Read reviews – Seeing feedback from other vapers can provide insight into which flavors deliver quality taste.
Try a variety – Don't just buy one flavor at a time. Mix it up and give several Elf Bar flavors a test to find your favorites.
Consider nicotine strength – Get the right nicotine level for your needs. Most people opt for 25mg to 50mg with nic salts.
With so many amazing Elf Bar BC5000 flavors available, you're sure to find several perfect options to keep your disposable vape loaded with delicious e-liquid flavor. Just run through the top 10 list to discover new all day vapes tailored to your taste preferences.
Frequently Asked Questions
1. What is the Most Popular Elf Bar BC5000 flavor for someone new to vaping?
If you're new to vaping, it's best to start with simpler flavors that aren't too overwhelming. Some good options include Blueberry Ice, Peach Ice. These flavors offer a pleasant mix of fruit and menthol that most beginners find appealing. More intense flavors can be a bit harsh for new vapers.
2. Do Elf Bar BC5000 flavors contain nicotine?
Yes, Elf Bar BC5000 pods contain nicotine salt e-liquid. Nicotine strengths range from 0% up to 5% (50mg). This allows you to choose the nicotine level that gives you the experience you desire. Most adults opt for the 25mg to 50mg range to get satisfying throat hits.
3. How long does Elf Bar BC5000 flavor last?
Each Elf Bar BC5000 disposable vape contains 13ml of e-liquid. This allows for around 5000 puffs before the liquid is fully vaped. The lifespan can vary slightly depending on your puffing habits. Heavier use will deplete the pod faster than occasional vaping. But on average, expect around 5000 satisfying puffs from each device.
4. Can you refill Elf Bar BC5000 devices?
Elf Bar BC5000 disposables cannot be refilled. The pod and battery are designed for one-time use before proper disposal. Attempting to refill could cause leakage or damage. It's best to simply replace the device once the e-liquid runs out rather than trying to refill.
5. Are Elf Bar flavors different between models?
Yes, Elf Bar flavors are different between models—although you may find some repeats. For example, the flavor menu is different for the BC5000 and the CR5000 though you can find a blue razz in most of their models. On the other hand, the Elf Bar banana milk flavor is only in the T600 and the Elf Bar 2500/3600.
Conclusion
Elf Bar's BC5000 range offers vapers an outstanding selection of flavored disposable vapes. With so many flavor options available, you're sure to find several go-to vapes tailored precisely to your taste preferences. Use this top Elf Bar flavor list as a guide to discovering your new all day disposable vape.