EU Introduces Three New E-Cigarette Regulations in the Future?
According to a recent conference, future EU e-cigarette regulations will see new trends, indicating that EU e-cigarette regulations are about to be updated!
As reported by Ecigator from trusted sources, the European Independent E-cigarette Association (IEVA) recently held a webinar titled "Update on EU Vaping Regulation", The conference introduced the EU e-cigarette-related regulations.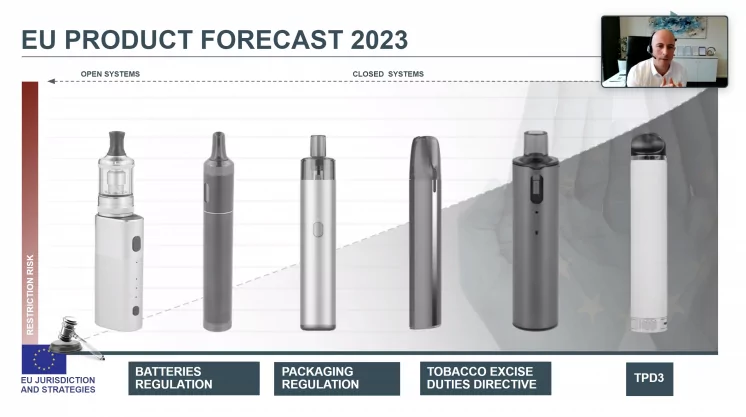 IEVA President Dustin announced that TPD3 (Tobacco Products Directive, Third Edition) has already begun its first legislative step, indicating that EU e-cigarettes will face a new regulatory system and rules in the future.
Read more: What is TPD
Three New Vape Regulations?
After communicating with European Parliament members, President Dahlman mentioned three points, which might represent the future direction of EU e-cigarette regulations.
So, which are these "three" points?
1. E-cigarettes will be subject to consumption tax.
European Parliament members highly support imposing a consumption tax on e-cigarettes, and it's just a matter of time. The tax rate might range between 0.1 and 0.35 euros per milliliter.
Dustin stated that IEVA would encourage a uniform tax on all e-cigarette liquids, rather than calculating tax based on nicotine content. This would close loopholes found in other countries and simplify tax calculations. IEVA will also lobby for a reasonable tax rate of 0.1 euros per milliliter.
2. European Parliament members' attitudes towards e-cigarettes have changed.
Due to the influence of "disposable e-cigarettes," European Parliament members' attitudes towards e-cigarettes have shifted.
Many members now avoid commenting on e-cigarettes, as they have become increasingly controversial in recent years. More members believe that heated tobacco products (HTP) pose less health risk than e-cigarette products.
It seems that HNB is more accepted in the EU than vaporized e-cigarettes?
3. New rules for e-cigarette packaging and recycling.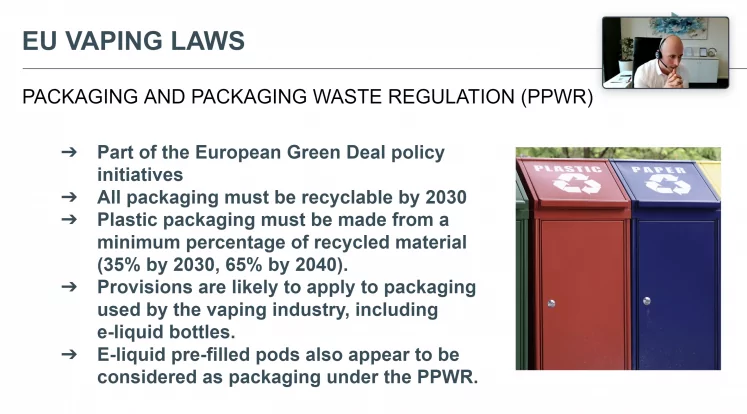 "Packaging and Packaging Waste Regulations" will also include pre-filled e-cigarette cartridges, which are considered packaging. This means that by 2030, cartridges must be made from at least 35% recycled materials.
The president specifically addressed the disposable issue, predicting that disposable e-cigarettes will face the highest legal risks. Underage use of disposable e-cigarettes is a problem in every EU member state. Additionally, there is widespread dissatisfaction with the environmental damage caused by disposable e-cigarette batteries.
Countries including the UK may adopt new perspectives on e-cigarettes. For example, the UK government is considering imposing new taxes on e-cigarette products. Furthermore, the proposal will impose further requirements on e-cigarette packaging, marketing, and flavors but is unlikely to completely ban disposable e-cigarettes.
In recent years, European and American countries have not paid as much attention to e-cigarette regulations as they do now, mainly due to the regulatory difficulties brought about by disposable products.
Now, the US FDA is also brewing "six" rules for e-cigarette manufacturers, and the third edition of EU regulations is gradually being discussed and formed. It is foreseeable that the future EU e-cigarette regulatory system will have a new set of rules, which is particularly noteworthy for Chinese e-cigarette manufacturers and brands expanding overseas!
Regardless, Europe is a crucial global e-cigarette market, with rapid growth since last year surpassing other regions worldwide. With TPD3 (Tobacco Products Directive, Third Edition) legislation underway, this is significant news. Disposable environmental issues are expected to be included in the EU regulatory system. Based on these disclosures, future disposable battery environmental standards and even consumption and e-liquid taxes are worth paying attention to.