Elf Bar Mate 500 Review – Refillable Vape Delivers Premium Experience

With its clever combination of robust design, customizable options and bargain pricing, the Elf Bar Mate 500 offers a uniquely well-rounded vaping experience. Our hands-on testers found it provides smooth, flavorful vapor rivaling far pricier pod kits, all while generating less plastic waste than disposables.
An Inside Look at Elf Bar
In just a few short years since their founding in 2018, China-based manufacturer Elf Bar have become a dominant force in vaping worldwide.
Their breakout product was the Elf Bar 600, a compact rectangular disposable vape that swiftly gained immense popularity in the UK for its easy portability and wide selection of fruity nicotine salt flavors. Elf Bar's extensive research into vape technology allowed them to rapidly expand their catalog with innovative new devices tailored to emerging consumer interests globally.
As market leaders, Elf Bar have dealt with their fair share of counterfeit impersonators hoping to piggyback on their success. To combat fakes, every legit Elf Bar package includes a scannable QR code that buyers can use to authenticate their purchase came from the real McCoy.
Mate 500 Review: Thoughtful Design Inside and Out
Right out of the box, the Mate 500 makes a strong first impression thanks to its slim, lightweight aluminum alloy chassis available in sleek monotone black or eye-catching metallic color gradients. Its rounded rectangular shape feels natural in the hand and pockets comfortably with no bulky contours.
Constructed to aircraft-grade durability standards, the entire device exhibits a quality look and feel that belies its bargain price tag. Elf Bar clearly invested in thoughtful design elements that enhance the user experience.
The built-in 500mAh battery lasts a respectable 4 hours or so of active vaping time before requiring a recharge. When drained, the battery fully replenishes in about 2 hours using any standard USB-C phone charger or computer port.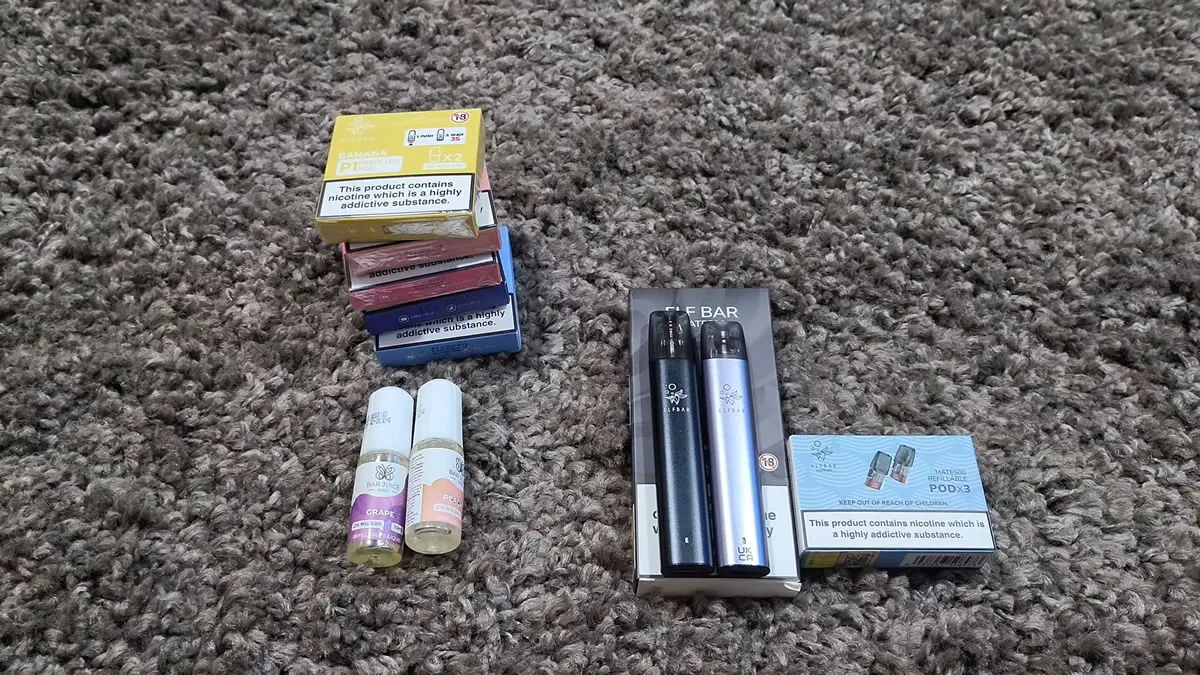 Mate Battery Specification
●500mAh battery
●Rechargable
●USB-C fast charge
●Must be used with the Elf Bar Pods
Innovative Pod Design for Customization
The Mate 500 uses interchangeable e-liquid pods available in two innovative styles:
Prefilled Disposable Pods: Over 30 flavors exist (and counting) containing nicotine salts in the 2% (20mg) range. The flavors cover all the classic fruity and dessert profiles vapers love about the Elf Bar brand.
Refillable Pods: These empty pods come in handy 3-packs and transform the Mate 500 into an 2ml open system that accepts any brand of e-liquid with 50% PG or higher.
For our in-depth testing, we focused on the refillable pod option alongside e-liquids from Elf Bar's own new ELFLIQ nic salt line, which launched earlier in 2022. The ability to customize flavors made the device even more appealing.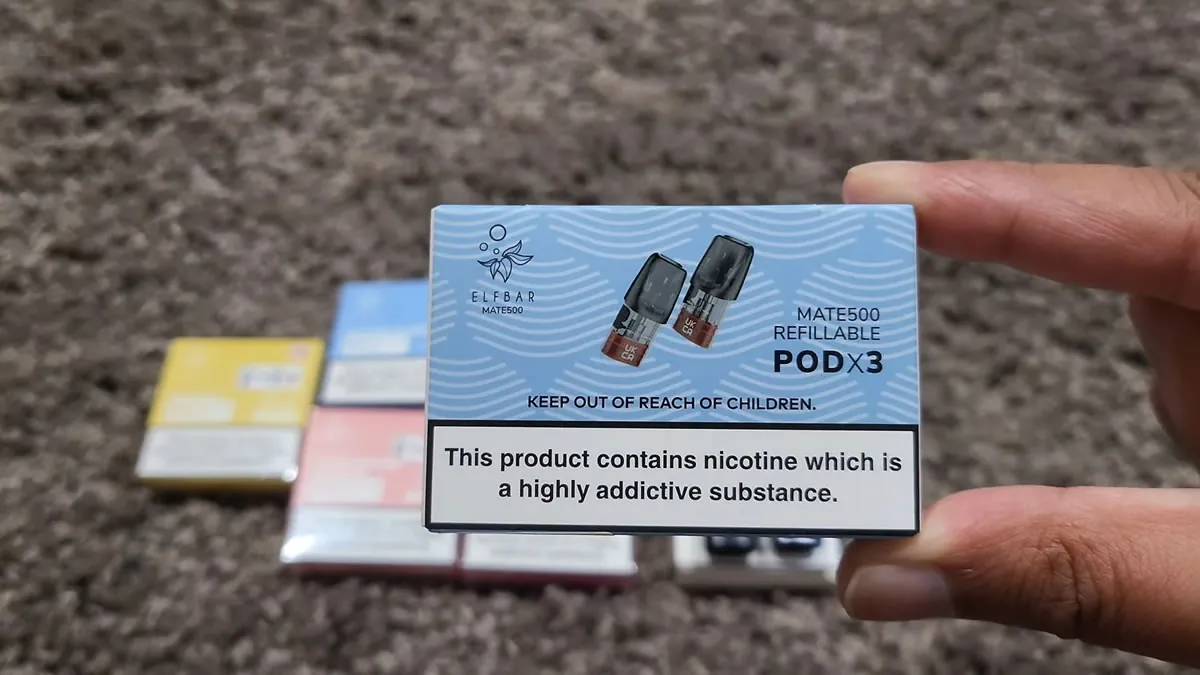 Loading Pods the Right Way
Despite the side fill holes on the pods being slightly slim for anyone with large fingers or long nails, the soft rubber bungs fit very snugly to prevent leaks. Refilling proved quick, clean and mess-free.
One easily overlooked step we nearly skipped was "priming" each pod, which means letting the fresh e-liquid soak into the internal cotton wick and coil for at least 5 minutes before taking the first puffs. This crucial step prevents the dreaded dry hit taste of burning cotton that can ruin a vaping session.
Not Always Smooth Sailing with Pods
While the pods click satisfyingly into place when fully inserted, we did encounter some handling difficulties worth noting:
One pod became so firmly stuck that it took serious prying to finally remove it. The device's ergonomic mouthpiece is smooth and slippery, with no texture to grip.
Pods can only insert one specific way, with the slightly curved side facing front. This orientation wasn't obvious, so we wasted time trying to seat them the wrong way.
No labeling on the outside means you can't easily distinguish flavors with multiple filled pods.
These quirks definitely have room for improvement in future editions, though some users may not mind them.
Pure Vaping Bliss
Despite the minor ergonomic downsides, we found the Mate 500 delivered excellently consistent vapor quality and flavor intensity.
The customizability of refillable pods really made the flavors shine, allowing us to experience Elf Bar's proprietary nic salt e-liquids to their full potential. Compared to the muted taste of the same juices in a dying disposable vape, flavors popped beautifully on the first inhale and remained satisfyingly smooth from start to finish in the Mate 500.
Vapor thickness and draw tightness also improved drastically. The fixed voltage output of the rechargeable battery avoided the common experience of weakening performance in a disposable as the charge depletes.
While pod coils last approximately 10 refills before requiring replacement, the far larger battery should grant the main device significantly longer service life with proper maintenance.
Mate 500 Review Video
Blowing Other Kits Out of the Water on Value
Currently priced around just £7.95, the Mate 500 device itself is an incredible bargain for a major brand offering this build quality and feature set. Similar pod systems from top names often cost upwards of £20-30.
The refillable pods retail for about £5 per 3-pack, providing around 45-60 ml of total vaping capacity before coil degradation – under £0.10 per ml.
By comparison, a single 2ml disposable Elf Bar 600 costs around £5 on its own!
Elf Bar's 10ml nic salt e-liquid bottles also provide exceptional value at around £2.50 each. This works out to an infinitesimal £0.25 per ml – a tiny fraction of normal vape juice pricing.
Our Final Take
Minor gripes aside, the Mate 500 punches way above its weight class, providing near premium-level performance and customization at an unbeatably low cost. For vapers who don't mind refilling their own pods and value quality on a budget, it's easy to crown the Mate 500 as one of the best pod kit options on the market today.
https://ecigator.com/wp-content/uploads/2023/11/1699477857-Elf-Bar-Mate-500-Review.jpg
675
1200
Ecigator
https://ecigator.com/wp-content/uploads/2023/04/ecigator-logo-white.png
Ecigator
2023-11-08 21:23:43
2023-11-09 17:48:15
Elf Bar Mate 500 Review – Refillable Vape Delivers Premium Experience