Fifty Bar Disposable Vape Review – American-Made Quality

Fifty Bar is a relatively new disposable vape brand that currently only offers one product – the Fifty Bar disposable device. Unlike most disposables produced overseas, Fifty Bar disposables are designed and assembled in the USA. They also contain e-liquid made by a leading American e-juice brand, Beard Vape Co.
With quality construction, impressive performance, and delicious flavors, Fifty Bar aims to provide a superior vaping experience from their American-made disposables. Do they live up to their promise? After extensive hands-on testing, we break down everything you need to know about the Fifty Bar's specs, features, flavors, performance and more in this comprehensive review.
Key Specifications
Compared to a typical disposable, the Fifty Bar has an impressively compact yet durable design given the components packed inside:
Dimensions: 84mm x 43mm x 19mm
Weight: 53g
Battery: 400mAh
Charging: USB Type-C
E-Liquid Volume: 16ml
Estimated Puffs: 6500
Nicotine Strength: 50mg (5%)
Flavors: 15 currently, 9 more soon
Activation: Draw activated
Considering the large e-liquid reservoir and long-lasting battery, the sleek and slim Fifty Bar construction is an engineering feat. The rounded edges and soft-touch finish offer excellent ergonomics as well. Let's take a closer look at the build quality.
High-Quality Design and Construction
Picking up a Fifty Bar reveals instantly the durable and precision manufacturing. The two-tone color design features a stylish contrast between the top and bottom sections. While most disposables come in a single color, this dual scheme adds visual flair.
The matte finish resists fingerprints and feels smooth in the hand. Printed American flag graphics boldly tout the US design and engineering. Quality oozes through in the small details like neatly rounded corners and seamless joins.
Opening a Fifty Bar shows components to match the exterior build. A large cotton wick soaked in Beard e-liquid sits atop a sturdy battery encased in a silicone seal. The hardware appears perfectly manufactured with no evident defects.
The flat mouthpiece provides a comfortable vaping experience. And the bottom USB-C charging port makes repowering a breeze. Overall, the careful construction quality of the Fifty Bar disposable matches top reusable pod systems.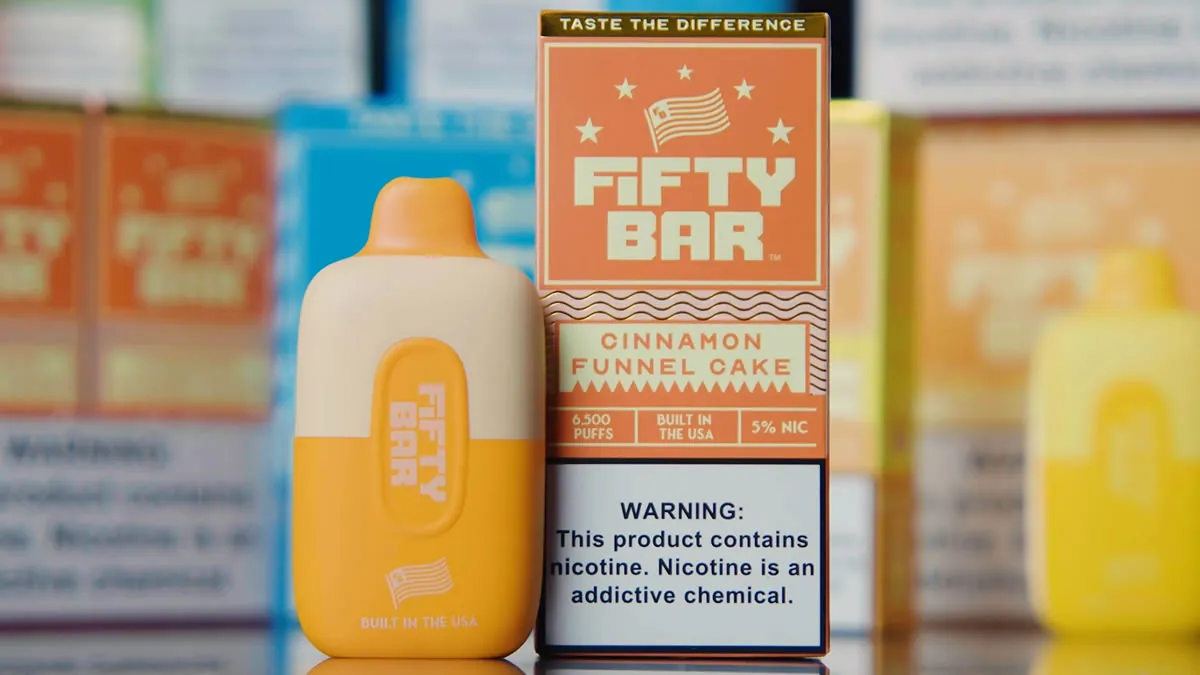 Key Features – American Quality Matters
The Fifty Bar's most noteworthy feature is its American design, engineering, and manufacturing. All production occurs domestically rather than overseas.
Additionally, these devices contain premium ejuice crafted in the USA by leading brand Beard Vape Co. This dual American approach provides peace of mind that the Fifty Bar meets quality and safety regulations.
The 400mAh battery capacious 16ml fill enable an impressive 6500 puff lifespan. Nicotine strength currently stands at 50mg, which suits committed nic salt vapers but limits the audience. More strengths would broaden appeal.
Aside from American-made quality and ample capacity, the Fifty Bar doesn't claim many other special features. The draw activation and Type-C charging prove simple and convenient to use.
Beard Vape Co. Ejuice Flavors
Any vape is only as good as the e-juice inside. With Beard producing the liquids, Fifty Bar has some of the best flavor artists in the business at their disposal.
The current lineup covers fruit, tobacco, menthol, dessert and more. Even with 15 available now, 9 more are coming by year's end for a total of 24 sensational flavors.
Here's a peek at some of the delicious options Fifty Bar offers:
Top 5 Fifty Bar Flavors Reviewed
Blueberry Cereal Donut Milk
This intriguing flavor fusion perfectly balances the sweet fruity notes of blueberry with creamy cereal tones and rich donut indulgence. Each puff begins with juicy blueberry and milky cereal, transitioning to a delicate donut finish. The trifecta combines seamlessly for a sublime all-day vape.
Cinnamon Funnel Cake
Carnival classic funnel cake gets a delightful dash of cinnamon spice in this spot-on flavor. Inhale the sweet, doughy flavor of powdered funnel cake straight from the fair. Exhale unveils a touch of cinnamon bringing warmth and depth without overpowering the delicate funnel cake profile.
Tobaccocino
Imagine your favorite morning ritual of coffee and a cigarette blended into one satisfying vape. This ingenious blend fuses aromatic tobacco with velvety cappuccino richness. The tobacco leaf flavor on the inhale gives way to creamy cappuccino notes on the exhale. Well-balanced and beautifully nuanced.
Juicy Mango Melon Ice
Escape to the tropics with this vibrant fruity menthol flavor. Sweet and juicy mango provide an authentic ripe flavor, complemented by refreshing melon backing notes. A kiss of cooling menthol on the exhale provides the perfect amount of chill. Fruity, floral, and refreshing in one juice.
Aloe Grapple Watermelon
This intriguing medley combines watermelon, apple, grape and aloe vera into a harmonious blend. Hints of candy-like sweetness interplay with lighter fruit and botanical flavors. Well-layered, with watermelon upfront trailed by grape, apple and aloe. Unexpected yet beautifully balanced.
More Must-Try Flavors
Beyond those five star flavors, the rest of the Fifty Bar lineup has even more to offer:
Pink Squares – A spot-on recreation of the beloved strawberry yogurt candy in vape form. Sweet, tangy and indulgent.
Triple Watermelon – A refreshing watermelon trio of seedless, picnic and yellow melon for layers of juicy melon goodness.
Mint – A crisp and cooling menthol vape accented by refreshing mint. The perfect palate cleanser.
Vanilla Custard – Rich and velvety vanilla pudding blended with egg custard notes. A sublime creamy dessert flavor.
Pacific Cooler – An island getaway in a vape with pineapple, coconut and menthol flavors. Fruity and icy.
The use of e-juice from Beard Vape Co. sets the Fifty Bar disposables apart from most competitors. As a prominent player in the vape juice industry, Beard is synonymous with exceptional flavor blending.
By partnering with Beard to produce their liquids domestically using quality ingredients, Fifty Bar has access to some of the best flavor artists and chemists in the business. The depth and accuracy of their blends reflect this mastery.
For vapers wanting delicious and authentic flavor from their disposables, Fifty Bar hits the mark. With 9 more flavors coming soon, their selection has something for all appetites.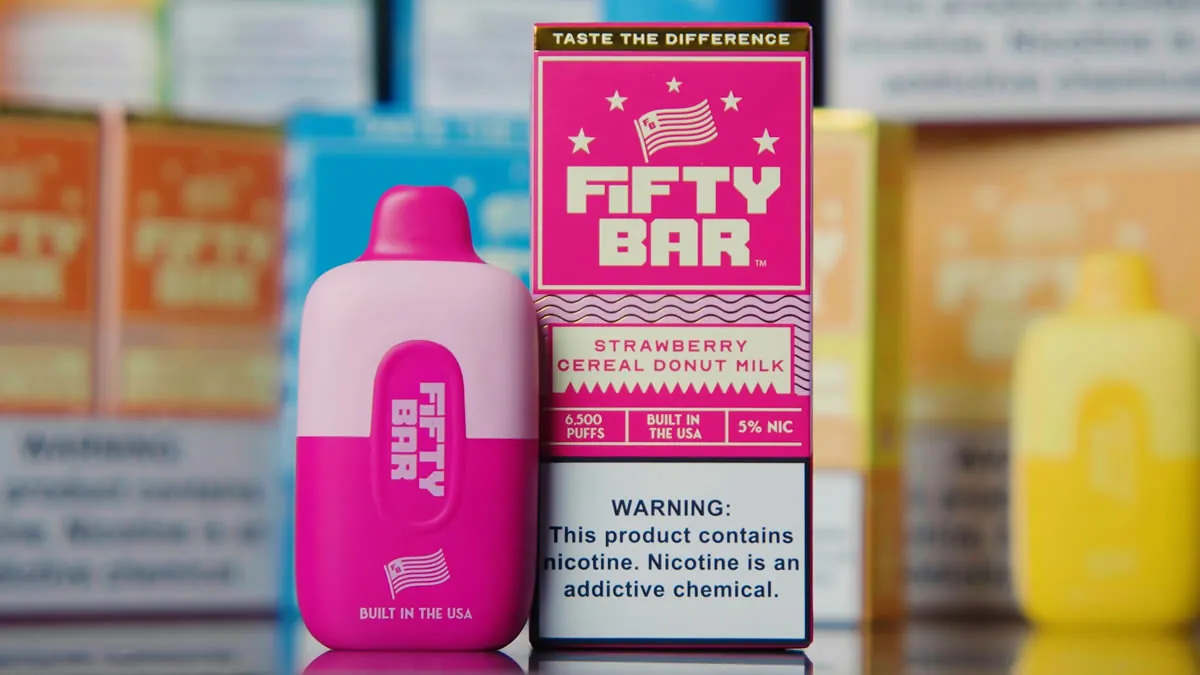 How's the Vaping Experience?
While flavor and build quality are critical, the most important aspect of any vape device is the actual vaping experience it provides. Here's an overview of how the Fifty Bar disposable performs:
Easy Draw Activation – No buttons to fiddle with. Just inhale to fire up the automatic draw system for carefree operation.
Accurate MTL Draw – The tight mouth-to-lung draw closely replicates the feeling of smoking a cigarette with moderate vapor production.
Flavor Finesse – With Beard's e-liquid mastery, flavors taste authentic and nuanced from first puff to last.
Potent Throat Hit – The 50mg nicotine salt concentration packs a nice punch to satisfy cravings swiftly.
200-300 Per Charge – Not the longest battery life but on par with similar disposables and extended by USB-C charging.
Leak Resistant Design – Large juice capacity and flawless manufacturing means minimal leaking.
Across the board, the Fifty Bar provides a highly gratifying vape comparable to top reusable pod systems. The draw, flavor and vapor all align to create an authentic experience. Even the most ardent vaper would be hard pressed to find fault in the performance and construction.
The Verdict
In the ever-expanding disposable vape market filled with generic options of questionable quality, Fifty Bar stands out as a premium American-made alternative. Their dedication to US-based design, engineering and manufacturing results in a noticeably well-crafted device.
Attention to detail shines through from the stylish exterior to the precisely fabricated internals. Packed inside the petite shell are impressive specs like a 16ml juice reservoir, 400mAh battery and a mammoth 6500 puff capacity.
The Beard Vape partnership fills each Fifty Bar with sublime e-liquids spanning tobacco to fruit and menthol to dessert. And the automatic draw ensures an authentic and satisfying vaping experience enhanced by nic salt throat hit.
While added lower nic levels could potentially expand their appeal, quality-focused vapers will appreciate the commitment to domestic engineering in the Fifty Bar. For an easy yet remarkably crafted disposable vape, these American-made devices deliver impressive convenience without compromise.
https://ecigator.com/wp-content/uploads/2023/11/1700324731-fifty-bar-review.jpg
675
1200
Ecigator
https://ecigator.com/wp-content/uploads/2023/04/ecigator-logo-white.png
Ecigator
2023-11-18 17:12:44
2023-11-18 17:12:44
Fifty Bar Disposable Vape Review – American-Made Quality