Pyne Pod Boost 8500 Review – Innovative Disposable Vape With Adjustable Boost Mode

The Pyne Pod Boost 8500 disposable vape stands out from the crowded market with its adjustable Boost Mode and tantalizing flavor options. Our hands-on review covers the key features, performance, flavors and overall vaping experience.
Disposable vapes continue surging in popularity for their convenience and variety. But many cookie-cutter devices flood today's market, making true innovation rare. The Pyne Pod Boost breaks from the pack with its customizable power levels and bold fruit flavors.
Read on for an in-depth look at how it performs on flavor, battery life, and ease of use.
Key Specs – Pyne Pod Boost 8500
Battery: 550mAh
Coil Resistance: 1.2ohm
E-Liquid Volume: 2ml
Nicotine Strength: 5% (50mg)
Estimated Puffs: 8500 (6000 in Boost mode)
Activation: Draw activated
Charging: USB-C
"The Pyne Pod delivers the power and longevity consumers expect from a premium disposable," says Mark Evans, CEO of parent company Motivape. "But we added thoughtful touches like Boost Mode to make the experience uniquely customizable."
Innovative Boost Mode Enhances Performance
The Pyne Pod includes expected features like a puff counter and battery indicator. But the star is its patented Boost Mode, activating via two clicks, which noticeably enhances vapor volume and flavor intensity.
According to Evans, "Boost Mode increases power output similar to bumping up the wattage on a mod while preserving battery life. It really amplifies satisfaction."
Boost Mode reduces the puff count from 8500 to 6000, but provides a more robust, satisfying vape. An LED indicates standard mode (green) or Boost Mode (red) so you can optimize sessions.
Thoughtful additions like the detailed e-liquid window and battery meter also improve functionality compared to standard disposables.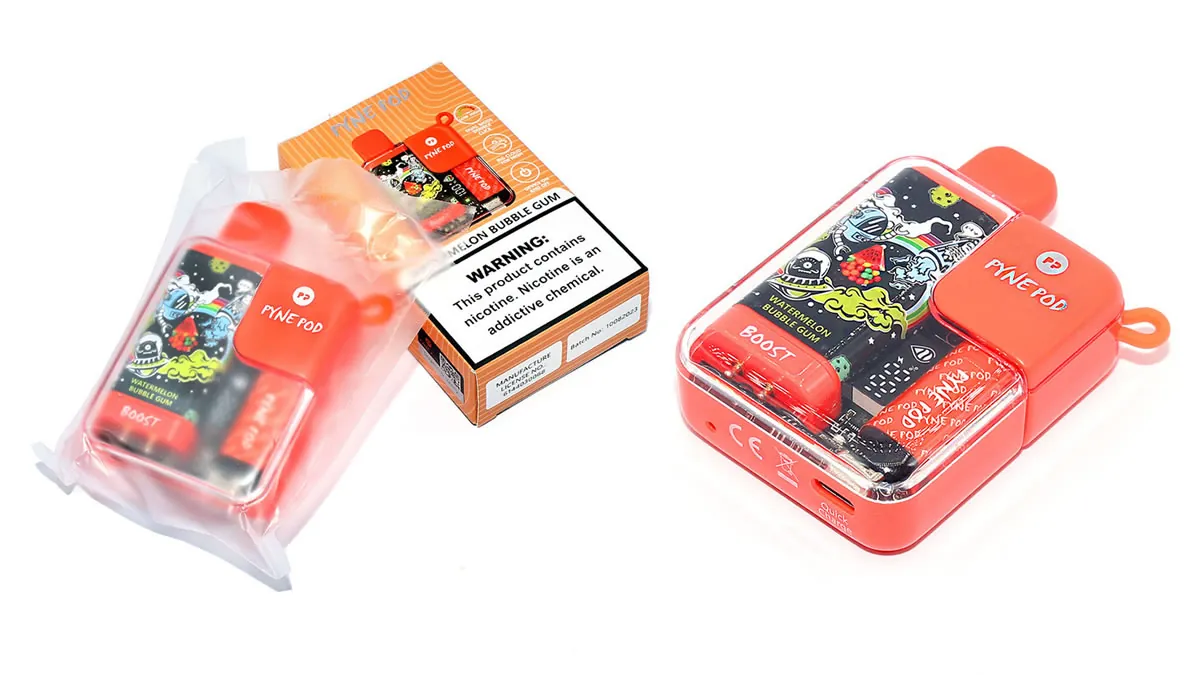 Satisfying Flavor Options From Fruity Blends to Tobacco
With so many similar disposable devices flooding today's market, developing distinctive flavors is one way brands can differentiate. Pyne Pod did just that with unique flavor fusions like Cantaloupe Apple and Sakura Grape.
Below we review each tempting flavor in the Pyne Pod Boost range:
Pyne Pod Boost 8500 Puffs Disposable Vape Flavors Reviewed
Lemon Lime
The Lemon Lime Pyne Pod Boost delivers zesty citrus flavor punctuated with sweet, tart notes. It's a refreshing medley bursting with sweet-tart lemon and lime. Cool on both the inhale and exhale, it's an invigorating all-day vape.
"With nuanced citrus flavors and icy finish, our Lemon Lime profile is a instant pick-me-up,"
Cool Mint
The Cool Mint option offers a crisp, refreshing mint accentuated by herbal undertones. Spearmint and wintergreen mingle for a cooling menthol experience. Well-balanced from first puff to last, it satisfies mint cravings.
"Our Cool Mint captures that brisk, exhilarating feel of chewing strong mints."
Blueberry Raspberry
Far from a one-note blue razz flavor, this blend balances plump blueberry sweetness with tart raspberry. The blueberry brings rich jammy tones while the raspberry provides zesty vibrancy. Vapers will enjoy the fruity evolution in every hit.
"We crafted a mixed berry experience with depth and realism beyond most disposables,"
Fizzy Cherry
This flavor bursts with juicy cherry goodness heightened by a unique fizzy sensation. Sweet and tart cherry mingles with effervescent notes for a carbonated cherry experience. Each puff delights the senses.
"Fizzy Cherry emerged from experimenting with sparkling flavors to create more mouthfeel, It amplifies the cherry to new levels."
Kiwi Passion Fruit Guava
An island getaway encapsulated, this tropical fusion balances sweet kiwi and guava with tart passion fruit. The guava lends candy-like sweetness while passion fruit provides tangy zest. Icy finish refreshes the palate.
"Kiwi Passion Fruit Guava is a vibrant flavor medley transporting you to the tropics."
Watermelon Bubblegum
Sweet watermelon candy flavor meets the nostalgic appeal of bubblicious chewing gum in this unique blend. Juicy melon intertwines with classic bubblegum essence for added depth. Perfectly satisfying when craving candy or fruit flavors.
"By fusing watermelon candy and bubblegum, we created a flavor with fun multifaceted appeal."
Sakura Grape
One of the line's most distinctive options, Sakura Grape combines bold grape flavor with a kiss of floral cherry blossom. The grape starts sweet then gives way to the delicate sakura. A chill finish keeps the exotic flavor refreshing.
"With Sakura Grape, we wanted to offer a flavor fusion not seen in any other disposable, It's uniquely crafted for the adventurous vaper."
Strawberry Banana
This classic pairing blends ripe, juicy strawberry with mellow banana. Unlike candied renditions, the banana profile aims for a touch of realism. The sweet fruits mingle deliciously with each hit.
"Strawberry and banana complement each other beautifully. We focused on balance to let both shine."
Strawberry Watermelon
Two quintessential summer fruits, strawberry and watermelon, unite for a refreshing chilled vape. Ripe strawberry sweetness contrasts pleasantly with watermelon's icy juices. Familiar yet unique, it's endlessly satisfying.
"Strawberry Watermelon is our twist on the classic Lush Ice profile, It captures refreshing sunny vibes."
White Gummy
Embodying a famous chewy candy in vape form, this flavor nails that elusive white mystery gummy taste. It starts sweet then ends with subtle tartness reminiscent of the candy. A nostalgic flavor that translates flawlessly.
"Recreating the distinctive white gummy candy flavor was an exciting challenge our flavorists embraced."
Mango Passion Fruit
Tropical mango meets zesty passion fruit in this sunny fusion. Sweet, creamy mango coupled with passion fruit's tart twist makes each puff burst with flavor. A touch of chill refreshes the palate.
"Mango Passion Fruit highlights the contrasts and complements between two popular tropical fruits."
Cantaloupe Apple
An unexpected fruit pairing, this flavor fuses juicy cantaloupe and crisp apple to delicious effect. The cantaloupe brings deep, dank melon essence contrasting beautifully with apple's bright kick. Unique yet satisfying.
"Cantaloupe Apple came from our flavorists seeking innovative fruit combinations, It exceeded our expectations."
Colombian Coffee
Robust, full-bodied coffee flavor reminiscent of a fresh morning brew. Rich, earthy Colombian coffee bean flavor calibrates perfectly for coffee aficionados. An invigorating experience.
"Our Colombian Coffee flavor is tailored specifically for vapers craving that bold coffeehouse taste."
Clear Pyne
This "flavorless" option contains no added flavors or aroma. Experience the natural mild sweetness of the base with an exceptionally smooth finish. It provides a pure vaping experience when you need a palate cleanser.
"Clear allows vapers to reset and enjoy the base ingredients' subtle flavor."
Tobacco Pyne
With its realistic tobacco profile, the Tobacco Pyne Pod Boost offers an authentic alternative to major tobacco brands. Robust and satisfying, it resembles the flavor of combustible cigarettes. Ideal for tobacco flavor enthusiasts.
"Our Tobacco replicating the taste smokers expect while zeroing in on smoothness and vapor quality."
With its wide variety of flavor options optimized for an all day vape, the Pyne Pod Boost has something for everyone whether your perfect flavor is Cool Mint, White Gummy, or Colombian Coffee.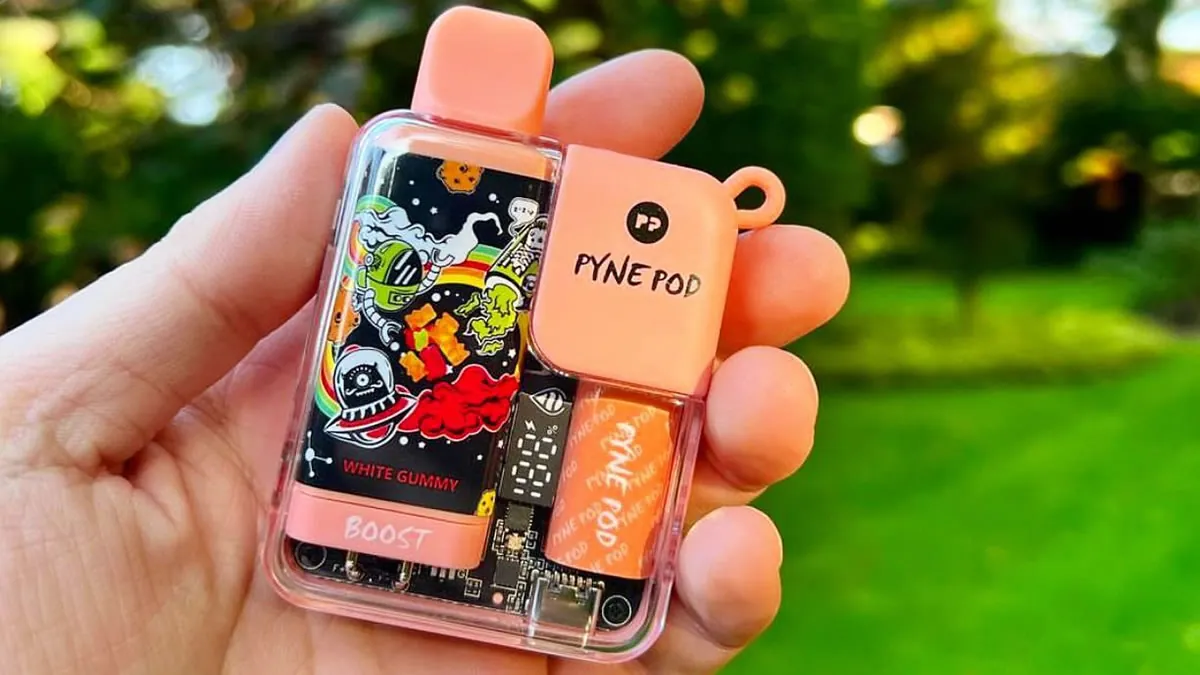 Smooth Performance Over Hundreds of Puffs
The Pyne Pod Boost delivers unwavering flavor and vapor output through engineering optimizations like the 1.2ohm mesh coil and precise temperature control.
The performance remains impressively consistent from first puff to last – even when draining the 8500 puff capacity. Activating Boost Mode noticeably intensifies vapor production without diminishing flavor.
Realistically, this compact device performs ideally for flavorful MTL rather than chasing massive clouds. But the output surpasses similarly sized disposables.
The 550mAh battery also powers through hundreds of puffs on a single charge. And the detailed e-liquid window provides handy visibility as juice decreases.
Eye-Catching Look with Vibrant Artwork
The Pyne Pod Boost sports colorful illustrated characters on its transparent shell, giving it a playful, vibrant look. However, some may find the artwork geared toward a younger demographic.
Thankfully, the graphics remain subtly embedded into the design. And the on/off switch allows discreetly powering down when needed.
While the visuals to toe the line, this nicotine-containing device suits only adult use. Those wanting a more low-profile look may prefer muted, solid color designs. But the transparent shell dynamically shows off the multi-function LEDs.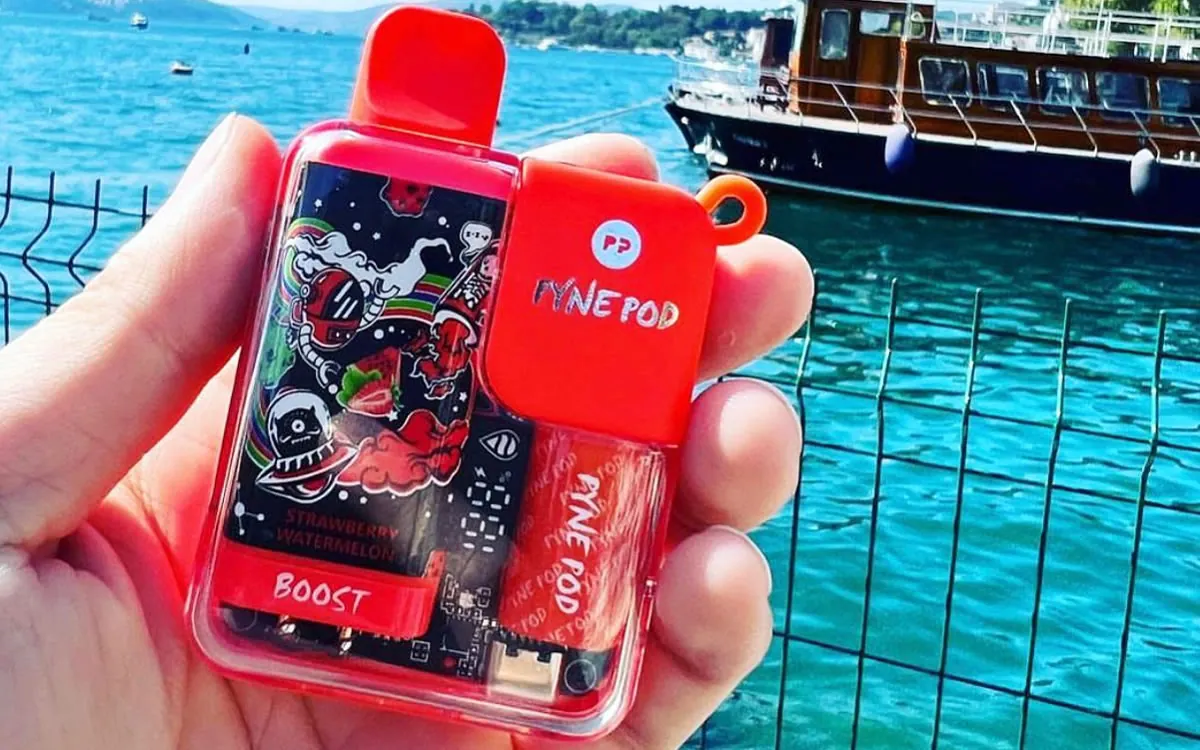 The Verdict: An Innovative Option for Enhanced Satisfaction
The Pyne Pod Boost 8500 stands apart from the ocean of disposables with its adjustable Boost Mode and excellent UI. Performance remains excellent across all 8500 puffs.
Thirteen sensational flavors give vapers amazing variety. Thoughtful innovations like the two-click vapor boost help justify the slightly elevated price tag.
For those seeking more than a basic experience, the Pyne Pod upgrades disposables with unique customization options unmatched by top competitors. It truly earns its "Boost" name by delivering vapor tuned to your preferences.
https://ecigator.com/wp-content/uploads/2023/11/1700306054-Pyne-Pod-Boost-8500-review.jpg
675
1200
Ecigator
https://ecigator.com/wp-content/uploads/2023/04/ecigator-logo-white.png
Ecigator
2023-11-18 13:10:30
2023-11-18 13:16:20
Pyne Pod Boost 8500 Review – Innovative Disposable Vape With Adjustable Boost Mode