Flum Float Disposable Vape Review – Convenient Vaping With Limitations
The Flum Float Disposable Vape Kit is a uniquely designed, convenient and easy to use disposable vape device. In this in-depth review, we'll take a close look at the Flum Float's stylish appearance, hassle-free features, simple usage, satisfying vapor performance and overall pros and cons.
First Impressions
At first glance, the Flum Float Disposable Vape Kit stands out from typical vape devices with its sleek, stylish design. It features a lightweight, palm-sized body in an eye-catching compact bottle shape that fits easily in your pocket or bag.
Available in a choice of attractive colors like red, blue, purple and green, the Flum Float's glossy exterior has a stylish, modern look. Its portable bottle-shaped form factor is much more discreet for public use than large, bulky vapes.
Weighing only 14g, the Flum Float is one of the lightest disposable vapes around. The lightweight body and compact size make it ideal for vaping on the go. The device comes ready to vape out of the box, with no refilling or charging needed before first use.
Package Content:
Inside the Flum Float Disposable Vape Kit box, you'll find:
1 x Flum Float disposable vape device
Warranty with 3 month guarantee
And that's it – no need for separate chargers, e-liquid bottles or any other accessories. The Flum Float arrives ready to vape. Just open it up, peel off the seals and start enjoying those 3000 satisfying puffs.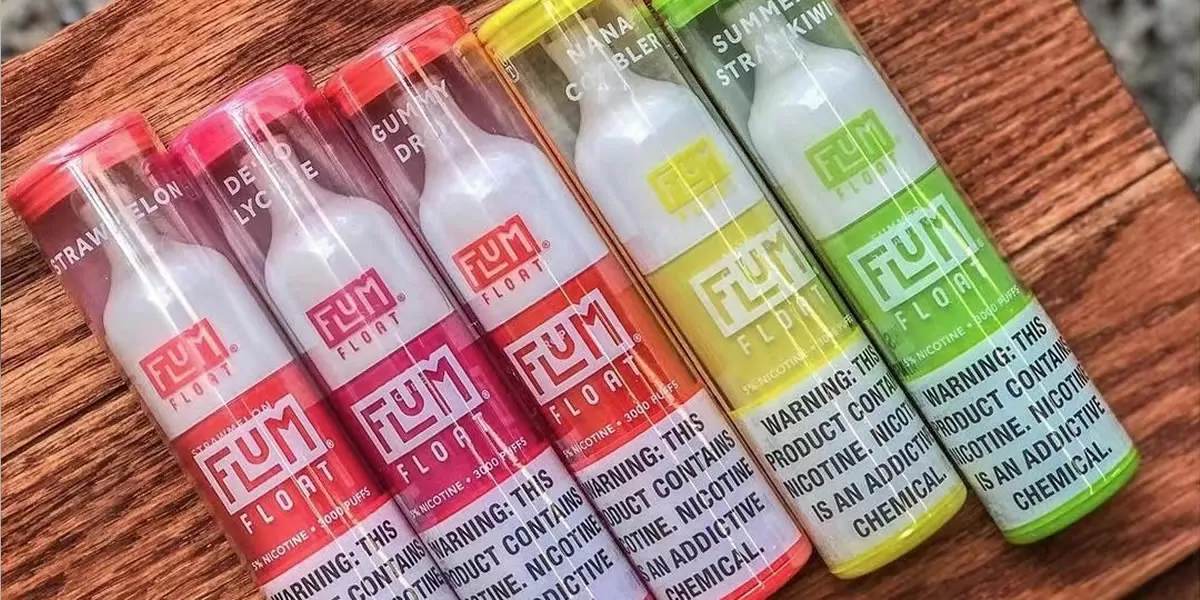 Key Features For Ultimate Convenience
While the Flum Float's unique bottle-style design is its most obvious feature, it also packs some convenient functions under the hood. Designed to offer fuss-free vaping, it removes much of the hassle of rechargeable vape kits.
One of the biggest conveniences is the large 8ml pre-filled e-liquid capacity. Rather than continually refilling a small tank, the Flum Float comes ready-loaded with vape juice in your choice of 10 different flavors. It lasts for an impressive 3000 puffs – far more than the average vaper will use before disposing the device.
The Flum Float doesn't require charging either. It comes pre-charged right out of the box, thanks to an internal battery designed to perfectly match the long-lasting e-liquid supply. Just start vaping – no waiting around for charging necessary.
Draw activation is another convenience-focused feature. Without any buttons, the Flum Float activates automatically when you inhale. This makes operating it seamlessly simple, especially for newcomers to vaping.
Easy To Use Straight Away
Using the Flum Float Disposable Vape couldn't be much easier. With no settings to adjust, power buttons to find or refilling/charging required, it's incredibly simple to start vaping.
The draw-activated design means you just need to open the packaging, remove the device and start inhaling through the mouthpiece. There are no complicated settings – just inhale and enjoy the vapor.
The lack of refilling or charging makes the Flum Float the ultimate grab-and-go vaping companion. Keep one in your pocket for hassle-free vaping anywhere. No need to remember to recharge or bring e-liquid bottles.
Portability is another ease-of-use advantage. Weighing only 14g and just 10cm tall, the Flum Float slips easily into a pocket or bag, ready to pull out for a quick vaping session.
Overall, it's one of the simplest vapes around, distilling the experience down to its essence: inhale to activate, that's it. No expertise required.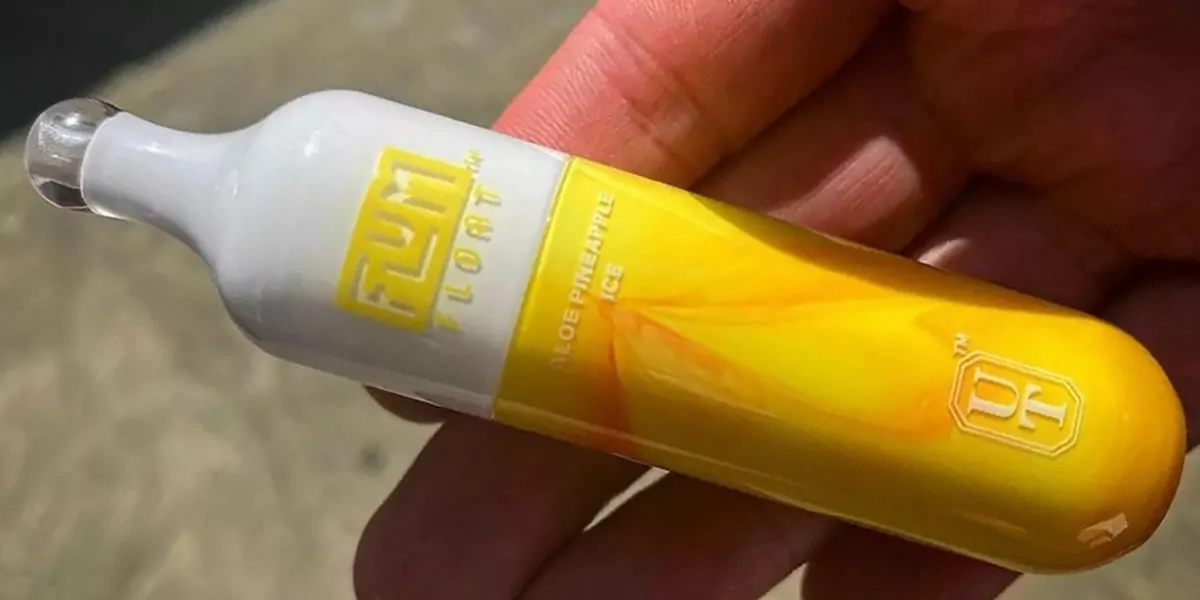 Quality Vapor Performance
While convenience is the Flum Float's main appeal, it still delivers when it comes to vapor performance. Each puff provides a smooth, flavorful and satisfying vaping experience.
The pre-filled e-liquid uses a high-quality nicotine salts formulation that produces a smooth throat hit and carries flavor cleanly. Flavor options include menthol, tobacco, fruit and candy profiles.
Whichever you choose, the taste remains consistent from the first puff to the last – there's no variation in quality as the liquid level decreases. Airflow is smooth and resistance-free for easy inhaling.
Vapor production volume is modest – don't expect huge clouds. The focus is on throat hit and flavor delivery rather than blowing massive clouds. But vapor density feels decent for a satisfying mouthfeel.
Nicotine level of 5% (50mg) gives a solid punch to the throat that quickly delivers a nicotine buzz for most vapers. At 3000 puffs per device, it lasts far longer than the average vaper will need.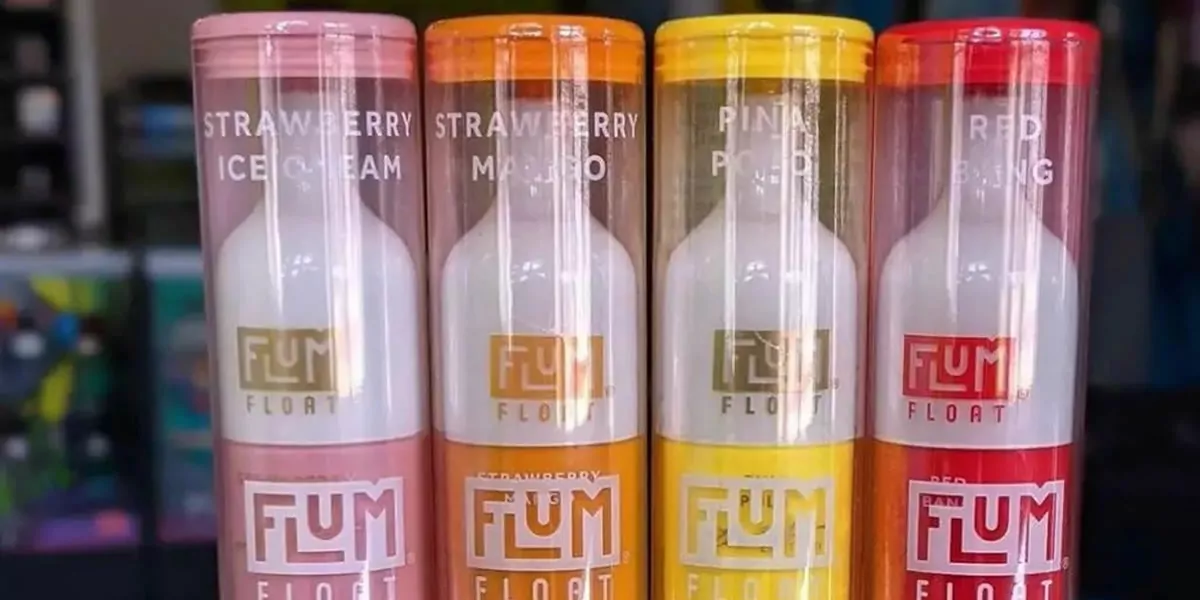 The Pros of the Flum Float Disposable Vape
What are the best aspects of the Flum Float Disposable Vape Kit?
Unique, stylish design – Its compact bottle shape stands out and looks great
Pre-filled and pre-charged – No fussing with e-liquid or charging
3000 puffs per device – Lasts far longer than the average vaper will need
Dozens flavors to choose from – Decent variety from menthol to fruits
Smooth, consistent taste – Quality nic salts formula
5% nicotine – Solid throat hit and buzz
Draw activation – Easy to use with no buttons
Highly portable – Extremely lightweight and pocket-friendly
Potential Cons to Consider
Despite its many conveniences, the Flum Float does come with a few limitations:
Not refillable – No way to top up with your own liquid
Not rechargeable – Battery lasts one vape session
Disposable format – Less sustainable than rechargeable vapes
Fixed flavors – Can't customize liquid
So if you want maximum control over your liquid flavors, the ability to refill/recharge, or a more eco-friendly vaping experience, the Flum Float may not meet your needs.
Flum Float Vape Flavors
Flum Float provides over 30 delicious flavors across a wide spectrum of taste profiles. From fruity and icy to sweet, Flum Float has a flavor option to satisfy every palate.
Fruity Flavors
Flum Float has a huge selection of fruit-inspired flavors that provide a sweet, juicy vaping experience. Options range from single fruit flavors to exotic blends that mix and match fruits for intriguing flavor combinations.
Choices like Strawberry Watermelon, Red Apple, and Strawberry Mango allow you to enjoy delicious single fruit notes. For those who like fruit medleys, Rainbow Skittle combines fruity flavors for a vibrant candy-like taste.
Tropical flavors also shine with options like Pina Colada and Tropical Delight. And for a unique blend, Lichi Rosy pairs sweet lychee with delicate rose notes.
Icy Flavors
Cooling icy flavors are another Flum Float specialty. Options like Peach Ice, Banana Ice, and Apple Ice infuse creamy fruits with a blast of chill. Pure menthol flavors like ICE and Cool Mint provide an intense icy rush.
For the best of both worlds, Icy Berry Lemon combines menthol with juicy berries and tart lemon. So whether you crave subtle chill or frozen intensity, Flum Float icy flavors deliver.
Sweet and Candy Flavors
Indulge your sweet tooth with Flum Float's dessert and candy-inspired flavors. Creamy, nostalgic options like Strawberry Ice Cream and Cotton Candy transport you back in time.
Gummy Drop provides the chewy sweetness of gummy candy. And choices like Strawberry Taffy and Blue Raspberry Sour Belts recreate classic sugary treats in vape form.
The variety allows you to alternate between flavors for an ever-changing sweet vape experience. When a candy craving hits, these Flum Float flavors satisfy.
Minty Menthol Flavors
Crisp minty menthol flavors provide a refreshing vape experience. Options like Cool Mint and Peppermint Polo capture mint's cooling essence. While more intense choices like Lush Ice and Melon from God offer an extra icy blast.
For a fruit twist, Guava Citrus combines tangy guava and citrus with a hint of chill. Or sip on a Fruit Punch with a hint of menthol. Flum Float minty flavors clear your palate and provide invigorating vapor.
Complex Flavor Profiles
Some Flum Float flavors combine multiple flavor dimensions for an intricately crafted vaping experience. A great example is Aloe Grape, blending herbal aloe vera with juicy grape.
Aloe Mango Melon Ice mixes aloe, mango, and melon with icy menthol. And Strawberry Mango pairs sweet strawberry with tropical mango.
The complex options provide evolving flavor as you vape. One puff may highlight certain notes, while the next puff brings others to the forefront.
Our Verdict:
To summarize, the Flum Float Disposable Vape Kit nails the basics if you want convenient, no-fuss vaping free of refilling, charging and settings. It delivers a smooth, flavorful 3000 puff vape that's easy to take anywhere thanks to its portable, lightweight design.
However, its disposable nature means you're stuck with fixed flavors and limited environmental sustainability. It's a single-use device that gets discarded after one vape session.
So ultimately it's ideal for beginners and anyone who values sheer simplicity above all else, but less suitable for experienced vapers who prefer customizability and eco-friendly habits.