Geek Bar J1 Pod Kit Review: Flavors, Price and More

The vaping industry sees a continuous stream of new releases, but few genuinely shake up a product category quite like the Geek Bar J1 Pod Kit. This innovative device combines the convenience of a disposable with the sustainability of a pod system.
Is the J1 too good to be true, or does it deliver on its lofty eco-friendly promise? Our in-depth review explores everything vapers need to know about this revolutionary disposable pod mod.
Overview of the Geek Bar J1 Pod Kit
At first glance, the J1 resembles a standard disposable vape pen. But closer inspection reveals a novel two-piece design. The slim rechargeable battery houses a 500mAh cell and USB-C charging port.
Disposable pods feature built-in mouthpieces and snap securely into place with a simple magnetic mechanism. Prefilled with 2ml of nicotine salt e-juice, the pods hold an unspecified mesh coil and organic cotton wicking.
This innovative configuration essentially transforms the J1 into a reusable pod mod. You only replace the pod once the coil burns out after approximately 600 puffs. The battery can be continually recharged and used again and again.
For vapers accustomed to throwing away an entire device when the battery or juice runs dry, this comes as an exciting and eco-friendly revelation.
Geek Bar's J1 offers the ultimate convenience of a disposable with substantially less waste. But does it deliver satisfying performance? Let's dig deeper to find out.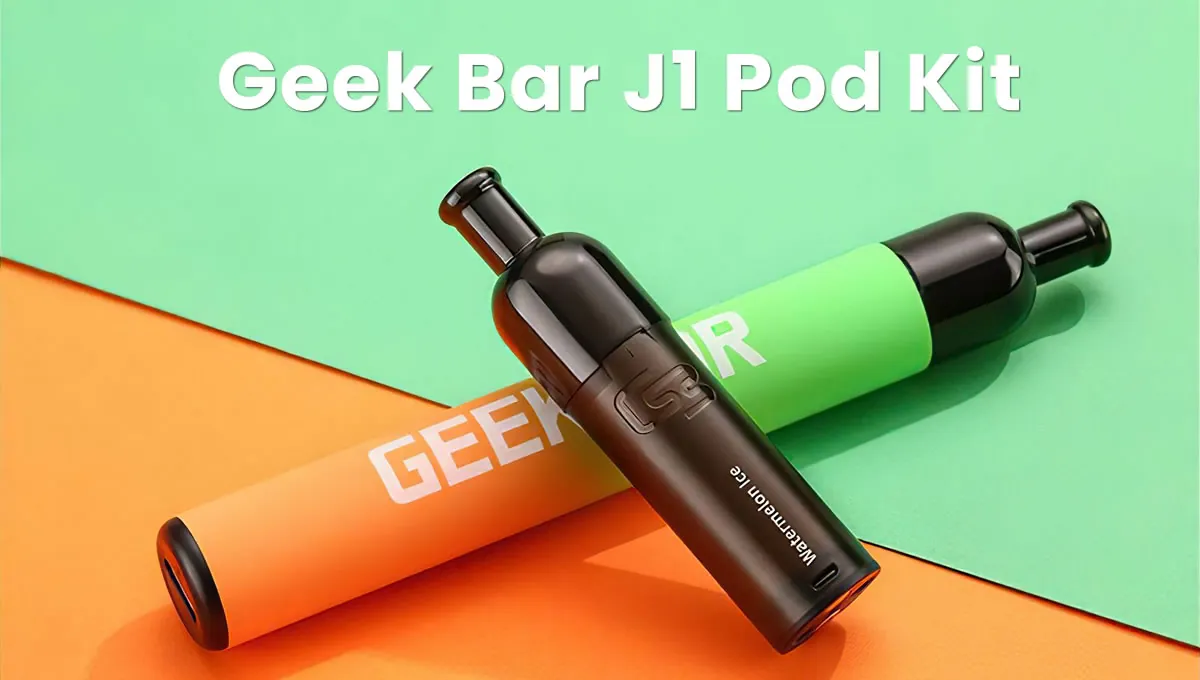 Geek Bar J1 Pod Kit Features and Specifications
Battery:
500mAh rechargeable lithium battery
USB-C charging
LED battery life indicator
Automatic draw activation
Pods:
2ml e-juice capacity
Proprietary mesh coil
Prefilled with nicotine salt e-liquid
~600 puff lifespan
Disposable
Tight MTL draw
Magnetic connection
Other:
11 flavors, 2% nicotine strength
Draw activated firing
Loose MTL draw
Device dimensions: 120mm x 15mm x 15mm
6 color options
At face value, the J1's specs stack up well against competitors. A 500mAh battery sufficiently powers the device between charges. And 2ml prefilled pods deliver ample capacity for a disposable.
Let's look at how these features translate into real-world performance.
Taking the Geek Bar J1 for a Test Drive
Having tested my fair share of disposable vapes, I came in with reasonable expectations of the J1's performance. But its innovative design nevertheless generated some skepticism.
Could a disposable pod system truly outperform built-in disposable coils while reducing waste? Time to put it to the test.
To start, charging the battery via USB-C took a bit longer than expected, likely due to the 1A input. With a large enough battery capacity, this wasn't a dealbreaker for me. Having multiple affordable batteries on hand solves any downtime issues.
Operation couldn't be simpler. Insert a pod until it clicks magnetically into place. Then take a pull to activate the draw-fire system. Vapor pours out instantly, evidencing the rapid heat up time of the mesh coil.
Flavors burst with clarity, especially on fruit-focused profiles. Vapor production hit satisfying levels common among disposables with similar battery outputs. Compared to JUUL, the J1 puts out noticeably larger clouds.
I encountered no leaking or spitback during testing. Battery life aligned with my expectations of disposables in this class. While the loose MTL draw felt slightly too airy for my preference, it didn't detract from performance.
All in all, the J1 delivers exactly what vapers expect from a quality disposable vape. Except it accomplishes this feat in a much more eco-friendly manner.
Top Geek Bar J1 Pod Flavors Reviewed
Ranging from sweet candy blends to creamy desserts and tangy fruits, Geek Bar innovated with their J1 pod flavors. While profiles like Mango Smoothie prove crowd-pleasing, unique options like Ginger Soda reveal serious creativity.
As an experienced vape reviewer, I appreciate the care Geek Bar took to formulate juices that pop with authenticity. Most avoid coming off as artificial or overly synthetic. Let's explore some of the most talked-about flavors.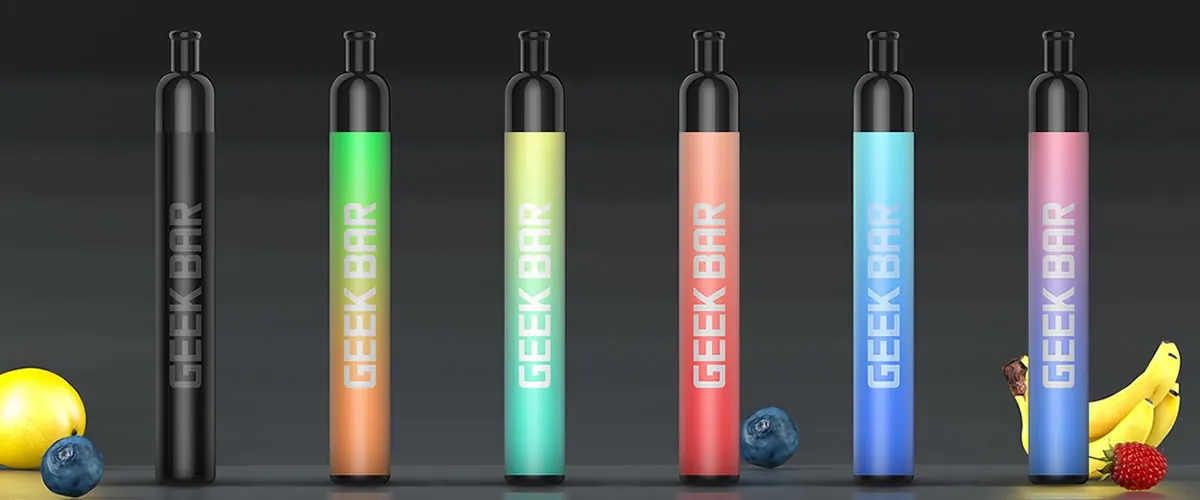 We review some of the most popular J1 pod flavors to reveal the possibilities. Read on to find your perfect all-day vape among these flavorful pods.
Tropical Skittles Blast – This flavor accurately captures the vibrant tropical essence of Skittles candy. The inhale brings a sweet and tangy tropical medley of mango, pineapple, grapefruit, lemon, and lime flavors. It's reminiscent of popping a handful of Skittles, allowing your tastebuds to experience the rainbow. Each fruit comes through in the blend while the exhale provides a subtle cooling effect. An authentic candy-like tropically fruity vape.
Kiwi Passionfruit Guava – A harmonious blend of sweet kiwi, tart passionfruit, and mellow guava. The inhale leads with vibrant kiwi, delivering its zesty sweetness. As you exhale, the fragrant tropical guava rounds out the medley for a smooth finish. Well-balanced and nuanced, this juice captures the juicy tropical essence of all three fruits seamlessly. A new take on a classic flavor profile.
Mango Smoothie – This flavor beautifully captures the taste of a creamy mango smoothie. Ripe, juicy mango is dominant on the inhale, delivering authentic earthy sweetness. As you exhale, the mango flavor is enveloped in a thick, velvety cream base that feels luxuriously smooth. Well-executed balance between rich creaminess and sweet mango makes each puff feel like enjoying a chilled Mango smoothie.
Cheesy Blueberry Jelly – Indulge in a classic blueberry cheesecake blend. Sweet and jammy blueberry inhales lead to rich cheesy cream exhales reminiscent of New York-style cheesecake. Subtle graham cracker crunchiness rounds it out. The blueberry, creamy cheese, and flaky crust each come through accurately for an authentic cheesecake vaping experience.
Ginger Soda – This flavor beautifully marries the essence of real ginger root with effervescent soda water. The crisp spicy ginger hit is dominant on the inhale, delivering authentic ginger tanginess. As you exhale, the sweet fizzy soda taste washes over your palate, feeling like taking a sip of Canada Dry. Well-executed for fans of ginger.
Lime Cherry – A blend of tart cherries and zesty limes. Both the cherry and lime flavors come through, but seem to balance each other out rather than standing out individually. The overall impression is fruit tanginess with mild sweetness. While it delivers an accurate mix, the Lime and Cherry fail to fully pop as individual flavor notes. Likely better suited for vapers seeking a mellow fruity vape.
Geek Bar struck an ideal balance between fun flavor creativity and delivering on taste with the J1 pods. From tropical fruits to creamy desserts and sodas, most avoid artificial notes that detract from enjoyment.
While a divisive flavor like Ginger Soda won't appeal to everyone, Geek Bar deserves credit for taking risks. Vapers who appreciate variety will savor the diverse juice options.
Thanks to nuanced flavor blending and authentic tastes, the J1 delivers some of the best disposable pod flavors around. Juice consistency also remains impressive throughout the pods' lifespans.
For vapers demanding flavor quality from their disposables, Geek Bar's J1 pods deliver. The expansive flavor selection ensures beginners and veterans alike can find satisfying options.
Design and Ergonomics
The J1 comes in a spectrum of colorful two-tone designs. I'm partial to the sleek all-black model but can appreciate the playful aesthetic of mixes like Lime Coral. A rubberized finish gives the device a smooth, comfortable feel.
Despite the diminutive size, the J1 feels nice in hand. Buttons are absent, as all operation stems from the automatic draw activation. Taking a pull triggers the battery to heat the coil.
The pods feature integrated mouthpieces that you simply swap out when empty. This protects the reusable battery component from wear. Magnetic connections make swapping pods a breeze.
While testing did reveal rare connectivity issues between pods and batteries likely due to faulty units, performance generally proved reliable. The automatic draw and vapor production worked flawlessly with properly functioning pods.
My only complaint relates to the slightly airy draw. While expected for disposables, I would prefer a tighter MTL inhale. But for most vapers, this looser draw won't pose concerns.
Geek Bar J1 Pod Kit: Final Verdict
Geek Bar managed to develop an innovative disposable pod system that reduces waste while delivering satisfying performance. The J1 essentially merges the convenience of disposables with the sustainability of reusable pod mods.
From smooth airflow to rich vapor and flavor, the vaping experience meets or exceeds that of standard disposables. Battery life, juice capacity, and longevity all checked the necessary boxes. While the pod flavors range from stellar to mediocre, Geek Bar deserves credit for their creativity.
Minor shortcomings like the open draw barely detract from the overall value proposition. Factoring in the eco-friendly reusability, affordable price point, and smart engineering, the J1 earns a shining recommendation.
For vapers seeking a convenient device with less environmental impact, the Geek Bar J1 Pod Kit is difficult to beat. It earns our vote as a refreshing game changer in the disposable vape category.
https://ecigator.com/wp-content/uploads/2023/10/1698002109-Geek-Bar-J1-Pod-Kit-Review.jpg
680
1200
Ecigator
https://ecigator.com/wp-content/uploads/2023/04/ecigator-logo-white.png
Ecigator
2023-10-24 18:52:11
2023-10-22 19:38:07
Geek Bar J1 Pod Kit Review: Flavors, Price and More