Geek Bar Meloso 600 Disposable Vape Review

GeekVape is a globally recognized vape brand known for high-performance vaping devices and accessories. Founded in 2015, GeekVape quickly gained a reputation for innovative design, durability, and exceptional vaping quality. Today, they are one of the leading brands in the industry.
Initially targeting advanced vapers, GeekVape expanded into the MTL (mouth-to-lung) and disposable vape markets through extensive research. Their disposable vape range, starting with the Geek Bar in 2020, became an instant worldwide hit. The Geek Bar and Elf Bar 600 dominated the early disposable vape market.
Capitalizing on this success, GeekVape subsequently launched the Geek Bar E600, C600, and rechargeable J1 in the UK, among other disposable options. The Geek Bar Meloso 600 is their newest disposable vape innovation.
Geek Bar Meloso 600 Disposable Vape Review
The Geek Bar Meloso 600 pays homage to the original Geek Bar in shape and flavor options but has an updated color scheme and aesthetics. The pastel pink and blue tones have a summery, feminine vibe.
The outer packaging is flimsy cardboard that did not survive opening. Individual devices are sealed in Geek Bar branded wrappers. Opening these wrappers is tricky with no obvious tear strip, but they keep devices protected until use.
The lightweight Meloso body comprises two plastic color-matched parts – a seamless pastel outer shell and metallic base. The base allows the device to stand upright steadily.
Key Details
Brand: Geek Bar by GeekVape
Flavors: 10 options
Specs: 500mAh battery, 2ml nic salt eliquid, 20mg nicotine, up to 600 puffs
Features: Proprietary VPU dual coil, no refills
Testing the Geek Bar Meloso 600
The Meloso has a 500 mAh battery and 2ml of nicotine salt e-liquid (20mg). GeekVape promises up to 600 puffs from the proprietary VPU dual coil.
During testing, the draw was smooth with impressive vapor production. Most Melosos lasted over 600 puffs before the battery expired. The vape experience is mellow and sweet, as the name suggests.
Cola Ice delivered the boldest flavor, while the unique Geek Juice resembled orange squash with a hint of cherry. The flavors are recognizably Geek Bar but come across slightly dilute and sweet. Overall, they remain mellow, refreshing options.
Top Geek Bar Meloso 600 Flavors
The GeekBar Meloso 600 disposable vape offers exceptional convenience paired with mouthwatering flavors. With 10 options ranging from fruity to minty, the Meloso 600 caters to diverse tastes. Its newly engineered dual mesh coils optimize every puff for maximum enjoyment. Let's explore the Meloso 600 flavor lineup.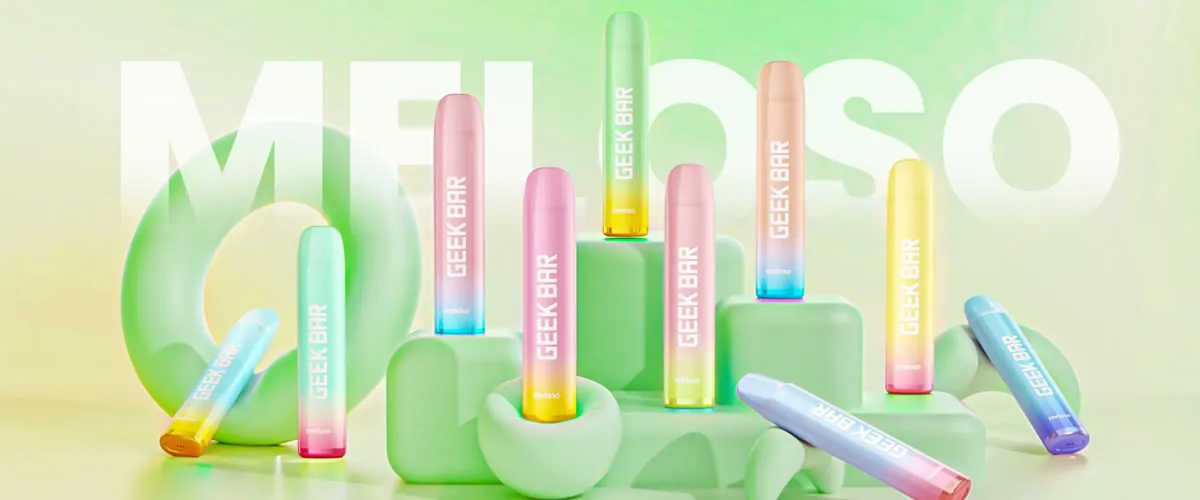 Blueberry Sour Raspberry: A Zesty Medley
This vivacious berry medley blends sweet blueberry with tart raspberry candy notes and a hint of cooling. The blueberry brings realism while the sour raspberry steps up the candy-like vibrance.
Initial puffs reveal the blueberry's mellow sweetness before the sour raspberry kicks in, activating your taste buds with its zingy presence. A touch of cooling agent on the finish keeps the experience feeling fresh.
Fans of mixed berry and candy profiles will appreciate this flavor's complexity and energy. The blend of realistic and candy-esque berry elements creates an easy all-day vape.
Watermelon Ice: A Sweet and Cool Treat
Few flavors encapsulate summer quite like watermelon. This rendition balances sweet watermelon candy undertones with a blast of cooling mint.
The melon flavor leans towards the candy spectrum, reminiscent of watermelon gum or gummies. Ample sweetness comes through, offset by the icy base notes. The cooling effect amplifies the candy-esque qualities.
For those craving a refreshing summery vape, Watermelon Ice delivers sweet melon satisfaction with a frosty twist. Its uncomplicated flavor profile makes it an effortless go-to.
Geek Juice: A Tropical Medley
This aptly named blend brings together an array of tropical fruits for a flavor explosion. Bursts of mango, pineapple, apple, and citrus unravel in each puff for a dynamic experience.
Subtle cooling agent in the background allows the tropical mélange to shine. Hints of multiple fruits combine to create a flavor profile greater than the sum of its parts.
For an intricately crafted yet easy vaping fruit medley, Geek Juice hits the spot. Vapers seeking a complex fruity blend will find their match with this flavor.
Sour Apple: A Tart Green Apple Treat
Evoking flavors of sour green apple candy, this disposable keeps things refreshingly simple. Bright and crisp apple flavor hits the palate with a tangy jolt.
The prominent tart apple taste possesses an unmistakable candy-esque vibe. Touches of sweetness smooth out the assertive sour notes.
With minimal cooling effect, the sour apple identity retains clarity. Even newcomers to apple e-liquid flavors will recognize its familiar candy-inspired taste immediately.
Pink Lemonade: Sweet Tart Revitalization
This effervescent lemonade flavor quenches cravings with tangy citrus coupled with sweet, mellow berry undertones. The contrast creates bubbly brightness.
Subtle strawberry elements soften the zippy lemon-lime, resulting in a well-rounded candy-inspired taste. Faint cooling on the finish adds to the revitalizing mouthfeel.
Vapers seeking a candy sweet lemonade with a touch of frosty freshness need look no further. Each puff channels the timeless flavors of this sunny classic.
Blueberry Ice: Simple Yet Sophisticated
The brilliance of this blueberry flavor lies in its simplicity. Plump blueberry mingles with a blast of icy freshness to craft a satisfying vape.
The blueberry evokes tastes of ripe berry candy, both sweet and slightly tart. Robust minty coolness ripples through each puff, keeping the experience feeling lively.
For an effortless and enjoyable icy blueberry vape, this novice-friendly yet flavorful option hits the target. Sweet berry and icy freshness pair perfectly.
Mango Ice: A Complex Tropical Treat
In contrast to Blueberry Ice, Mango Ice impresses with intricate tropical flavors. Ripe mango flesh, tart green mango, and fizzy top notes intertwine to create complexity.
Smooth ripe mango couples with sharp young mango for a layered profile. Then, a constant blast of wintry coolness ups the refreshment factor.
Mango connoisseurs will appreciate the authentic range of flavors captured. For an invigorating and nuanced tropical experience, Mango Ice delivers.
Strawberry Ice: A Blast of Berry Bliss
This icy strawberry flavor tantalizes with its mix of candy sweetness and natural berry nuance. Each puff bursts with plump strawberry richness.
The syrupy ripe berry taste conjures thoughts of candy while maintaining a fresh picked vibe. Frosty coolness flows freely, creating an energizing sensation.
With outstanding integration of flavor elements, Strawberry Ice is easy to recommend. For strawberry aficionados, its mix of candy fun and berry realism makes it a top pick.
Peach Ice: A Stone Fruit Celebration
Reminiscent of fizzy peach candy rings, this stone fruit flavor excels with its mix of juicy sweetness and frosty freshness. The peach flavor profile leans candy yet maintains a bright natural edge.
Each puff captures the syrupy nectar of ripe peaches picked at their peak. Cooling on the finish amplifies the playful mood. Avoiding heavy creaminess prevents dessert-like overwhelm.
For those seeking a candy-inspired peach vape with plenty of character, Peach Ice is a flavor triumph. Its balance of sweet fruit and icy mint delivers consistent satisfaction.
With outstanding variety and authentic flavor renditions, the GeekBar Meloso 600 disposable series shows remarkable range. Clever combos like Blueberry Sour Raspberry and complex options like Geek Juice reveal masterful profile crafting.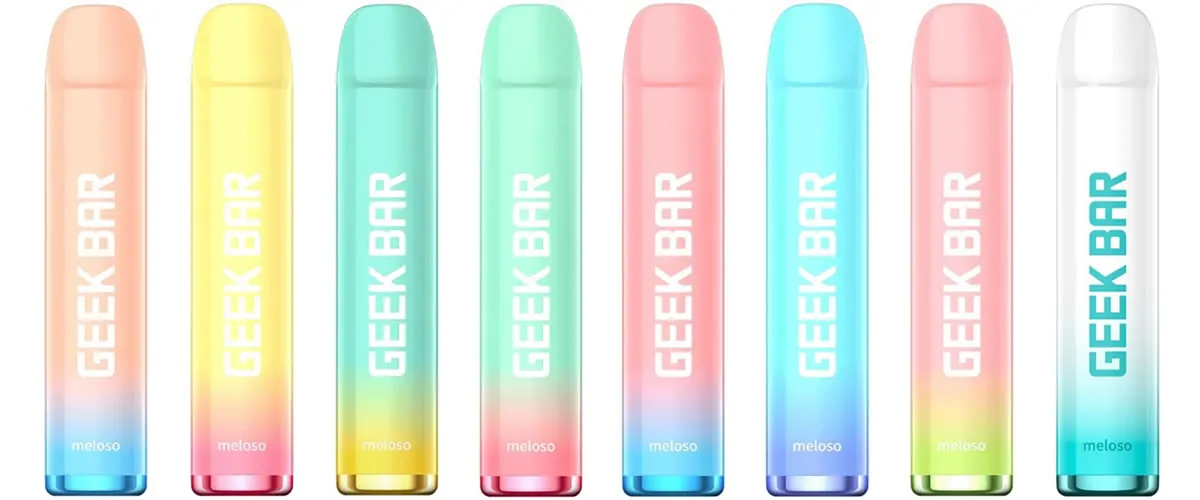 Who is the Geek Bar Meloso 600 Best For?
This new disposable vape range appeals most to existing fans of GeekVape's iconic Geek Bar lineup. Vapers who have enjoyed the brand's flavors and performance in the past will be right at home with the Meloso 600.
The sleek, compact, user-friendly design also makes it ideal for vaping newcomers looking for a low-maintenance, grab-and-go device.
Female vapers or anyone who appreciates delicate, feminine aesthetics will be drawn to the pastel color schemes and branding.
How Does it Compare to Similar Disposable Vapes?
The Geek Bar Meloso 600 shares distinct similarities with GeekVape's own original Geek Bar as well as the upcoming petite-sized Geek Bar Meloso Mini. It provides a natural evolution of the company's disposable vape tech.
Fans of the Geek Bar E600 will also feel accustomed to the Meloso 600, as it takes classic GeekVape qualities into a new generation.
When comparing the performance and longevity to competitors like the Elf Bar, the Meloso 600 holds its own and even exceeds expectations.
Final Verdict: Yay or Nay?
Without hesitation, I can recommend the Geek Bar Meloso 600 for vapers seeking a quality disposable device. Both loyal GeekVape patrons and newbies dipping their toes into vaping will find it satisfies.
The smooth, consistent draw, robust vapor production, and tried-and-true Geek Bar flavors make this vape a winner in my book. It also beats many similar devices in terms of longevity per charge.
While the packaging could be improved, the ergonomic design and overall vaping experience outweigh that minor gripe. So if you're curious about the Meloso 600, I say give it a shot!
What I Love About the Meloso 600:
Sleek, compact, and lightweight design
Easy draw activation
Dense, satisfying vapor output
Long-lasting 500mAh battery life
Tried-and-true Geek Bar e-liquid flavors
Beginner-friendly use with no maintenance
Hopefully this detailed hands-on review gives you all the info needed to decide if the Geek Bar Meloso 600 disposable vape is right for you! Let me know if you have any other questions.
https://ecigator.com/wp-content/uploads/2023/10/1697655963-Geek-Bar-Meloso-600-Review.jpg
650
1200
Ecigator
https://ecigator.com/wp-content/uploads/2023/04/ecigator-logo-white.png
Ecigator
2023-10-18 19:15:25
2023-10-18 19:15:25
Geek Bar Meloso 600 Disposable Vape Review