Geek Bar Pulse 15000 Review – A Convenient Flavor Behemoth

The search for the perfect disposable vape that offers exceptional flavor, convenience, and longevity is over. The Geek Bar Pulse 15000 is the new gold standard, providing an unparalleled vaping experience in a sleek and user-friendly design. With innovative features, vibrant e-liquid flavors, and impressive battery life, this disposable vape has redefined what's possible. Discover the pleasures of simplified vaping with the remarkable Geek Bar Pulse 15000.
Features and Specifications
For those new to vaping, the Geek Bar Pulse 15000 offers an easy and enjoyable transition away from traditional cigarettes. Its straightforward operation removes any intimidation factor, while the satisfying vapor production mimics the familiar sensations of smoking without any complicated settings or maintenance.
Marketed as a "revolutionary" leap, the Pulse 15000 brings extreme specs:
Massive 16mL prefilled e-juice reservoir
Approximately 15,000 puff rating
Powerful 650mAh rechargeable battery
5% (50mg) nicotine strength
Draw-activated firing mechanism
Two vaping modes
0.8ohm dual mesh coils for flavor and clouds
Extensive 15 flavor variety
Advanced informative display screen
With these mammoth specs, Geek Bar strives to drastically outperform and outlast typical short-lived disposables. But does this beast deliver on claims of convenience and performance? Our in-depth testing provides real-world insights.
Unrivaled User Experience
Vaping should be hassle-free and intuitive. The Geek Bar Pulse 15000 delivers on this promise with its draw activated firing system. No buttons or complicated settings – simply inhale and enjoy flavorful vapor instantly. This effortless operation makes it ideal for beginners and veterans alike. Vaping satisfaction guaranteed with every puff.
The draw-activated firing mechanism eliminates the need for pressing any buttons to vape. There are no complicated menus or settings to adjust. The user just needs to inhale from the mouthpiece to activate the battery and begin vaping. This simplicity allows for an easy and frustration-free experience, unlike some vape devices that require configuring wattage, temperature control, and other settings before use. The intuitive operation ensures anyone from beginner vapers to experts can pick up the Geek Bar Pulse 15000 and start enjoying satisfying vapor right away.
Ultimate Flexibility: Two Distinct Vaping Modes
Cater your vaping session to your mood with two unique modes:
Regular Mode: Up to 15,000 satisfying puffs for laidback vaping enjoyment.
Pulse Mode: Approximately 7,500 bold puffs for those seeking an intense burst of flavor.
With the ability to toggle between regular and pulse modes, the Geek Bar Pulse 15000 provides unprecedented flexibility. Vape on your terms.
Having two separate vaping modes is an innovative feature not seen in most other disposable vapes. The regular mode, providing up to 15,000 puffs, is perfect for all-day vaping when you want to enjoy the flavor consistently over an extended period. Just take a puff whenever you please. Pulse mode ups the intensity for those times when you really want to savor the flavor. It delivers approximately 7,500 puffs of robust vapor with amplified flavor. The modes cater to different user needs and moods. No more being confined to a single vaping experience. With the Geek Bar Pulse 15000, vapers have the flexibility to vape how they want.
Innovative Dual Mesh Coils
Say goodbye to uneven heating and weak flavor. The ingenious dual mesh coils ensure consistency in every puff. Meticulous temperature control and optimized airflow produces dense, flavorful vapor. This revolutionary heating system unlocks the full potential of e-liquids.
The dual mesh coil system sets a new standard for heating performance in a disposable vape. Mesh coils utilize layers of perforated metal to distribute heat rapidly and evenly. This results in optimal vapor production while preventing dry or burnt hits. The dual coils work in tandem for quick heat ups while allowing airflow to pass through both layers, intensifying flavor. The combination enables the rich nuances of the e-liquid to shine through. Unlike some disposables plagued by poor heating technology, the Geek Bar Pulse 15000 reliably delivers pure, dense vapor every puff thanks to the dual mesh coils.
Advanced Interactive Display
Stay informed at a glance with the high-resolution integrated display. Key stats available:
Battery level – Avoid unexpected shutoffs
Vaping mode – Effortless toggling
E-liquid level – Never run dry
The Geek Bar Pulse 15000 display provides unmatched feedback. Vaping has never been so intuitive.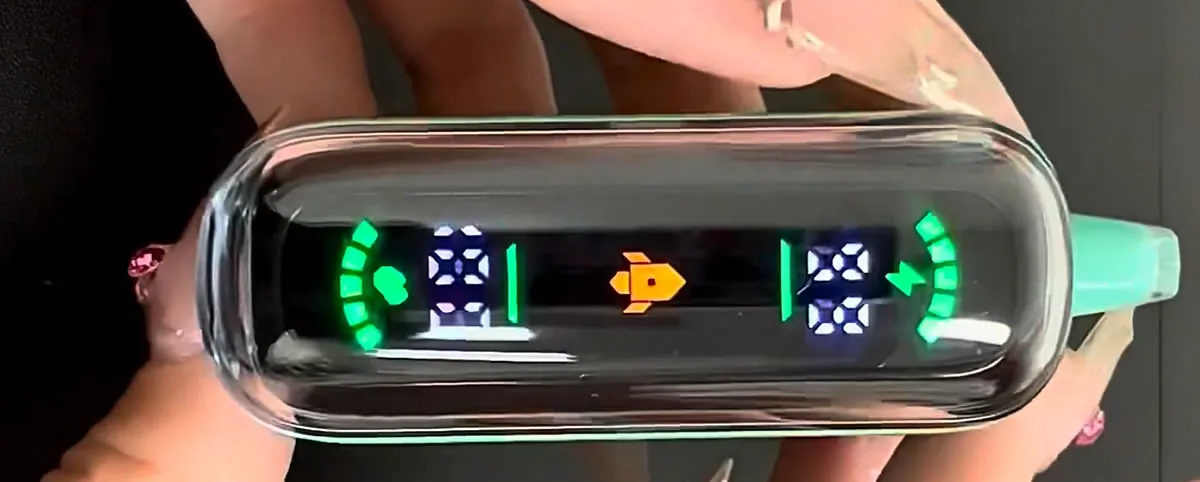 The full-screen display gives users real-time data on the device status, eliminating guesswork. It's easy to check the battery level to avoid any unexpected shutdowns at inopportune times. The current vaping mode is also displayed, making it simple to switch between regular and pulse modes on the fly. Additionally, vapers can monitor the e-liquid level to know exactly when it's time to replace the device. The at-a-glance information empowers users to have full control over their vaping experience. No more running out of battery or e-liquid unexpectedly. The Geek Bar Pulse 15000 display takes the hassle out of vaping.
Rapid Heating With Dual Cores
In addition to the dual mesh coils, the dual core heating system enables lightning-fast heat ups. Robust and even heating translates to ideal vapor production each inhale. This tandem heating technology is a game changer, eliminating frustrations from previous disposable vapes.
The dual-core heating rapidly brings the coil to the ideal temperature for vaporization. This means no waiting around for the first satisfying puff. As soon as you inhale, dense vapor flows thanks to the instant heat up. And both heating elements work together to maintain proper coil temperature with each puff. The result is consistently robust vapor production with no weak or burnt hits throughout your vaping session. The Geek Bar Pulse 15000 heating system sets a new standard for performance not found in other disposables.
Unrivaled E-Liquid Flavors
But what good is innovative technology without delicious e-liquid? The Pulse 15000 shines here as well with a rainbow of complex flavors to choose from. These premium nic salt e-liquids capture the essence of your favorite fruits, desserts, mints and more. Every puff brings a rush of blissful flavor.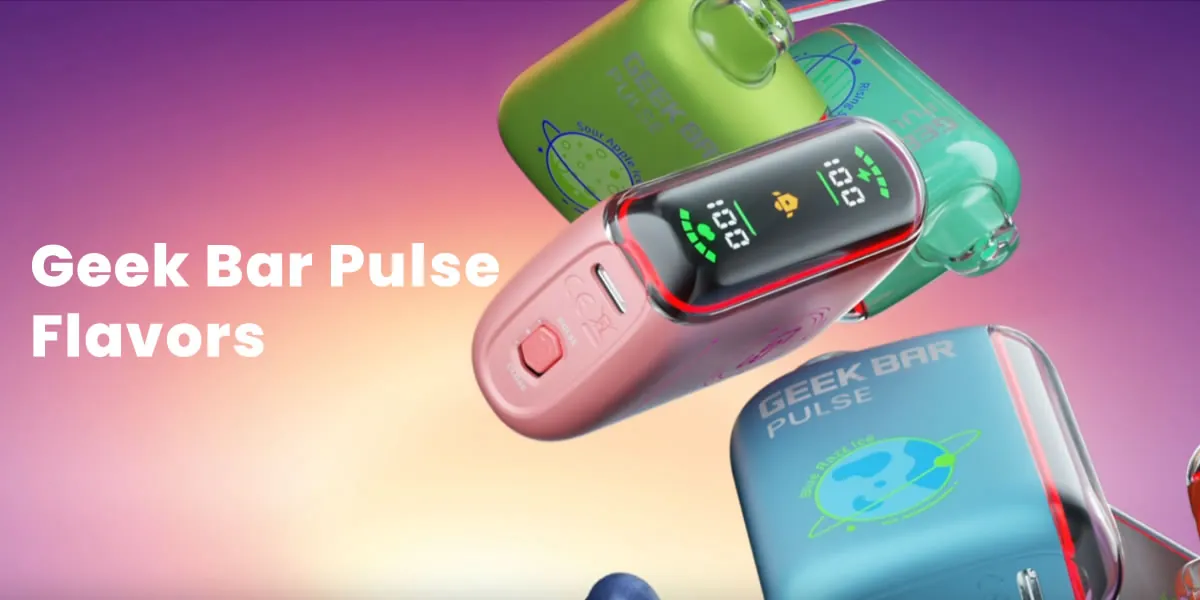 Standout selections include:
Juicy Peach Ice – Sweet ripe peaches meets icy menthol for fruity refreshment
Sour Apple Ice – Lip-puckering green apple with a chill mint undertone
Watermelon Ice – Juicy melon goodness with a blast of frosty coolness
Tropical Rainbow – Bursting medley of pineapple, mango and other tropical fruits
Blow Pop – Sweet candy flavor with a hint of bubblegum nostalgia
Pink Lemonade – Zesty lemonade with just the right sweetness
And much more! With such variety, the Geek Bar Pulse 15000 has a flavor for every craving.
The proprietary nicotine salt e-liquids developed for the Pulse 15000 allows for an exceptional flavor experience. Nic salts provide a smoother throat hit compared to standard freebase nicotine, enabling the nuances of each blend to shine through. And with a 5% nicotine concentration, the Pulse 15000 still delivers a satisfying nicotine experience comparable to a pack of cigarettes. From icy cool menthol to candy-sweet fruits, the flavor selection has something for everyone. The flavors stay true-to-life and avoid any artificial aftertastes. Every ingredient is carefully chosen to capture the essence of the real thing. For flavor-chasing vapers, the Pulse 15000 is a dream come true.
Portable and Discreet
The days of clunky vape mods are over. The Pulse 15000 sports a slender pen shape that feels natural in-hand. It is incredibly lightweight at just 37g for ultimate portability. Discretion is no problem with its low-profile design – it can easily slip into a pocket or bag without notice. Say goodbye to carrying bottles of juice and batteries. This disposable vape has everything you need in one self-contained device.
The pen-style design with sleek metallic finish fits comfortably in the hand. It's just 10cm in length and 1.27cm in diameter. The lightweight build weighs less than a typical smartphone, making it effortless to carry anywhere. The streamlined aesthetics allow it to blend into any environment seamlessly. It could easily be mistaken for an ordinary pen or USB drive at a glance. Coupled with the lack of any vapor production when not in use, the Geek Bar Pulse 15000 offers complete discretion. No one has to know you have a vape device on hand. If portability and stealth are priorities, the Pulse 15000 delivers.
Incredible Battery Life
Disposable vapes are notorious for disappointing battery life. Not the Pulse 15000. It packs a powerful 650mAh battery designed to last. While puff counts vary based on usage habits, expect several days to weeks of regular use before depletion. No more emergency charges at inopportune times. The Pulse 15000 battery life is in a class of its own.
The above-average 650mAh battery capacity gives the Pulse 15000 a leg up on competitors. Less powerful disposable vapes may last a day or two at most. But the Pulse 15000 battery pushes the limits of what's possible in a compact disposable form factor. The combination of the efficient battery and dual heating system enables thousands more puffs than typical disposables. For moderate users, the battery should last days or even weeks depending on frequency of use. Even for vapers who indulge regularly, the battery life is sure to impress. With the Pulse 15000, there's no need to worry about the battery dying prematurely.
Disposable Convenience
True to its name, the Geek Bar Pulse 15000 is fully disposable. No refilling, no coil changes – use it until the battery or e-liquid runs dry, then simply toss and replace. This plug-and-play experience is perfect for beginners or veterans looking for no-fuss vaping. Geek Bar built this device with convenience top of mind.
As a disposable, the Pulse 15000 requires absolutely no maintenance like refilling e-juice or replacing coils. Once purchased, the user can simply start enjoying it right out of the box. When the pre-filled e-liquid of battery life is fully depleted after approximately 15,000 puffs, the entire device can be discarded and replaced with a new one. There is no mess of filling tanks or installing new atomizers. The disposable format is ideal for new vapers wanting a completely hassle-free experience. It also appeals to experienced users looking for a no-fuss device to use on-the-go.
An Eco-Conscious Choice
Despite being disposable, the Pulse 15000 is designed with sustainability in mind. Geek Bar utilizes responsibly sourced materials to minimize ecological impact. Disposal is also quick and easy – simply toss device in household waste once finished. Enjoy guilt-free vaping with one of the most earth-friendly disposables available today.
Geek Bar recognizes the environmental concerns associated with disposable vaping products. That's why the Pulse 15000 is engineered using conscientious manufacturing processes and materials. The food-grade plastic construction is durable yet recyclable. The lithium polymer battery contains no heavy metals and can be recycled once the device is disposed. Minimal packaging is used to reduce waste. For responsible disposal, the Pulse 15000 can simply be thrown away in regular household trash once the battery is depleted and e-juice fully vaped. Geek Bar went the extra mile designing an eco-friendly disposable vape that doesn't sacrifice performance or longevity. Vapers can enjoy the convenience of the Pulse 15000 with peace of mind.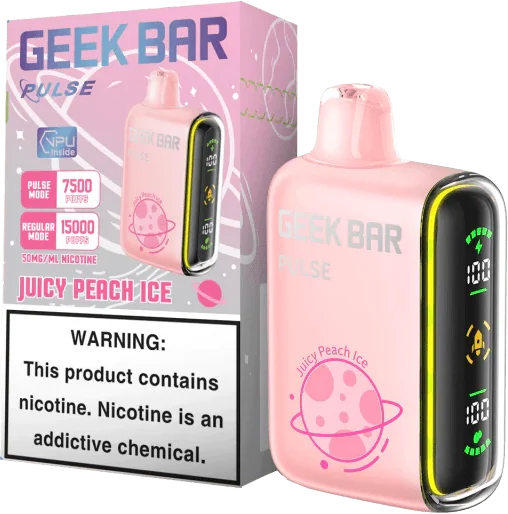 The Pulse 15000 Advantage
What truly sets this revolutionary disposable vape apart? Here are the key differentiators:
Remarkable longevity compared to competitors
Authentic, nuanced flavors that don't disappoint
Intuitive design perfect for beginners and veterans
Satisfying vapor production and consistency
Eco-conscious materials and disposal
Geek Bar pulled out all stops engineering the Pulse 15000. The result is a dependable, flavorsome and hassle-free disposable vape like no other.
With its innovative technologies like the dual heating system and mesh coils, the Pulse 15000 outperforms other disposables in terms of vapor quality and battery efficiency. The broad range of flavor options appeal to all palates, especially those seeking authentic fruit and dessert profiles. The straightforward, intuitive operation makes it accessible for all experience levels. And the eco-friendly construction sets a new standard for responsible disposable vaping. For those seeking the ultimate combination of convenience, performance and sustainability in a disposable device, the Geek Bar Pulse 15000 is second to none.
The Search Is Over
The Geek Bar Pulse 15000 stands head and shoulders above typical disposable e-cigs. No other device balances convenience, flavor intensity, longevity and eco-consciousness so adeptly. For vaping enthusiasts desiring a simplified experience without compromising satisfaction, the search is over. The Pulse 15000 ushers in a new era for disposables.
Disposable vaping products often carry a stigma of poor performance, weak battery life and less than stellar flavor. The Geek Bar Pulse 15000 shatters those preconceived notions. It provides an exceptional vaping experience rivaling many advanced reusable devices. The innovations like the proprietary heating system and e-liquids demonstrate that disposables can deliver satisfying vapor production and bold flavors. And the convenience of the all-in-one, hassle-free format can't be beaten. For both new and experienced vapers seeking a portable, flavorful and fuss-free device, the Pulse 15000 hits the mark on all counts. This well-rounded disposable vape truly has it all.
https://ecigator.com/wp-content/uploads/2023/10/1697482408-Geek-Bar-Pulse-15000-Review.jpg
650
1200
Ecigator
https://ecigator.com/wp-content/uploads/2023/04/ecigator-logo-white.png
Ecigator
2023-10-16 20:32:25
2023-10-17 05:24:55
Geek Bar Pulse 15000 Review – A Convenient Flavor Behemoth