Best Lost Mary Flavors: Top E-Liquids for OS5000 & MO5000

With a reputation for high-quality disposable vapes and tantalizing e-liquid flavors, Lost Mary has become a leading brand in the vaping market. This in-depth guide explores the top Lost Mary flavors to help you find your perfect match.
An Overview of Lost Mary Disposable Vapes
Lost Mary offers two main disposable models: the Lost Mary OS5000 and Lost Mary MO5000. Both provide excellent flavor and battery life.
Lost Mary OS5000
The OS5000 key features:
13ml e-juice capacity
650mAh battery
USB-C rechargeable
Draw activated
1.8ohm mesh coil
Elongated capsule shape
With a huge 13ml reservoir and 650mAh battery, the OS5000 enables marathon vaping sessions.
Read more:  Lost Mary OS5000 Review
Lost Mary MO5000
MO5000 specs:
13.5ml e-juice
500mAh battery
USB-C rechargeable
Draw activated
1.2ohm coil
Slender, elegant shape
The MO5000 packs an impressive 13.5ml of juice in a slimmer design with slightly more vapor production.
Read more: Lost Mary MO5000 Review
Both deliver fantastic flavor and battery runtime for all day vaping. Now let's explore the top e-juice options.
Ranking the Best Lost Mary OS5000 Flavors
With its mammoth e-liquid capacity, the OS5000 allows you to really savor Lost Mary's extensive flavor selection. Here are the top OS5000 editions based on community reviews and expert opinions: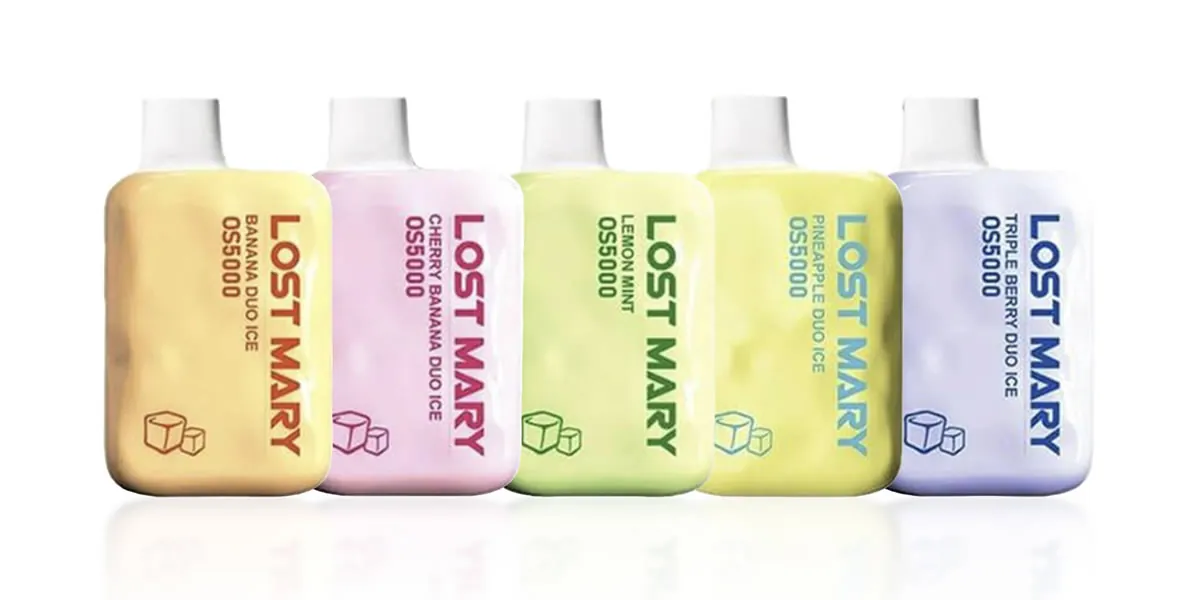 1. Blue Razz Ice
The classic Blue Razz Ice blends sweet raspberry candy flavor with brisk menthol cooling. Each puff immerses you in nostalgia, tasting like your favorite blue raspberry candy from childhood. The icy accent keeps the rich flavor from becoming overly sugary. This timeless flavor profile remains a fan favorite.
2. Peach Ice
Peach Ice delivers an authentic ripe peach flavor sharpened by chilling menthol. The sweet peach essence remains prominent while the menthol prevents it from seeming artificial or too candy-like. Overall it's more nuanced than your typical peach candy profile.
3. Watermelon
While simply branded "Watermelon", this OS5000 flavor is clearly a Watermelon Ice edition. The core watermelon flavor tastes just like taking a big bite of fresh, juicy melon on a hot summer day. Complementing the melon essence, icy accents refresh the palate with each puff.
4. Strawberry Ice
For a straightforward fruit and menthol thrill, Strawberry Ice is a perfect choice. Sweet, jammy strawberry flavor meets icy freshness to create ideal harmony. The brisk menthol lifts the strawberry to new heights.
5. Cherry Cola
Cherry Cola beautifully emulates the fizzy essence of this soda shop classic, blending sweet cherry flavor with effervescent cola. From the scent to the aftertaste, each puff feels just like sipping a cherry cola float on a hot day.
6. Pineapple Mango
The Pineapple Mango OS5000 is a true tropical fruit explosion. Bold pineapple and mango flavors intertwine to elicit mouthwatering tropical bliss. The sweet pineapple and tart mango play off each other delightfully.
7. Strawberry Pina Colada
For a creamy fruit twist, Strawberry Pina Colada infuses luscious coconut and pineapple flavors then adds a splash of strawberry. The strawberry fruitiness gives this pina colada-inspired vape added dimension.
8. Mad Blue
Mad Blue offers a medley of mixed berry flavors including blueberry, blackberry, and raspberry. Rather than candy flavors, it has an authentic blend of berry fruits. The contrasting sweet, tart, and tangy notes make each puff intriguing.
9. Blueberry P&B Cloudd
Formerly Blue Cotton Candy, Blueberry P&B Cloudd captures the essence of sweet blue cotton candy with icy menthol – bliss for serious sweet tooths. Every puff emulates clouds of sugary blue cotton candy.
10. Strawberry Mango
This flavor fuses ripe, juicy Strawberry with tropical Mango flavor for fruity delight. The familiar sweet strawberry contrasts pleasantly with tangy mango.
Lost Mary OS5000 Luster Edition Flavors
The Luster Edition OS5000s offer unique, cutting-edge flavors not found in the regular lineup. Top choices include: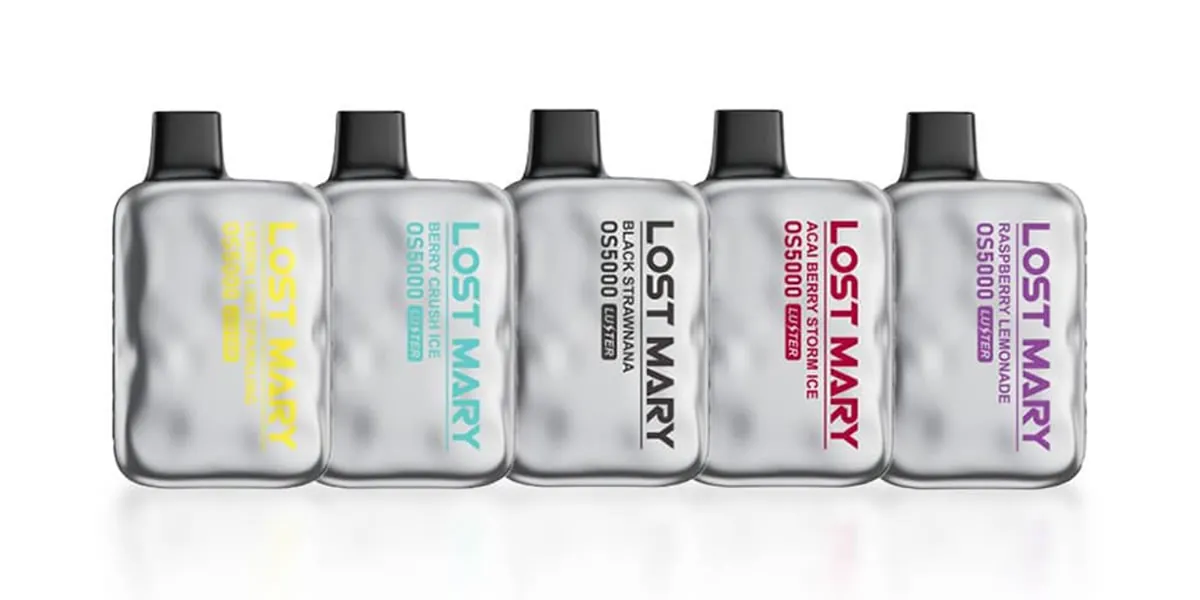 1. Raspberry Lemonade
Raspberry Lemonade flawlessly balances sweet raspberry flavor with zesty lemonade tartness. It's reminiscent of sipping chilled raspberry lemonade on a hot summer day.
2. Acai Berry Storm Ice
Experience exotic Acai Berry flavor fused with brisk Ice accents. The unique acai berry introduction provides sweet yet tart depth while the menthol delivers exhilarating coolness.
3. Black Strawnana
Black Strawnana amalgamates blackberry, strawberry, and banana for an unprecedented tropical medley. The flavor transitions seamlessly from tart blackberry to sweet strawberry to smooth banana.
4. Berry Crush Ice
Berry Crush Ice unites sweet blue raspberry and blackberry flavors then adds chill from minty menthol. It's a mouthwatering blend of fruit and icy freshness.
5. Lemon Lime Sparkling
Lemon Lime Sparkling wonderfully recreates the tart, fizzy essence of lemon-lime soda. A touch of frosty menthol completes this bubbly citrus treat.
Top Lost Mary MO5000 Flavors
With its slim design and massive juice reservoir, the MO5000 allows you to vape all day on delectable flavors. Top choices include: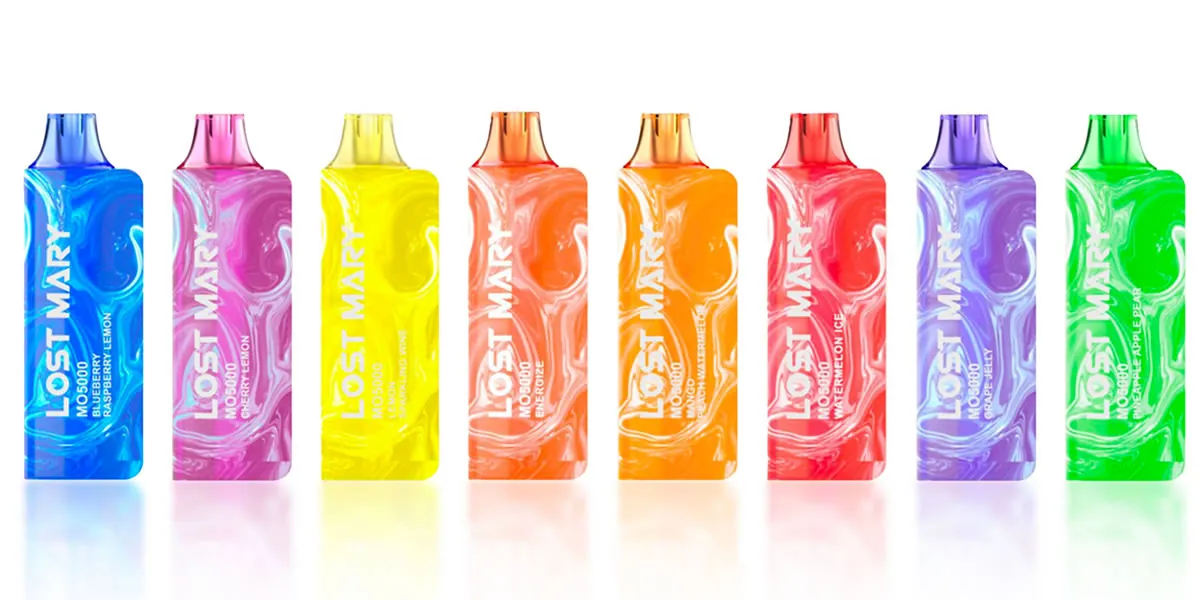 1. Grape Jelly
With authentic Grape Jelly flavor, this MO5000 truly emulates the sweet essence of concord grape jam. Each puff is bursting with rich grape goodness.
2. Yummy
Yummy flawlessly conveys sweet, fruity candy flavor on every puff, just like a soft fruit chew candy. It's sure to satisfy cravings for sugary fruit essence.
3. Blueberry Raspberry Lemon
Blueberry Raspberry Lemon brings three complementary fruits together in one device. It transitions from sweet blueberry to tart raspberry to zesty lemon for fruit fusion bliss.
4. Pineapple Apple Pear
This flavor blend unites ripe Pineapple, tart Apple, and sweet Pear flavors then finishes with a frosty chill. The menthol perfectly cools this fruit medley.
5. Cherry Lemon
Cherry Lemon beautifully balances sweet cherry flavor with puckering lemon tartness. It captures the essence of cherry lemonade in vapor form.
6. Watermelon
The Watermelon MO5000 conveys juicy watermelon flavor complemented by icy accents. It's a refreshing and authentic watermelon experience.
7. Watermelon Cherry
For fruit fusion, Watermelon Cherry supplements sweet watermelon with juicy cherry. The cherry adds another dimension to this unique watermelon vape.
8. Blue Trio
Formerly Blueberry Raspberry Pomegranate, Blue Trio mingles blueberry, raspberry, and pomegranate for blended berry enjoyment. The fruit flavors contrast nicely.
9. Mango Peach
Mango Peach brings two crowd-pleasing fruit flavors together for a sweet, juicy tropical delight. The mango and peach interplay ismouthwatering.
10. Strawberry Watermelon Ice
Finally, Strawberry Watermelon Ice fuses sweet strawberry with watermelon and frosty menthol. It's an exhilarating blend of fruit and chill.
Finding Your Ideal Lost Mary Flavor
With so many sensational editions across the OS5000, MO5000, and Luster lines, Lost Mary has a flavor for every craving.
The huge e-juice capacities enable you to vape for days on your favorites. And the long battery life keeps the flavor flowing all day long.
For marathon vaping with outstanding flavor quality, Lost Mary delivers. Discover new favorites to suit your taste!
https://ecigator.com/wp-content/uploads/2023/09/1694687968-Best-Lost-Mary-Flavors.jpg
650
1200
Ecigator
https://ecigator.com/wp-content/uploads/2023/04/ecigator-logo-white.png
Ecigator
2023-09-14 10:40:00
2023-10-17 04:06:29
Best Lost Mary Flavors: Top E-Liquids for OS5000 & MO5000