Crystal Bar 600 vs Lost Mary QM600 – Which Reigns Supreme?
As disposable vapes continue surging in popularity for convenient on-the-go usage, two models generating major buzz among vapers are the Crystal Bar 600 and Lost Mary QM600. With so many similar disposable options flooding the market, how does one decide between the Crystal and Mary?
As an avid vaper and disposable vape aficionado, I took it upon myself to conduct an extensive side-by-side comparison test. After assessing every key metric from battery efficiency to flavor variety over weeks of hands-on testing, a clear winner emerged based on my personal vaping preferences.
Below I'll analyze the background, features, performance, aesthetics, pricing, and total experience offered by both the Crystal Bar 600 and Lost Mary QM600 disposable vapes to provide an informed recommendation on which reigns supreme for different user needs.
The Companies Behind Crystal Bar and Lost Mary
First, a quick introduction to the companies responsible for these buzzworthy disposables. Crystal Bar vapes are produced by SKE, a Chinese vaping brand focused on manufacturing affordable yet quality vaping devices to make switching from smoking more accessible.
The sleek, aesthetically pleasing Crystal Bar 600 is one of SKE's most popular disposable offerings. It aims to deliver immense flavor variety and satisfaction in a streamlined user-friendly pod format.
Alternatively, Lost Mary disposable vapes are manufactured by Chinese giant Elf Bar, which has rapidly risen to become one of the world's best selling vape brands. Their petite Lost Mary QM600 model has caught on for its wide array of unique flavor profiles and ultra-compact size.
Both SKE and Elf Bar cater to vapers seeking the convenience of an easy-to-use disposable design combined with abundant flavor options to suit any palate. However, as we'll see, the two brands take slightly different approaches to achieving disposable vaping nirvana.
Crystal Bar 600 Features and Specifications
The Crystal Bar 600 instantly grabs attention with its sleek, elegant exterior design reminiscent of a fine pen. But the features run deeper than skin:
600 puff rating for extended usage
20mg (2%) nicotine salt strength to satisfy ex-smokers
12 mouthwatering flavor varieties including Blueberry Ice and Cherry Ice
500mAh integrated battery designed to last the full 600 puff lifespan
Draw-activated firing mechanism for intuitive use
2mL pre-filled, non-refillable juice capacity
Slim pen-shaped construction for pocket portability
For an affordable disposable, the Crystal Bar 600 ticks all the boxes, blending performance, convenience, and aesthetic cohesion.
Lost Mary QM600 Features and Specifications
The Lost Mary QM600 opts for a distinctly compact rectangular form factor compared to standard disposables. But it still packs a flavorful punch:
600 puff rating on par with the Crystal Bar
20mg (2%) nicotine concentration to deliver a pleasing throat hit
16 tantalizing flavors including the signature Mad Blue and Marybull Ice
550mAh integrated battery
2mL juice capacity
Draw-activated usage
Ultra-portable 0.9″ x 0.6″ x 0.3″ physical dimensions
Vibrant color gradients on the housing
Despite its tiny size, the Lost Mary QM600 promises big things within its petite frame. But how does it fare head-to-head against the mighty Crystal Bar? Let's dig deeper.
Comparing Design and Build Quality
When it comes to aesthetics and ergonomics, the Crystal Bar 600 utilizes a classic elongated cylindrical design reminiscent of a fine pen. Its chrome metallic finishes and colorful battery tube exude class. Fitting discreetly into pockets or bags, its hand-friendly size also makes it ideal for vaping on the move.
The Lost Mary QM600 goes the opposite direction with a distinctly compact, nearly square super-portable form factor. At just 0.9″ x 0.6″ x 0.3″ in size, it's one of the tiniest vapes on the market – roughly the footprint of a large USB stick.
This ultra-compressed size and eye-catching iridescent gradient coloring allow for maximum discreetness when vaping in public. However, its mini proportions also make it easier to misplace for absentminded users like myself.
During repeated testing cycles, both the Crystal Bar 600 and Lost Mary QM600 felt solidly constructed, with no leaks, defects, or issues. The Crystal Bar's more elongated pen shape provided marginally better ergonomics for lengthier vaping sessions. But Mary's incredibly compact design takes top marks for stealthiness.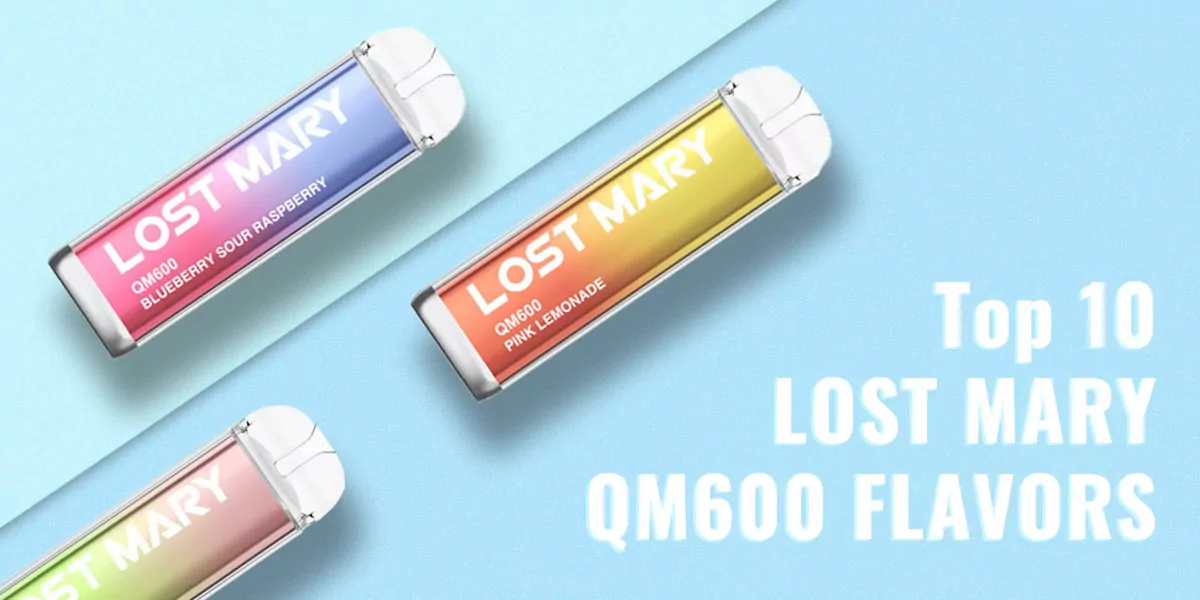 Comparing Battery and Performance
When evaluating battery efficiency and overall performance, the Crystal Bar 600 and Lost Mary QM600 performed admirably and largely on par with each other, reliably delivering consistent, flavorful vapor through their approx 600 puff rated lifespans before gradually tapering off.
Neither device exhibited any clogs, leaks, rattles, or other performance defects during prolonged testing. However, in terms of sheer vaping experience, I found the Crystal Bar 600 to boast marginally smoother airflow and a cooler, more satisfying mouth-to-lung draw. The Lost Mary QM600's vapor production felt slightly warmer and denser.
But truthfully, both deliver more than satisfactory vaping performance for such diminutive disposable devices. Their integrated batteries easily survived long enough to exhaust the pre-filled 2mL juice capacities.
Comparing Flavor: Crystal Bar vs Lost Mary
One area where personal preferences will significantly shape one's verdict is the available flavor selections. Both models offer ample variety, but with differing approaches.
The Crystal Bar 600 provides vapers a solid 12 flavor options spanning fruit blends, dessert profiles, beverages, mints, and other categories. A vaper could easily find multiple ADVs (all day vapes) among the Crystal Bar's catalog.
Read More:  Crystal Bar 600 Flavors Review
However, the Lost Mary QM600 edges ahead in sheer quantity with 16 fascinating flavor varieties, including unusual blends like Mad Blue and Marybull Ice that you won't find elsewhere. Lost Mary gets points for consistently expanding their flavor portfolio.
Read More:  Lost Mary QM600 Review
During taste testing, I was impressed by the authenticity and boldness of flavors from both devices. But Lost Mary's constant flavor innovation gives them an advantage for vapers who dread getting bored. Those 16 choices provide plenty of novelty to keep your tastebuds guessing.
Comparing Ease of Use
Ease of use stands paramount for any quality disposable vape. Happily, both the Crystal Bar 600 and Lost Mary QM600 deliver wonderfully simple plug-and-play usage perfect for beginners just transitioning from smoking.
Straight out of the box, neither device requires any charging, configuring, or maintenance. Just peel off the seals, pop in the mouthpiece, and start puffing. When the integrated battery or juice finally runs dry after hundreds of puffs, simply dispose of the all-in-one pod and replace it.
Usage literally doesn't get easier than that. However, the Lost Mary QM600's incredibly compact size does give it a marginal portability edge for stealthy public vaping. But realistically, the two models tie when it comes to fuss-free vaping operation.
Crystal Bar vs Lost Mary Value Comparison
For many shoppers, pricing plays a significant role when choosing among the growing disposable vape options. Here, the Crystal Bar 600 enjoys a competitive price advantage, available for approximately £4.49 across most vendors.
By comparison, the Lost Mary QM600 retails for roughly £5.99 – nearly 25% costlier than the Crystal Bar. This price gap can quickly compound for frequent vapers plowing through multiple devices per week.
However, Lost Mary helps justify its premium pricing through flavor innovation, striking aesthetics, and ultra-discreet dimensions. But all factors being equal, the Crystal Bar 600 delivers excellent "bang for your buck" – hence its exploding popularity.
The Verdict
Based on extensive side-by-side testing and comparison of user experience, vapor production, flavor options, pricing, and other factors, I'm leaning towards the Crystal Bar 600 as my top disposable vape choice for both new and experienced vapers.
The Crystal Bar's ergonomic elongated shape, smooth reliable performance, and competitive pricing ultimately won me over. However, Lost Mary's unique flavor blends and ultra-stealthy size also provide compelling benefits that may perfectly match other vapers' needs and preferences.
For those prioritizing maximum battery efficiency, longevity, and flavor consistency at a budget-friendly price, the Crystal Bar 600 excels. But Lost Mary's envelope-pushing flavors and hyper-portable form factor also impress. Ultimately, aligning with your personal vaping priorities will drive satisfaction.