Lost Vape Orion Bar 10000 Disposable Vape Review

The Lost Vape Orion Bar 10000 packs a mighty 10,000 puff rating and huge 20ml juice capacity into a compact, pocket-friendly chassis. After extensive testing, we found it delivers outstanding flavor and battery life, making it one of the top high-capacity disposable options for fruit flavor fans.
The Lost Vape Orion Bar 10000 offers a premium disposable experience with its massive 20ml juice capacity, large battery, and handy LED screen. Our Orion Bar 10000 review covers the build quality, flavor options, battery life, adjustable airflow, and overall performance.
Introducing the Orion Bar 10000 Disposable
The Orion Bar 10000 represents Lost Vape's newest high-capacity disposable vape. It packs a huge 20ml ejuice reservoir and 650mAh battery rated for 10,000 puffs.
An LED screen provides at-a-glance tracking of remaining battery and juice levels. Lost Vape also includes adjustable airflow so you can tweak tightness to your liking.
With 10 flavors available, primarily in the fruit category, the Orion Bar 10000 aims to deliver convenience, customization, and bold flavor in an easy-to-use format.
Specification
20ml juice capacity
650mAh rechargeable battery
10,000 puff rating
50mg (5%) nicotine salts
LED display screen
Adjustable airflow
10 flavor varieties
Draw-activated firing
USB-C fast charging
Premium Looks But Plastic Feel
Visually, the Orion Bar 10000 sports bright, eye-catching colors and a unique swirled battery wrap visible through the clear window. However, the all-plastic construction leaves something to be desired.
The rounded, ergonomic shape fits nicely in hand and the mouthpiece is comfortable. But the lightweight plastic body lacks a durable, premium feel.
Fit and finish seem solid with tight seams and no rattles. And the slide switch for airflow adjustment operates smoothly.
I appreciate the compact shape given the large internal capacity. But ultimately, more premium materials would better match the premium price point.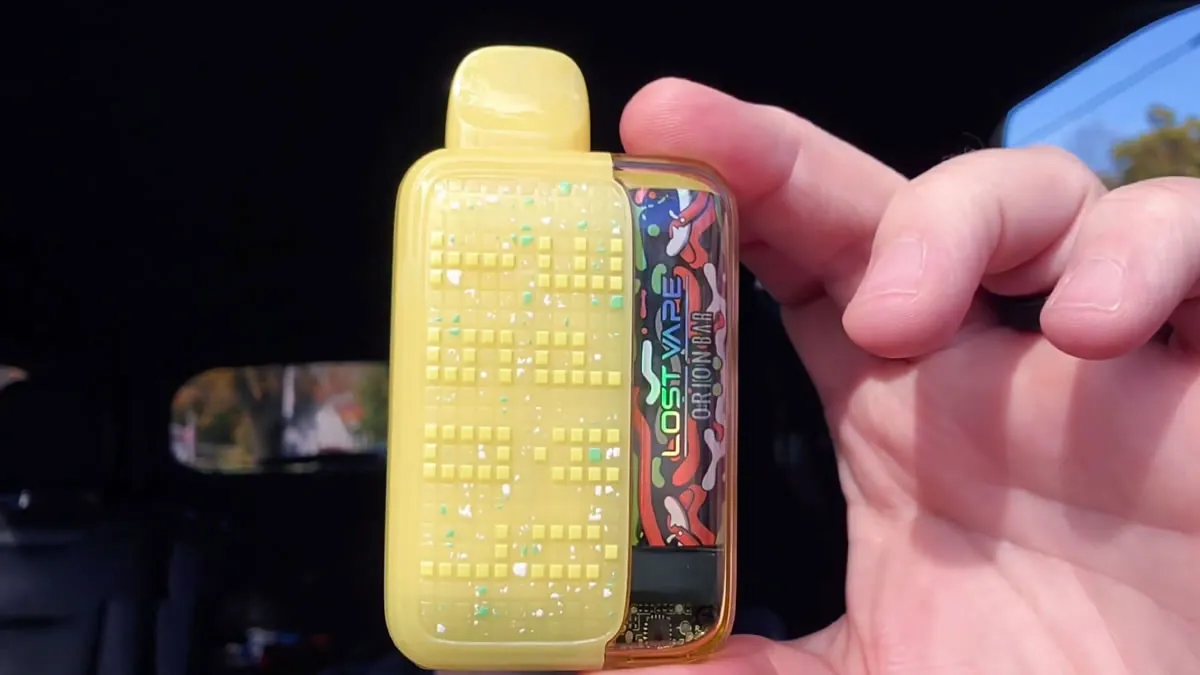 Helpful Feature Set
The Orion Bar 10000 offers features not typical of most disposables:
The LED screen accurately displays remaining battery and juice percentages, so you can track usage.
Adjustable airflow allows switching between a tight MTL draw and a loose MTL/loose DL draw.
With 650mAh battery capacity, it reliably lasts over 1 day of moderate use per charge.
Type-C charging tops up the battery fully in around 45 minutes.
These additions enhance convenience and customize the experience compared to standard disposables.
Testing the Orion Bar 10000 Flavors
The Orion Bar 10000 focuses on fruit flavor choices, with options spanning tropical paradise to icy candy. Highlights include Peach Mango Watermelon, Strawberry Summertime, Blue Razz Ice and others.
Lost Vape crafted each flavor to capture authentic fruit essence rather than artificial candy intensity. There's a flavor suited for every palate from menthol chill to sweet peach. Read on for descriptions of all ten disposable options.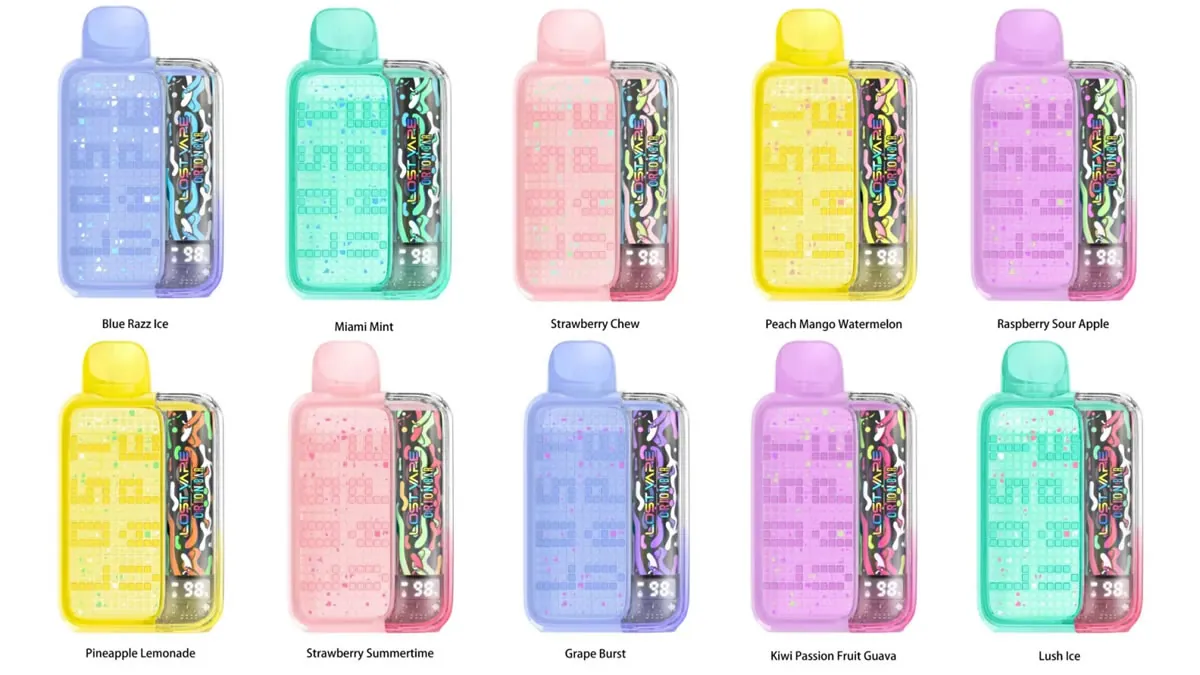 Kiwi Passion Fruit Guava
This tropical medley excites the senses with the tangy zest of ripe guava, intricately balanced by the tartness of passionfruit and tempered by the gentle sweetness of fuzzy kiwi. Each puff brings a fruit symphony, with guava taking the lead, passionfruit providing a pleasing pop of tartness and kiwi notes tying it together.
Peach Mango Watermelon
Experience a fruit fusion evocative of island paradise, marrying the luscious sweetness of sun-ripened peaches with creamy tropical mango undertones and refreshed by the watery crispness of chilled watermelon. No single fruit overpowers, allowing each component to mingle in perfect harmony for a beautifully balanced tropical blend.
Raspberry Sour Apple
This playful flavor pairing blends the jammy sweetness of ripe raspberries with the mouth-puckering tartness of green apple acidity. Each hit provides a rollercoaster ride between candy-like raspberry and sour apple. However, the rich raspberry tends to slightly overtake the green apple, so a touch more balance would make this fun fusion perfect.
Strawberry Summertime
Recall carefree summer days with this ejuice bursting with sweet strawberry that dances deliciously with lively citrus zest. Tart lemon and orange notes intertwine with candied strawberry essence to create a mouthwatering strawberry lemonade experience. Slightly amplifying the juicy strawberry flavor would make this taste bud tickler even more incredible.
Grape Burst
Grape enthusiasts will adore this flavor exploding with uber-sweet grape candy goodness reminiscent of your favorite purple soda. Each puff delivers a rush of sugary grape flavor magic – from the initial juicy grape hit through lingering syrupy grape. For those with a sweet tooth craving candy-like grape, this flavor delivers.
Lush Ice
Cool off with Lush Ice maximizing frosty menthol chill. Crisp, freezing menthol provides exhilarating cold sensations, while sweet watermelon lingers softly in the background. Lush Ice is certain to provide the brain freeze effect for those seeking the ultimate icy blast.
Blue Razz Ice
Recalling nostalgic memories of your favorite candy, Blue Razz Ice perfectly captures the classic flavor of sweet, fizzy and lip-smacking blue raspberry. Icy menthol adds an electrifying chill to complete the timeless blue raspberry candy experience. This spot-on flavor is impossible not to enjoy.
Miami Mint
Escape the heat with Miami Mint, enveloping your senses in crisp, cool minty breezes reminiscent of a beachside mojito. Abundant mint flavor refreshes without overwhelming, with restrained sweetness keeping it light and breezy. Close your eyes and feel transported poolside with this minty delight.
Summary of Flavors
The Orion Bar 10000 focuses squarely on fruit flavors from tropical blends to icy candied options. Lost Vape crafted each one for authentic flavor balance rather than artificial extremes.
There's a profile suited for every palate whether you crave chilling menthol or juicy peach. All flavors deliver accuracy and satisfaction.
Final Thoughts on Flavors
With ten flavor choices emphasizing fruit tastes, the Orion Bar 10000 disposable caters to a wide range of vapers. Lost Vape did an excellent job developing options that capture true fruit essence.
From Peach Mango Watermelon to Blue Razz Ice, every flavor provides a delicious and satisfying experience. There's a profile ready to please every palate.
If you enjoy sweet fruit flavors and marathon battery life, the Orion Bar 10000 flavors offer the perfect pairing. Lost Vape consistently impresses with their flavor mastery, making the Orion Bar 10000 hard to beat.
Vaping Experience and Performance
After multiple weeks of hands-on testing, the Orion Bar 10000 proved itself a satisfying high-capacity workhorse ideal for fruit aficionados.
The flavors consistently impress with both accuracy to their namesakes and enjoyable complexity. Unlike some budget disposables, these avoid a one-note candy taste.
Nicotine satisfaction remains consistent. And vapor production meets expectations for a tight MTL draw.
The adjustable airflow provides a nice range from a cigarette-like inhale completely closed to a loose MTL or restricted DL hit when open. This versatility is much appreciated.
Moreover, the giant 20ml reservoir avoids constantly swapping depleted disposables. Similarly, the 650mAh battery reliably keeps it powered for over a day of moderate use based on my testing.
I found the displayed battery and puff percentages remained precise until the very end. And charging was relatively swift via USB-C.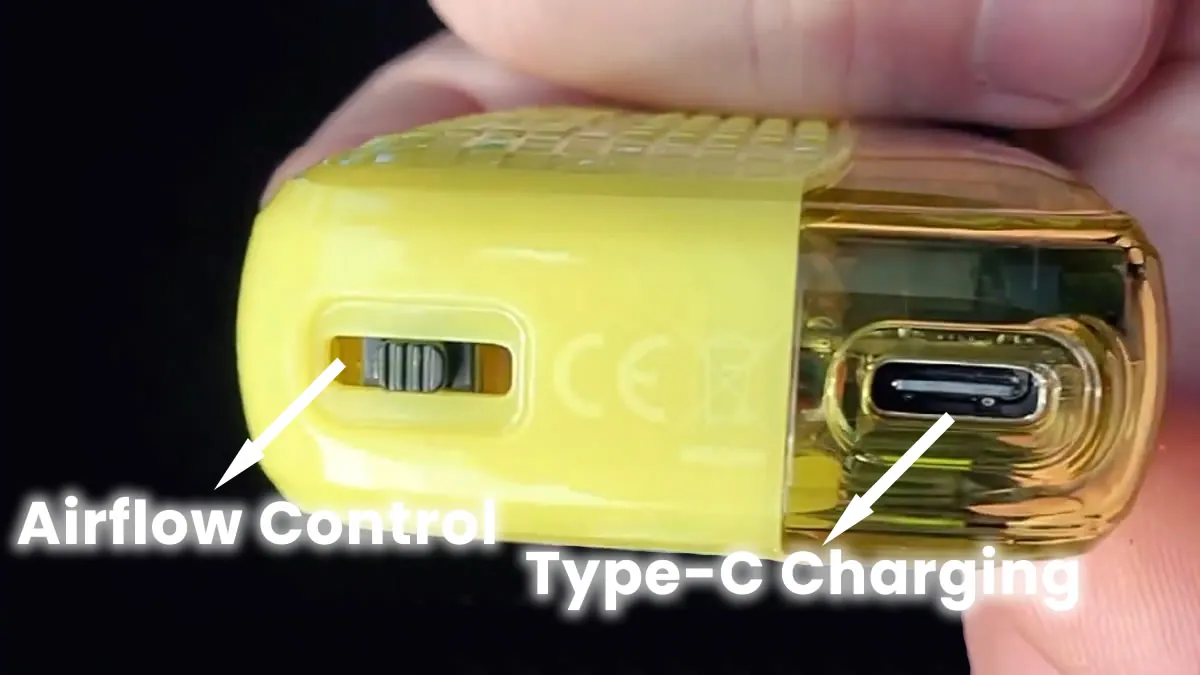 Some Downsides to Consider
However, a few downsides emerged over the course of testing:
The auto-draw trigger can be finicky for restrictive direct lung hits when using fully open airflow
Flavor intensity tapered off noticeably in the last 20% of e-liquid capacity
The 10,000 puff rating felt ambitious – real world lifespan landed closer to 7,000-8,000 puffs
Additionally, pass-through vaping during charging would've been nice given the high capacity specs.
Final Verdict
The Lost Vape Orion Bar 10000 succeeds in packing remarkable battery stamina and juice capacity into a compact chassis. And it delivers where it counts most – flavor and overall vaping satisfaction.
For high volume MTL vapers who value generous e-liquid supply and portability, paired with accurate fruit essences, the Orion Bar 10000 is easy to recommend. Despite a few minor gripes, it's an impressive addition to Lost Vape's disposable lineup.
https://ecigator.com/wp-content/uploads/2023/11/1699877272-Lost-Vape-Orion-Bar-10000-Review.jpg
675
1200
Ecigator
https://ecigator.com/wp-content/uploads/2023/04/ecigator-logo-white.png
Ecigator
2023-11-13 18:41:47
2023-11-13 18:42:32
Lost Vape Orion Bar 10000 Disposable Vape Review