RAZ TN9000 Review – Mod Style Disposable Vape

The RAZ TN9000 disposable vape aims to deliver one of the most advanced and customizable disposable experiences through its combination of high-end features and technology. This in-depth review will dive into the premium design, customization options, performance, flavor varieties, and overall user experience offered by the TN9000.
An Introduction to RAZ Vapes
RAZ entered the vaping market with a focus on pushing innovation and delivering satisfying user experiences through technology. The TN9000 disposable vape represents their most premium offering yet.
Packed with features not typically found on disposables, the TN9000 boasts a large HD display, adjustable airflow, and a 12ml ejuice reservoir. It houses a 650mAh battery for extended life and offers a huge 17 flavor selections.
RAZ clearly put effort into making the TN9000 a true standout in the disposable vape space. Let's look closely at what sets it apart.
Specifications of RAZ TN9000
12ml ejuice capacity
Rechargeable 650mAh battery
9000 puff rating
5% (50mg) nicotine salts
0.96" HD display screen
Adjustable airflow control
Battery percentage & ejuice level indicators
Draw-activated firing
Type-C quick charging
17 flavor varieties
Premium construction
Reviewing the RAZ TN9000 Design
The RAZ TN9000 sports a visually striking design with its vibrant color panels and large display screen. But more importantly, the design choices enhance the user experience.
Despite the fairly large size, it remains lightweight and comfortable in hand thanks to the contoured chassis. The mouthpiece provides a tapered tip that fits smoothly between the lips when vaping.
The 0.96" display is remarkably crisp and bright, allowing easy viewing of the clearly marked battery and ejuice levels. The brightness level adjusts automatically based on ambient lighting.
While made of plastic, the construction feels very solid and durable. The materials seem resistant to drops and daily wear and tear.
For aesthetics and ergonomics, RAZ went the extra mile to create a premium user experience. The TN9000 achieves visual flair while optimizing convenience.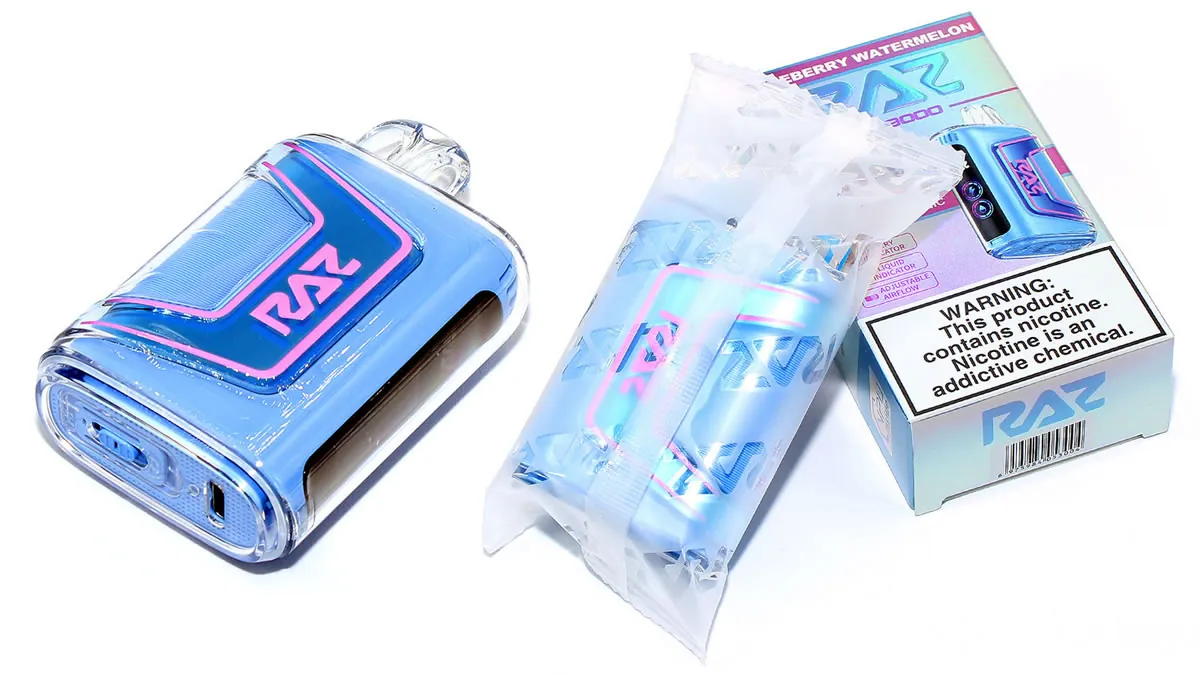 Advanced Features That Make a Difference
Several features help the TN9000 deliver functionality and customization beyond standard disposables:
The adjustable airflow ring allows you to tailor draw tightness from loose DTL to tight MTL based on preferences.
Separate battery and ejuice level indicators on the screen allow precise monitoring of each metric.
Type-C quick charging significantly minimizes downtime and can fully recharge the 650mAh battery in 45 minutes.
Animations when firing or charging add visual engagement to the experience.
Short-circuit protection and overcharge protection enhance safety and prevent failures.
For convenience and versatility, the TN9000 hits the mark. RAZ focused heavily on building an exceptional user experience.
The TN9000's Diverse Flavor Range
With 16 options, the Raz TN9000 caters to diverse palates. The lineup covers icy fruits, creamy desserts, citrusy blends and tropical choices.
Popular profiles like Strawberry Ice and Watermelon Ice make appearances. More unique flavors include Cactus Jack, Night Crawler and Grape Ice.
The wide variety ensures vapers can find a flavor suited to their tastes. Our overview below breaks down the taste experience of each disposable to showcase the range available.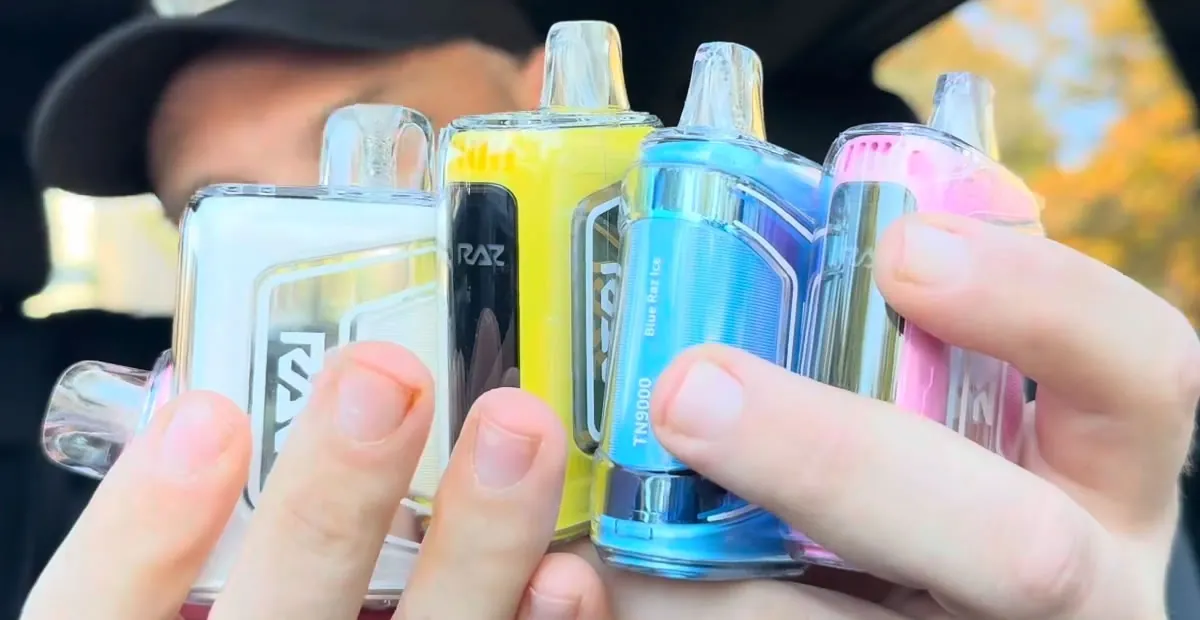 Strawberry Ice
This flavor envelops your senses with the juicy ripeness of sun-kissed strawberries, balanced by a chill minty undertone. Each puff brings an authentic tangy sweetness reminiscent of biting into a just-picked strawberry on a cool spring morning. The icy menthol finish provides the perfect amount of cooling refreshment.
Blue Raz Ice
Imagine the mouthwatering sweet-tart zing of blue raspberry candy blended with an exhilarating chill. Blue Raz Ice delivers an electric interplay of sugary blue raspberry flavor and brisk icy menthol. It tantalizes the taste buds with a rollercoaster ride from candy sweetness to frosty freshness.
Triple Berry Ice
A harmonious medley of three diverse berries – tart blackberry, sweet raspberry, and tangy blueberry – blended into icy harmony. Robust layers of mixed berry flavors collide with refreshing chill to create a complex flavor symphony. Triple Berry Ice is a berry lover's paradise.
Dragon Fruit Lemonade
This flavor masterfully combines the mild sweetness of dragon fruit's flesh with the thirst-quenching tartness of zesty lemonade. Each puff delivers an enjoyable exploration of flavors from the candied sweetness of pitaya to the tangy bite of lemon zest. A remarkably unique and drinkable flavor.
Cactus Jack
Embark on a desert adventure with Cactus Jack, presenting authentic flavors of freshly cut cactus. Succulent melon-like cactus fruit flavor quenches with slightly tangy and sap-like tones reminisicent of agave. An unexpected flavor journey perfect for thrill-seeking palates.
Miami Mint
Cool off in tropical breezes with Miami Mint. This flavor captures the essence of crisp minty freshness, like a chilled mojito by the beach. Brisk and rejuvenating mint flavor offers a clean palette cleanser anytime you need an uplifting break.
Night Crawler
Night Crawler envelops your senses in an enticing blend of dark mixed berries, akin to a glass of red wine. Layers of blackberry, elderberry and currant tantalize with mysterious depth and complexity. This shadowy medley keeps you guessing through each satisfying puff.
Strawberry Shortcake
Indulge in nostalgic flavor bliss with Strawberry Shortcake. Each puff brings the taste of freshly sliced strawberries nestled atop a fluffy sponge cake base, delivering authentic bakery-fresh flavor. You can almost taste the delicate cake crumbs with every hit.
Cherry Lemon
A brilliant fusion of sweet cherry flavor and sharp lemon zest tantalizes with fruity flair. Tart lemon and sugary cherry dance on the tastebuds, capturing the essence of homemade cherry lemonade on a hot summer day. A remarkably vibrant and balanced flavor pairing.
Graham Twist
Graham Twist evokes memories of childhood with nostalgic graham cracker flavor and a modern twist. This flavor mimics the satisfying crunch of graham crackers baked to golden brown perfection. Each puff brings the authentic taste of graham goodness.
Blueberry Watermelon
Blueberry Watermelon is summer in a disposable. Sweet juicy watermelon and plump blueberry flavors come together to create a refreshing medley. This well-balanced pairing captures the essence of chilled fruit on a hot day.
Mango Colada
Escape to island paradise with creamy coconut and ripe mango, reminiscent of a Pina Colada poolside. Luscious sweet mango blended with rich coconut milk captures the taste of an exotic vacation in every puff. A true tropical flavor staycation.
Citronnade
Quench your thirst with zesty homemade lemonade flavor. Bursting with vibrant citrus flavor, Citronnade replicates the lip-smacking taste of freshly squeezed lemon juice on a scorching day. Feel that thirst-quenching tang with every puff.
Grape Ice
Grape Ice brings the juicy richness of concord grapes, chilled to frosty perfection. Authentic, juicy grape flavor receives enhancement from a boost of cooling refreshment. It mimics the essence of an ice cold glass of grape juice on a hot summer day.
Polar Ice
Brace for an arctic blast of frosty freshness with Polar Ice. This flavor maximizes icy sensations, delivering extreme cooling mintiness. Each puff leaves an exhilarating chill on the tongue perfect for menthol enthusiasts.
Watermelon Ice
No flavor list would be complete without a Watermelon Ice option. This delicious flavor encapsulates freshly sliced watermelon combined with frosty chill for quintessential refreshment. Sweet ripe melon flavor blended with icy mint creates the ultimate taste of summer.
With 16 diverse flavors, the Raz TN9000 range offers something for everyone. Icy fruits, creamy desserts, zesty citrus and tropical choices provide extensive variety.
Let your palate guide you to that ideal flavor. For chilling fruit, warming bakery tastes, or adventurous exotic options, the Raz TN9000 provides disposable vaping liberation across a wide spectrum of flavors.
Premium Vaping Experience
While the TN9000's specs impress, its vaping experience proves equally outstanding. Right away, the tunable airflow makes a noticeable difference. Being able to fine-tune your draw style makes a huge impact.
I preferred a medium setting, achieving a smooth loose MTL inhale with the 10ml pods. But opening the airflow enables restricted direct lung hits. And closing it provides a classic tight MTL draw. This versatility can't be overstated.
Vapor thickness and warmth adapt appropriately as you adjust airflow. But flavor consistency remains excellent across all settings. And battery runtime reliably exceeds 3 days of moderate use based on my testing.
The TN9000 delivers satisfying vaping supplemented by customization unavailable on any other disposable devices. RAZ has executed superbly on their vision for the future of disposables.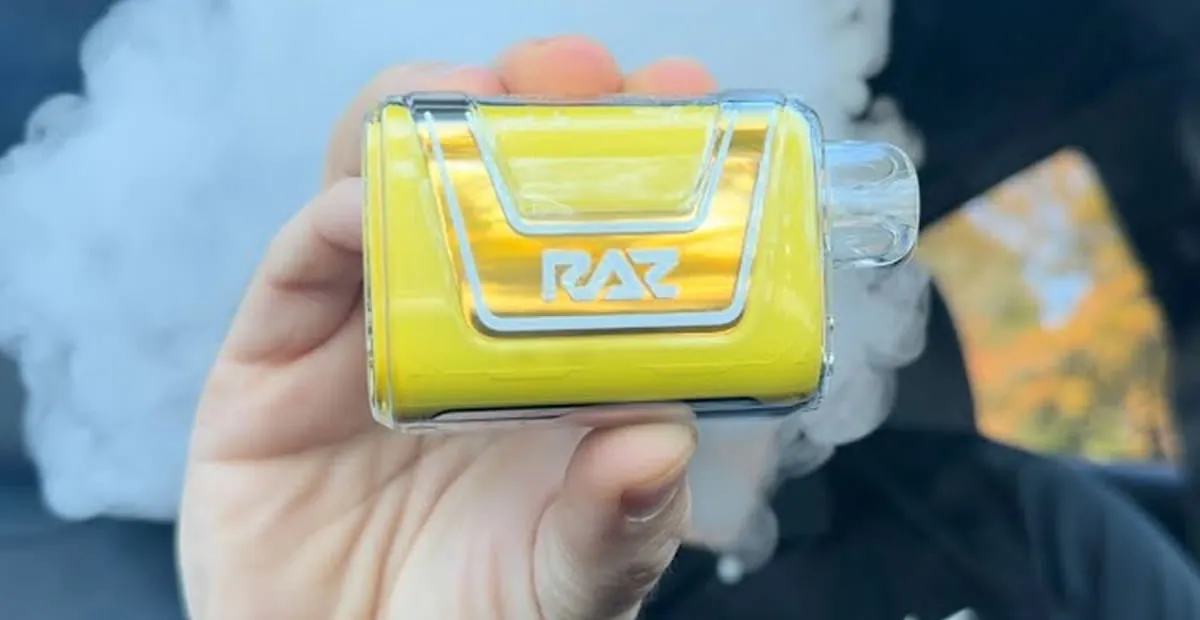 Final Verdict on the RAZ TN9000
With its mammoth juice supply, adjustable airflow, and robust battery, the meticulously designed RAZ TN9000 proves a disposable vape can offer an experience rivaling premium reusable pod systems.
By incorporating high-end features like the tunable airflow and dazzling display, RAZ has set a new bar for customization and performance. The TN9000 condenses remarkable innovation into an intuitive disposable format.
For unmatched personalization in a palm-sized package, the TN9000 stands at the peak of disposable engineering. RAZ has created an effortless yet customizable vaping experience previously unattainable in disposable devices.
https://ecigator.com/wp-content/uploads/2023/11/1699863271-RAZ-TN9000-Disposable-Vape-Review.jpg
675
1200
Ecigator
https://ecigator.com/wp-content/uploads/2023/04/ecigator-logo-white.png
Ecigator
2023-11-13 08:48:22
2023-11-13 18:45:14
RAZ TN9000 Review – Mod Style Disposable Vape