Top 10 Lost Vape Orion Bar Flavors Ranked
&

Reviewed
The Lost Vape Orion Bar has earned a reputation as one of the best disposable vapes thanks to its excellent flavor options, long battery life, and adjustable airflow. With so many tasty flavors to choose from, it can be tough deciding which Orion Bar to try first.
This in-depth guide will explore 20 top-rated Orion Bar flavors to help you discover your new favorite disposable vape.
An Overview of the Orion Bar 7500 Disposable Vape
Before diving into the flavors, let's quickly review the impressive specs of the Lost Vape Orion Bar 7500:
Auto Draw Activation – Simple puff to vape
7500 Puff Capacity – Lasts days or weeks
18ml E-Liquid – Huge capacity
50mg (5%) Nicotine – High strength salts
650mAh Battery – Long lasting charge
Adjustable Airflow – Customize your draw
USB-C Charging – Fast 45min charge time
With a massive 18ml of vape juice and long-lasting rechargeable battery, the Orion Bar is built to keep you vaping all day long. And the option to adjust airflow to your preferences makes it even more customizable.
Read more:  Lost Vape Orion Bar 7500 Review
Now let's explore the expansive flavor lineup!
Top 20 Orion Bar Flavors Ranked
After analyzing customer reviews and expert opinions, these are 20 of the highest rated Lost Vape Orion Bar flavors:
Banana Cake
Rainbow Drop
Strawberry Kiwi
Blue Cotton Candy
Lush Ice
Chicago Cocktail
Cool Mint
Blue Slurpie
Gummy Bear
Blueberry Raspberry
Blue Razz Ice
Frozen Raspberry Lemonade
Sour Apple Ice
Strawberry Watermelon
Dragonfruit Berry
Mexican Mango Ice
Peach Mango Watermelon
Pineapple Lemonade
Aloe Grape
Pineapple Ice
The rankings highlight the diversity of flavor profiles available. From banana cake to aloe grape, vapers can explore and find their personal favorites.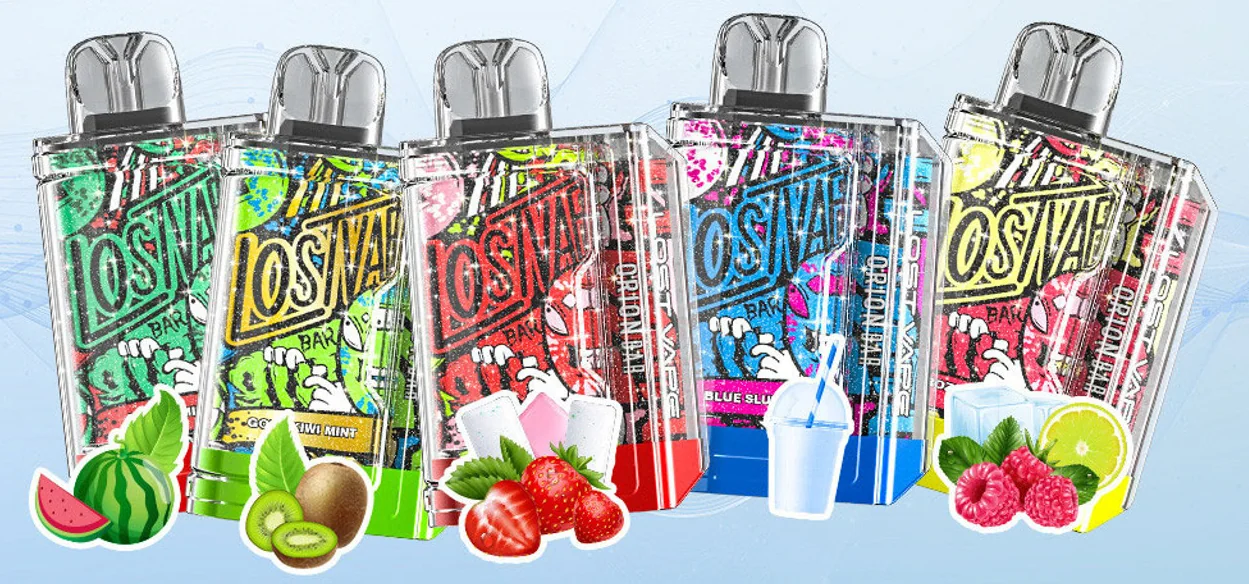 Next, we'll take a closer look at a few of these delicious Orion Bar e-juices.
In-Depth Top 10 Orion Bar Flavor Reviews
Here are more detailed descriptions of  top 10 standout Orion Bar flavors:
Banana Cake
The Banana Cake Orion Bar perfectly captures the flavor of a moist banana cake dessert. Upon inhaling, you immediately taste the sweet banana essence layered with undertones of creamy cake flavor.
Each puff is like taking a bite of decadent banana cake, with the ripe banana taste blending deliciously with the rich cake notes. It's one of the best dessert flavors out there and an absolute all day vape for banana fans.
Rainbow Drop
Rainbow Drop features a candy store blend of sweet, bold fruit flavors reminiscent of colored prism candies. The vague name belies an assertive candy profile that pops on the palate.
While the exact fruits are a mystery, the sweetness will satisfy any vaper's sweet tooth. Rainbow Drop is a consistently top ranked Orion Bar flavor for good reason – the candied essence works as an ADV.
Strawberry Kiwi
The Strawberry Kiwi Orion Bar perfectly balances the sweet strawberry taste with refreshing kiwi flavor. It's a fruity fusion that immediately transports you to warmer climates.
The strawberry provides a familiar sweetness while the kiwi lends an airy, tropical vibe. It's a refreshing take on a beverage classic.
Blue Cotton Candy
As nostalgic as a day at the carnival midway, Blue Cotton Candy immerses you in spun sugar bliss. It masterfully recreates the essence of blue raspberry cotton candy.
Each puff takes you back to carefree summer days whirling pink and blue cotton candy. The berry notes shine through beautifully for a sweet flavor trip down memory lane.
Lush Ice
A refreshing blend of fruit and menthol, Lush Ice combines sweet watermelon with an exhilarating icy cool rush. The melon flavor provides a pleasant sweetness while the chilling menthol cools the palate with each puff.
Lush Ice is perfectly named – every draw feels like an ice cold lush oasis for your tastebuds. The Lost Vape version balances the flavors flawlessly for a satisfying icy fruit vape.
Chicago Cocktail
Chicago Cocktail is an effervescent mix of cherry, orange and lemon flavors reminiscent of a fizzy cocktail. It's as vibrant and lively as the Windy City itself.
Well balanced between sweet and sour notes, each puff sings with citrus zestiness. This Sparkling Edition flavor is a unique take on fruit cocktail flavor.
Cool Mint
Cool Mint brings a crisp, refreshing herbal mint flavor accompanied by icy cool menthol. This is mint done right, avoiding any harshness while pumping out smooth minty flavor.
The cooling sensation is strong but not overpowering. It's easy to see why cool mint remains a fan favorite flavor – the Orion Bar iteration enhances the minty experience to new levels.
Blue Slurpie
For vapers craving the nostalgic candy flavors of their youth, Blue Slurpie delivers big time.Bursting with sweet blue raspberry candy essence and a blast of cooling menthol, this Orion Bar e-liquid is confection heaven.
Each puff immerses you in memories of your favorite candy store. The blue raspberry candy taste is simply perfection. An eternally popular flavor, Blue Razz Ice satisfies sweet tooths all day long.
Gummy Bear
Gummy Bear features a potpourri of bold fruit flavors resembling a classic gummy candy. It covers all the fruity candy flavor bases – sweet, tart and tangy.
While it may be named after a specific bear-shaped candy, this e-liquid captures the general essence of fruit snack candies. It's a nostalgic flavor trip that perfectly encapsulates candy Store bliss.
Blueberry Raspberry
The Blueberry Raspberry Orion Bar is a juicy mixed berry medley, contrasting the tart blueberry against sweet raspberry. It pops with authentic berry flavor.
Compared to the blue raspberry candied versions, this blend has more layered fruit character. The blueberry and raspberry dance on your tastebuds for a natural fruit fusion.
Finding Your Orion Bar Flavor
With 20+ sensational flavors to choose from, the Lost Vape Orion Bar has an option for every palate. The huge disposable e-liquid capacity means you can keep on vaping your favorite for days on end.
Hopefully this flavor guide helps point you to some new and exciting Orion Bar flavors to enjoy. With so many stellar options, you really can't go wrong!