OXBAR Magic Maze Pro Review: Adjustable Power and Airflow

The OXBAR Magic Maze Pro is an innovative new disposable vape that offers adjustable wattage and airflow for a customizable vaping experience. This detailed review covers the design, features, flavors, performance and overall user experience of the Magic Maze Pro.
An Overview of the OXBAR Magic Maze Pro
The Magic Maze Pro is the latest disposable vape offering from OXBAR, the sister company of vape manufacturer OXVA. It stands out with its transparent outer shell showcasing a colorful, maze-like pattern underneath.
What makes the Magic Maze Pro unique among disposables is the ability to adjust both the wattage (11-15W range) and airflow. This allows you to tailor a tight MTL inhale or an airier DTL hit to your liking.
Other key specs and features include:
Large 12ml e-juice capacity for 10,000 puffs
Long-lasting 650mAh battery with USB-C charging
15 different nic salt flavors currently available
Draw-activated firing
Portable and lightweight design
Premium Design and Durable Build
In terms of aesthetics, the Magic Maze Pro sports a sleek, futuristic look. The transparent casing offers a peek at the vibrant, maze-patterned section underneath. This colorful gradient matches the flavor profile in each device.  (Due to a collaboration between OXBAR and the renowned e-juice company Pod Juice, some of the Magic Maze Pro's variants feature the Pod Juice branding on their casings.)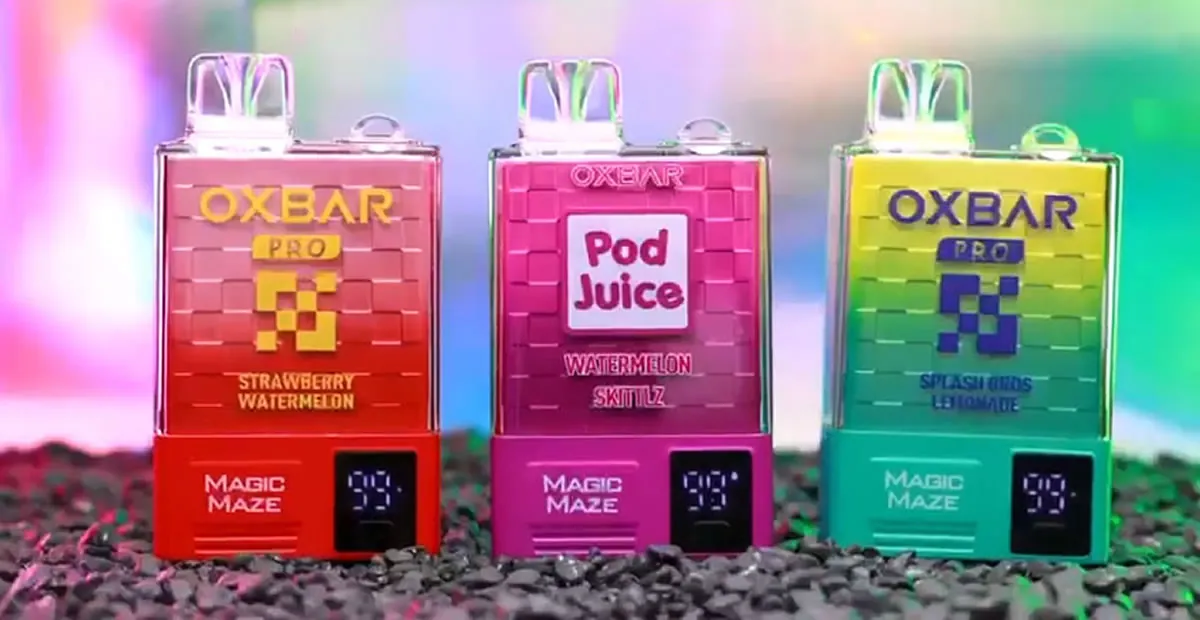 The Magic Maze branding features prominently on the front and back. While large, it does give it a bold, eye-catching appearance.
With dimensions of 88mm x 50mm x 22mm and a weight of 80g, it's on the larger side for a disposable but still comfortable to hold and pocketable.
The mouthpiece provides a nice tapered tip that fits comfortably between the lips. It also includes a handy lanyard loop for attaching a neck strap.
Despite the plastic casing, the Magic Maze Pro feels extremely solid and durable. The transparent shell masks an inner chassis that seems built to last.
The base of the device houses the proprietary adjustment button, LED screen, airflow slider, and USB-C charging port.
The LED screen shows handy readouts for juice level, battery life, and current wattage setting. After a puff, it temporarily displays the battery percentage before switching to the juice level.
Overall, OXBAR did an excellent job on both the aesthetic design and functional elements. The Magic Maze Pro looks and feels like a premium disposable.
Simple Controls for Customizing Your Vape
What sets the Magic Maze Pro apart is the ability to adjust wattage and airflow to your liking.
The wattage can be set anywhere from 11W up to 15W by pressing the dedicated control button. This significantly affects both flavor and vapor production.
Lower wattages of 11-12W deliver concentrated flavor with modest vapor output. The 12-13W range provides an ideal balance of rich flavor and ample vapor production.
At the maximum 15W setting, vapor production increases but you lose a bit of flavor subtlety. However, the airflow fully open provides a nice restricted DTL hit.
After testing all settings thoroughly, 12W proved to be my personal sweet spot. But the option to customize it is invaluable.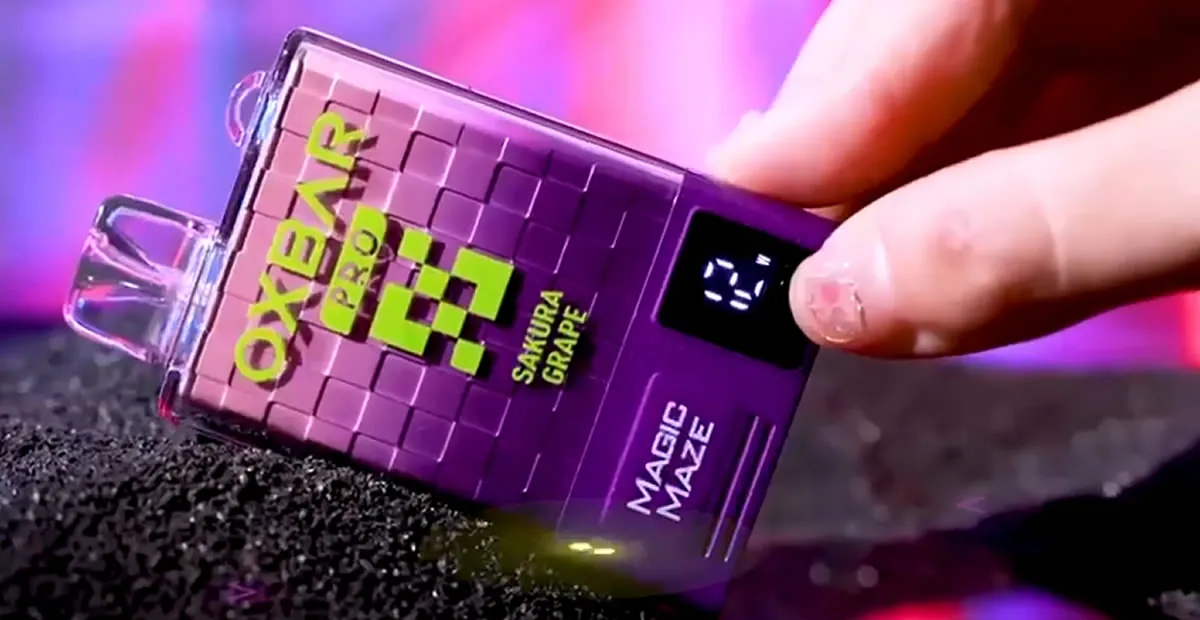 The Magic Maze Pro also allows you to tweak the airflow to your preference. The slider on the base lets you adjust from a tight MTL draw all the way to an airier DTL inhale.
Again, being able to tailor this to match your vaping style makes a big difference. For me, halfway between closed and open was optimal.
The draw-activation works flawlessly. It also accurately shows battery level so you know when it's time to recharge.
Top-Notch Performance in Flavor and Vapor
In terms of performance, the Magic Maze Pro delivers excellent flavor reproduction and vapor quality.
The five flavors I tested – Pink Burst Chew, Fruity Pebz, Blue Razz, Rainbow Blast, and Fruit Paradise – all provided accurate, bold flavor.
Fruity Pebz was a definite favorite with its juicy fruit candy blend. But Pink Burst Chew and Blue Razz were also ADV-worthy flavors.
The vapor remains smooth and consistent even as the juice level depletes. And the flavor intensity doesn't diminish over time.
My only gripe was that the flavors exhibited an initial nicotine harshness before settling. I'd prefer lower nicotine options like 20mg. But for nic salt fans, the 50mg may appeal.
With my preferred 12W, halfway airflow setup, the 650mAh battery easily lasted a full day between charges. And the 10,000 puff capacity claim seems accurate based on my two weeks of testing.
For a disposable, the Magic Maze Pro hits all the right notes for performance. Between the bold flavors and customizable vapor, it outshines much of the competition.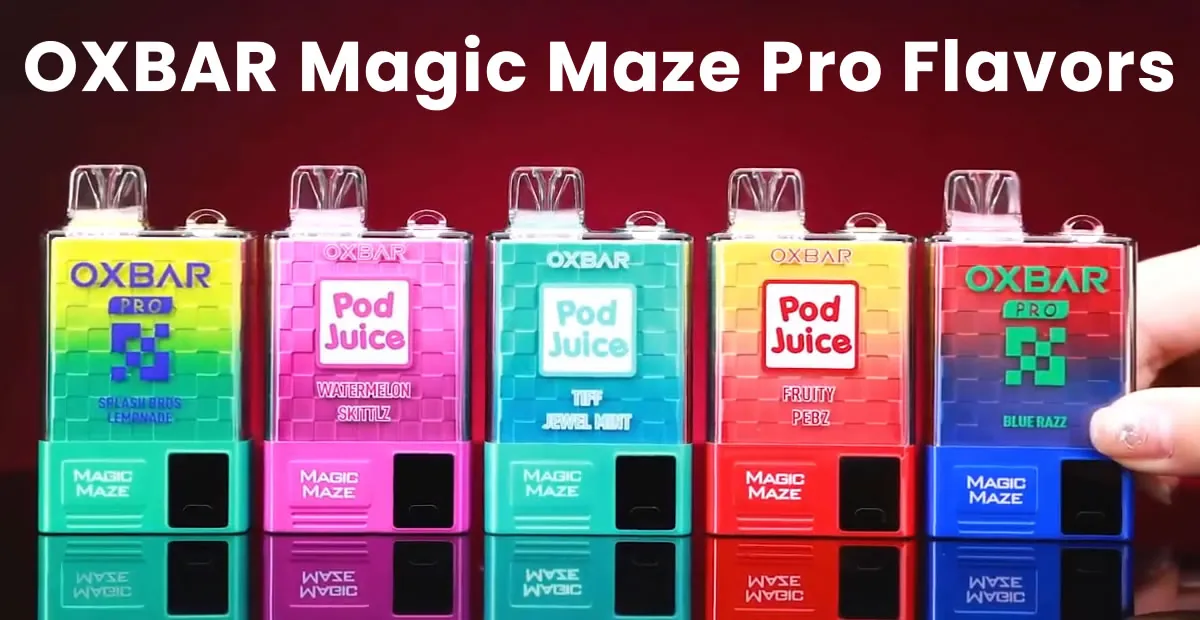 The Magic Maze Pro Flavor Lineup
Currently, OXBAR offers the Magic Maze Pro in the following 15 flavors:
Tiff Jewel Mint
Fruity Pebz
Watermelon Skittles
Bubble Melon
Pink Burst Chew
Blue Razz
Strawberry Kiwi Ice
Splash Bros Lemonade
Blueberry Strawberry Dragonfruit
Watermelon Remix Ice
Sakura Grape
Razz Pineapple
Rainbow Blast
Fruit Paradise
Strawberry Watermelon
The lineup covers a wide range of fruit-focused flavors including candy, beverage, and dessert profiles. Most flavors also come in cool menthol or icy varieties.
Top OXBAR Magic Maze Pro Flavors Reviewed
While I only tested some of the flavors, they all proved to be accurately named and delicious options for fruit vape fans.
Pink Burst Chew – Sweet Strawberry Candy
Pink Burst Chew is a scrumptious blend of fresh strawberry and sugary candy flavor. Each puff provides juicy strawberry on the inhale followed by sweet, chalky nuances reminiscent of strawberry candy. It's an addictive all-day vape.
Fruity Pebz – Rainbow Fruit Candy
Fruity Pebz offers an explosion of rainbow fruit candy flavor. It's like vaping a mix of your favorite fruity sweets. There are multiple vibrant fruit notes in this e-liquid that will leave your taste buds dancing.
Blue Razz – Tart Blueberry & Sweet Raspberry
Blue Razz combines sweet raspberries and tart blueberries for a classic berry vape. It improves on many blue razz flavors with extra juicy nuances. The inhale is sharp, tangy blueberry while the exhale is sugary, jammy raspberry.
Rainbow Blast – Tropical Fruit Cocktail
Rainbow Blast delivers a sunny tropical fruit cocktail flavor. It has an almost citrusy inhale followed by a blend of juicy mango, pineapple, and other exotic fruits. Think Hawaiian punch garnished with fresh sliced fruit.
Fruit Paradise – Exotic Tropical Fruit Mix
Fruit Paradise is a mouthwatering mix of tropical fruit flavors like mango, guava, pineapple, and peach. It's a sweet yet tart blend with layers of different exotic fruits. Each puff is like sipping a fresh fruit smoothie on the beach.
Tiff Jewel Mint – Peppermint Candy with Icy Menthol
Tiff Jewel Mint provides a refreshing peppermint candy flavor with an exhale of frosty menthol. It starts sweet like peppermint candy then finishes with a cool menthol rush. An ideal flavor for an after-meal vape.
Strawberry Watermelon – Juicy Melon & Strawberry
Strawberry Watermelon perfectly balances sweet watermelon and fresh strawberries. It starts with ripe watermelon flavor before transitioning into fragrant strawberry on the exhale. A smooth and fruity vape.
More Delicious Flavors Coming Soon
OXBAR has hinted that more Magic Maze Pro flavors are coming soon including dessert and tobacco options. But for now, these fruity flavors are sure to satisfy with their candy-like sweetness and exotic fruit blends.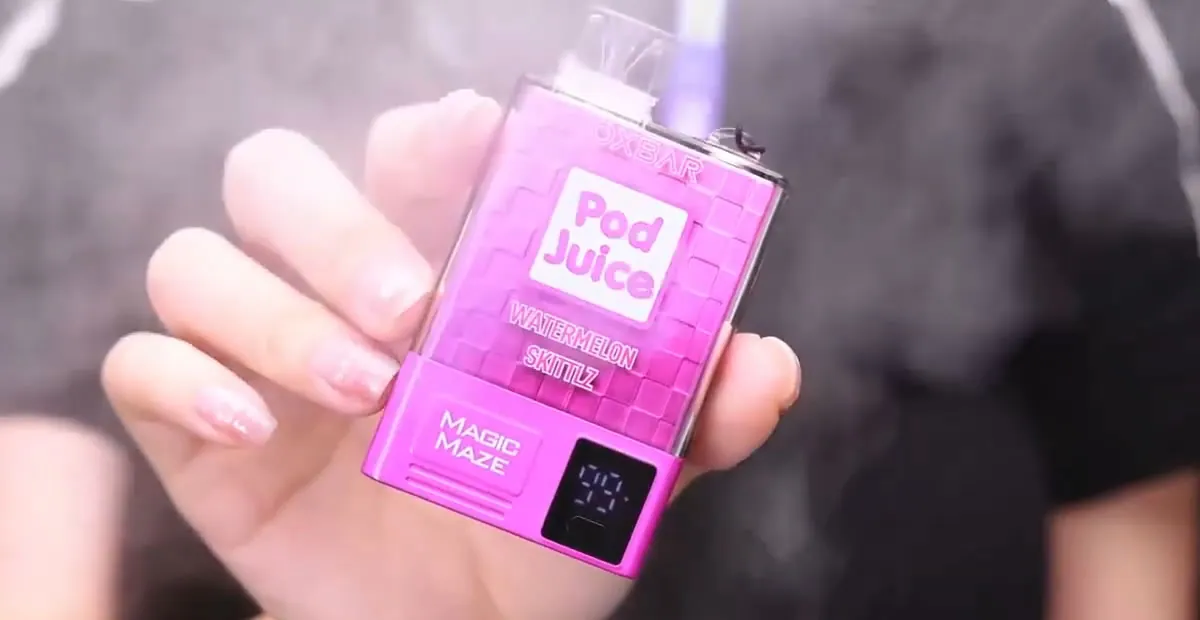 The Magic Maze Pro: Final Verdict
In closing, the OXBAR Magic Maze Pro raises the bar for disposable vapes by offering a fully customizable experience through its adjustable wattage and airflow.
It delivers an outstanding vape in terms of bold flavors, smooth vapor production, and long-lasting battery life. The flavors I tested were all impressive and seemed to match their descriptions.
The ability to tailor the power output and airflow to your preference gives the Magic Maze Pro unmatched versatility for a disposable device.
Minor drawbacks are the lack of lower nicotine options and no pass-through charging. But overall, the Magic Maze Pro provides an excellent user experience that outperforms most disposables on the market.
For vapers seeking a customizable, long-lasting disposable, the Magic Maze Pro is easily a top choice that will satisfy advanced users and beginners alike.
https://ecigator.com/wp-content/uploads/2023/11/1699635558-oxbar-magic-maze-pro-review.jpg
675
1200
Ecigator
https://ecigator.com/wp-content/uploads/2023/04/ecigator-logo-white.png
Ecigator
2023-11-10 17:53:52
2023-11-10 17:53:52
OXBAR Magic Maze Pro Review: Adjustable Power and Airflow