Top 10 Best Strawberry Disposable Vapes for Sweet Fruity Bliss

Experience the luscious sweetness of ripe strawberries in refreshingly portable form with our top 10 strawberry disposable vapes. From pure berry essence to indulgent dessert creations, find your perfect balance of fruitiness, flavor, and freshness.
Succulent strawberries have long claimed dessert fame for their sun-kissed juicy sweet-tart taste. Now you can take that bright berry flavor with you anywhere thanks to innovative vaping technology.
As vaping continues gaining popularity, demand has exploded for intricately crafted fruit-based ejuice flavors. Our list features the 10 top-rated strawberry disposables on the market, spanning from icy menthol infusions to velvety rich cream fusions.
Top 10 Best Strawberry Disposable Vapes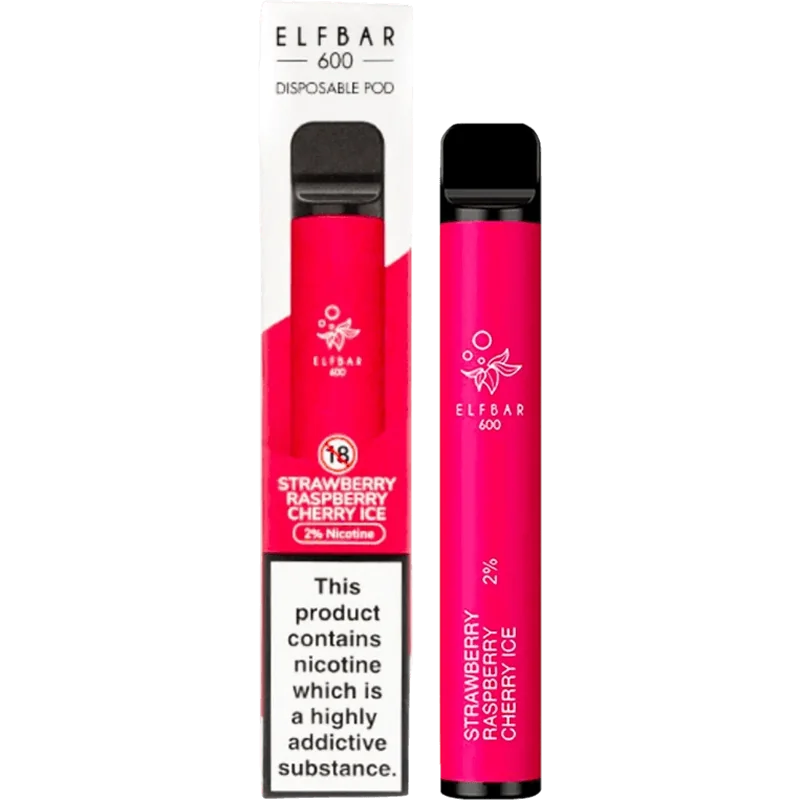 Strawberry Raspberry Cherry Ice – Elf Bar 600
Escape into a sun-dappled berry grove with Elf Bar's Strawberry Raspberry Cherry Ice. Sweet ripe strawberry harmonizes exquisitely with raspberry's tangy zing. Tart cherry adds a robust depth for a trinity of fruit flavors. A cooling menthol finish punctuates each puff with crisp exhilaration.
Puffs start with jammy strawberry upfront transitioning into raspberry tanginess, grounded by cherry richness, and conclude with crisp icy exhilaration. Each fruit emerges yet blends harmoniously.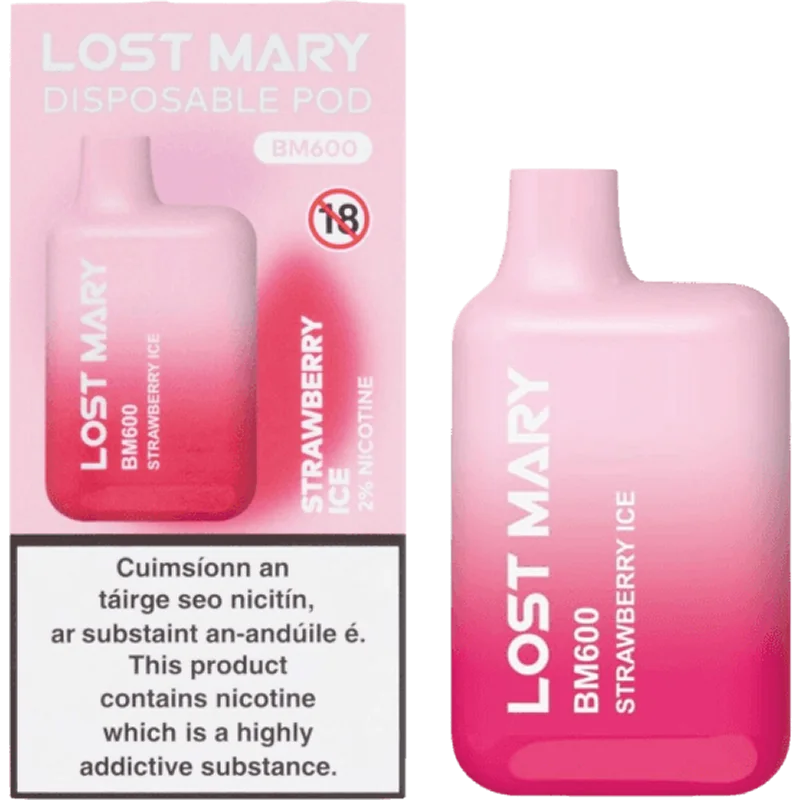 Strawberry Ice – Lost Mary BM600
Lost Mary elegantly simplifies strawberry bliss with their BM600 Strawberry Ice. Imagine sinking your teeth into a ripe, sun-warmed strawberry with morning dew still glinting on its skin. This flavor captures that experience and blends it with a hint of cooling menthol.
The strawberry profile remains pronounced as the star, while the subtle icy note lifts and brightens its natural essence. Expect authentic juicy strawberry on the inhale and a gentle chill on the cooling exhale. Understated yet deeply satisfying.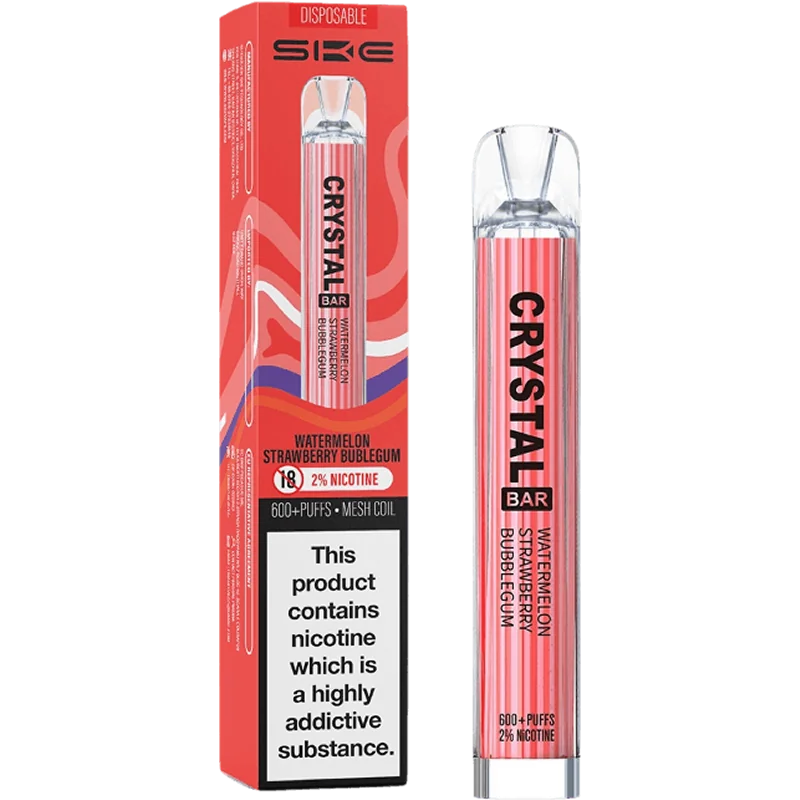 Watermelon Strawberry Bubblegum – SKE Crystal Bar
Transport your tastebuds back to carefree summer days with Crystal Bar's playful Watermelon Strawberry Bubblegum. Refreshingly cool watermelon and sweet ripe strawberry dance together on the inhale before nostalgic bubblegum charm emerges on the exhale.
Each puff delivers a fruit flavor rollercoaster, from juicy berries to sweet chewing gum. Expect medium vapor for a well-rounded mouthfeel.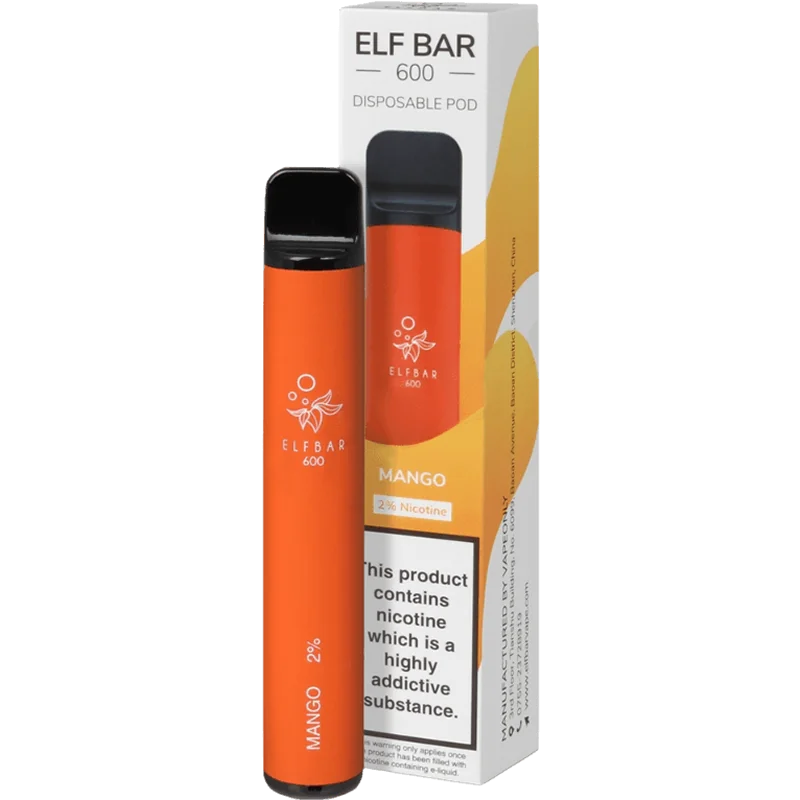 Strawberry Banana – Elf Bar 600
Elf Bar strikes fruit harmony again with their Strawberry Banana. Sweet strawberry meets mellow banana in a pairing as natural as a smoothie. A touch of cooling menthol punctuates each puff.
Inhales start with creamy banana tones that give way to ripe strawberry. Exhales conclude with a light chilled finish. It's like sipping a breakfast smoothie on a tropical beach. Expect dense vapor and bold flavors.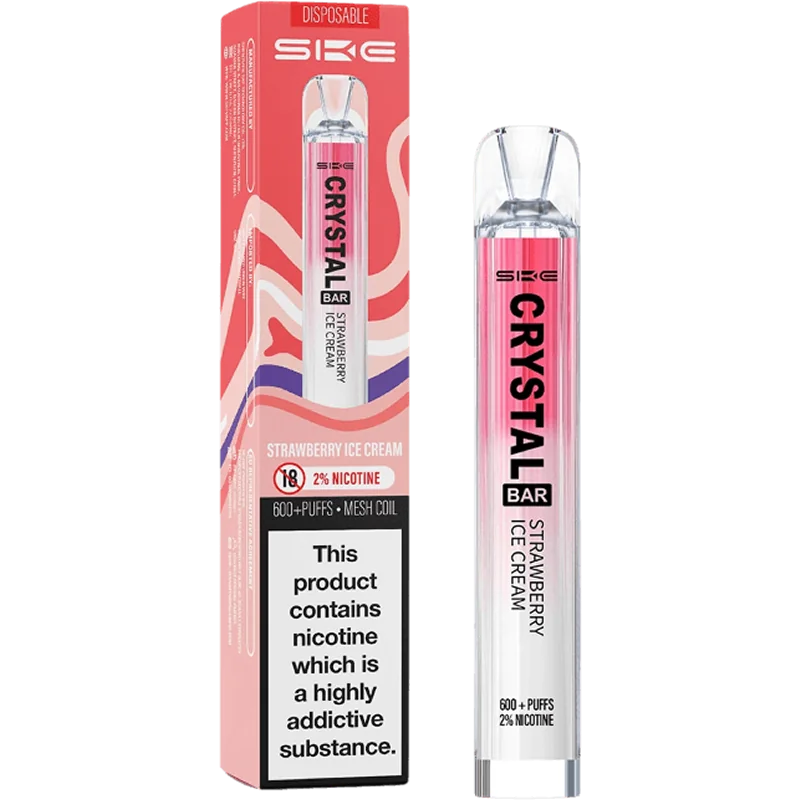 Strawberry Ice Cream – SKE Crystal Bar
Indulge in velvety strawberry richness with Crystal Bar's Strawberry Ice Cream. Picture ripe strawberries dripping with sweet juice, swirled into creamy ice cream perfection.
Each puff delivers that gourmet fruity-meets-creamy sensation, sending rich dense vapor cascading over your tongue. It's a luscious dessert experience condensed into portable form.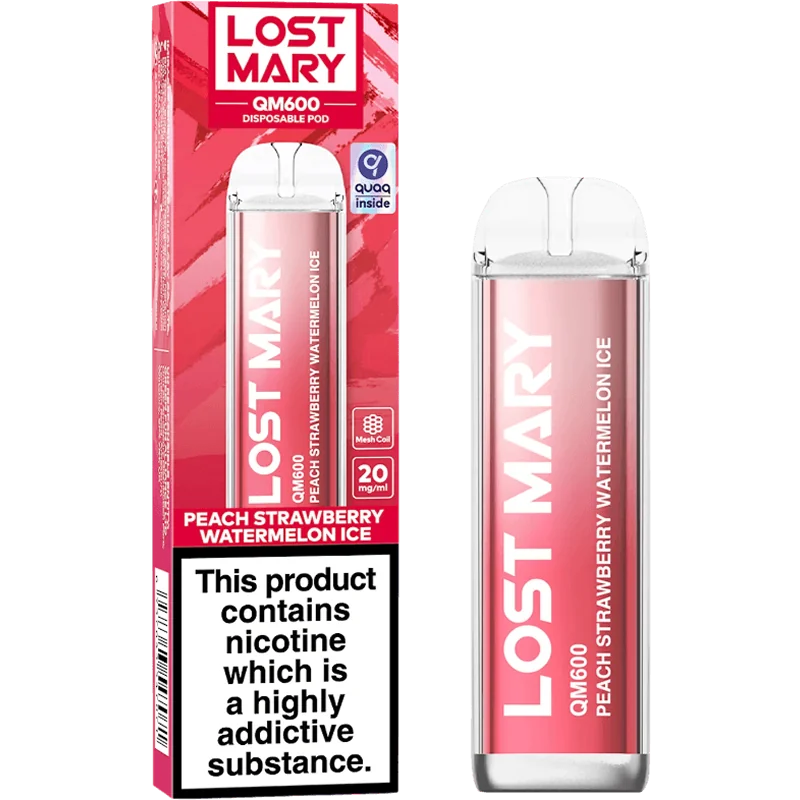 Peach Strawberry Watermelon Ice – Lost Mary QM600
Treat yourself to chilled fruit salad delight with Lost Mary's Peach Strawberry Watermelon Ice. Sweet strawberry and juicy peach intermingle deliciously on the inhale before cool watermelon adds an invigorating twist on the exhale.
Icy menthol undertones make it feel like biting into frozen fruit on a hot day. Expect a creamy peach inhale leading to a mouthwatering watermelon and menthol exhale. A harmonious panorama of diverse fruit flavors and sensations.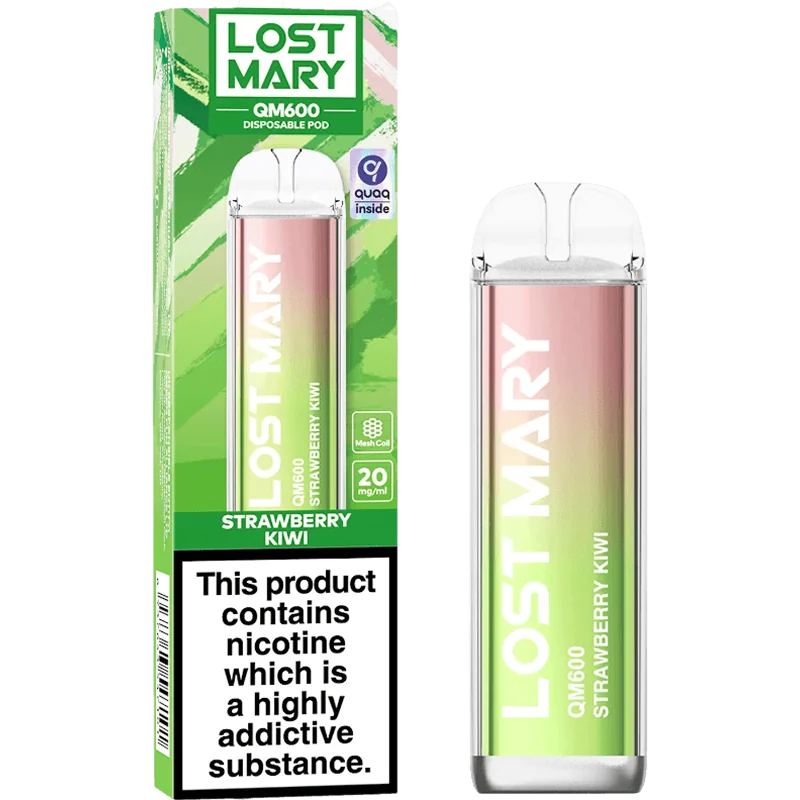 Strawberry Kiwi Ice – Lost Mary QM600
Lost Mary's Strawberry Kiwi Ice beautifully balances opposites. Gentle strawberry sweetnessContrasts delightfully with kiwi's tangy zest. This interplay creates a tug-of-war between sweet and tart that keeps you craving more.
Icy menthol punctuates each puff with exhilarating coolness to amplify the fruit flavors. Expect sweet strawberry on the inhale joined by kiwi zinginess on the exhale, all lifted by frosty menthol.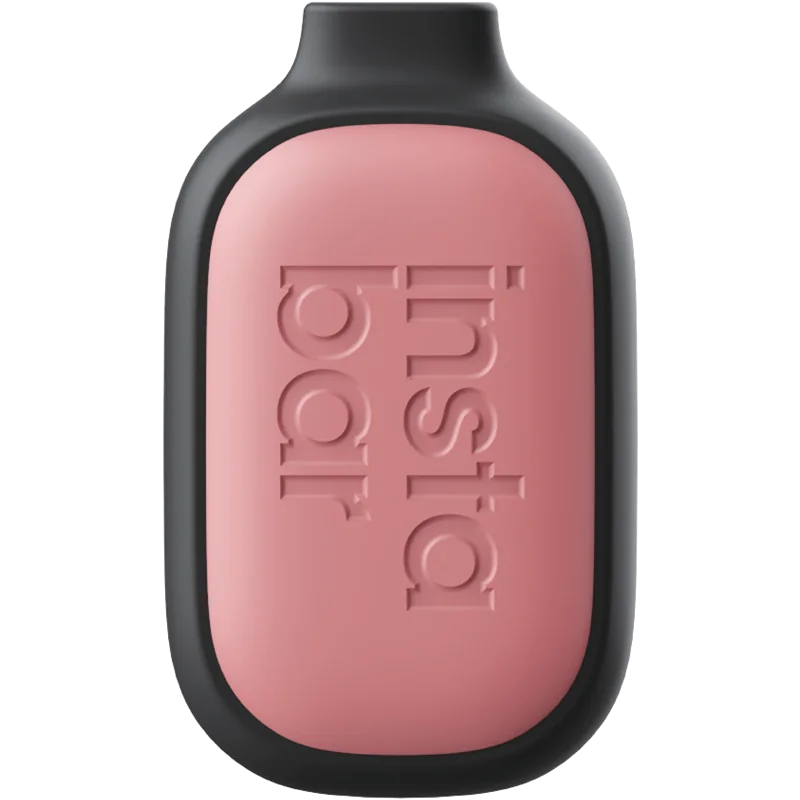 Strawberry Ice – Insta Bar Air 600
Insta Bar sublimely simplifies strawberry with their Air 600 Strawberry Ice. This flavor spotlights the pure essence of a ripe, sun-soaked strawberry. The natural fruit profile enchants without additions while subtle menthol provides uplifting coolness.
Bask in authentic juicy strawberry flavor on the draw. Exhales conclude with gentle chill to preserve the unadulterated berry taste. Understated yet deeply gratifying.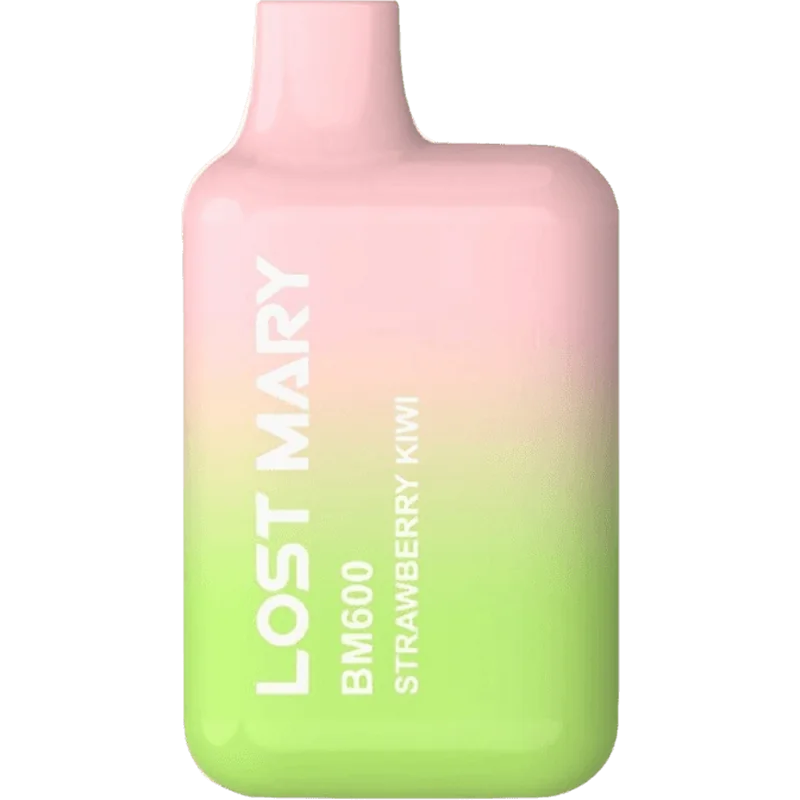 Strawberry Kiwi Ice – Lost Mary BM600
Lost Mary puts their spin on a classic pairing with the BM600 Strawberry Kiwi Ice. Sweet strawberry intertwines deliciously with tart kiwi while icy menthol delivers exhilarating coolness.
Expect pronounced menthol chill giving way to sweet strawberry on the inhale and tangy kiwi on the exhale. It's like biting into a frozen strawberry kiwi sorbet on a sweltering day. A refreshing remix of a tried-and-true fruit fusion.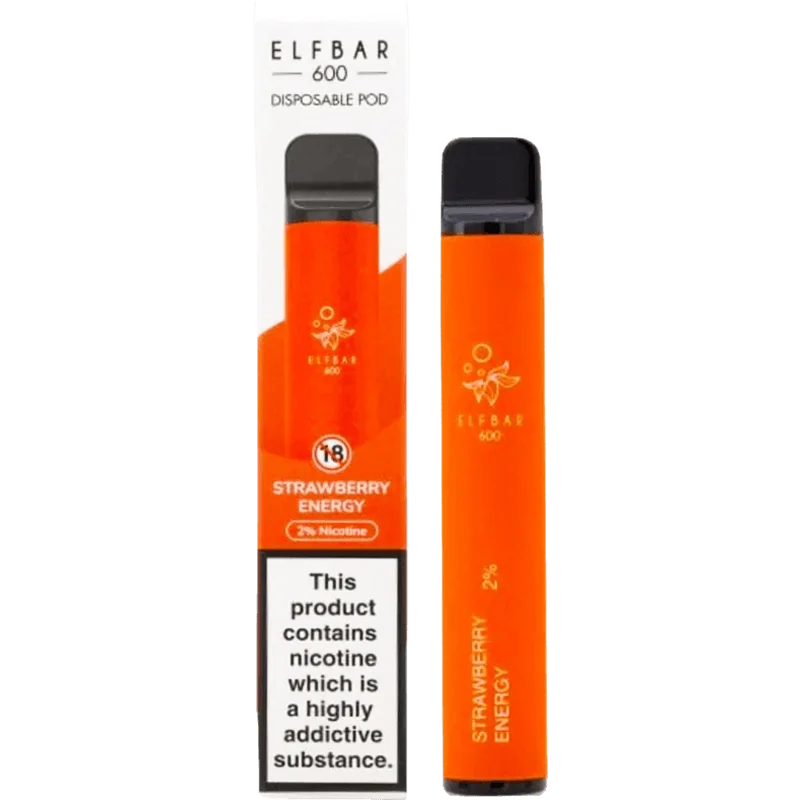 Strawberry Energy Ice – Elf Bar 600
For an electrifying flavored experience, savor Elf Bar's Strawberry Energy Ice. Sweet strawberry flavor gets amplified by the kick of an energy drink for a shot of fruit adrenaline. Icy menthol provides rejuvenating coolness.
Inhales start with the vibrance of an energy drink before transitioning into juicy strawberry. Exhales conclude with frosty chill. Expect an invigorating strawberry buzz tailored for an uplifting break.
Discover Your Perfect Strawberry Vape
Strawberry's timeless appeal continues to delight and inspire. Vaping offers new ways to experience this beloved fruit, whether through refreshing icy infusions or luscious dessert fusions.
Based on your flavor preferences, you're sure to find a tailored strawberry disposable vape on this list. For additional guidance as you explore the world of vaping, our caring customer service team is ready to help. Feel free to contact us by phone, email, or live chat. We're happy to assist you in finding your ideal vape!
https://ecigator.com/wp-content/uploads/2023/11/1700170854-Top-10-Best-Strawberry-Disposable-Vapes.jpg
675
1200
Ecigator
https://ecigator.com/wp-content/uploads/2023/04/ecigator-logo-white.png
Ecigator
2023-11-16 21:41:34
2023-11-17 02:08:15
Top 10 Best Strawberry Disposable Vapes for Sweet Fruity Bliss