Uwell Caliburn Pod Review 2023 – Still a Top Pod Vape?

The Uwell Caliburn has long been regarded as one of the best pod vape systems on the market. With sleek aesthetics and impressive performance, this pod mod has built a reputation over the years for its exceptional flavor production and smooth draw. But with new pod devices constantly entering the vaping scene, does the Caliburn still have what it takes to compete in 2023?
This in-depth review takes a fresh look at the Uwell Caliburn to determine if it remains a worthwhile option for vapers in search of a reliable all-day pod vape. We'll analyze the device's build quality, battery life, pod system, flavor production, and other key performance metrics to see how it stacks up against newer pod mods.
Overview of the Uwell Caliburn Pod System
The Uwell Caliburn is a compact pod vape system. Its slim and lightweight aluminum frame houses a 520mAh battery and utilizes replaceable 2ml pods with built-in coils.
Equipped with both button-firing and draw-activation, the Caliburn gives you options on how to vape. Its proprietary Pro-FOCS technology enhances flavor to provide a satisfying vape.
Despite being out for years, the Caliburn remains popular for its portability, ease of use, and consistent flavor delivery. But are there better alternatives now available? Let's find out.
Design and Build Quality of the Caliburn
Right out of the box, the Caliburn makes an excellent first impression. Its slim pen-style design features clean lines and a comfortable shape. The lightweight aluminum build feels sturdy, while subtle branding and detailing give it an elegant look.
With dimensions of 110mm x 21.2mm x 11.6mm, the Caliburn fits nicely in the hand. It's effortless to pocket for portability thanks to its slim profile. choosing between the six color options available allows you to pick a shade to suit your style.
The paintjob and finish feel durable, showing minimal wear even after prolonged use. The fire button clicks nicely with no rattle while the pod fits snugly into place aided by strong magnets. Overall, the solid construction provides confidence in the Caliburn's longevity.
Cutouts on the side offer easy viewing of juice levels. LED indicators under the fire button display battery life at a glance. It's a simple yet effective interface.
For draw-activated firing, pods click securely into place to trigger the sensor consistently. The airflow design provides a tight MTL draw that mimics the feeling of smoking.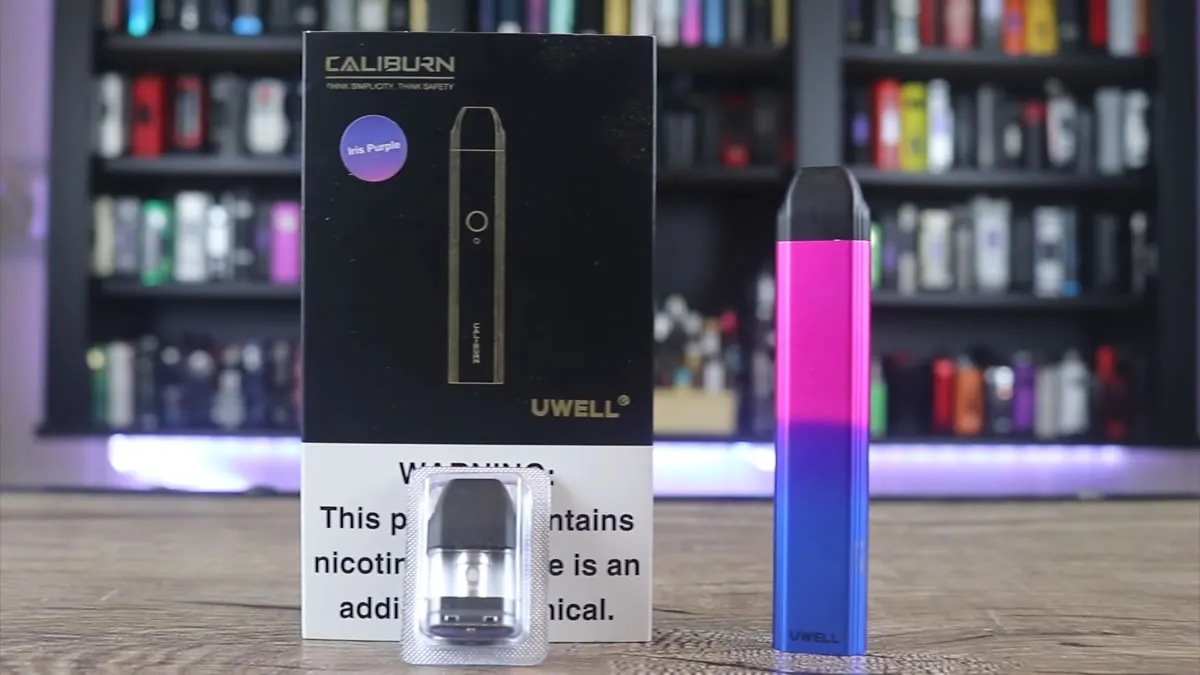 Performance and Vapor Production
Where the Caliburn really shines is with its performance. The proprietary Pro-FOCS technology enhances flavor noticeably compared to many other pods. E-liquids taste cleaner and truer to their intended profiles.
The flavor holds up well over time too. Even after vaping through 4-5 refills, the pods continue delivering dense, accurate flavor. For a pod system, the longevity is impressive.
Vapor production exceeds expectations for such a compact device. The draw delivers a satisfying warmth and density. Quick ramp-up times ensure you get robust vapor with every puff.
The hit feels smooth and consistent between both the button and draw activation. Responsiveness remains reliable over the life of a pod. Battery output keeps power delivery steady as the 520mAh capacity drains.
Considering its size, the Caliburn puts out thoroughly impressive vapor and flavor. The performance competes easily with many more advanced pod mods.
Pods and Coils
The Caliburn uses 2ml, proprietary push-to-fill pods. Packs come with two pods equipped with 1.4ohm coils rated for use between 10-15W. While simple, this straight-forward coil design works remarkably well.
Flavor clarity and longevity stand as testaments to the coil quality. They handle 70VG/30PG and 50VG/50PG juices with equal success. The pods last for weeks with proper care.
For those wanting a tighter draw, Caliburn Koko 1.2ohm pods are cross-compatible. These offer somewhat restricted airflow for a more cigarette-like experience.
Filling the pods is easy after getting the hang of it. Pulling off the mouthpiece cap can require some force but creates a large filling port. Take care when filling to avoid spilling liquid down the central air tube.
Overall, the Caliburn pods offer outstanding performance in terms of flavor and longevity. For vapers who just want a simple, no-fuss experience, they're easy to manage and long-lasting.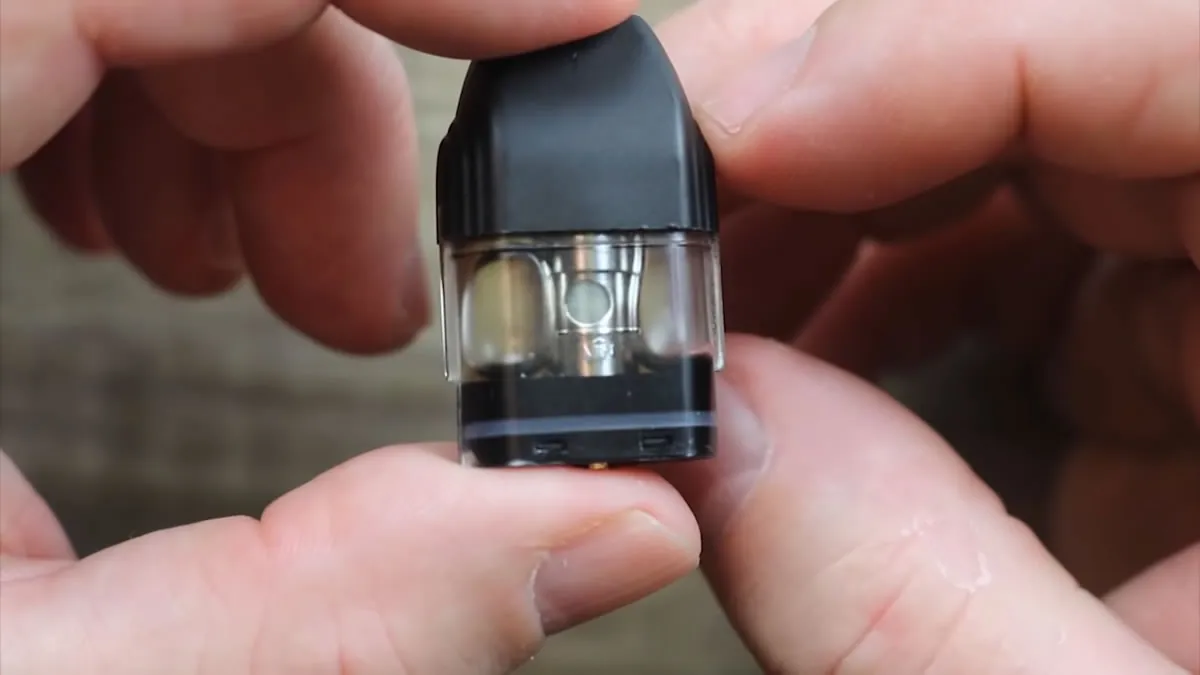 Features and Pros & Cons
Features
Sleek and compact aluminum frame
520mAh battery capacity
Proprietary Pro-FOCS flavor enhancement
2ml pods with 1.4ohm coils
Button or draw activated firing
Six color options
Battery life LED indicator
Pros
Excellent flavor production
Smooth and consistent draw
Durable and portable design
Pods easy to fill and long-lasting
Great vapor production for a compact device
Rapid charging
Cons
Non-adjustable airflow
Limited pod capacity
No variable wattage settings
Draw activation can be finicky
Battery Life and Charging
A 520mAh battery powers the Caliburn's compact frame. While not a massive cell, it's very efficient at conserving power. With moderate use, expect around 200 puffs or the equivalent of 3 pod refills per charge.
Fortunately, the Caliburn charges rapidly thanks to direct voltage output. Using the USB-C cable, the battery reaches a full charge in just 45 minutes. Pass-through vaping is supported as well, so you can puff while it charges.
The LED indicator provides an accurate overview of remaining battery life. It flashes green above 60%, blue from 30-60%, and red when nearly empty. This takes the guesswork out of tracking your charge level.
For a slim pod device, battery life is impressive. The efficiency and rapid charging help make up for the lower capacity when compared to larger mods.
User Experience
The Uwell Caliburn enjoys positive reception among vapers for its straightforward operation and reliability. The simple pod system makes it ideal for beginners. But flavor chasing veterans also gravitate towards its satisfying vapor quality.
Most praise focuses on the flavor production and smooth draw. The Pro-FOCS technology delivers clean, nuanced taste that's consistent throughout pod life. Ramp-up times are quick for satisfying puffs anytime.
Users also report excellent pod longevity, with some getting over a month of use before a change is required. This helps keep costs down over time.
While some report occasional issues with draw activation, most find both firing methods reliable. The devicecharges quickly which helps minimize downtime.
Constructive criticism centers on the lack of airflow adjustment. But for those seeking a tight MTL draw, the Caliburn delivers. Overall, it scores highly as an affordable and consistent all-day pod vape.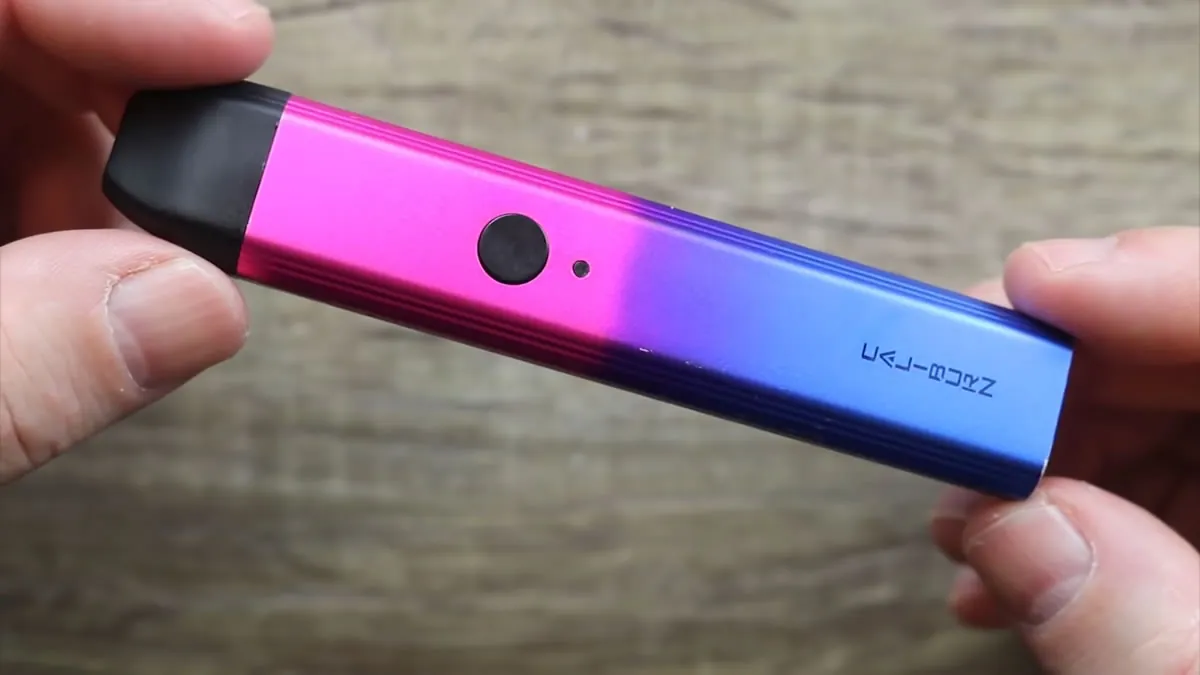 Pricing and Availability
The Caliburn retails between $20-$35 USD depending on the kit contents. In the UK, prices range from £20-30 based on accessories included. On sites like Element Vape, a basic kit costs around $25.
Pods retail in 2-packs for $8-12 USD. So factor in ongoing coil costs if you vape heavily. Kits including spare pods offer increased value.
Availability remains high from online vape shops to brick-and-mortar stores. The Caliburn's popularity keeps supplies steady across retailers. Regulatory restrictions don't impact the Caliburn as much as higher-powered devices.
For vapers seeking a reliable pod system, the Caliburn represents an affordable investment. Ongoing costs stay low thanks to pod longevity and competitive coil pricing.
Common Questions about the Caliburn
What types of e-juice work with the Caliburn?
The Caliburn pods wick high VG, nic salts, and 50/50 PG/VG blends effectively. Flavor remains consistent across different juice types. High VG and nic salts are recommended for maximum satisfaction.
How long do Caliburn pods last?
With proper maintenance, Caliburn pods last an average of 2-3 weeks. Gentle puffing and avoiding burn hits enhances longevity. Pod life also depends on juice sweetness and acidity. Expect 1-2 weeks from darker e-liquids.
Does the Caliburn have an auto-shutoff feature?
Yes, the Caliburn will power off after 10 minutes of inactivity as a safety precaution. Simply reactivate the device with five clicks of the fire button. Prolonged auto-shutoff protects the battery when not in use.
Verdict – The Caliburn Stands the Test of Time
The Uwell Caliburn rightly earned its status as a legendary pod system. While newer devices have since emerged, the Caliburn still holds up remarkably well even in 2023.
For vapers seeking a tight MTL draw, satisfying flavor, and fuss-free operation, the Caliburn delivers. Consistent vapor production, excellent pod life, and rapid charging make it a practical everyday pod mod.
While the lack of airflow adjustment may deter some, the Caliburn offers an ideal balance for cigarette smokers looking to switch to vaping. Robust features like dual firing options, battery life LEDs, and cross-compatibility with Koko pods add long-term value.
So for an affordable, highly portable, and easy-to-use pod kit, the Uwell Caliburn remains a top choice. It continues to meet the needs of flavor-chasing vapers through thoughtful design and performance. As pod mods come and go, the Caliburn demonstrates how classics stand the test of time.
Uwell Caliburn Review Video
https://ecigator.com/wp-content/uploads/2023/10/1697833134-Uwell-Caliburn-Pod-Review-2023.jpg
680
1200
Ecigator
https://ecigator.com/wp-content/uploads/2023/04/ecigator-logo-white.png
Ecigator
2023-10-20 20:30:39
2023-10-20 20:30:39
Uwell Caliburn Pod Review 2023 – Still a Top Pod Vape?