Vozol Gear 10000 Disposable Vape Review – Robust Capacity and Innovations
As vaping continues growing in global popularity, the disposable vape market rapidly expands with new models aiming to satisfy demand. Companies like Vozol bring innovation to the space, developing quality options that balance performance with affordability. The Gear 10000 represents one such creative offering optimized for longevity and convenience. This detailed Vozol Gear 10000 review explores the features, flavors, design, and real-world functionality that set this disposable apart.
Vaping provides an alternative to traditional combustible cigarettes that many view as less harmful when used responsibly by adult smokers. Disposable vapes appeal through sheer convenience and ease of use with their pre-filled plug-and-play experience. As the market grows worldwide, manufacturers like Vozol seek to retain customers by continuously improving product performance and capabilities.
Introduction to Vozol's Diverse Vaping Products
Founded in 2018, China-based startup Vozoltech focuses on applying scientific rigor to create quality vaping products at reasonable prices. Their state-of-the-art R&D facility aims to enhance vape technology through continuous refinement.
Vozol wants to empower adult smokers seeking alternatives to take control of their nicotine consumption habits. By providing satisfying flavor and vapor from thoughtfully engineered devices, Vozol hopes to help current combustible users voluntarily make the switch to smoke-free options.
The company offers an array of disposable vape pens and mods tailored to various global markets based on regional vaping regulations and preferences. While some options contain higher nicotine concentrations for certain countries, Vozol creates TPD-compliant disposable ranges for legal sale in UK and EU markets.
One uniquely designed offering optimized for extreme longevity is the Vozol Gear 10000 disposable vape. Let's thoroughly examine how this feature-packed model aims to satisfy vapers through technology.
Gear 10000 Features and Specifications
As a high-capacity disposable, the Gear 10000 contains:
20ml prefilled nicotine salt e-liquid
500mAh rechargeable battery
Mesh heating coil for optimized flavor
Impressive 10,000 puff rating
USB-C charging
The proprietary mesh coil aims to increase consistency and boost flavor production. And the 20ml pod allows vaping for days before needing a recharge.
But Vozol takes innovation further through the creative carabiner design protecting the mouthpiece when not in use. Now let's explore the aesthetics and ergonomics.
Innovative 3D Design with Convenient Carabiner
The Gear 10000 sports a faceted 3D silhouette to stand apart from competitors. Vibrant metallic inner tank colors shine through unique diagonal front cutouts offering windowed e-liquid level viewing.
A carabiner integrated into the exterior chassis holds a removable silicone mouthpiece cover kept secure with a matching lanyard. This clever accessory protects the tip from dirt while enabling easy carrying.
While necessarily larger than typical disposables to accommodate the immense 20ml juice reservoir, the Gear 10000's proportions remain ergonomic. And the exterior window provides handy at-a-glance e-liquid level checking.
Battery Life and Charging Considerations
Despite the prodigious 10000 puff rating, the Gear 10000 utilizes a 500mAh battery comparable to top disposables with far lower capacity. While less than 1 day of use per charge, the USB-C port enables rapid 45-minute recharging.
During extensive testing, the battery never faltered, delivering consistent flavor and vapor even at low power. But frequent recharging is needed to fully harness the tremendous e-liquid supply.
While passthrough vaping would maximize uptime, the quick charge capability minimizes inconvenience. And power conservation optimizations further extend each cycle. By all measures, the battery keeps up remarkably well considering the onboard juice volume.
Top 7 Gear 10000 Flavors Reviewed
The Gear 10000 comes prefilled with nicotine salt e-liquid in 7 flavor varieties designed to appeal to diverse vape tastes: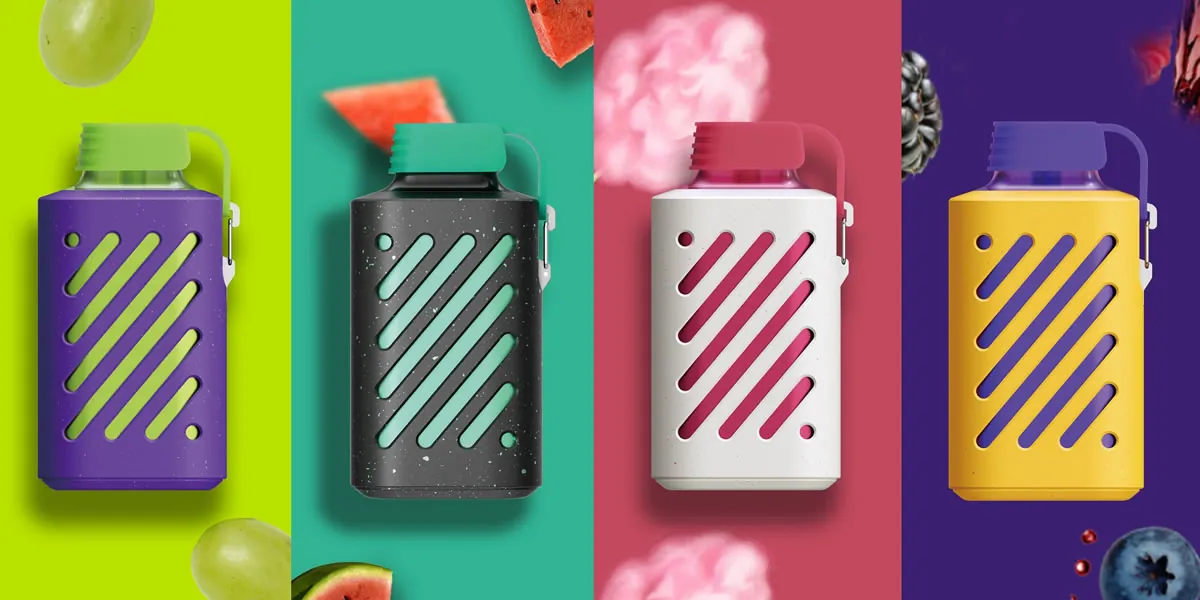 Peach Mango Smoothie
Each puff of this flavor drenches the palate in velvety tropical fruit sweetness. The inhale brings juicy peach flavor, with luscious mango emerging on the exhale. Together they create a harmonious fruit fusion.
The peach tastes fuzzy and authentic, while the mango supplies tropical creaminess. Neither overpowers but instead mingles beautifully. The overall profile mimics a fresh blended smoothie.
Fans suggest this flavor for an instant flavor getaway. The fruits conjure visions of tropical vacations and summery bliss. A consistently gratifying blend sure to satisfy fruit smoothie lovers.
Sour Apple Ice
Crisp sour green apple flavor chilled by frosty menthol – this profiles wows from the first puff. The inhale supplies tart apple bite, followed by a wave of icy cool menthol on exhale.
The apple tastes freshly picked with ideal balance between sweet and sour. Menthol adds a pleasant tingle without overwhelming the apple essence. One of the most authentic apple vapes around.
For sour apple candy and icy menthol devotees, this flavor is a dream. The profile remains consistent, never fading. Vapers suggest this flavor as an ADV for apple lovers seeking complexity.
Passionfruit Raspberry Tangerine
An unexpected yet delightful citrus medley. Tart tangerine dominates the inhale with zesty sweetness. Hints of raspberry and passionfruit emerge on exhale, adding depth.
The raspberry contributes berry sweetness while the passionfruit supplies tropical vibrancy. But the tangerine remains prominent, avoiding a one-note flavor. A unique and nuanced citrus cocktail.
Fans praise this original blend for remaining perfectly balanced. The fruits mingle beautifully for layers of flavor in each puff. A crowd-pleaser for citrus aficionados.
Green Blast
A sweet kiwi-forward flavor fused with cool menthol. Inhales brim with juicy kiwi, balanced by rich honeydew. Crisp apple undertones add further fruit-filled complexity.
Menthol leaves a tingly chill with each puff without overpowering the fruits. Their essence remains distinct and authentic. An icy flavor explosion.
Kiwi candy devotees suggest this flavor for its wonderfully authentic and pronounced kiwi notes. The melon, apple, and chill elevate the core kiwi flavor beautifully. A consistent cold fruit delight.
Watermelon Ice
Few watermelon vapes taste this authentic. Sweet watermelon dominates each puff, with icy menthol complementing the juicy melon.
Inhales offer fresh watermelon flavor reminiscent of ripe summer melons. Exhales carry the brisk chill. Neither overpowers but instead enhances.
Fans praise the natural watermelon flavor – not candy-like but pleasantly sweet and refreshing. The menthol provides perfect contrast without overwhelming. A cooling fruit lover's dream.
Forest Berry Storm
A bold berry medley led by raspberry, blueberry, and blackberry mingled with icy menthol. Tart and tangy notes dominate for a jam-like flavor.
The berries taste fresh picked, with each remaining detectable. Menthol grants a frosty finish. There's something uniquely addicting about this dynamic blend.
Vapers suggest this flavor for its lip-smacking berry tartness balanced by the chill. The exhale leaves a pleasant cooling sensation on the palate. A stellar mixed berry ADV.
Strawberry Ice Cream
Pure dessert bliss! Sweet strawberry and rich creamy vanilla capture quintessential ice cream flavor and aroma.
Inhales bring velvety vanilla, while juicy strawberry flavor blooms on exhale. The authentic dairy dessert flavor will have you craving a real cone.
Fans praise the realism and consistency. This profile truly mimics the flavor experience of strawberry ice cream from cold texture to taste. A luscious coil-friendly tribute.
Ranging from cool fruit fusions to creamy desserts and zesty citrus, Vozol aims to satisfy every preference. But how do these complex flavors actually translate when vaping?
Hands-On Performance Testing
After thorough real-world testing, the Gear 10000 delivers outstanding performance rivaling top-tier disposables. Flavor and vapor production remain consistently satisfying through the entire 10000 puff lifespan.
The intuitive draw activates instantly for robust hits. And the nic salt formulas come through as intended without chemical aftertaste. Juice flow keeps pace even as the reservoir depletes.
For new vapers, the sheer plug-and-play simplicity also shines. Even novice users can appreciate the strong vapor and authentic flavors. Despite its size, the Gear 10000 performs admirably right out of the box.
Gear 10000 Disposable Vape Review Video
Final Impressions on Vozol Gear 10000
With its immense e-liquid capacity, striking style, and gratifying performance, the Vozol Gear 10000 disposable warrants attention from vapers. Those prioritizing extreme longevity will appreciate the generous 10,000 puff rating.
Intelligent touches like the carabiner and silicone mouthpiece cover demonstrate Vozol's commitment to enhancing convenience through purposeful design. And the flavors across categories retain complexity without chemical aftertaste.
For an uncomplicated yet supremely rewarding vaping experience in a pocket-friendly form, the Gear 10000 makes a compelling case. Its robust performance and capacity surpass many refillable pod mod setups. Vozol may be new, but offerings like this prove their ability to compete through innovation.