In-Depth Vozol Star 6000 Disposable Vape Review and Analysis
The disposable vape market continues rapidly expanding as vaping gains mainstream popularity. With demand growing worldwide, new brands like Vozol bring innovation to satisfy vaper needs. The Star 6000 represents Vozol's latest beginner-friendly disposable model. This in-depth Vozol Star 6000 review covers the features, performance, flavors, and overall real-world usability.
Vaping provides an alternative to traditional tobacco cigarettes that many view as less harmful when used responsibly by adult smokers. Disposable vapes appeal through convenience and ease of use. As the market grows globally, manufacturers like Vozol aim to retain customers through continuous product improvements.
Introducing the Vozol Brand
Founded in 2018, China-based startup Vozoltech focuses on scientific rigor to develop quality vaping products at reasonable prices. Their state-of-the-art R&D labs aim to enhance vape technology through continuous refinement.
Vozol wants to empower adult smokers seeking alternatives to take control of their nicotine consumption habits. By providing satisfying flavor and vapor from their vape devices, Vozol hopes to help current cigarette users voluntarily make the switch to a smoke-free option.
The company offers an array of disposable vape pens tailored to various global markets based on regional vaping regulations. Vozol creates TPD-compliant disposable ranges like the Star 6000 designed specifically for legal sale in UK and EU markets.
With the meteoric rise of disposables, Vozol hopes to grab consumer attention through competitive performance, quality, and unique product attributes. Let's see if the Star 6000 delivers on that promise.
Vozol Star 6000 Features and Specifications
Like many reputable disposables, the Star 6000 ships ready for instant enjoyment:
E-liquid capacity: 14 ml
Battery capacity: Rechargeable 500 mAh
Nicotine: 35 mg
Puff count: 6000 puffs
Inhale activated
It provides 14ml of 35mg/3.5% nicotine salt juice designed to deliver the satisfying throat hit and nicotine absorption smokers crave. The 500mAh battery enables all-day vaping. And the optimized mesh coil aims to maximize flavor production. The USB-C port allows convenient recharging when the battery eventually runs dry.
With its curved pen silhouette, the Star 6000 fits comfortably in hand and pockets for discreet portability. The design choices aim to remove hassles and learning curves, allowing new users to enjoy the straightforward vaping experience disposables offer. But how does it actually perform? Let's find out.
Design Places Emphasis on Comfort
In terms of aesthetics and handling, Vozol opted for a rounded pen-style form factor on the Star 6000. This compact cylindrical shape allows for maximum portability and discretion.
The tapered mouthpiece molds smoothly to lips during use for added comfort. And the slim chassis prevents any hand fatigue or discomfort even during extended vaping sessions.
Vozol also specially engineered the Star 6000's exterior from soft-touch materials to minimize contact irritation. The ergonomic considerations indicate Vozol's attention to crafting an enjoyable user experience.
Optimized Airflow and Heating System
Inside each Star 6000, Vozol integrated a proprietary mesh coil heating element intended to increase vapor consistency and overall flavor quality. The company claims their VAMT coil enhances general performance aspects.
Additionally, the internal airflow channel underwent proprietary tweaking by Vozol engineers to purportedly create the ideal temperature and flavor balance when paired with nicotine salts.
So Vozol invested in optimizing the Star 6000's internals like the heating coil and airflow tunnel with the aim of providing superior satisfaction compared to competing disposable models. But do these enhancements work as advertised? Let's explore the real-world performance.
Battery and Safety Considerations
Disposable vape batteries carry certain risks if rigorous quality control fails. But Vozol asserts they amplified safety precautions and longevity in the Star 6000's 500mAh cell.
An exclusive battery management system provides enhanced monitoring and stability compared to competitors, according to Vozol. The integrated microchip aims to prevent issues like overcharging.
And the USB-C charging port enables faster, more reliable power-ups than outdated micro USB ports common on disposables. Vozol claims their design choices result in a safer overall user experience.
While independently verifying these claims proves difficult, the Star 6000 does deliver outstanding battery performance. It lasts through a surprisingly high puff count on a single charge. And recharge times clock in under an hour using USB-C chargers.
Diverse Flavor Options
Another area Vozol invested in is the Star 6000's flavor variety. With 10 mouthwatering nic salt varieties, Vozol aims to satisfy every palate. Their balanced flavor lineup includes:
Fruits – Mango Peach Pineapple, Forest Berry Storm
Icy Fruits – Sour Apple Ice
Sweets – Strawberry Ice Cream, Watermelon Bubblegum
Beverages – Blue Razz Lemon, Aloe Grape
Minty Menthol – Cool Mint
Tobacco – Smooth Tobacco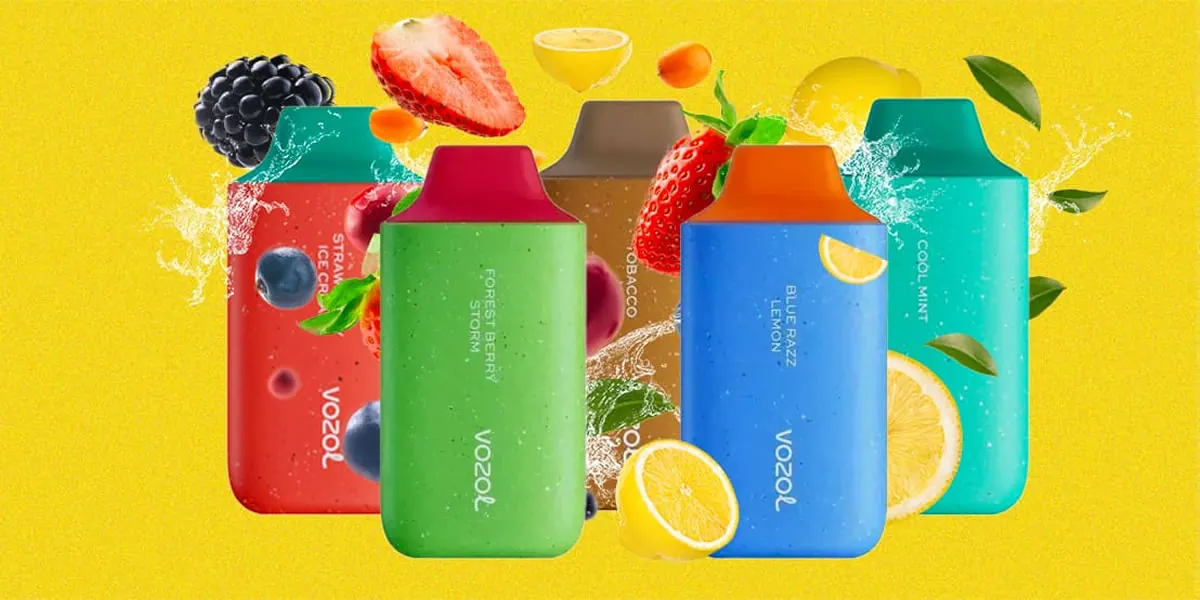 Top 10 Vozol Star 6000 Flavors Reviewd
Aloe Grape
As soon as I inhaled this flavor, the sweetness of ripe grapes washed over my palate, as if I was biting into freshly picked purple grapes right off the vine. The grape flavor tastes authentic, avoiding any artificial or candy-like notes.
On the exhale, subtle hints of aloe emerge, creating a light cooling effect that perfectly balances the grape sweetness. The aloe adds an unexpected botanical element, resulting in a crisp and refreshing grape juice profile. This flavor remains well-balanced from first puff to last.
Fans suggest this flavor for a sweet vape that avoids overwhelming richness. The aloe provides just enough chill to keep things interesting. Grape lovers will appreciate the authentic juicy essence.
Blue Razz Lemon
With the first puff, my taste buds tingle with the sweet and slightly tart blue raspberry candy flavor reminiscent of beloved icy frozen treats. As I exhale, the zesty lemon bursts through, adding a wonderful citrusy zing that elevates the sugary raspberry.
The blue raspberry remains pronounced on both the inhale and exhale, with the lemon providing brilliant balance. Together these fruity flavors create an enjoyable sweet and sour dynamic that keeps you coming back for more puffs. Vapers report this flavor retains consistency and potency over the device's entire lifespan.
Fruit candy and lemonade fans suggest this flavor for a sweet all day vape with added complexity from the lemon. It satisfies candy cravings beautifully.
Cool Mint
As soon as I tried this flavor, a frosty peppermint chill greeted my palate, immediately evoking wintertime peppermint candies. On the exhale, spearmint joins the mix, adding herbaceous complexity alongside the brisk peppermint.
Each puff leaves a cooling minty tingle on the tongue that lingers briefly between puffs. Subtle sweetness rounds out this brisk flavor, making it smooth and satisfying. Menthol vapers suggest this flavor for its authentic and balanced mint profile that avoids bitterness. A refreshing all day vape option.
Forest Berry Storm
Right away, the inhale floods my palate with a mix of tart blackberry and raspberry notes, creating an enjoyable berry bite. As I exhale, the sweet strawberry flavor emerges, perfectly balancing the tart jammy berries.
All three key berries – strawberry, raspberry, and blackberry – mingle in harmony rather than competing. It evokes the experience of snacking on a fresh berry salad. Vapers report this flavor remains consistent and avoids muting, satisfying berry cravings all day.
Berry medley fans suggest this complex profile for an authentic mixed fruit experience. The strawberry prevents the blend from becoming too tart while allowing all fruit notes to shine.
Mango Peach Pineapple
From the first puff, this sunny fruit fusion carries me away to tropical getaways. Sweet mango leads the inhale, coating the palate with velvety tropical essence. As I exhale, the juicy peach comes forward, adding stone fruit vibrancy. Finally, pineapple binds the medley with a touch of zesty tartness.
Inhales and exhales carry all the key fruits, creating layers of flavor. The fruits intermingle beautifully with authentic ripened profiles rather than competing. This flavor remains consistent and balanced, avoiding synthetic "tropical" notes. Fruit salad lovers will adore this flavor.
Kiwi Guava Passionfruit
What a delightfully dynamic blend of tangy and sweet fruits! The inhale brings sweet guava and passionfruit, reminiscent of sipping tropical fruit juice. Then the kiwi emerges, providing a wonderful tart counterpoint on the exhale that cuts the sweetness perfectly.
The passionfruit, guava and kiwi play together in harmony, creating an effervescent fruit cocktail flavor. This avoids being one-dimensionally sweet or overwhelming. Vapers suggest this flavor for a balanced fruit medley that pops with flavor. The exhale leaves a pleasant kiwi tartness on the palate.
Sour Apple Ice
This flavor wows the palate with an authentic tart green apple bite, like a sour Granny Smith candy. As I exhale, a wave of brisk icy menthol arrives, cooling that apple tartness beautifully.
Each puff delivers a wonderful balance of sweet-tart apple and frosty chill. The menthol prevents the sour apple from becoming overwhelming. Vapers report this flavor remains bold and consistent, never muting or becoming bland. A nice change from typical fruit and menthol pairings.
Strawberry Ice Cream
Dessert lovers rejoice! This flavor beautifully captures the essence of strawberry ice cream. The inhale carries rich creamy vanilla with ripe strawberry swirls. Exhales emphasize the luscious strawberry, evoking the unmistakable flavor of this classic treat.
This remains one of the most authentic dessert flavors I've found. It flawlessly conveys the sweet strawberry ice cream experience from texture to taste. This flavor retains consistency and potency even when the battery runs low. A heavenly all day vape.
Tobacco
Finally, a tobacco replica that delivers robust flavor without unpleasant smoking sensations! The inhale provides an authentic tobacco profile – rich, earthy, and nutty with hints of caramel and oak. Exhales carry the same familiar tobacco taste.
This flavor captures the nuances of tobacco extraordinarily well. From the first puff, it bears an uncanny resemblance to the real thing. Fans praise this flavor for closely mimicking tobacco's complexity and longevity. An excellent option for tobacco lovers seeking that nostalgic flavor.
Watermelon Bubblegum
This fun flavor fusion satisfies both fruit and candy cravings in one device! Sweet watermelon dominates the inhale with refreshing melon juice flavor. As I exhale, the classic bubblegum flavor emerges, evoking childhood nostalgia.
The watermelon and bubblegum dance together delightfully. Each puff remains well-balanced, avoiding being overwhelmingly sweet. Fans suggest this flavor if you enjoy playful fruit and candy blends. The uplifting profile puts a smile on your face!
Ranging from summery fruit medleys to icy chillers, luscious desserts, soda alternatives, and rich tobaccos, Vozol seeks to provide the spectrum of flavors needed to appeal to all preferences. But how do these options actually taste?
Performance Testing and Analysis
After extensively evaluating the Star 6000, the performance remains impressive compared against top disposables. The draw feels smooth yet pleasantly snug, generating satisfying vapor and flavor on every puff. And the 35mg nicotine salts offer the instant satisfaction ex-smokers crave.
The capable mesh coil prevents dry hits while muting distracting pops and cracks. As promised, the flavor stays consistent from the first inhale to the last. And even as e-liquid diminishes, you get gradually weaker hits rather than any burnt taste.
During use, the only noticeable sound comes from inhaling through the ergonomic mouthpiece. Exhales produce surprisingly dense vapor clouds from the nic salt formula thanks to the battery power and airflow. By every metric, it competes with or exceeds competitor models in the real world.
Final Verdict on Vozol Star 6000
After repeated testing, I can comfortably recommend the Vozol Star 6000 as a disposable vaping option. It delivers quality and innovation expected from a research-driven vaping brand.
Thoughtful design choices like the soft-touch exterior and proprietary battery technology address common disposable pitfalls. And the variety of flavors should satisfy diverse preferences.
For an affordable yet truly rewarding introduction to vaping, the Vozol Star 6000 warrants your consideration. It balances sheer usability with technology that aims to enhance performance and safety. As disposables advance, expect great things still to come from this upstart brand.