Vozol Star 9000 Disposable Vape Review

The Vozol Star 9000 stands out as one of the most advanced and customizable disposable vapes available today. With adjustable airflow, massive battery life, and special features like a shake-to-activate display, it offers an excellent user experience. This in-depth review covers the full specs, design, flavor options, performance, and overall pros and cons of the Star 9000.
Vozol Star 9000 Review – An Introduction
Vozol first made its mark in the vaping industry back in 2019 with the release of their Vozol D1 and D2 disposable vape models. Since then, they have rapidly grown their disposable lineup to include several popular series like GEAR, STAR, and SWITCH.
The Star 9000 represents one of Vozol's latest and most innovative disposable vapes for 2023. It incorporates an advanced LCD display that shows precise ejuice and battery percentage levels when shaken awake. The Star 9000 also utilizes Vozol's proprietary "SILC" technology, which aims to provide smooth, consistent hits and long-lasting flavor down to the final drop.
With its large 14ml juice reservoir and 650mAh battery, Vozol rates the Star 9000 at an impressive 9000 puffs per device. It comes with the choice of 0mg, 20mg or 50mg nicotine strengths to suit any user. The Star 9000 currently offers 15 different fruit-focused flavors.
Below we'll fully explore the features, performance, and overall user experience offered by these premium disposables.
Key Features and Specifications
14ml ejuice capacity
650mAh rechargeable lithium battery
Up to 9000 puff rating
Quick Type-C charging
0mg, 20mg, and 50mg nicotine options
15 flavors available
Draw-activated firing mechanism
Tight MTL draw
Unique marble resin exterior
Vibrant color-matched mouthpieces
Shake-to-activate display screen
Precise ejuice and battery level readouts
Integrated mouthpiece dust cover
Proprietary SILC technology for smooth constant hits
Sleek Design and Durable Construction
The Vozol Star 9000 sports an elegant and eye-catching aesthetic unlike any other disposable on the market. Its exterior shell features a marble resin construction with subtle veins running through each device. Every Star 9000 bears its own unique marble pattern thanks to the special manufacturing process.
While the marble resin shell remains consistent across all flavors, the mouthpiece and integrated dust cover come color-matched to the ejuice inside. This adds a nice touch of visual flair.
With dimensions of 90mm x 42mm x 23mm and a weight of just 70g, the Star 9000 is relatively compact and lightweight enough for comfortable all-day vaping and portability.
The tapered mouthpiece fits smoothly between the lips and the anchored silicone dust cover helps keep pocket lint out when not in use. The cover matches the mouthpiece and snaps easily into place over the drip tip thanks to its flexible leash attachment.
Although made of plastic, the Star 9000 chassis feels extremely solid and durable in the hand. Vozol seems to have put great effort into constructing a premium quality disposable built to last.
Overall, Vozol absolutely nailed both the aesthetic design and structural build of the Star 9000. It looks and feels like a high-end disposable worthy of its price point.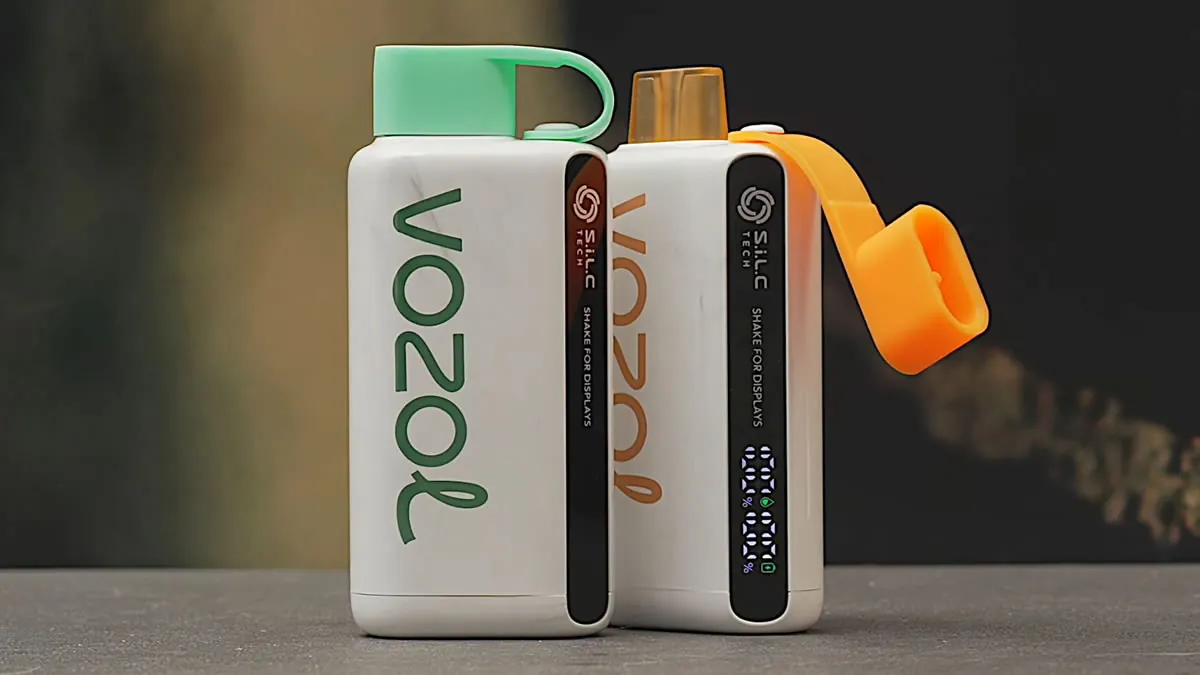 Advanced Features for Enhanced Convenience
A major highlight of the Star 9000 is the crisp OLED display that provides helpful readouts of ejuice level and current battery charge percentage.
The unique thing about the Star 9000's display is that you don't have to take a draw to activate it. Instead, a quick shake of the device temporarily wakes up the screen so you can check your levels at a glance anytime.
The display shows the precise ejuice percentage remaining with a small droplet icon, followed by the exact battery percentage alongside a small battery icon. The percentages decrease in 10% increments as you vape.
Having this shake-to-activate feature is extremely useful compared to disposables where you must inhale to see the LED indicators. However, the shaking motion could be a bit more sensitive. Light shakers may need to use more force than expected.
Beyond the display, the Star 9000 incorporates a long-lasting 650mAh battery that charges rapidly via the Type-C port. I found I could recharge from 10% to 100% in as little as 45 minutes. And pass-through technology lets you vape while charging.
Vozol's proprietary "SILC" technology aims to deliver a Smooth, Identical, Long-lasting, and Clean vaping experience through the life of the device. By all accounts, it seems to work incredibly well, providing smooth constant hits and optimized flavor retention even as the juice level gets low.
The automatic draw-activation and tightly tuned MTL draw offer an extremely intuitive and satisfying vape. And with its mammoth 14ml juice capacity, the Star 9000 easily lasts days between charges depending on your usage.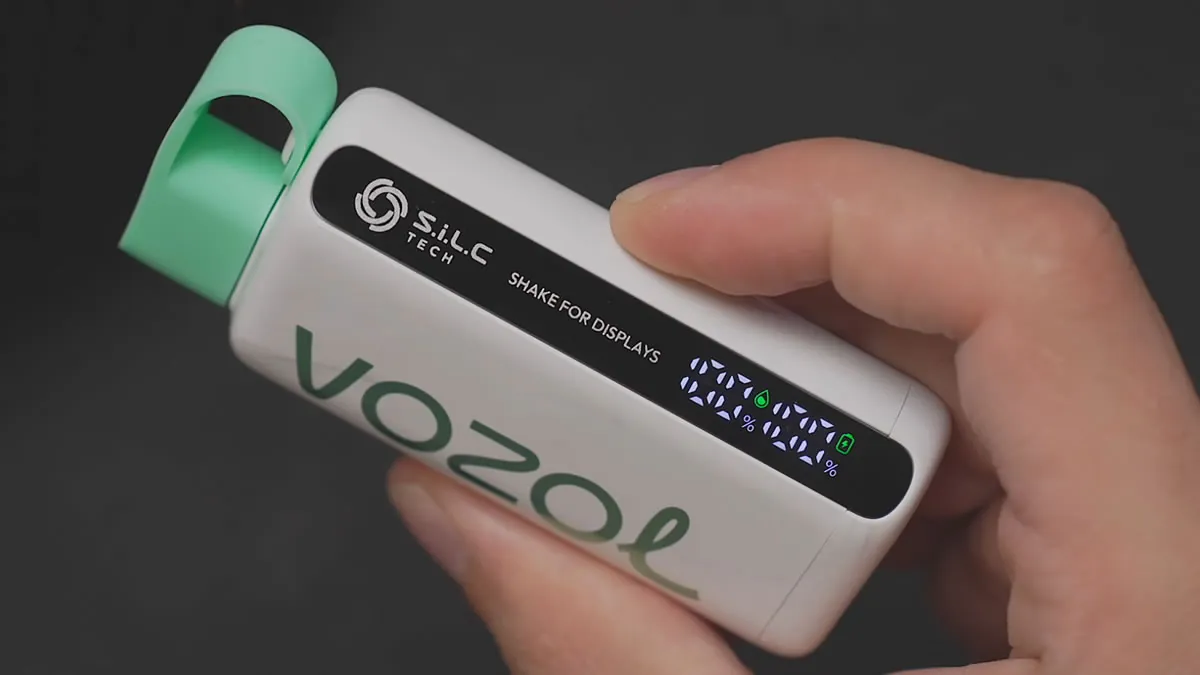 Diverse Selection of Fruit-Focused Flavors
The Vozol Star 9000 is currently available in a total of 15 flavors, all of which fall into either the fruit or mint/menthol categories. Here is a full listing:
Vozol Star 9000 Flavors
Blue Razz Ice
Blueberry Storm
Cool Mint
Grape Ice
Mexican Mango Ice
Miami Mint
Miss Pink
Peach Mango Watermelon
Raspberry Watermelon
Sour Apple Ice
Strawberry Kiwi
Strawberry Watermelon
Triple Berries
Watermelon Bubble Gum
Watermelon Ice
I'll share my subjective thoughts on a few of the flavors I tried below. Keep in mind personal taste preferences vary.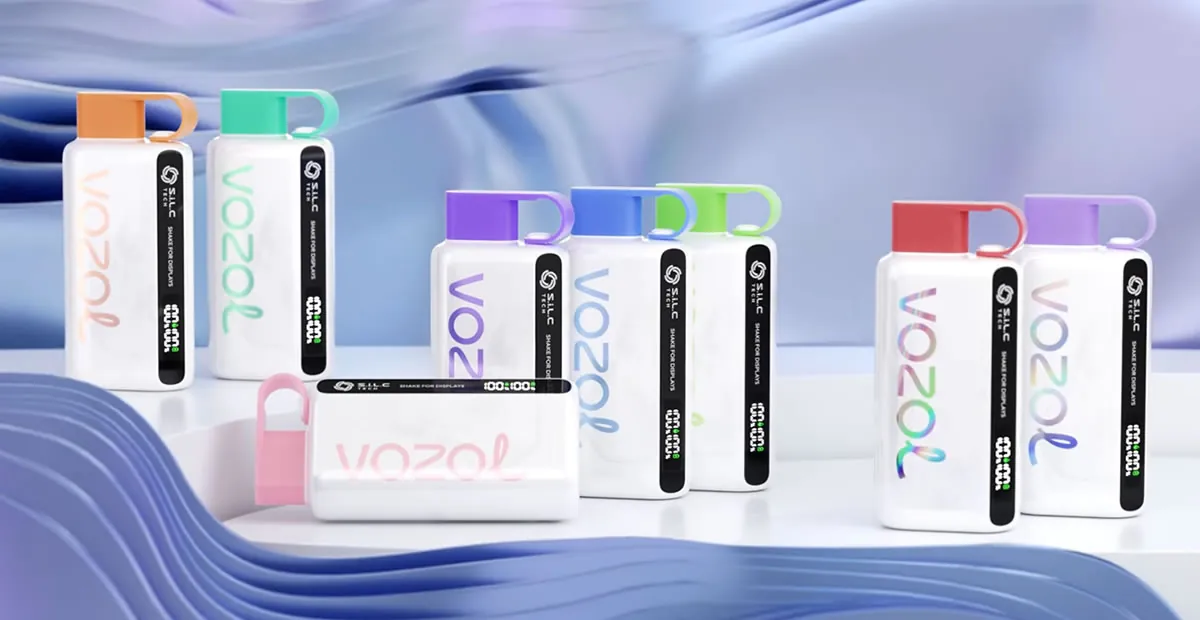 Top 5 Vozol Star 9000 Flavors Reviewed:
1. Watermelon Bubble Gum
This playful flavor combines sweet watermelon and traces of light, bubbly gum notes. The juicy watermelon shines brightest, while subtle gumminess lingers on the finish.
Neither aspect overpowers – instead they balance into a refreshing, semi-sweet vape. The smoothness makes Watermelon Bubble Gum an easy all-day flavor.
2. Blueberry Storm
Blueberry Storm instantly tastes rich, natural, and accurately captures the essence of fresh-picked berries. It avoids any artificial perfumey undertones.
The ripe blueberry flavor is sweet but not candy-like, with more complexity than one-note blue razz options. We found this to be one of the best Star 9000 flavors for richness and authentic berry taste.
3. Cool Mint
With restrained sweetness and gentle cooling effect, Cool Mint offers laid-back mint refreshment. It's lighter than harsh icy mints, making it pleasant for casual vaping.
The smooth mint profile provides a break from fruitier options when you want a mellow, cooling puff without overwhelming strength.
4. Grape Ice
Grape Ice delivers sweet, natural grape goodness even for vapers who normally avoid menthol options. The cooling effect is subtle, letting juicy grape flavor take center stage.
Reminiscent of real grape juice, this candy-tinged yet not overpowering grape vape avoids any medicine-like unpleasantness. The sweetness is just right for an easy, fruity experience.
5. Watermelon Ice
Crisp, mouthwatering watermelon flavor combines with mild cooling to create a light and refreshing vape. The melon taste is bolder and more natural than Watermelon Bubble Gum.
With restrained sweetness, Watermelon Ice avoids perfume or candy-like flavors. The smooth finish makes it ideal for an eye-opening hit anytime you crave a chill watermelon puff.
The options cover much of the fruit flavor spectrum, although tobacco and dessert/pastry profiles are noticeably absent. But the available flavors proved accurate and nuanced overall.
Consistent Premium Performance
After extensive testing, the Vozol Star 9000 delivers impressively consistent flavor, vapor quality, and smooth draws from the first puff to the very last. Here's a closer look at the performance:
Flavor – All flavors tasted bold and accurate to their names. The fruit flavors avoid becoming overly sweet or artificial. Vozol nailed the flavor recipes and profiles.
Vapor – Vapor production remains excellent throughout the life of the device. Volume and smoothness stay perfectly consistent as the juice level depletes.
Draw – The tight MTL draw offers satisfying throat hit and nicotine delivery. The draw-activation and airflow tuning feels very intuitive.
Battery – The 650mAh battery easily lasts a full day between charges with average intermittent use in my experience.
Longevity – The Star 9000 met its 9000 puff rating when not taking excessively long draws. Even with 3-4 second draws, 6000+ puffs seems feasible.
Overall, the Star 9000 delivers premium performance for a disposable system. Vozol's experience shows in the flawless functionality and longevity. It's clear why the "Pro" version costs a bit more than standard disposables.
The Pros and Cons of the Star 9000
Pros:
Elegant marble resin design
Durable and solid construction
Massive 14ml ejuice capacity
Huge 9000 puff rating
Quick charging with pass-through
Advanced OLED display
Shake-to-activate screen
Perfectly tuned MTL draw
Smooth consistent hits
Excellent flavor and vapor
Long-lasting 650mAh battery
Great throat hit and nic delivery
Handy integrated dust cover
Cons:
Slightly bulky size
Limited flavor selection
No tobacco or dessert options
Cover pops off a little too easily
Could use lower nicotine strengths
---
Conclusion – A Feature-Packed Disposable Vape
To summarize this extensive Vozol Star 9000 review, there's no question these premium disposables live up to their hype as advanced daily vapes.
The unique marble shell and vibrant mouthpiece make for an elegant aesthetic not found on most competitors. And the Star 9000 feels solid enough in hand to withstand daily use and abuse.
Feature-wise, the shake-activated OLED screen and the integrated mouthpiece cover prove genuinely useful for on-the-go vaping. And the battery life, ejuice capacity, and longevity make it an excellent value.
Most importantly, the Star 9000 delivers a flawless vaping experience from start to finish. The bold flavors, smooth vapor, and consistent performance rival many pod mods.
While a wider variety of flavors and lower nicotine options would make it even better, advanced users and beginners alike are sure to enjoy the Star 9000. For those seeking a feature-packed yet easy to use disposable vape, the Star 9000 is hard to beat.
https://ecigator.com/wp-content/uploads/2023/11/1699721411-VOZOL-STAR-9000-Review.jpg
675
1200
Ecigator
https://ecigator.com/wp-content/uploads/2023/04/ecigator-logo-white.png
Ecigator
2023-11-11 17:28:49
2023-11-11 17:28:49
Vozol Star 9000 Disposable Vape Review