Vaping Laws in UK – Is Vaping Now Illegal in the UK?
It has been a decade since e-cigarettes made their debut in the UK market. Since then, vaping has become a sensation and a preferred alternative to smoking cigarettes. In this article, we will delve into the rise of vaping in the UK, the increasing number of vapers, and how the government is responding with new laws and regulations.
The Popularity of Vaping in the UK
Over the last ten years, the number of vapers in the UK has skyrocketed. In fact, there are now 3.6 million vapers in the UK – a number that is quickly catching up to the number of conventional cigarette smokers. This is mainly due to the fact that e-cigarettes are widely regarded as a safer and healthier alternative to smoking.
E-cigarettes contain significantly fewer harmful chemicals than traditional cigarettes, which is why many people have switched to vaping. Additionally, vaping allows people to control their nicotine intake and offers a variety of flavors to choose from.
Vaping Laws in UK
In the UK, laws concerning vaping mainly pertain to advertising, production, and sales of vape products. While the smoking ban implemented in 2007 prohibited smoking in all enclosed workplaces in England, it does not currently apply to vaping and e-cigarettes. Despite the legality of vaping, it is important to remain considerate of others. To ensure you enjoy your nicotine hit without causing any disruptions, we have compiled a beginner's guide to vaping etiquette.
Lagal Vaping Age
How old do you need to be to vape in the UK? The use and purchase of vaping products in the UK is restricted to individuals who are 18 years old or older, even if the products are nicotine-free or contain 0mg of nicotine. Retailers who sell vaping products to minors can face severe fines. The use of vaping products is prohibited for individuals under the age of 18, similar to the regulations for smoking.
Vaping Product Restrictions
In order to protect consumers, there are several restrictions on vaping products in the UK. For example, in 2016, EU regulations banned vape juices containing diacetyl.
The Tobacco and Related Products Regulations:
Tobacco and Related Products Regulations (TRPR) 2017 have set minimum standards for e-cigarettes and e-liquids, including restrictions on the strength and size of nicotine-containing liquids:
The maximum nicotine strength allowed is 20mg/ml
The maximum size of e-liquid bottles is 10ml. To ensure safety, all e-liquid bottles must be childproof and tamper-evident.
The maximum nicotine-containing e-liquid for sale in one refill container is 10ml.
Atomizers, also known as tanks, must have a maximum capacity of 2ml of e-liquid.
Certain additives in vape liquids and flavourings are prohibited, including caffeine, taurine, and colorings.
Include updated labelling requirements and warnings on packaging.
TPD – Tobacco Products Directive
The Tobacco Products Directive (TPD) was implemented in May 2016 and brought about changes to EU regulations for e-cigarettes and related products. One significant change was the restriction on advertising and packaging, as well as a minimum age requirement of 18 years. E-liquids containing nicotine above 0.2% can only be sold to consumers over 18 years old.
The TPD was voted into law by EU Member States under Directive 2014/40/EU, and its purpose is to regulate and enforce tobacco-related products across all member states, including e-cigarettes, e-liquids, and other related devices. Under Article 20, all manufacturers must obtain a technical passport or registration for each product before it can be sold. These regulations ensure that e-cigarettes and related products are safe and of high quality for consumers.
The registration of e-cigarettes and e-liquids in the UK is overseen by the Medicines and Healthcare Products Regulatory Agency (MHRA). All e-cigarette and e-liquid products must be notified to the MHRA before they can be sold, and there is a mandatory 6-month waiting period before any submitted item can be sold. This ensures that all products meet the necessary safety and quality standards set by the UK government. By enforcing these regulations, the MHRA protects consumers and helps to maintain a safe and regulated e-cigarette market in the UK.
Example of a Legal and Illegal Vape UK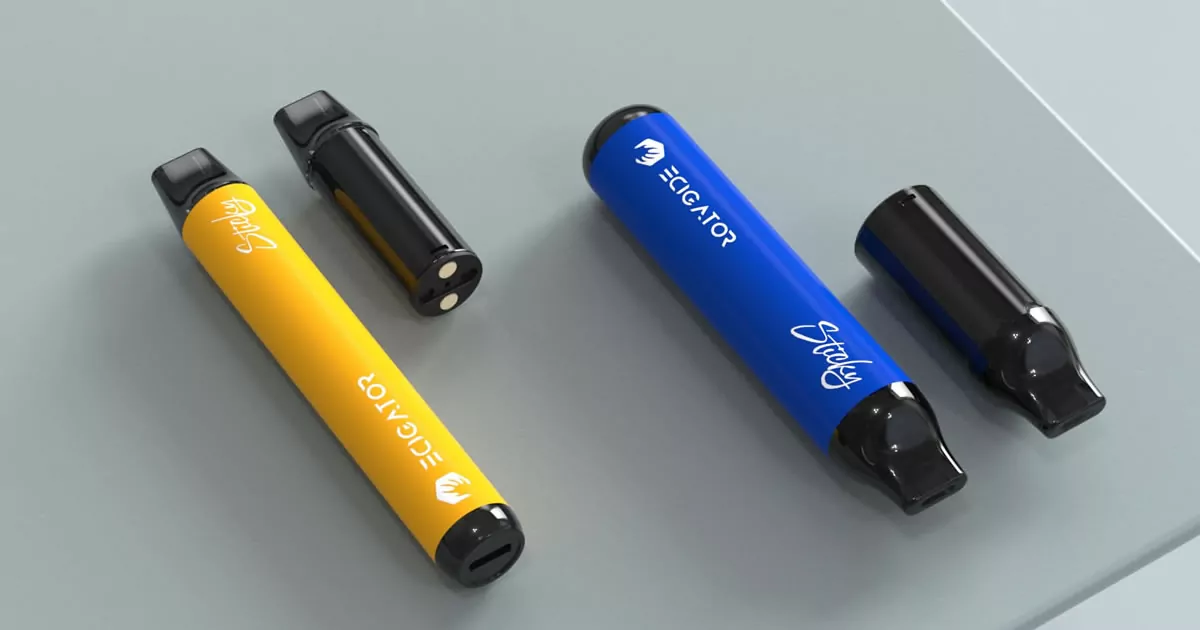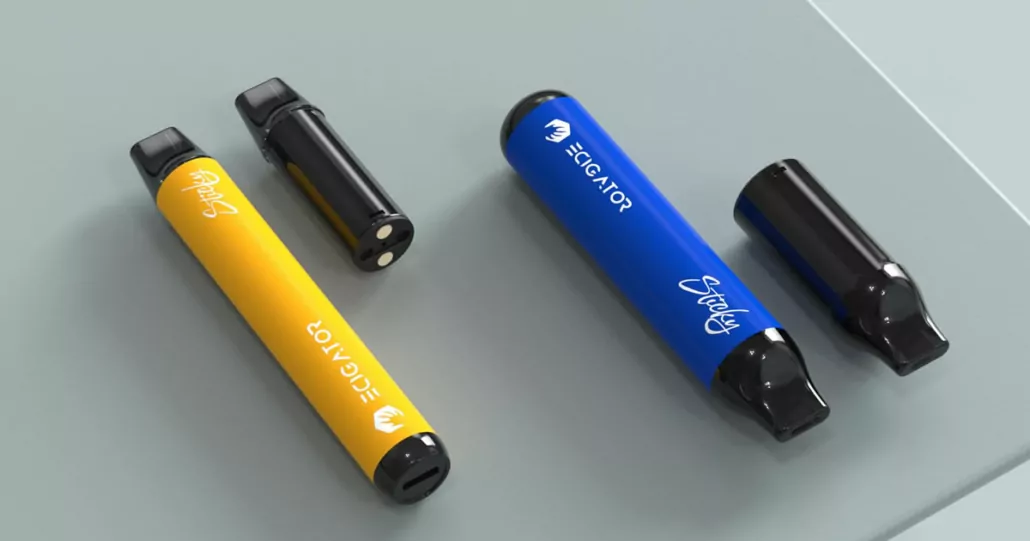 Ecigator Sticky is one of the new kind of  of disposable vapes in the market: but why is the Sticky 2ML legal and Sticky 4ML illegal in the UK?
The Sticky 4ml (if it contains nicotine) is illegal: you cannot get that many puffs from 2ml of eliquid. As UK laws prohibit the sale of disposable vapes with tanks that contain more than 2ml of eliquid, Sticky 4ML's that contain nicotine are illegal in the UK.
Seen an Sticky 4ML that contains nicotine for sale in the UK? It is against regulatory standards and could even be a fake. Make sure to only buy vapes from legit retailers.
Where can I vape?
Vaping in Public Places
Currently, there is no official national or regional legislation in the UK regarding e-cigarettes. Vaping outdoors in public places like streets and parks is generally allowed, but the laws on smoking in enclosed public places and workplaces don't apply to vaping. However, individual organizations can create their own policies, and many do, such as airlines, train and bus companies, pubs, clubs, and restaurants, which often prohibit vaping on their premises.
Vaping in Restaurants, Cafes & Pubs
In the UK, there is no nationwide ban on vaping in pubs and restaurants, unlike with smoking. However, it is best to check with individual establishments as some may have their own rules regarding e-cigarettes. Many chain restaurants and cafes, such as KFC, Starbucks, and Caffe Nero, have implemented a ban on vaping across all of their branches.
In most areas of Great Britain, it is permitted to vape inside bars and nightclubs. However, in Scotland, e-cigarettes are treated as tobacco products and vaping is prohibited indoors. In England, Wales, and Northern Ireland (but not Scotland), it is allowed to vape inside pubs that serve food.
Vaping On The Public Transport
There are currently no official regulations or guidelines that prohibit vaping in different forms of public transport in the UK. However, most train and bus companies have implemented their own policies prohibiting vaping on board, as well as on platforms and stations. For example, Transport for London has banned vaping on public transport, at bus and train stations, and in taxis. If caught vaping while traveling, a hefty fine may be imposed.
Vaping In Airports or On Planes:
In 2017, the UK prohibited the use of vaping devices at airports. Just like regular cigarettes, using e-cigarettes is banned on flights and can also trigger alarms in airplane toilets, so it's not worth the risk. You could face serious consequences for doing so!
Note
According to the UK government;
"If you do take liquids in your hand luggage: containers must hold no more than 100ml.
Containers must be in a single, transparent, resealable plastic bag, which holds no more than a litre and measures approximately 20cm x 20cm"
If you plan on taking more liquid overseas, you should pack them in your hold luggage.
Most countries have similar policies to the UK regarding vaping, but it's always best to research the rules and regulations before traveling with your vape pen to avoid any potential issues or fines.
Vaping in Music and Sports Venues
The decision on whether or not to allow vaping in music and sports venues is usually left up to the owner of the space. While larger venues like Wembley Stadium typically do not allow vaping, smaller clubs and venues may have more relaxed rules. It's always best to check with the venue beforehand to avoid any confusion or potential issues.
Vaping in Cars When Driving
Vaping while driving is not against the law, but it is not recommended. The exhaled vapor could obstruct the driver's view, which could be considered driving without due care and attention. This offense could result in up to nine penalty points on your license and a fine of up to £2,500. To avoid this, it is best to keep the windows open and blow the vapor outside the car. If you must vape while driving, ensure that it does not interfere with your driving or cause any distractions.
Heated tobacco restrictions
Heated tobacco products, such as IQOS, are a recent addition in the UK. These products are different from conventional tobacco products like cigarettes and cigars, as the tobacco is heated but not burned. Therefore, heated tobacco products are not included in the smoking ban. Similar to vaping, users of heated tobacco products should follow the guidance of the particular public place they are in and inquire about their policies regarding their use.
Recent Changes in Vaping Laws in the UK
The TPD and Brexit
Following the UK's exit from the EU, the UK government has implemented its own version of the EU Tobacco Products Directive (TPD) to regulate e-cigarettes and e-liquids. This includes new labeling requirements, limits on the size of e-liquid bottles, and restrictions on certain flavors.
Menthol Ban
As of May 2020, it is illegal to sell menthol cigarettes and certain flavored tobacco products in the UK. This ban also applies to menthol e-cigarettes and e-liquids.
NHS Prescription of E-Cigarettes
In 2019, the UK's National Health Service (NHS) announced plans to make e-cigarettes available on prescription to help smokers quit. This is part of a wider strategy to reduce smoking rates in the UK.
Future Changes to Vape Laws in UK
Potential for Further Regulation
Vaping laws are not set in stone and are subject to change as research on vaping develops. There is potential for a shift in how the government approaches vaping products in the future. As vaping has been shown to help people transition from smoking to vaping, there have been increasing efforts to make vaping more widely accepted.
For instance, Health and Social Care Secretary Sajid Javid has expressed support for the possibility of manufacturers working together with the Medicines and Healthcare products Regulatory Agency (MHRA) to make Britain smoke-free by 2030. There are even discussions about the possibility of e-cigarettes being prescribed on the NHS in England as a tool to help people quit smoking tobacco products.
Impact of COVID-19
The COVID-19 pandemic has had a significant impact on vaping laws in the UK. As part of efforts to reduce the spread of the virus, some local authorities have introduced temporary restrictions on vaping in public places.
Brexit
The UK's exit from the EU could have implications for vaping laws in the future, particularly if the government chooses to diverge from EU regulations.
Beyond the Rules
Despite the regulations surrounding vaping, it is still considered a safer alternative to smoking. However, as with any popular industry, there are always fraudsters looking to make a profit. That is why the UK government needs to impose strict guidelines and regulations to ensure the safety of the public. Vaping has the potential to help smokers quit tobacco, so it is important that those who wish to quit or reduce their reliance on cigarettes seek help from reliable sources, such as the NVee stop smoking help page. Vaping is not without its risks, but with proper education and responsible usage, it can be a beneficial tool for those looking to quit smoking.
FAQs
Can I vape in public places in the UK? While the use of e-cigarettes is not covered by the UK smoking ban, some local authorities have introduced their own restrictions on vaping in public places. It is important to check the policies of individual businesses and organizations before using e-cigarettes on their premises.
Is it legal to sell e-cigarettes to minors in the UK? No, it is illegal to sell e-cigarettes or e-liquids to anyone under the age of 18 in the UK.
Are there any restrictions on the flavors of e-cigarettes in the UK? As of May 2020, menthol e-cigarettes and e-liquids are banned in the UK. There have been proposals for further restrictions on certain flavors in the future.
Can I get e-cigarettes on prescription from the NHS? In 2019, the NHS announced plans to make e-cigarettes available on prescription to help smokers quit. However, this is currently only available in certain areas and is not widely available across the UK.
Could Brexit have an impact on vaping laws in the UK? It is possible that the UK's exit from the EU could have implications for vaping laws in the future, particularly if the government chooses to diverge from EU regulations. However, it is currently unclear how this will play out in practice.