The Complete Guide to SKE Crystal Vapes – Find Your Perfect Match
With so many vapes flooding the market, it can be tough to decide which brand truly delivers quality and reliability. After testing numerous options, I can firmly recommend SKE vapes for their innovative engineering, stellar performance, and diverse flavor options.
In this guide, we'll explore popular SKE vape models to match you with your ideal vaping companion.
Getting to Know SKE Vape
SKE may not be a household name yet, but this burgeoning company has earned a reputation for affordable vapes that perform.
Founded with the goal of providing smokers a better alternative, SKE focuses engineering efforts on perfecting the vaping essentials like battery life, vapor production, and flavor accuracy.
Rather than trendy gimmicks, SKE vapes deliver quality where it matters most – from first puff to last. Their range offers options for every experience level and preference.
Let's look at some of SKE's most popular vapes and find the one tailored to your needs.
SKE Crystal Bar – Hassle-Free and Straightforward
For those seeking sheer simplicity, the Crystal Bar hits the spot. This disposable vape requires zero maintenance – just open, inhale, and enjoy.
The sleek, compact pen-shaped design ensures discreet portability. It carries 2mL of 50VG/50PG vape juice with 2% nicotine content, perfect for satisfying ex-smokers.
With the Crystal Bar, vaping starts instantly – no charging or refilling needed. Just open the package and enjoy the premium flavors like:
Mango Ice – Cool tropical mango
Blueberry Ice – Sweet blueberries and icy menthol
Grape – Juicy, candy-like grape flavor
If you want grab-and-go convenience without hassle, the economical Crystal Bar is your perfect match.

Specifications:
Dimensions: 17 x 17 x 104mm.
Material: PCTG / Stainless steel.
E-liquid capacity: 2ml.
E-liquid ratio: 50VG/50PG.
Nicotine strength: 20mg salt nicotine / 0mg.
Coil: mesh 1.2ohm.
Battery capacity: 500mAh.
Puffs: Up to 600.
Read More: Crystal Bar 600 Review
SKE Crystal Plus – Next-Level Versatility
The Crystal Plus takes disposables to the next level by pairing refillable pods with a reusable battery. This offers extended use while allowing flavor exploration.
Thanks to the 400mAh battery, the Plus keeps going strong through multiple 2mL nic salt pod refills. And it charges rapidly via USB-C when needed.
Outstanding value bundles provide the pods and battery for well under $20. Crystal Plus pods come in a variety of flavors to keep things interesting. Popular options include:
Strawberry Burst – Sweet, jammy strawberry
Blueberry Raspberry – Blend of mixed berries
Cherry Ice – Tart cherry with a blast of menthol
For vapers wanting maximum versatility on a budget, the efficient Crystal Plus hits the sweet spot.

Specifications:
Rechargeable SKE Crystal Plus Pod Kit.
2ml Prefilled Pods (Approx. 600 Puff)
20mg/ml Salt Nicotine Vape Juice (2%)
10 Prefilled Pod Flavours.
11W/3.6V Power Output.
MTL Inhale.
Inhale Activated.
1.1 Ohm Mesh Coil.
Read more: SKE Crystal Plus Review
SKE Crystal Duo – A Powerhouse Disposable
When only massive capacity will do, the Crystal Duo disposable delivers. It packs a colossal 15mL of vape juice for marathon puffing.
The Duo's integrated battery keeps pace with the spacious tank for thousands of satisfying draws before needing a recharge. There's no worse feeling than an empty tank with life left in the battery!
Vibrant digital flavor stickers give the Duo an eye-catching style. Tantalizing flavors include:
Blue Razz Lemonade – Sweet and tart berry lemonade
Watermelon – Juicy candy-style watermelon
Lychee Ice – Refreshing lychee menthol blend
If you constantly crave more vaping time between replacements, the Crystal Duo is your perfect match.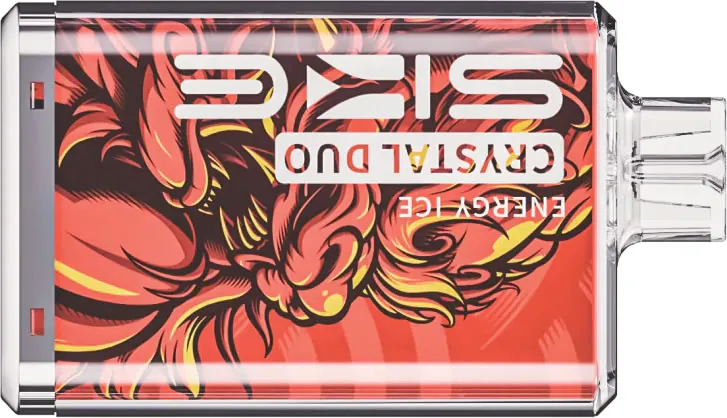 Specifications:
Dimensions: 17 x 17 x 104mm.
Material: PCTG / Stainless steel.
E-liquid capacity: 2ml.
E-liquid ratio: 50VG/50PG.
Nicotine strength: 20mg salt nicotine / 0mg.
Coil: mesh 1.2ohm.
Battery capacity: 500mAh.
Puffs: Up to 600.
Read more: SKE Crystal Duo Review
SKE Crystal Super Max – Cloud Power Unleashed
Cloud chasers who demand serious vapor get their wishes fulfilled by the Super Max. Its dual 1.2Ω mesh coils create huge plumes full of flavor.
Robust cloud production combines with universally enjoyable flavors like Blue Razz Lemonade to keep you immersed in vapor bliss up to 4500 puffs.
And the Super Max's 20mg nic salt formula provides satisfying yet smooth throat hits even during intense vaping. When only billowing clouds will do, this vape soars highest.
If maximum vapor is your priority, the Super Max hits the sweet spot.

Specifications:
Puffs: Up to 4500 puffs.
Capacity: 1500mAh E-Liquid Battery.
Draw Activation.
Unique style design.
Best Flavours.
Original Ske brand.
Slim line, Compact and Easy to Pocket.
Mesh Coil.
Read more: Crystal Super Max Review
Find Your Ideal SKE Vape Today
SKE offers thoughtfully designed options to suit every vaping need and preference. Whether you value sheer simplicity, versatility, marathon battery life, or serious cloud power, SKE delivers.
For smokers seeking a reliable alternative, new vapers looking for convenience, or cloud fans demanding more, SKE provides quality engineering without inflated costs.
Discover your perfect SKE vaping companion right now and taste exceptional performance.