Elf Bar BC5000 vs Elf Bar Ultra: Battle of the Disposable Vapes
The disposable vape market is dominated by Elf Bar, with two of their most popular models being the Elf Bar BC5000 and the newer Elf Bar Ultra. But what exactly sets these two minimalist, pre-filled vapes apart? We compare the designs, features, flavors, and overall performance in depth to help you decide.
A Closer Look at Elf Bar
When Elf Bar first arrived on the vaping scene, it stood out with its focus on delivering a streamlined, user-friendly disposable vaping experience.
Inside each portable Elf Bar device is an integrated solution containing pre-filled e-liquid and a built-in rechargeable battery. This innovative all-in-one format allows new users to enjoy satisfying vapes instantly, with no extra purchases required.
Beyond convenience, Elf Bar's subtle device designs quickly became popular for seamlessly fitting any lifestyle or setting. The compact size slides easily into pockets and purses for simple portability. Active vapers appreciate the ability to take them anywhere without hassle.
And for those just making the switch from traditional cigarettes, the straightforward draw-activated operation makes Elf Bar vapes an accessible option. With no buttons or settings to adjust, even new vapers can enjoy the smooth, consistent hits with ease.
Elf Bar BC5000 – The Instant Fan Favorite
When the BC5000 first appeared, it immediately caught eyes with its charming retro aesthetic. But the attention to performance matched its playful styling.
Despite its petite frame, the BC5000 delivers impressively dense clouds. Each smooth puff provides a robust throat hit that outperforms many larger devices. This is thanks to the carefully engineered airflow system and power output.
And with over 60 ejuice flavors to choose from, there's practically no limit to taste sensations you can experience. From icy cool menthols, to fruity candy blends, to rich custards and creams, the BC5000 has it all. The wide selection ensures vapers will never get bored.
It's this balance of aesthetics, satisfaction and variety that made the BC5000 an instant disposable classic. Its fashionable form empowers vapers to express themselves, while the filling flavors and vapor leave nothing to be desired.
Read More:  Elf Bar BC5000 Review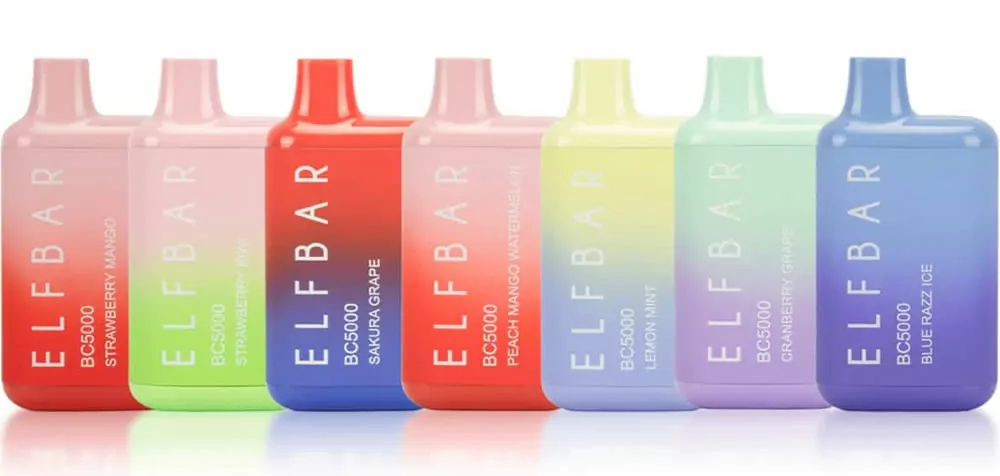 A Petite Yet Eye-Catching Package
Even among other disposables, the BC5000 stands out for its ultra compact size. It measures just 79mm tall by 41mm wide, with a slender depth of 19mm. The miniature device is easy to grasp and operates with just a light touch.
Despite its small stature, the BC5000 makes a visual statement. Its smooth rounded corners give it an approachable, friendly look. But it's the vibrant two-toned ombre colors that really draw the eye and kickstarted a trend.
The lack of any external buttons fits the minimalist aesthetic. And an ergonomic mouthpiece ensures comfortable extended vaping. Overall, the BC5000 balances portability and style.
Prepped to Vape Out of the Box
Disposables eliminate the need to buy juice or charge batteries. The BC5000 comes ready to use immediately after unboxing.
It carries an ample 13mL of nicotine salt e-liquid in your choice of strengths from 0% up to 5%. Nic salts allow for smooth hits at higher nic levels. The easy top-fill design makes refills a breeze once the original e-juice runs out.
A built-in 650mAh battery lets the BC5000 last for a generous 5000 puffs before needing a recharge via USB-C. For the average vaper, that equates to days or even weeks of use from each device.
Flavor and Vapor Satisfaction
Inside the BC5000, Elf Bar equipped it with dual mesh coils for optimal efficiency. These heat e-liquid quickly and evenly. Together with the tighter draw, it creates dense yet smooth vapor.
The BC5000 comes in over 60 different flavors to suit any taste. Fruity options like Blue Razz Ice and Strawberry Kiwi are tart and juicy. Creamy, dessert flavors like Cappuccino Mocha provide rich indulgence. Minty menthol juices offer icy freshness.
Elf Bar Ultra – A Premium Evolution
Riding high on the success of the BC5000, Elf Bar raised expectations again with the refined Ultra model. While retaining a similar silhouette, the Ultra took disposable performance even higher.
The Ultra introduced a durable metal alloy chassis with stylish brushed finishing. Beyond good looks, the sturdy construction could withstand heavy use on the go. And the striking color accents added flair.
But the biggest innovation came inside, with the new QUAQ mesh coils. These optimized the heating process to wring even more flavor and vapor out of each puff. The difference was immediately noticeable, with 30%+ increases in density.
And Elf Bar crafted unique new eliquid profiles specifically to take advantage of the ramped up power. Blends like Kiwi Dragon Fruit Berry and Grape Honeydew became new favorites overnight.
For vapers desiring maximum satisfaction in disposable form, the Ultra delivered on every front. Its premium build, bold flavors and dense vapor put it in a class of its own.
Read more: Elf Bar BC5000 Ultra Review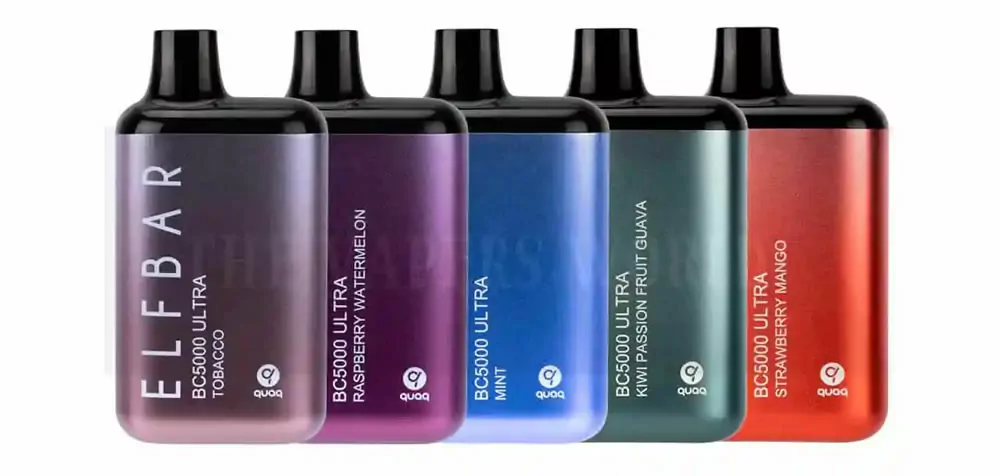 Sleek and Sturdy Metal Design
The Ultra forgoes the BC5000's plastic shell for a brushed aluminum alloy chassis. This gives it a more sophisticated profile, with a comfortable weight.
The durable metal build is nearly impossible to damage, so the Ultra can withstand life on the go. Center black mouthpieces provide a striking contrast on color versions like matte silver and iridescent purple.
Enhanced QUAQ Mesh Coils
Inside, the Ultra introduces all-new QUAQ mesh coils. These optimize heating for even better flavor and vapor production. Puffs deliver 30% more density and saturation than the BC5000.
This new technology also efficiently utilizes e-liquid and battery power. Vapers get the most out of each puff and the 650mAh battery. The Ultra lasts just as long as the BC5000, with 5000 puffs per charge, but each one is more intense.
Bold New Flavor Profiles
While more limited in number than the BC5000's massive selection, the Ultra's flavors are unique and unconventional. These crafted blends create an entirely new vaping experience.
Exotic choices like Kiwi Dragon Fruit Berry, Grape Honeydew, and Dragon Fruit Banana Berry excite taste buds with unexpected fruit fusions. Sweet flavors like Blue Cotton Candy transport users. Even classics like Tobacco and Mint contain complex notes not found in other e-liquids.
How the BC5000 and Ultra Compare:
When looking at the original BC5000 next to the new Ultra model, several key differences stand out that distinguish these two disposables.
Design:
In terms of design, the BC5000 opts for an approachable, charming look with its smooth rounded corners and colorful plastic finish. This gives it a fun, playful aesthetic. Meanwhile, the Ultra exudes refined sophistication with its brushed metal alloy chassis in muted matte tones.
Performance:
When it comes to performance, the Ultra clearly beats out the BC5000 thanks to its enhanced QUAQ mesh coils. These ramp up vapor and flavor production substantially, delivering 30%+ increases in density and saturation with every puff. However, both models impressively achieve the same 5000 puff per charge battery life.
Flavors:
The BC5000 shines when it comes to flavor variety. It gives vapers endless options to explore, from fruity menthols, to creamy desserts, tropical cocktails, and beyond. The Ultra offers bolder but fewer flavor choices focused on unique fruit and dessert fusions.
So in summary, the BC5000 wins for its diversity and charm, while the Ultra claims victory in power and construction. But at the core, both models share the same automatic draw system and generous ejuice capacity that makes Elf Bar disposables so uniquely satisfying.
Which Elf Bar Suits Your Style?
When it comes to choosing between the Elf Bar BC5000 and Elf Bar Ultra, it really comes down to personal preferences and vaping style.
On one hand, the BC5000 has an approachable, playful design in vivid ombre colors that resembles a charming retro accessory. Its massive flavor selection allows vapers to constantly switch up their taste experience. And its straightforward operation makes it a breeze for beginners to use right out of the box.
On the other hand, the Ultra features a more discreet metallic chassis in refined matte shades. Its upgraded coil system takes vapor and flavor production to the next level for intense clouds with every puff. And its unique exotic eliquid blends offer new adventures for the tastebuds.
So how do you decide which one fits your needs? Here are some tips:
Choose the BC5000 If You:
Want a trendy, eye-catching vape design to show off
Enjoy constantly sampling new flavors
Are new to vaping and want sheer simplicity
Choose the Ultra If You:
Prefer understated aesthetics with a premium vibe
Crave maximum vapor density and flavor intensity
Seek out complex flavors not found elsewhere
No matter which you choose, you really can't go wrong with either Elf Bar model. Both deliver solid performance alongside user-friendly convenience in a petite package. It comes down to deciding whether you prefer the vibrant retro styling of the BC5000 or the refined power of the Ultra.
Experience Elf Bar's Innovative Disposables
To find your ideal match, browse Elf Bar's full collections today. With so many options, you're guaranteed to discover the perfect disposable vaping companion to suit your needs and preferences.
https://ecigator.com/wp-content/uploads/2023/08/Elf-Bar-BC5000-vs-Ultra.jpg
650
1200
Ecigator
https://ecigator.com/wp-content/uploads/2023/04/ecigator-logo-white.png
Ecigator
2023-08-31 12:04:24
2023-11-12 15:19:28
Elf Bar BC5000 vs Elf Bar Ultra: Battle of the Disposable Vapes