Horizontech Binaries SE6000 Disposable Vape Review

Horizontech builds a reputation for innovation in vaping with popular devices like the Falcon sub-ohm tank series. Now they bring that technical pedigree to the world of disposables with the unique Binaries SE6000.
Note: The SE6000 doesn't comply with TPD regulations so isn't available in the UK/EU zone. This review focuses on vapers in other regions.
The SE6000 packs an industry-leading 12ml of juice and estimates an incredible 6000 puff lifespan. That's week-long longevity most disposables can't match.
Beyond just impressive capacity, the SE6000 houses some extras you won't find on competing devices. Adjustable airflow, LED battery level indicator, and incredibly, a world-first LED displaying remaining e-liquid level.
With its distinct Polo mint-inspired shaping and ambitious performance claims, does the SE6000 live up to expectations? Let's scrutinize the specs, build quality, features, flavors, battery life, and overall vaping experience.
Dimensions: 74mm x 49mm x 24.6mm
Material: PCTG plastic
E-Liquid Volume: 12ml
Coil: 1.0Ω bamboo pulp
Estimated Puffs: 6000
Nicotine Strength: 50mg salt nic
Battery: 650mAh rechargeable
Adjustable airflow dial
Draw activation
LEDs: Battery level, e-liquid level
Design and Build Quality
You won't mistake the SE6000's unique styling. The glossy rounded body offers nice hand-feel. And despite the cavernous 12ml reservoir, it remains impressively lightweight and pocket-friendly.
However, the protruding rotary airflow dial on the front evokes the strong resemblance of a Polo mint candy. This child-alluring design risks attracting unwanted attention given the recent media scrutiny of disposables. A more refined, mature look seems prudent.
The dial itself allows smoothly adjustable airflow, ranging from a loose RDL draw when fully open to a tight MTL vape when closed down. Easy to fine tune despite the dial standing off the main body.
Charging happens via USB-C. A full recharge takes 1-2 hours. Letting the device stand for a few minutes post charging before vaping again helps prevent dry hits and allows the wicking to fully saturate. The LED on the base indicates charging status and battery level.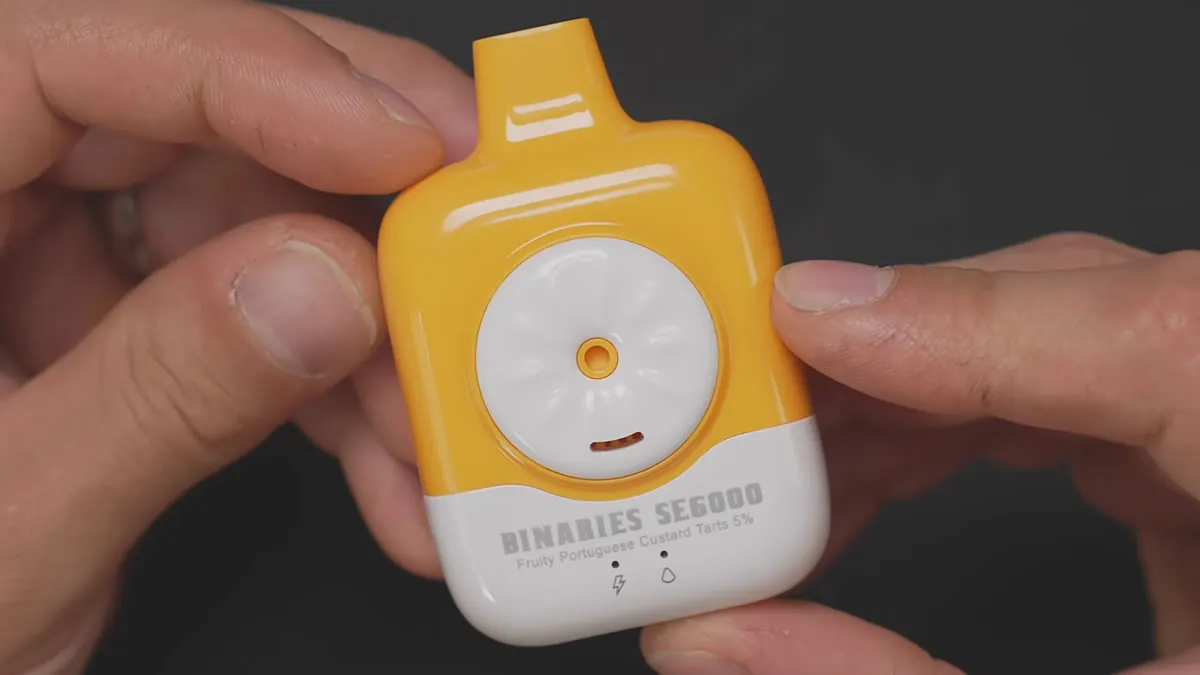 Advanced Features and Performance
With a monumental 6000 puff rating, the SE6000 offers roughly week-long usage potential before needing disposal – impressive longevity for a device of its size.
It holds 12ml of 50mg nicotine salt e-liquid to last those estimated 6000 puffs. That's higher capacity than most disposables in its class.
Inside, a 1.0Ω mesh coil aims to optimize flavor performance. Its bamboo pulp wicking improves e-liquid absorption by 40% compared to standard materials. This aids longevity and flavor consistency.
But the LED indicators push things to another level. The standard battery level LED is joined by a revolutionary e-liquid level indicator – the first of its kind on any disposable vape.
Both LEDs dynamically indicate remaining battery and e-liquid levels via an intuitive color scheme:
Green = Full to 50%

Blue = 50% to 15%

Red = 15% or less
This at-a-glance feedback should prove extremely beneficial for tracking juice levels over the SE6000's extensive lifecycle. No more guessing when it's time to toss an empty disposable!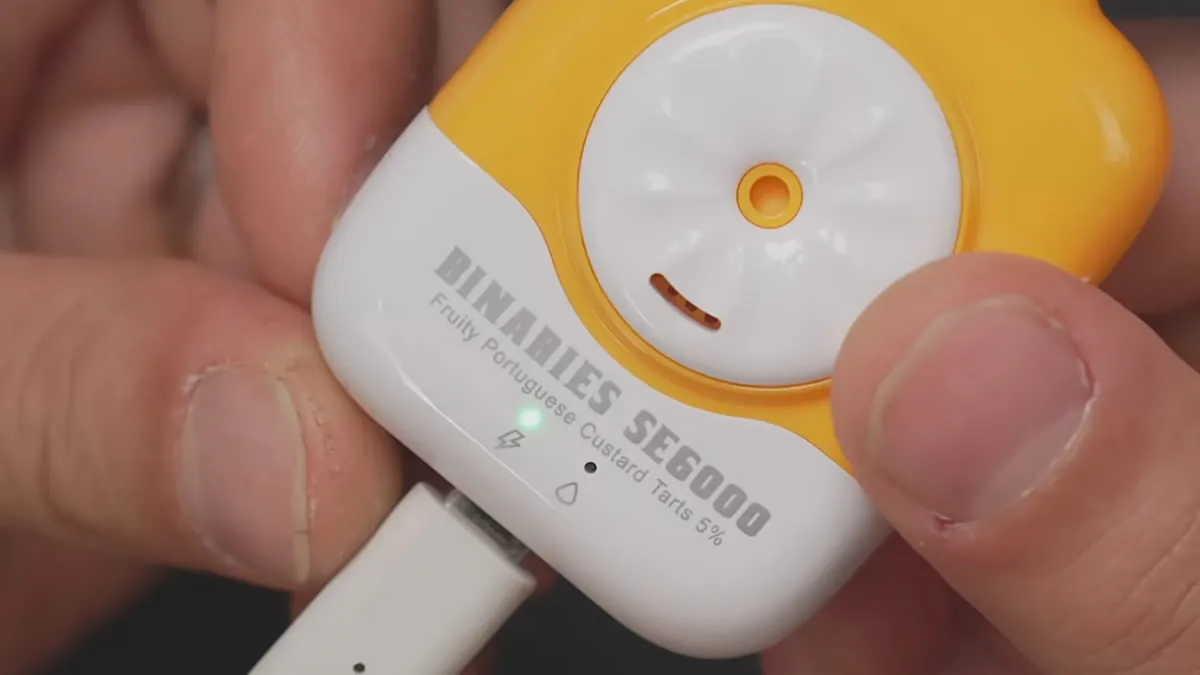 Binaries SE6000 Flavor Options
One of the biggest advantages of the Horizontech Binaries SE6000 disposable vape is the expansive selection of flavors. With over 25 options ranging from fruity profiles to rich desserts and more, this lineup has uniqueness and variety other disposables can't match.
There are familiar flavors like strawberry and blue raspberry of course. But the SE6000 also offers wildly inventive combinations you won't find anywhere else. Portuguese Custard Tarts? Aperol Spritz Ice? The flavor artists at Horizontech certainly flexed their creative muscles.
While such adventurous flavors could certainly miss the mark, Horizontech manages to nail most of these unconventional mixes. The quality and accuracy of the flavors proved far better than expected across the board. Let's explore some of the offerings that showcase the SE6000's flavor potential.
Notable Flavor Profiles
Blackberry Bubblegum
The sweet blackberry inhale replicates the ripe, juicy essence of fresh blackberriesstraight from the bush. Notes of tart skin and nectar mirror the berry's complex flavor layers. On the exhale, distinctive bubblegum undertones emerge, evoking memories of blowing pink bubblegum bubbles as a kid. The gum flavor exhibits the perfect amount of sugary creaminess without overwhelming the blackberry base. Altogether an inventive and beautifully executed fruit/candy profile.
Apple Pie
This flavor fully embraces the indulgence of hot apple pie straight from the oven. The apple notes taste freshly baked, with just a hint of cinnamon spice complementing the sweet and slightly tart apple. The buttery pie crust on the exhale provides rich bakery flavors that closely mimic the experience of flaky pie dough. The overall flavor intensity and accuracy make this a dream for apple pie fans, though it may overwhelm those not partial to dominant dessert profiles.
Watermelon Smoothie
Cool, refreshing watermelon forms the base, capturing the essence of fresh, ripe melon at perfect ripeness. The natural sweetness tastes authentically fruity rather than candy-like. Creamy, frothy undertones supply a smoothie effect, adding richness without overpowering the melon. Altogether a vibrant and moreish watermelon vape perfect for all day.
Lemon Meringue Pie
Sweet and puckering lemon curd provides dominant tart citrus flavors reminiscent of lemon tarts and pies. The lemon tastes fresh, avoiding chemically or artificial qualities. Subtle meringue character supplies a creamy bakery contrast on the exhale. Together the flavors create an ideal balance of bright lemon and rich pie for lemon dessert lovers without being overbearing.
Strawberry
Succulent, juicy strawberry flavor shines through, much like taking a big bite of a ripe strawberry at its peak. The inherent natural sweetness comes through, avoiding any hint of candying or artificiality. Overall, an uncomplicated flavor that perfectly captures the taste of fresh strawberries. A simple yet highly accurate strawberry profile.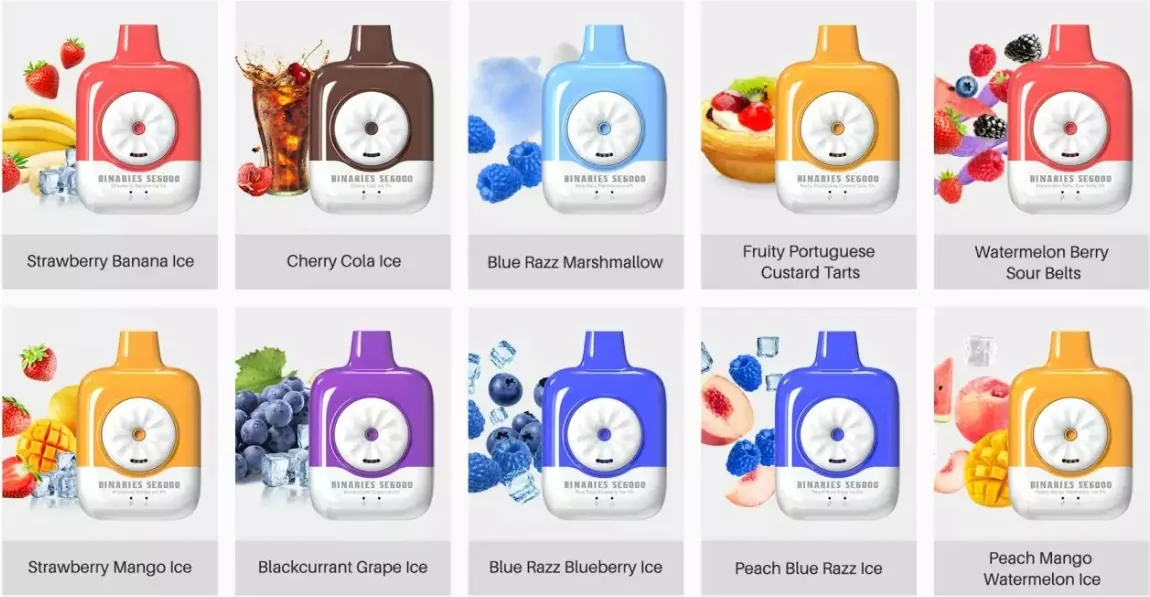 Battery Life, E-Liquid Capacity, and Overall Performance
The integrated 650mAh battery reliably lasts around 7-8 hours per full 1.5 hour charge. The LED transitions from blue to red around the 6 hour mark indicating dwindling power.
The innovative e-liquid level LED remains green for an impressive 16+ hours of moderate vaping before shifting to blue. After another 7 hours of use, it turns red when the tank is very low. But still lasts another 15 hours even once red.
All said, I achieved around 38 total hours of usage across 4 full charges. However, estimating around 4000 puffs proves more realistic than the claimed 6000 puff rating. Still excellent longevity nonetheless.
The tight MTL draw suits the 50mg nicotine strength, yet remains surprisingly smooth. Welcoming for new vapers but with ample vapor density for experienced users too.
Although marketed as adjustable airflow, the draw felt restricted to MTL regardless of dial setting. And the two airflow holes make finesse tuning challenging. But performance remains consistent.
The auto draw reliably activates on each puff. And the bright LEDs are easy to check even in direct sunlight. The smooth rounded mouthpiece stays comfortable over extended vaping.
All in all, the vape experience lives up to expectations, delivering satisfying flavor and nicotine delivery over the SE6000's impressive multi-day lifespan.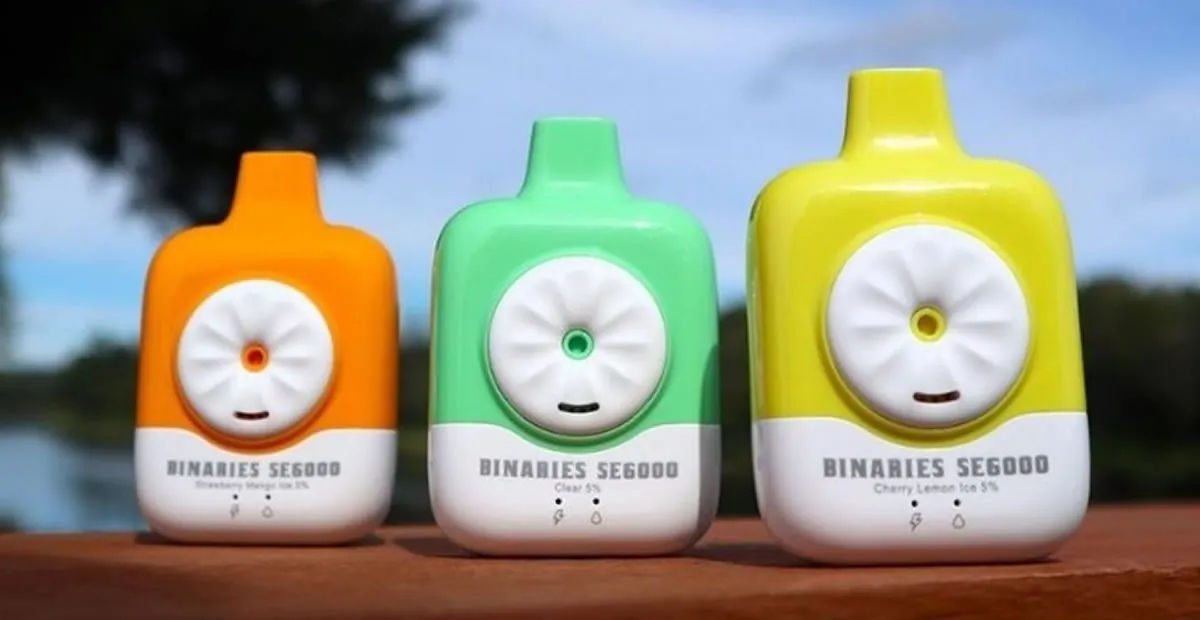 Final Verdict
For all its polarizing looks, the Horizontech Binaries SE6000 delivers where it matters. The mammoth e-liquid capacity, battery life, and consistent performance are hard to fault.
The game-changing e-liquid level LEDs unlock disposables' ultimate potential by providing much needed visibility into remaining juice. And the extensive flavor selection grants wide appeal despite some duds.
By pushing boundaries of form and function, Horizontech earns recognition for advancing disposables beyond the norm. The SE6000 deserves a look for innovation alone. Just perhaps rethink the shape next round!
https://ecigator.com/wp-content/uploads/2023/11/1700461099-binaries-se6000-review.jpg
675
1200
Ecigator
https://ecigator.com/wp-content/uploads/2023/04/ecigator-logo-white.png
Ecigator
2023-11-20 07:41:45
2023-11-20 07:41:45
Horizontech Binaries SE6000 Disposable Vape Review