Innokin INNOBAR 7000 Disposable Vape Review

Innokin needs no introduction in the vaping world. Vapers far and wide recognize their brand and quality devices like the ArcFire, Klypse, Sceptre 2, and excellent pod systems. Now Innokin brings that pedigree into the world of disposables with the impressive INNOBAR 7000.
The INNOBAR 7000 packs 16ml of juice and an estimated 7000 puffs into a surprisingly compact format. It offers adjustable airflow, constant voltage output for consistent performance, fast USB-C charging, and a variety of flavors to suit different tastes. Let's see if the INNOBAR 7000 lives up to Innokin's reputation for innovation and quality.
Overview of Innokin Vape Brand
Founded in 2011, Innokin has earned a reputation for innovation and reliability across its wide product range. Innokin's devices strike a balance between performance and simplicity, appealing to vapers of all experience levels. Their product line covers everything from beginner-friendly pod kits like the Sceptre to advanced mods like the Coolfire Z80.
Innokin has also ventured into the exploding disposable vape market. Disposables allow Innokin to distill their technology into a convenient, mess-free format. The Innobar 7000 represents the pinnacle of Innokin's engineering capabilities applied to disposable vaping.
INNOBAR 7000 Specifications
Dimensions: 78.2mm x 45mm x 17mm
Weight: 48g
Constant 3.6V output
650mAh rechargeable battery
16ml juice capacity
1.2Ω mesh coil
50mg (5%) nicotine strength
Estimated 7000 puff lifespan
Tight MTL draw
12 flavors
Type-C fast charging
Design and Build Quality
Many disposables sacrifice size for extra long life, or vice versa. But the INNOBAR 7000 delivers both portability and impressive longevity in one pocket-friendly package.
At just 78.2mm tall and 45mm wide, the INNOBAR 7000 is as small as many 3000-5000 puff disposables. Yet it still packs an estimated 7000 puffs and 16ml of juice. You can easily conceal an INNOBAR in your hand for stealthy vaping. And the compact size means you can comfortably carry multiple flavors.
The simple design features rounded corners and a soft-touch finish that feels great in your hand. Semi-transparent color panels on the front and back denote the flavor inside. Each of the 12 flavors sports a unique color, making it easy to identify your INNOBAR at a glance.
The bottom houses the airflow control slider and USB-C charging port. Unfortunately, the airflow slider lacks visual indicators, so you need to draw to confirm if it's open or restricted. Still, the build quality feels solid and constructed to last through those 7000 puffs.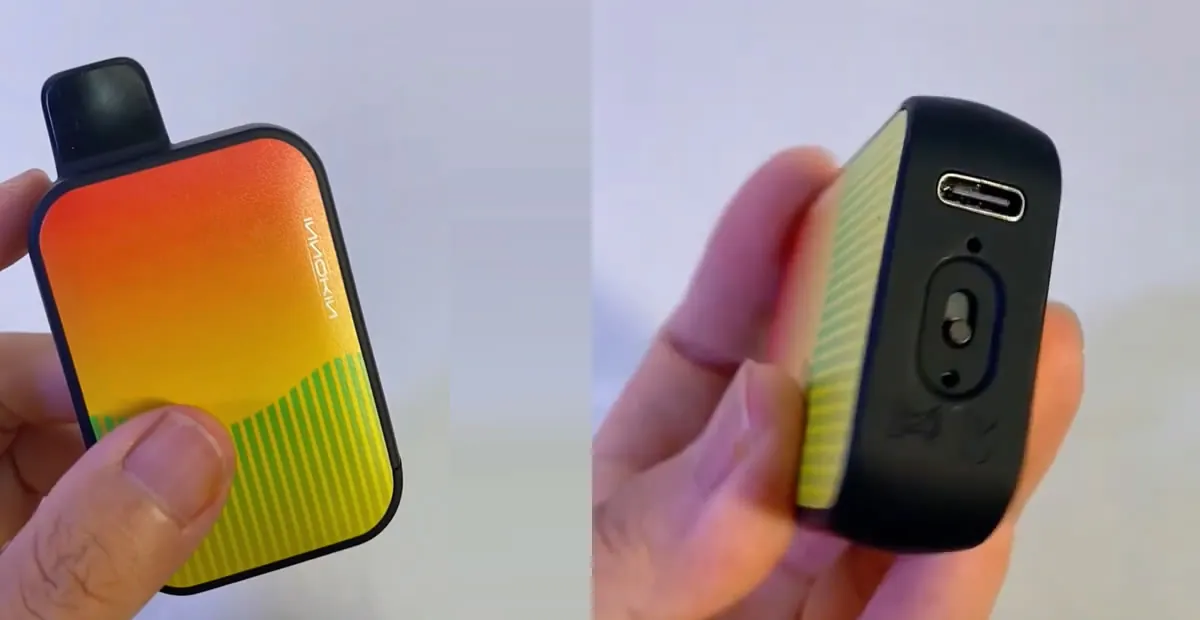 Features and Performance
7000 puffs is impressive longevity for such a pocket-friendly disposable vape. And the 16ml of juice should provide most vapers at least a week of use before the INNOBAR runs dry.
Inside, a 1.2Ω mesh coil delivers constant 3.6V output for consistent performance as the battery wears down. You'll notice the draw weakening right before the 650mAh battery dies after 1-2 days of use. A quick 1-hour charge via USB-C and you're ready for another couple days.
The INNOBAR only comes in 50mg (5%) nicotine strength. While you'd expect a harsher throat hit from the high concentration, the draw proves surprisingly smooth yet still satisfying. However, the tight MTL draw requires more puffs to reach the same nicotine level as some other 5% disposables.
Adjustable airflow ranges from a tight MTL to a very tight MTL draw. And the two-hole design makes fine tuning difficult. You're better off using one of the two main settings for best results.
The Performance and Vape Quality
In spite of its slim size, the Innobar 7000 delivers satisfying vapor production and throat hit. The proprietary 1.2ohm mesh coil optimizes flavor from the nic salt e-liquids. Adjustable airflow allows customization of draw tightness.
The regulated 3.6V output ensures consistent power delivery as the battery drains. Most disposables suffer weak performance nearing the end of battery life. But the Innobar 7000 retains the same constant vapor production until the last possible puff.
The 650mAh battery and huge 16mL juice capacity provide incredible vaping longevity. Expect up to 7000 satisfying puffs from every charge. For moderate vapers, the Innobar 7000 could feasibly last over a week of use.
The adjustable airflow offers two settings – a moderately tight MTL draw fully open, and a very tight MTL draw when closed down. However, fine tuning is difficult as the slider only controls two different hole sizes. Wider range of airflow adjustment would be ideal.
Overall, the Innobar 7000 stands out in the disposable space with its regulated output and adjustable airflow. Vapers who prioritize consistent, customizable performance will appreciate what it brings to the table.
Overview of the 12 Flavor Options
Innokin opted for a focused selection of just 12 flavor varieties for the Innobar 7000. The flavors cover a variety of fruit and menthol profiles popular with nic salt vapers. Options range from cool minty flavors to sweet candy-inspired fruits.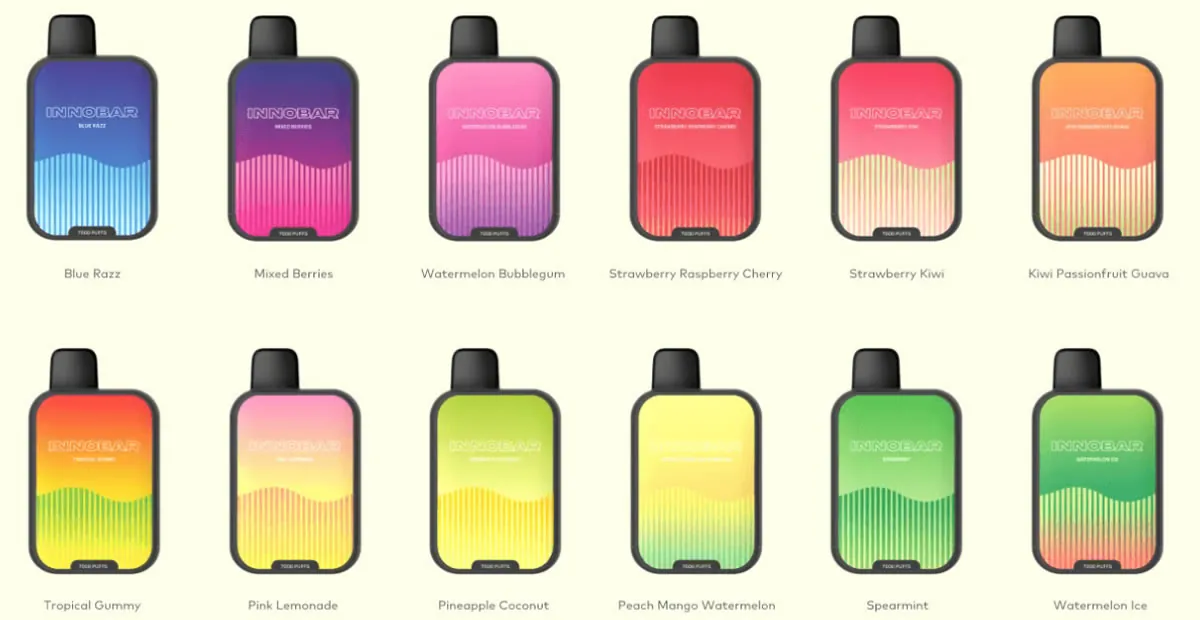 Here is a full listing of the available Innobar 7000 flavors:
Blue Razz
Mixed Berries
Watermelon Bubblegum
Strawberry Raspberry Cherry
Strawberry Kiwi
Kiwi Passion Fruit Guava
Tropical Gummy
Pink Lemonade
Pineapple Coconut
Peach Mango Watermelon
Spearmint
Watermelon Ice
While not the broadest selection, these flavors cover the most popular profiles vapers expect. The fruit blends add interest beyond single flavor disposables.
In-Depth INNOBAR 7000 Flavor Reviews
To provide a closer analysis, here are detailed reviews of five standout Innobar 7000 flavors:
Spearmint – This refreshing spearmint flavor accurately captures the brisk, minty taste you expect from a classic spearmint gum. Each puff delivers a crisp mint essence with herbal nuances and a touch of sweetness. The cooling exhale provides satisfying chill. While not wildly inventive, this realistic spearmint hits all the right notes expected from the profile.
Watermelon Ice – The watermelon flavor shines with authenticity rather than amplified sweetness. Bright watermelon candy essence mingles with fresh juicy melon undertones for depth and balance. Ample icy cooling draws out the melon's subtle sweet-tart complexity. Understated yet flavorful, it avoids artificiality or overwhelming sugariness. The natural flavor makes it an accessible all-day vape.
Strawberry Raspberry Cherry – This vibrant fruit trinity blends sweet strawberry, jammy cherry, and tart raspberry beautifully. The cherry note astounds with juicy ripeness. Each puff bursts with fruity flavor interplaying between sweet berries and tart cherry. Expertly crafted to harmonize three diverse fruits, it delights those seeking bold fruit flavor.
Mixed Berries – Ripe blueberry, tart raspberry and sweet strawberry converge in this berry medley. It balances sweet and tangy with undertones spanning the berry spectrum. Each smooth puff delivers a candy-like berry flavor with evolving complexity. This crowd-pleasing blend satisfies berry cravings without isolating any single fruit.
Pink Lemonade – Bright, tart lemon flavor meets sweet raspberry essence in this classic rendition. It captures the brisk citrus taste expected from pink lemonade without veering odd or artificial. The sweet berry tones counter the sour lemon for balance. Fans of authentic pink lemonade flavors will appreciate the recognizable flavor captured here.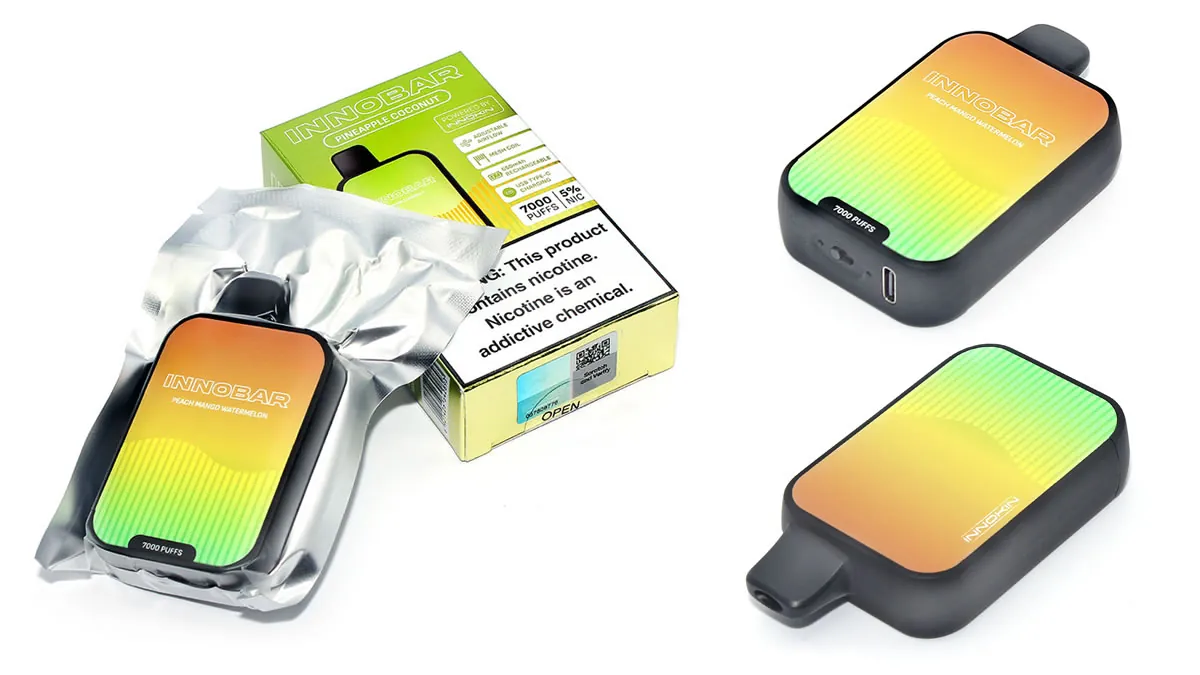 How's the Vape Experience?
Few disposables offer constant voltage output like the INNOBAR 7000. This keeps the draw strength consistent as the battery drains. No weak, unsatisfying draws as you near the end of a charge.
The tight MTL draw suits a 50mg nicotine strength device, yet still proves surprisingly smooth. However, you may need more puffs compared to other 5% disposables to reach satisfaction. This isn't necessarily a bad thing, just different.
The two airflow settings make fine tuning tricky. And the slider gives no visual feedback on setting. But the performance remains solid regardless of airflow adjustment.
Final Verdict
Minor airflow quibbles aside, the INNOBAR 7000 delivers satisfying performance in an ultra-portable form factor. The flavors taste great, especially highlights like Strawberry Raspberry Cherry and Mixed Berries.
But the real star is the impressive 7000 puff rating from a pocket-friendly disposable. Pair that with constant voltage output and you get reliable performance that outlasts most comparably sized disposables.
Innokin deserves credit for packing so much into such a small device. More flavor variety would make the INNOBAR 7000 even better. But for an expertly engineered disposable vape you can take anywhere, the INNOBAR 7000 is hard to beat.
https://ecigator.com/wp-content/uploads/2023/11/1700411050-Innokin-INNOBAR-7000-Disposable-Vape-Review.jpg
675
1200
Ecigator
https://ecigator.com/wp-content/uploads/2023/04/ecigator-logo-white.png
Ecigator
2023-11-19 16:25:17
2023-11-19 16:25:17
Innokin INNOBAR 7000 Disposable Vape Review