HorizonTech Binaries SV15000 Disposable Vape Review

Binaries Vapor by HorizonTech stays ahead of the curve when it comes to disposable vape innovation. Their newest creation, the Binaries SV15000, lives up to that legacy by packing a groundbreaking 15,000 puff lifespan into a well-designed device.
With 20ml of juice capacity, adjustable airflow, USB-C fast charging, battery/juice level indicators, and an alternating dual coil system, the SV15000 brings advanced performance to the realm of disposables. At just $15, does this feat of engineering deliver the experience to match? After a month of testing, here's my in-depth review.
Binaries SV15000 Specs
Pushing disposable vape technology forward, the feature-packed SV15000 offers:
Dimensions: 88mm x 55mm x 23mm
Weight: 88g
600mAh rechargeable battery
Type-C fast charging
20ml juice capacity
15,000 puff rating
50mg (5%) nicotine strength
1.0Ω alternating dual mesh coils
Draw activated firing
Adjustable MTL/DTL airflow
Battery and juice level LEDs
This impressive combination of high capacity and advanced functionality within a pocket-friendly form factor demonstrates Binaries' commitment to innovation.
Design and Build Quality
Despite its 20ml juice reservoir, the SV15000 maintains a reasonable size at 88mm tall, 55mm wide, and 23mm deep. It fits comfortably in a pocket and most bags or purses. I wouldn't call it ultra-portable for stealth vaping, but it's still a very manageable size given the massive capacity and battery life.
The high-end metal casing gives the SV15000 a sleek, polished look that outclasses previous all-plastic Binaries models. Colorful plastic base sections help accentuate the clean aesthetics.
Minimalist design keeps logos low key. The front sports a color-coded graphic, like a flame or masked character, depending on the flavor. Basic branding and specs adorn the base in a matching gray tone.
The oval mouthpiece proves smooth and comfortable. And the plastic stayed surprisingly lint-free despite the shape. The bottom houses the Type-C charging port and airflow control switch.
But the real design highlight is the "Smart Eye" LEDs. These novel battery and juice level indicators resemble menacing robotic eyes, lighting up when you hit the draw sensor. They look awesome while also providing at-a-glance feedback.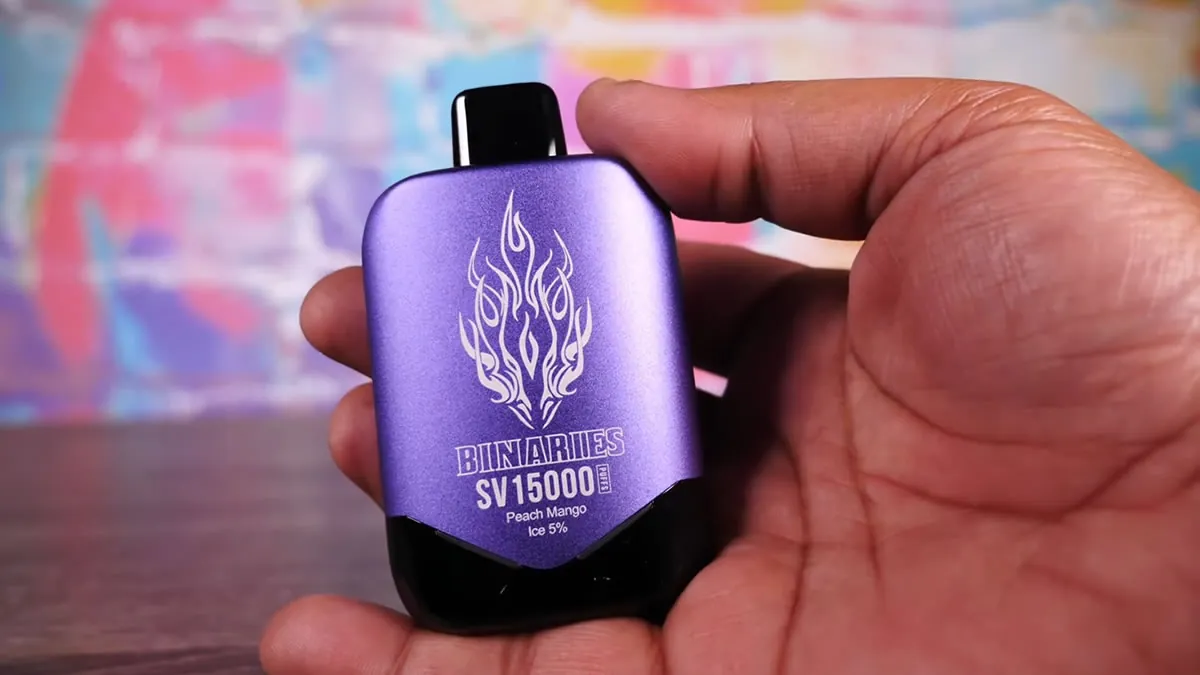 Features and Performance
A mind-blowing 15,000 puff rating sets a new benchmark for disposables, promising up to 30 days of use per device. Each SV15000 packs 20ml of 50mg (5%) nicotine salt e-liquid to last those 15,000 pulls.
Inside, an innovative alternating Dual Coil system switches between two mesh coils to prevent premature burnout. This ensures consistently great flavor for the lifespan of the device.
The 600mAh battery may seem small for such high capacity, but it reliably lasts 1-2 days per charge. And full recharging takes only 55 minutes via USB-C when needed.
Adjustable airflow toggles between a loose MTL and tight MTL draw. The range could be broader, but the vape performance remains nicely tuned.
The excellent "Smart Eye" LEDs provide at-a-glance feedback on battery and juice levels. Green means above 50%, blue from 15-49%, and red under 15% remaining. Very handy when tracking a month-long device lifespan.
Binaries SV15000 Flavors
With 10 options consisting mostly of fruit and menthol profiles, the flavor selection feels a touch limited. However, the unique combinations help set the menu apart:
Blue Razz Cherry Ice
Blue Razz Ice
Cherry Cola Ice
Kiwi Strawberry Ice
Mint
Orange Lime Soda
Peach Mango Ice
Strawberry Banana Ice
Triple Berries Ice
Watermelon Ice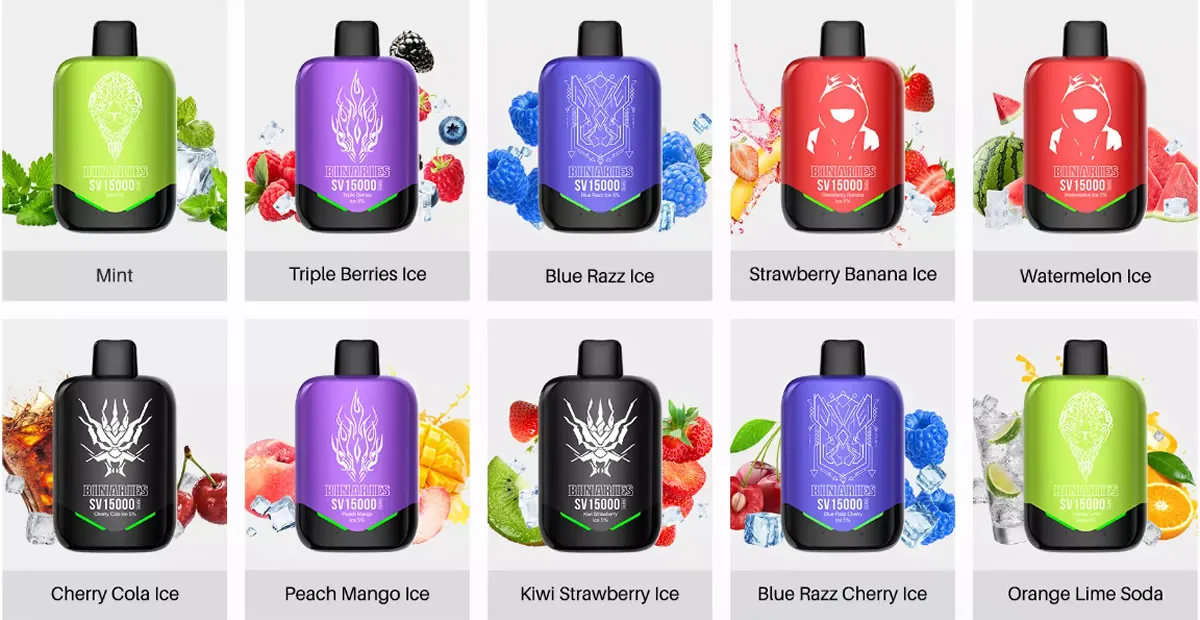 Next, we'll dive into tasting notes on 5 of the most intriguing flavors:
Triple Berries Ice
This flavor nicely balances sweet blueberry, strawberry, and raspberry without any single fruit overpowering. The naturally-inspired fruits offer light sweetness rather than candy intensity. While subtle, the icy aspect provides a cooling sensation on the inhale and exhale.
Blue Razz Cherry Ice
An unexpected yet delightful pairing, this flavor contrasts sweet blue raspberry on the inhale with juicy cherry emerging on the exhale. Both fruits come through clearly, but the ripe cherry note provides an especially nice surprise. Vibrant and fruit-forward.
Orange Lime Soda
Bold, zesty lime flavor dominates this profile, immediately hitting the palate with each puff. Hints of sweet orange complement in the background. The lime persistence overpowers the orange. Ideal for lime lovers, but orange fans may want more prominence.
Mint
This crisp, cooling mint also carries a touch of sweetness to balance the brisk mint essence. Each inhale brings an icy fresh mintiness. The subtle natural sweetness makes this mint more palatable and less sharp than a pure mint.
Strawberry Banana
This flavor blend focuses more on mellow fruit essence rather than powerful sweetness. Light strawberry couples with creamy banana in an accurate yet delicate profile. Enjoyable balanced fruitiness, but some may desire bolder fruit intensity.
Vapers seeking adventurous fruit fusions beyond the norm will appreciate HorizonTech's commitment to distinctive flavors. With varieties from Triple Berries to Strawberry Banana, there's a fruity or icy flavor sure to satisfy your cravings.
Vaping Experience
With an impressive 15,000 puff rating, maintaining performance over the device's full lifespan was paramount. Fortunately, the alternating dual coil design succeeds in delivering unwavering flavor quality and consistency from the first puff to the last.
The 600mAh battery life exceeds expectations, reliably lasting 1-2 days per charge. And the USB-C fast charging is conveniently quick when you need to top up.
While marketed as adjustable airflow, the range feels limited to a loose MTL and tight MTL draw. But the vape satisfaction remains solid regardless of setting.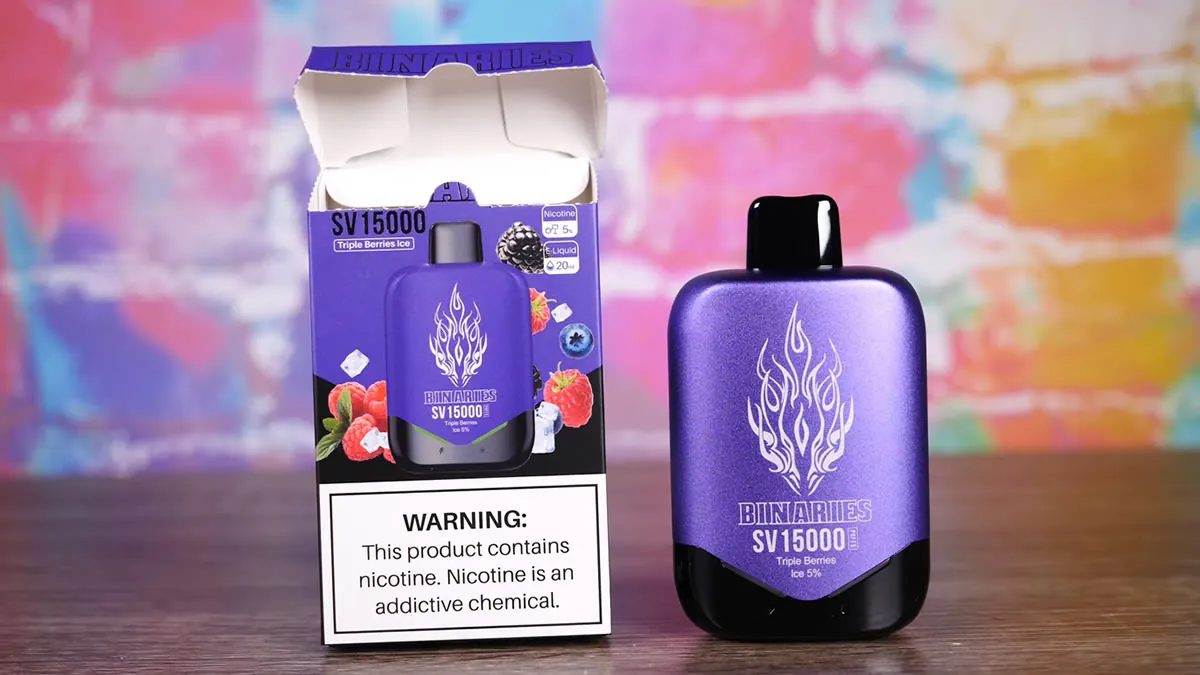 Final Verdict
The HorizonTech Binaries SV15000 sets a new standard for just $15. Packaging 15,000 puffs and 20ml of juice into a quality handheld device is a remarkable achievement.
The "Smart Eye" LEDs provide handy user feedback. The flavors offer some uniqueness in a disposable landscape filled with familiar options. And the overall performance stands up to long-term use thanks to the alternating dual coil innovation.
More nic strength and flavor choices would improve an already impressive package. But for pushing disposables to new limits at an unbeatable price, the Binaries SV15000 earns top marks. This disposable game changer is easy to recommend.
https://ecigator.com/wp-content/uploads/2023/11/1700420304-HorizonTech-Binaries-SV15000-Disposable-Vape-Review.jpg
675
1200
Ecigator
https://ecigator.com/wp-content/uploads/2023/04/ecigator-logo-white.png
Ecigator
2023-11-19 19:22:38
2023-11-19 19:22:38
HorizonTech Binaries SV15000 Disposable Vape Review