The Smok Spaceman 10K Pro Disposable Vape Review

The world of vaping is constantly advancing with innovative new products that aim to enhance the user experience. One such innovation that has been garnering attention lately is the Spaceman 10K Pro Disposable Vape by leading vape manufacturer SMOK. This feature-packed disposable vape offers exceptional value and convenience that sets it apart. Let's dive into this in-depth review covering all its impressive capabilities.
Spaceman 10K Pro Specifications
Right off the bat, the specs of the Spaceman 10K Pro Disposable Vape showcase its outstanding potential longevity and robustness:
Huge 10,000 Max Puff Capacity
16mL Large Prefilled E-Liquid Volume
800mAh High-Capacity Battery
5% (50mg) Nicotine Strength Options
Draw-Activated Firing Mechanism
0.7ohm Mesh Coil for Optimal Flavor
Adjustable Bottom Airflow Control
Handy On-Device Status Screen
With up to a staggering 10,000 puffs per device, this disposable vape aims to minimize the need for frequent replacements. Paired with 16mL of prefilled e-liquid, it enables extended vaping sessions without worrying about constant refilling or recharging.
For convenience, the Spaceman 10K Pro utilizes an intuitive draw-activated firing mechanism without any buttons. Vapers simply inhale to activate the battery and coil heating. The 0.7ohm mesh coil design optimizes heating efficiency and flavor intensity.
Choose Your Strength: 5% (50mg) Nicotine Options
The Spaceman 10K Pro Disposable Vape comes prefilled with 5% (50mg) nicotine salt e-liquid – the equivalent of traditional tobacco products. This allows smokers transitioning away from combustibles to easily match their preferred nicotine intake.
Higher nicotine concentrations also tend to provide more satisfying throat hit sensations reminiscent of smoking. For those aiming to eventually lower their nicotine dependence, the Spaceman 10K Pro offers a familiar and comfortable starting point.
Lasting Power: 800mAh Battery Capacity
Onboard the device is an 800mAh rechargeable lithium-ion battery – very substantial for a compact disposable unit. It aims to deliver extensive battery life even with heavy use.
Unlike smaller capacity disposables, the Spaceman 10K Pro eliminates the headache of having your vape die unexpectedly mid-day. The higher 800mAh battery ensures you can dependably vape all day long between charges.
Draw-Fire Simplicity
Employing intuitive draw-activation, the Spaceman 10K Disposable Vape activates and produces vapor simply by inhaling through the mouthpiece – no buttons required. This creates a seamless user experience that feels natural.
By removing press-to-fire buttons, the Spaceman 10K Pro minimizes the number of failure points. Without any external moving parts, draw-activation enhances reliability and durability. Leaking risks are also reduced by the straightforward design.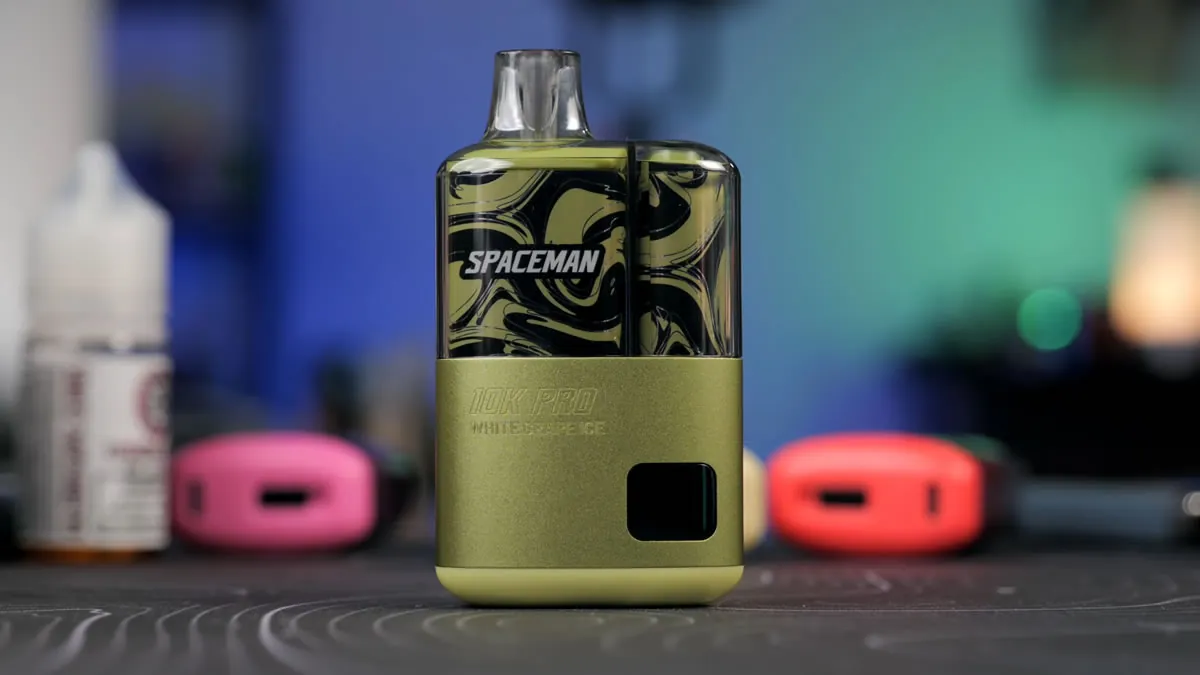 Optimized 0.7ohm Mesh Coil
Within the heating assembly lies a 0.7ohm resistance mesh coil optimized for the Spaceman 10K Pro's power output levels. Mesh coils incorporate layers of conductive metal to increase surface area. This enables improved heating efficiency and vaporization.
In turn, the 0.7ohm mesh coil achieves ideal heat and airflow for rich flavor reproduction. Compared to basic wire coils, users enjoy noticeably better taste intensity that better mimics traditional smoking satisfaction.
Smart LED Screen Interface
Despite its diminutive size, the Spaceman 10K Pro incorporates an informative interface via a built-in status screen. It actively displays current battery level percentage and e-liquid level to keep users updated.
With this convenient at-a-glance data, vapers know exactly when it's time to recharge and can better pace their puffs. Unexpectedly running out of battery or e-liquid is avoided – something especially useful for on-the-go usage.
Adjustable Airflow Control
Unlike most disposable vapes, the Spaceman 10K Pro uniquely incorporates adjustable bottom airflow control. By rotating the base, users can set their preferred airflow tightness ranging from a loose direct-to-lung draw to a tighter mouth-to-lung draw.
This added customization lets you fine-tune airflow to best match your vaping style. Optimal airflow bolsters flavor intensity for a more satisfying experience overall.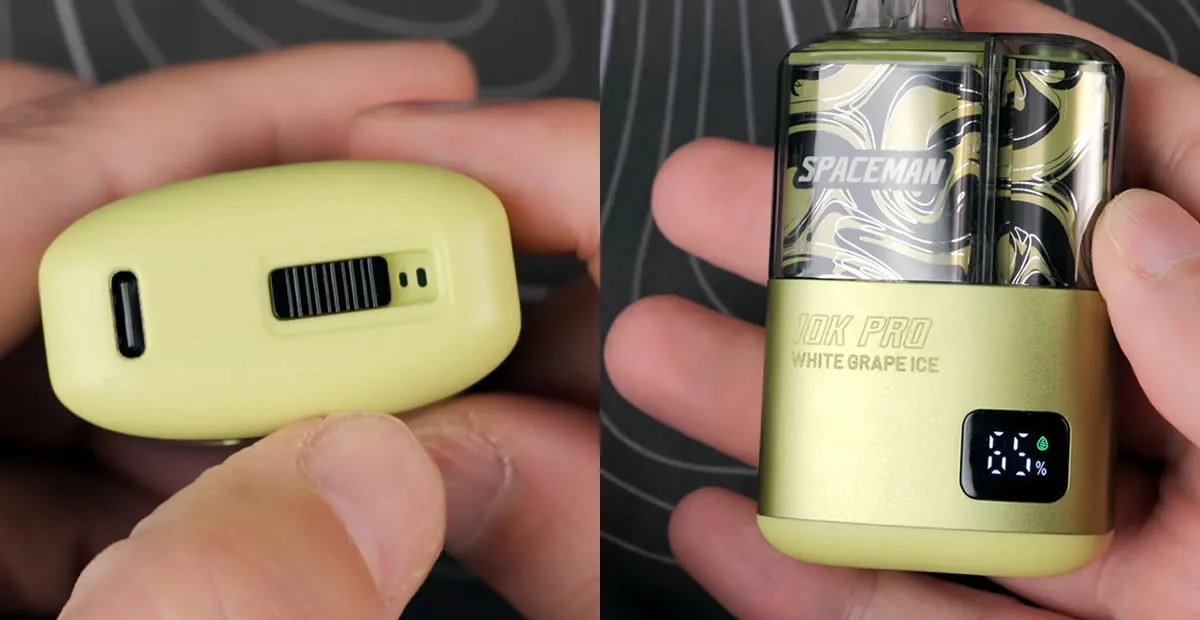 An Array of Enticing Flavors
A key advantage of vaping is the abundance of tantalizing flavors unavailable with traditional tobacco products. The Spaceman 10K Disposable Vape offers 22 mouthwatering flavor varieties:
Juice Rainbow Ice
Root Beer
Alphonso Mango
Mixed Berries
Blue Haze
Watermelon Ice
Dragon Mango Lemonade
Black MInt
Banana Cake
White Grape Ice
Pineapple Passion Lemonade
Pink Lemonade
Dragon Strawberry
Green Apple Razz
Clear
Rich Tobacco
Strawberry Lime
Peach Mango Watermelon
Peach Pear
Polar Ice
Blackberry Razz
Mint Gum
Show more +
Here we picked up 10 flavors with detail reviews: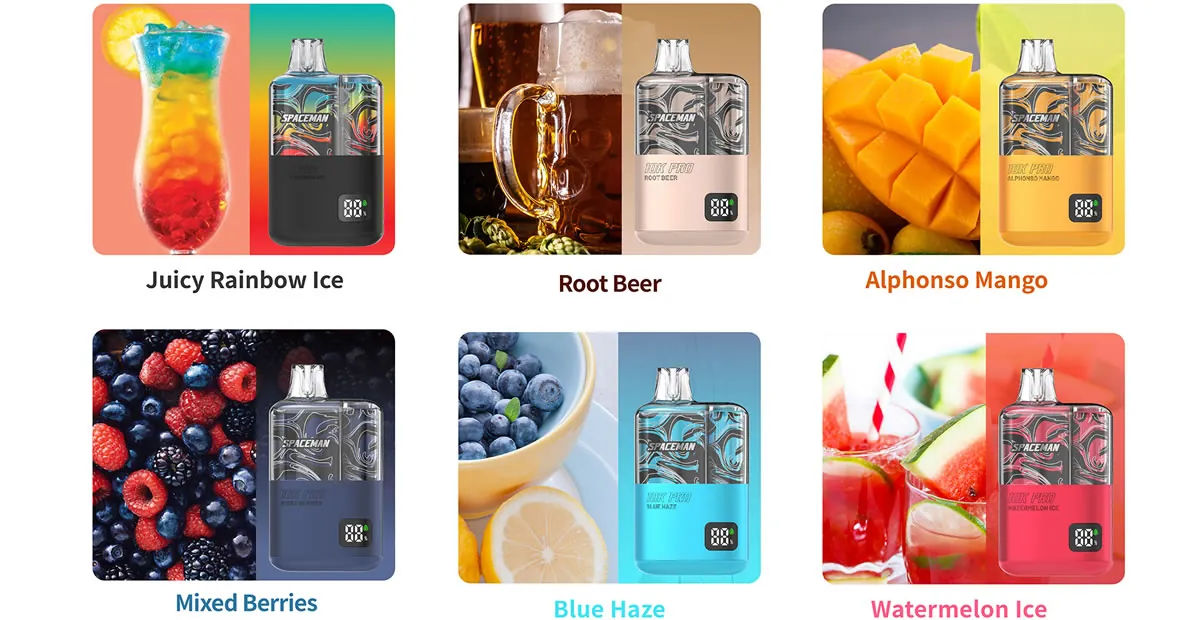 Alphonso Mango
Invigorating top notes of ripe Alphonso mango are beautifully captured in this flavor. Each puff provides an authentic sweet and tropical taste, transporting you to exotic beaches. The natural flavor profile avoids synthetic chemical undertones for clean, fruit-forward enjoyment.
Banana Cake
Indulge your dessert cravings with delicious banana cake flavoring. Abase of fresh, ripe banana is complemented bywarm bakery cake undertones. Inhales and exhales flood the palate with creamy, comforting banana cake goodness.
Black Mint
An intriguing blend of cool mint and sweet blackcurrant fruitiness. Crisp peppermint is augmented by the presence of ripened blackcurrants, creating a unique flavor fusion for all-day enjoyment. Balancing refreshing qualities with fruity depth.
Blue Haze
Every puff of Blue Haze envelops your senses with plump blueberries and frosty menthol. Tangy blueberry notes dance across the palate, grounded by icy menthol. A harmonious interplay between sweet fruit and cooling mint.
Dragon Mango Lemonade
An uplifting infusion of dragon fruit, mango and zesty lemonade. Witheach puff you'll enjoy the tropical allure of dragon fruit and juicy mango, balanced by tart lemonade. Expect bright citrus vibrancy with every inhalation.
Juicy Rainbow Ice
Juicy Rainbow Ice bombards you with succulent mixed fruits drenched in icy menthol. Exhales reveal a culminating chill that punctuates the juicy warmth of the rainbow fruit mix. A flavor profile as vibrant and dynamic as its namesake.
Mixed Berries
Each puff unveils a mélange of ripe strawberries, plump blueberries and tart raspberries. Creating a harmonious fusion centered around berry-forward sweetness with retreating tartness. For discriminating fruit-lover vapers.
Root Beer
Authentic old-fashioned root beer flavoring that's spot-on and addictingly accurate. Fizzy top notes replicate that crisp, familiar taste you know and love. Enjoy frothy, carbonated root beer with every inhale and exhale.
Watermelon Ice
Crisp, mouthwatering watermelon cut with frosty menthol airiness. Sweet aqueous melon flavor notes contrast beautifully with sharp minty chill. A simmering icy undercurrent keeps the watermelon flavor lively and vibrant.
White Grape Ice
Crisp white grapes commingle with Arctic blast menthol to create an invigorating flavor profile. Tart white grape forms the foundation while wispy menthol elevates the flavor with a cooling effect. Fruity elegance melds with minty freshness.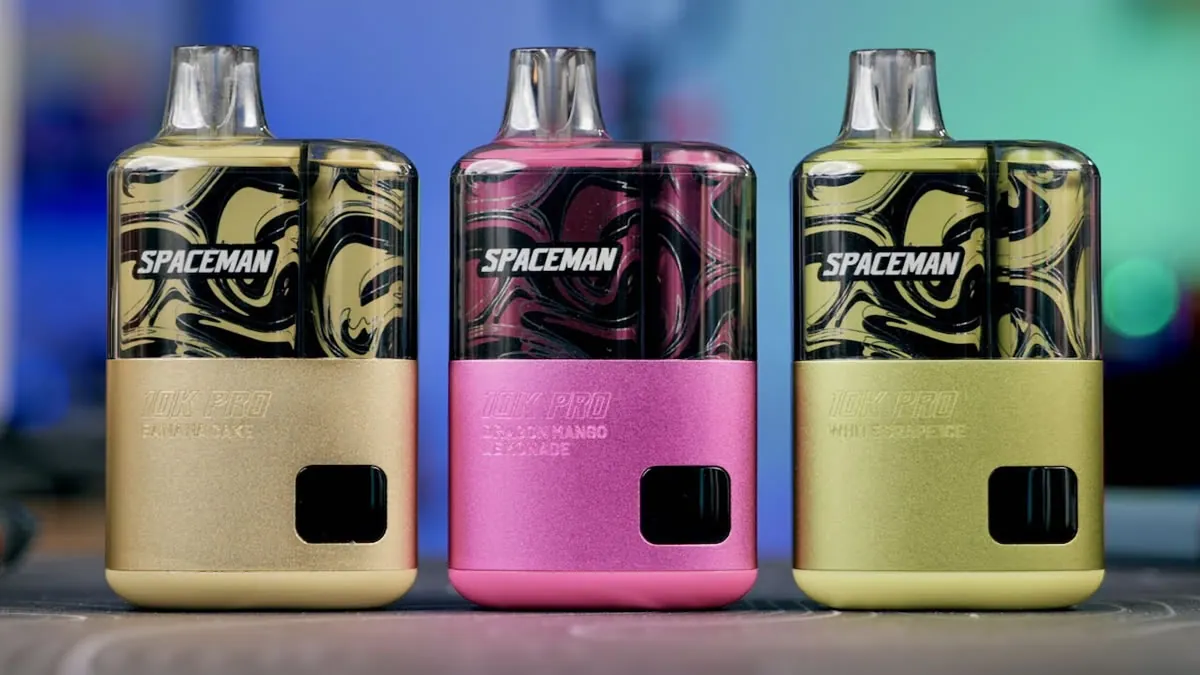 Concluding Thoughts
All in all, the Spaceman 10K Pro Disposable Vape manages to cram impressive capabilities into a conveniently portable and disposable format. Notably, the mammoth 10,000 puff lifespan enables weeks of use without replacing devices – saving money and hassle.
Paired with ample 16mL e-juice capacity and a hefty 800mAh battery, this diminutive disposable can keep pace with even the heaviest vaping demands. Top it off with the smart interface, draw-activation,flavor variety and adjustable airflow – all within a disposable vape.
Considering its thoughtful design and plethora of features, the Spaceman 10K Pro Disposable Vape punches far above its weight class. Disposable vaping doesn't get much more value-packed than this. Kudos to SMOK for setting new standards in this emerging segment.
https://ecigator.com/wp-content/uploads/2023/11/1700579949-The-Smok-Spaceman-10K-Pro-Disposable-Vape-Review.jpg
675
1200
Ecigator
https://ecigator.com/wp-content/uploads/2023/04/ecigator-logo-white.png
Ecigator
2023-11-21 16:43:34
2023-11-21 16:56:55
The Smok Spaceman 10K Pro Disposable Vape Review