Funky Republic FI3000 vs Ti7000 Disposable Vapes: How Do They Compare?
Disposable vapes come in all shapes and battery capacities these days. In Funky Republic's lineup, the FI3000 and Ti7000 represent two ends of the spectrum. The convenient, compact FI3000 offers portability and flavor variety. Meanwhile, the high-capacity Ti7000 provides marathon battery life in a slim package.
In this in-depth comparison review, we'll contrast the specs, performance, flavors and overall experience of the Funky Republic FI3000 and Ti7000 disposables. Read on to discover which option best fits your vaping needs!
An Introduction to Funky Republic Vapes
Before diving into the specific devices, let's learn about Funky Republic's approach to engineering and design. Based in sunny Southern California, the company fuses stylish aesthetics with solid vape performance in their disposable lineup.
Unlike competitors relying on overseas manufacturing, Funky Republic keeps production in the USA. This allows strict control over quality and consistency. While many brands focus on extreme battery life and huge puff counts, Funky Republic takes a refined approach. Their goal is simply delivering an optimal vaping experience in a simplified disposable format.
Now let's see how the FI3000 and Ti7000 each embody the Funky Republic ethos.
FI3000 Review: A Convenient Classic Revitalized
True to its name, the FI3000 sports a classic disposable design optimized for no-fuss portability. Its petite yet ergonomic size slips easily into pockets or bags. The tapered mouthpiece enables smooth mouth-to-lung hits. And the flat base allows it to stand upright when not in use.
Don't let its compact form fool you – the FI3000 houses respectable performance:
5mL e-liquid capacity – Around 3000 puffs per device
800mAh battery – Perfectly matched to juice capacity
50mg nicotine – Satisfying throat hit and buzz
Draw-activated firing – Automatic and instant
While not built for extreme longevity, the FI3000 provides ample power for its 5mL of juice. The battery lasts precisely as long as the e-liquid.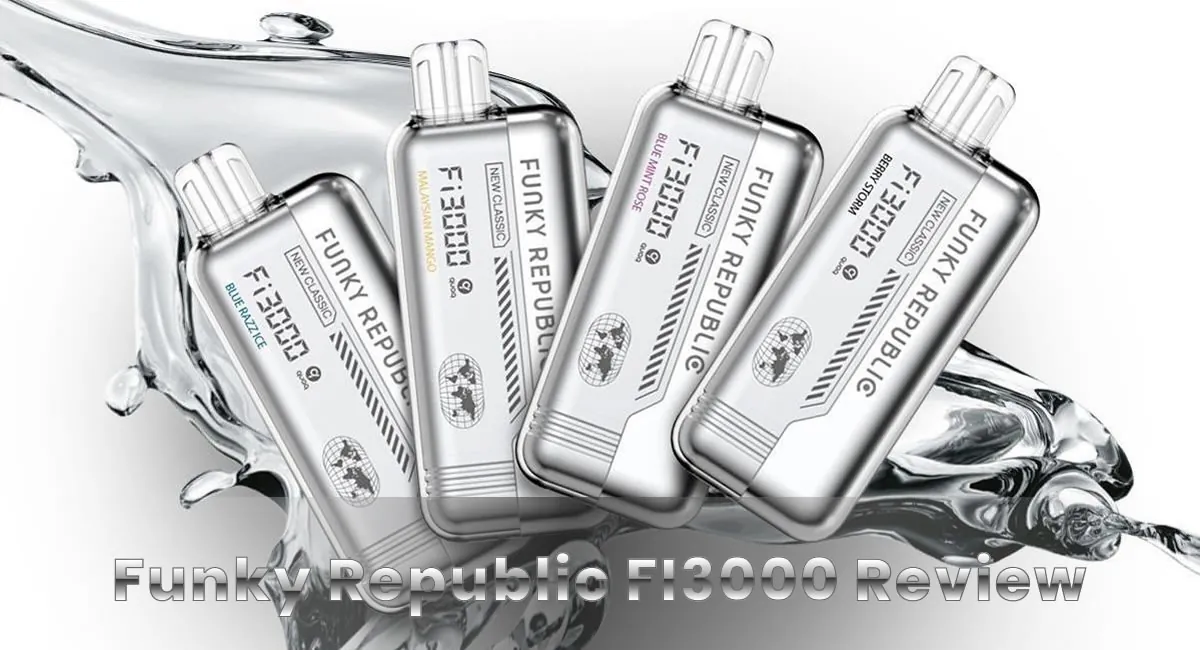 Overview of the Ti7000's High-Capacity Specs
The Ti7000 takes Funky Republic's disposable design to marathon levels. Its specs rival many pod systems:
13mL e-liquid capacity – A cavernous amount for a disposable
600mAh battery – Similar lifespan to popular pod mods
50mg nicotine – Lower strength prevents harshness
7000 puff rating – Lasts over a week of average use
USB-C charging – Fully recharges in just 45 minutes
With its expansive juice capacity and mighty battery, the Ti7000 is built to last. The 40mg nicotine satisfies without excessive throat hit. And convenient USB-C charging reduces any downtime.
Comparing the FI3000 and Ti7000 Flavor Varieties
Both models offer a variety of flavors – the FI3000 has 16 options, while the Ti7000 boasts over 20. The FI3000 focuses on fruity and icy classics like:
Blue Razz Ice – Sweet candy raspberry flavor chilled by menthol. Iconic profile.
Watermelon Ice – Juicy watermelon perfectly balanced by brisk menthol. A lush twist.
Miami Mint – Crisp, cooling spearmint without overwhelming ice. Gum-like freshness.
Read More:  Funky Republic Fi3000 Review
The Ti7000 also has icy fruit flavors but branches into creamy and exotic options like:
California Cherry – Intense cherry flavor without added sweetness or chill. Strikingly authentic.
Pineapple Coconut Ice – Pineapple and coconut provide tropical fruit flavor accented by icy mint. Unique yet balanced profile.
Peach Pie – Masterfully blends luscious peach filling with creamy and graham cracker crust notes. Dessert vaping at its finest.
Read More: Funky Republic Ti7000 Review
Both provide balanced, nuanced flavors without artificial or candy-like taste. But the Ti7000 offers greater variety and complexity.
Reviewing the FI3000's Smooth Performance
In use, the FI3000 delivers consistent satisfaction courtesy of its draw-activated firing and mesh coil. Flavor production is bold, especially for such a compact device. And the 50mg nicotine packs a satisfying throat hit.
The 5mL e-juice capacity lasts days for average users without fading in taste. The 800mAh battery is perfectly matched to exhaust all the juice. It's a grab-and-go disposable that performs like a classic.
Exploring the Ti7000's Marathon Battery Life
Performance on the Ti7000 is equally smooth but with extreme longevity thanks to its high capacity specs. The massive 8mL of e-liquid sustains consistent flavor and vapor for over a week, even with heavy use.
The 40mg nicotine provides a pleasant throat hit without harshness. And the 600mAh battery easily lasts as long as the voluminous e-juice supply. With its combination of power and longevity, the Ti7000 is a disposable built for the daily grind.
FI3000 vs Ti7000: Key Pros and Cons
FI3000 Pros:
Streamlined, pocket-friendly design
800mAh battery outlasts 5mL of juice
16 balanced classic flavor options
Tight yet smooth draw
FI3000 Cons:
Less longevity than high-capacity models
Non-refillable e-juice
Non-replaceable battery
Limited vapor customization
Ti7000 Pros:
Sleek, futuristic aesthetics
Huge 8mL e-juice capacity
600mAh battery lasts over a week
20+ flavor options with complexity
Rapid USB-C charging
Ti7000 Cons:
E-liquid is not refillable
Battery not replaceable
Tight draw caters to MTL style
Who Should Choose the FI3000 or Ti7000?
Due to its pocketable design and variety of flavors, the FI3000 suits vapers prioritizing convenience and portability. Its compact size and lack of charging makes it a perfect disposable companion.
The classic flavors also appeal to longtime vapers with conventional preferences. However, the battery only lasts as long as the 5mL of juice. For extended portable use, the Ti7000 is a better choice.
With its marathon battery life and expansive e-juice capacity, the Ti7000 works well as an all-day daily driver. Its slim yet powerful performance provides amazing reliability for life on the go.
The huge juice supply sustains consistent flavor for days beyond cheaper disposables. And the rapid charging ensures you're never without your Ti7000 for long. It's the ultimate grab-and-go workhorse.
Final Thoughts on Funky Republic's Disposables
When it comes to disposable options from Funky Republic, the FI3000 and Ti7000 each have distinct advantages. The FI3000 offers variety and portability in a classic hassle-free package. While the Ti7000 provides exceptional battery life and longevity for all situations.
If you value convenience and flavor switching, the FI3000 is a perfect portable companion. But for extended worry-free usage, the Ti7000 can't be beaten. So choose based on your priorities and enjoy the disposable vaping experience by Funky Republic!