Funky Republic TI7000 Frozen Edition Disposable Vape Review
The Funky Republic Disposable Vape brand has quickly risen the ranks to become a popular name in the vaping market. Their TI7000 Frozen Edition line brings an extra icy blast of chill and flavor that builds upon their reputation for reliable performance. As disposable vapes continue to grow in demand for their convenience, brands like Funky Republic aim to deliver standout options for discerning vapers.
This in-depth review will provide a complete run-down of the Funky Republic TI7000 Frozen Edition – from specs and features to real user experiences with the icy cool flavors. Discover just what makes this frozen edition disposable vape a tempting choice for vapers seeking a portable, satisfying nicotine salt experience.
An Effortless Vaping Experience
For many vapers, convenience is a top priority. Disposable pod devices eliminate the hassle of maintenance, coil changes, and refilling e-juice – delivering a fuss-free vaping experience straight out of the box.
The Funky Republic TI7000 sticks to this effortless approach with its slick, compact design. Despite its portable size (100x38x24mm), the 600mAh battery still delivers an estimated 7000 puffs on a single charge. The draw-activated firing and mouth-to-lung inhale makes for easy, satisfying puffs.
While it lacks a full display screen, LED indicators keep users aware of battery life and e-juice levels at a glance. The convenient USB-C charging port makes powering up a breeze. For discreet, on-the-go vaping, it's an ideal choice.
Read more:  Funky Republic Ti7000 Review
Icy Flavors That Leave You Chilled Out
What really makes the Funky Republic TI7000 Frozen Edition stand out is the arctic blast of menthol and ice flavors infused into the nicotine salt e-juice. Vapers note an icy chill and refreshing zing with every hit across all the frozen flavors.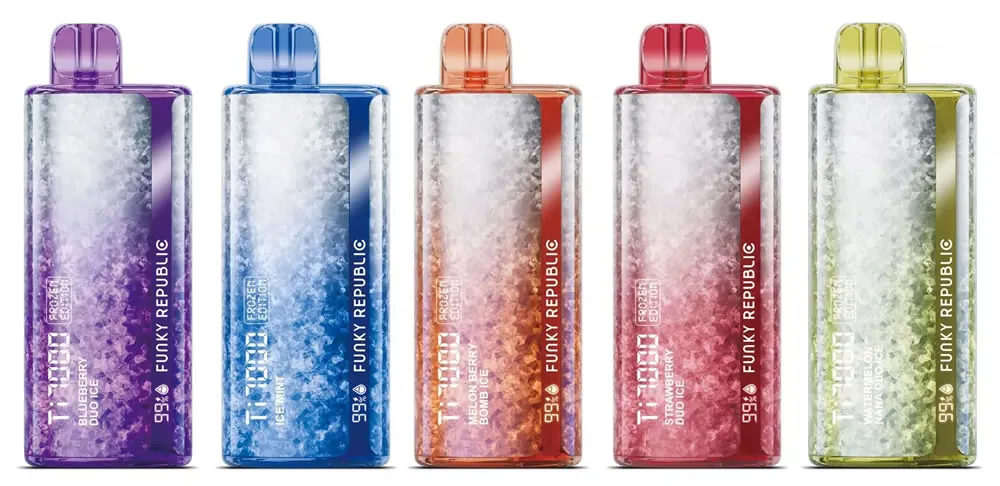 The lineup delivers plenty of options:
Blueberry Duo Ice
Fans of blueberry vapes will appreciate the authenticity of the Blueberry Duo Ice. Unlike many candied blueberry e-juices, this captures the natural tart and sweet notes of fresh blueberries. The blueberry flavor is pronounced on both the inhale and exhale.
The menthol really amplifies and cools the berry sweetness for a crisp finish. The icy chill is noticeable but not overpowering. This makes the Blueberry Duo Ice an ideal choice if you want pronounced blueberry flavor paired with frosty freshness.
Melon Berry Bomb Ice
Those who enjoy the flavor of mixed fruit bowls will be right at home with the Melon Berry Bomb Ice. It presents an intriguing fusion of honeydew melon and strawberry, blueberry, and raspberry flavors.
The melon comes through as pleasantly sweet and ripe, while the berry mix adds nice depth and prevents it from becoming one-note. Together they create a delicious medley of juicy fruit. But the real thrill comes as the menthol chill kicks in, adding a cooling effect that makes the fruit flavors pop even more.
Each hit starts sweet and ends icy, resulting in a dynamic fruit blizzard. If you want to blast your taste buds with an array of juicy fruits swallowed by a frosty aftermath, this flavor is a winner.
Strawberry Duo Ice
Keep it simple with the Strawberry Duo Ice flavor. This pairs the sweet taste of ripe strawberries with an exhilarating icy finish. The strawberry profile is authentic, not overly candied or syrupy like many strawberry vapes.
You get the natural tanginess and ripe character of fresh strawberries, allowing the flavor to shine through. On the back end, the menthol chill provides contrast, preventing the strawberry from becoming cloying. It adds brightness and makes each puff feel clean.
For strawberry fans who want a touch of cooling mintiness, the Strawberry Duo Ice hits the spot. The fruitiness remains at the forefront but gains an icy edge.
Ice Mint
Looking for an ultra-refreshing menthol vape? Then Ice Mint is the go-to from the TI7000 lineup. This captures the crisp, sharp taste of spearmint leaf, complete with a frosty chill that's especially exhilarating.
Unlike peppermint, spearmint has more herbal and grassy qualities that come through. The mint flavor is cooling but smooth, not harshly medicinal. But where this flavor excels is the arctic chill – you get a huge rush of icy menthol on the backend that opens up your airways.
For the ultimate brisk, wintry vape, Ice Mint is sure to satisfy. The bold icy menthol pairs brilliantly with the garden-fresh spearmint.
Watermelon Nana Duo Ice
Watermelon Nana Duo Ice offers the most unique flavor profile in the TI7000 Frozen Edition line. It brings together sweet watermelon and rich banana for a tropical treat turned icy.
The watermelon base provides juicy sweetness reminiscent of a hot summer day. To balance it out, the banana adds a creamy, smooth component. This prevents the watermelon from becoming overwhelmingly sugary or floral.
But the real thrill comes as the menthol chill swoops in, adding exhilarating icy freshness. This arctic blast complements and connects the fruit flavors for a brisk tropical medley.
For vapers who enjoy both watermelon and banana vapes, blending them together with icy menthol is sheer bliss. This frozen tropical twist stands out as a hidden gem.
User reviews across vaping forums and YouTube highlight the Ice Mint and Watermelon Nana Duo Ice as favorites from the lineup. The consensus points to Funky Republic nailing these icy nic salt flavors – smooth, satisfying, and extra chill.
Why Choose Funky Republic TI7000 Frozen Edition
Within the crowded disposable vape market, products live or die based on real-world performance and user experiences. Based on trusted reviews and first-hand accounts, there are a few clear reasons the Frozen Edition TI7000 remains a top choice:
Long-lasting battery life – The 600mAh battery holds up well, hitting that estimated 7000 puffs mark, if not exceeding it. Lasts several days to a week of average use.
Smooth nic salt delivery – The 50mg nicotine salt e-juice provides a satisfying throat hit without harshness. Ideal for ex-smokers and those who enjoy a tighter MTL draw.
Accurate icy flavors – Unlike some competitors, the icy menthol chill does not overpower the base fruit flavors. The fruity tastes come through as authentic.
Discreet size – Fits nicely in a pocket or bag for transportation. The slim design allows for low-key public vaping.
No leaks or burns – Common issues like leaking pods or burnt hits are rarely reported from Funky Republic users. Sign of quality manufacturing.
For an affordable price, the TI7000 Frozen Edition delivers where it matters most – durability, flavor, and experience. Vapers seeking a reliable icy nic salt vape would be wise to add Funky Republic to their shortlist.
And Factors When Choosing
With so many icy options to consider, keep these key factors in mind when selecting your perfect Funky Republic frozen vape:
–Intensity of menthol – If you want maximum icy impact, go for Ice Mint or Melon Berry Bomb. For more subtle chill, try Strawberry Duo Ice.
–Complexity of flavors – Watermelon Nana Duo and Melon Berry Bomb have the most complexity. Blueberry Duo Ice and Strawberry Duo Ice are simpler.
–Accurate fruit taste – Strawberry Duo Ice and Blueberry Duo Ice capture authentic fruit profiles. Melon Berry Bomb has more of a candied fruit vibe.
–All-day vaping – For an ADV, Strawberry Duo Ice and Watermelon Nana Duo are likely the least polarizing options.
Stacks Up to Competitors
The disposable vape corner of the market has expanded rapidly, leaving vapers with no shortage of options. Standouts like the Elf Bar and Flonq Max have set a high bar in terms of battery life and flavor quality.
So how does the TI7000 Frozen Edition compare?
Elf Bar – Neck and neck when it comes to longevity and flavor accuracy. Elf Bar still wins for variety with 100+ flavors, including icy choices. More costly than the TI7000.
Flonq Max – Slightly edges out the TI7000 on battery capacity at 800mAh but lacks flavor options. Flonq Max has mixed reliability reports.
Lost Mary – Comparable icy mint flavors but falls short of TI7000 battery life. Lost Mary suffers leaks more frequently according to users.
Hype Salts Ice – Solid icy fruit flavors like the TI7000 but disposable design feels cheaper. Limited to just five flavor choices.
While the TI7000 does not necessarily claim the disposable vape throne, it holds its own against the major players. For the affordable price, Funky Republic competes well on performance and offers a satisfying frozen vaping experience.
Considerations Before Buying
The TI7000 makes a compelling case for vapers searching for a dependable icy nic salt disposable vape. Before taking the plunge, keep a few considerations in mind:
No variable power settings – Disposables lack the customization of box mods or POD systems. Cannot adjust power output.
Limited flavor options – Just 5 icy choices available. Vapers who enjoy switching between many flavors may find this limiting.
Disposable factor – While convenient, disposables produce more waste compared to rechargeable vape systems. An environmental concern for some.
Imported manufacturing – Funky Republic sources devices overseas, while some competitors manufacture in the USA. This raises quality control questions for a few users.
For the price, the TI7000 delivers strongly on the fundamentals most vapers prioritize – long battery life, accurate flavors, and a portable design. Those seeking a varied flavor selection or mod-like customization may find better options elsewhere.
The Last Word
Within the flooded disposable vape market, standout products are few and far between. The Funky Republic TI7000 Frozen Edition makes its mark through quality construction, long-lasting power, and chillingly accurate icy flavors.
For vapers who value convenience and performance in a discreet package, the TI7000 warrants consideration. Competitive pricing seals the deal on this icy cool disposable vape.
While falling slightly short of "best disposable vape" status, the TI7000 holds up respectably against top brands and avoids common disposable pitfalls like leaks or duds. If an authentic icy nic salt experience in a fuss-free device sounds enticing, go funky and freeze your cravings away.