Geekbar Meloso Series Review: Flavors and Performance

Geekbar's Meloso series offers a lineup of exceptional disposable vapes with impressive flavor varieties, battery life, and easy draw-activated usage. From the standard Meloso to the powerful Meloso Max and advanced Meloso Pro, this series provides disposables tailored to all vaping preferences.
This in-depth Geekbar Meloso review covers the key features, specs, performance, flavors, and customer feedback on these popular disposables.
Overview of the Geekbar Meloso Series
The Meloso series features 3 main disposable vape options:
Meloso – The original smooth-hitting Meloso vape with auto draw and fruity flavors.
Meloso Max – A higher capacity Meloso with big battery, large e-liquid volume and 50mg nicotine strength.
Meloso Pro – The premium Meloso with rechargeable battery, 12 flavors and advanced coil tech.
Geekbar crafted the series to offer the perfect disposable vape for any vaper, from beginners to cloud chasers. Let's look at each model.
Meloso Review – A Flavorful Basic Disposable
As the foundational entry, Meloso delivers bold flavors matched with convenience. Its slim pen-shaped chassis houses a 400mAh battery powering 200-400 puffs from the 2mL nicotine salt e-liquid reservoir.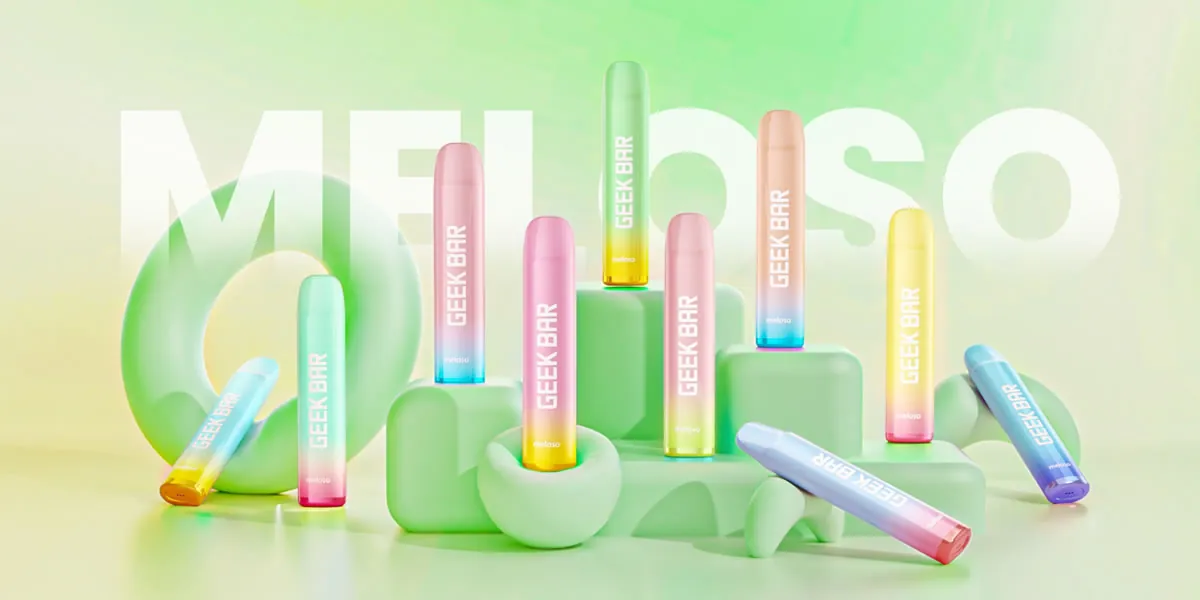 Key Meloso Features:
Draw-activated auto firing
2ml Prefilled e-liquid capacity
Sleek and lightweight design
20+ Sweet fruit and menthol flavors
Authentic fruit and drink flavors impress out of the box. Options like Strawberry Ice, Mango Ice, and Pink Lemonade capture essence beautifully. And the automatic draw adds to the fuss-free experience. For flavor-first vaping freedom, the standard Meloso hits the mark.
Meloso Max 9000 Review – Big Battery & E-liquid Capacity
For those seeking extended runtime from a disposable, Meloso Max 9000 breaks boundaries. Its chunkier form factor packs a staggering 14mL of nicotine salt e-liquid – over 5x standard capacity.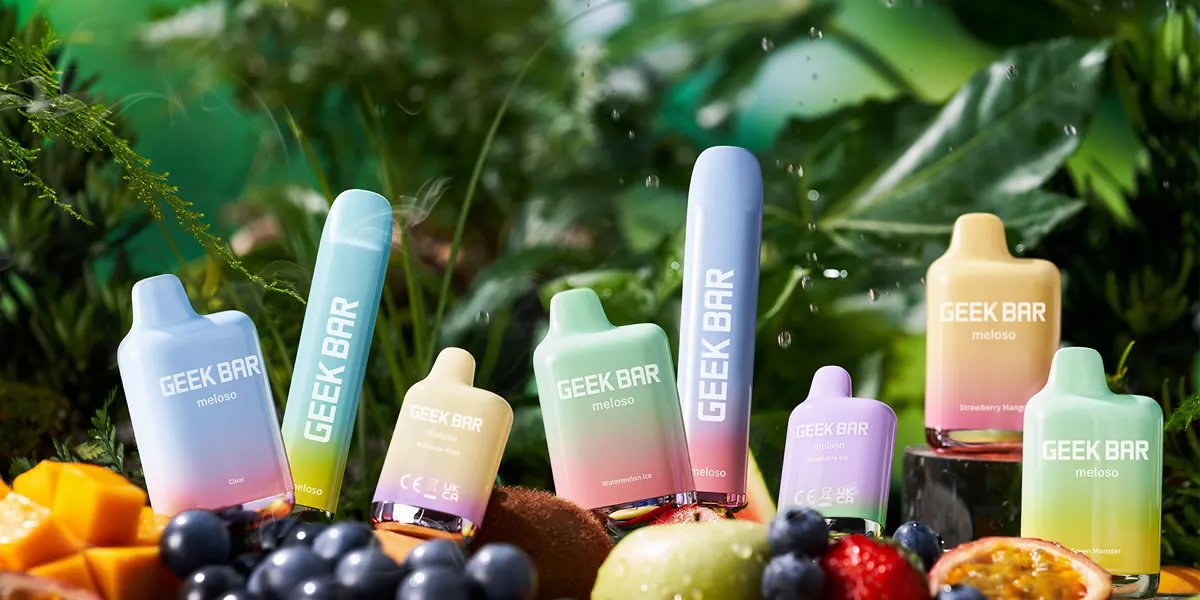 Key Meloso Max Specs:
14mL e-liquid capacity
600mAh battery for 9,000 puffs
50mg (5%) nicotine strength
Dual mesh coils
Type-C charging
This massive supply pairs with an ample 600mAh battery to deliver around 9000 puffs per charge. And the easy bottom Type-C USB charging enables multiple refills rather than just single use.
From icy fruits to sweet Pink Punch, Meloso Max's 12 flavors highlight versatility. With its high capacity and bold taste, Max earns the moniker of disposable tank.
Meloso Pro 4000 Review – Advanced Features
Topping the series, Meloso Pro represents a disposable visionary – combining high capacity with advanced customization. Its 12mL reservoir and 600mAh battery deliver approximately 4000 puffs of indulgence.
Meloso Pro Features:
15 premium flavor varieties
12mL prefilled e-liquid
2% nicotine strength
4000 puff lifespan
Draw activated firing
Rechargeable 600mAh battery
Rapid USB-C charging
While the performance specs impress, the Pro's adjustable airflow takes personalization to another level. Vapers can tailor draws from loose DTL to tight MTL. Geekbar built a truly bespoke disposable experience.
With 15 flavors available spanning fruits, tobaccos, teas, and drinks, the Pro caters to all palates. For a revolutionary disposable, the Pro certainly delivers.
Geekbar Meloso Flavors Reviewed
The Geekbar Meloso disposable vape series offers a flavorful lineup that caters to all palates. Ranging from fruity blends to creamy desserts, the Meloso flavors ensure a delightful vaping experience.
Some of the most popular Meloso flavors include:
Blueberry Ice – A refreshing blend of sweet blueberries with an icy cool finish. Provides a smooth, soothing vape.
Strawberry Ice – The sweet taste of ripe strawberries paired with a frosty menthol effect. Satisfying strawberry flavor.
Mango Ice – A tropical mango flavor enhanced by refreshing icy notes. Fruity and rejuvenating.
Pink Lemonade – A summer favorite with tangy lemon and sweet berry flavors reminiscent of pink lemonade.
Watermelon Ice – Revel in the juicy sweetness of watermelon complemented by a cool menthol breeze.
Sour Apple – A burst of tangy apple flavoring, perfect for fans of tart vapes.
Bubble Gum – Indulge your inner child with nostalgic bubble gum flavor. Sweet and fun.
Cola Ice – Delivers fizzy cola taste with a twist of cool menthol. Unique beverage-inspired option.
Cotton Candy – Just like the whimsical carnival treat, you'll love the sweet candy floss flavor.
With its diverse flavor portfolio, the Meloso caters to vapers of all types. The premium e-liquids ensure an exceptional taste experience with every puff.
Evaluating the Real-World Performance
Beyond nailing the flavors, the Meloso series also impresses with its sheer functionality:
Batteries last at least as long as the advertised puff counts, even when I put them through intense vaping. No unexpected shutdowns.
Draw-activated firing eliminates buttons and settings entirely. Just inhale and enjoy.
Mouthpieces provide a smooth draw that directs vapor comfortably. No gurgling, leaking, or other issues.
Compact, lightweight designs effortlessly slip into pockets and purses for true portability. These are vapes you'll want to show off.
Flavor quality and vapor production remain excellent right up until the e-liquid runs dry. No degradation or burnt hits.
With thoughtful engineering, high-end materials, and an intuitive user experience, the Meloso series retains the convenience of disposables without the typical compromises.
Who the Meloso Disposables Suit
Given their elevated engineering, Meloso disposables appeal to particular vapers:
Those wanting maximum runtime from a disposable
Vapers who value expansive flavor options
Fans of authentic fruit and drink flavors
Users needing a simple device with draw activation
Adult smokers seeking a satisfying nicotine alternative
With abundant capacity and truly dialed-in flavors, the Meloso series warrants consideration among disposable connoisseurs.
Possible Drawbacks to Consider
Large sizes compromise discreet portability
Disposable format still creates plastic waste
Higher strength nicotine salts may overwhelm some
Lacks the full customization of advanced setups
Flavors limited to fruits, drinks, teas, tobaccos
Meloso Series – Frequently Asked Questions
Here are answers to some common questions about the Geekbar Meloso disposables:
Q: How long does a Meloso device last?
A: The Meloso provides around 400 puffs. The Meloso Max lasts for 9,000 puffs. The Meloso Pro lasts for 4,000 puffs.
Q: Can you refill the Meloso vapes?
A: No, the Meloso series devices are all disposable and non-refillable.
Q: What's the difference between the Meloso, Meloso Max and Meloso Pro?
A: The Meloso Max has a larger battery, e-liquid capacity, and higher nicotine strength compared to the basic Meloso. The Meloso Pro has the most advanced features like rechargeable battery and premium coils.
Q: Do the Meloso vapes have adjustable power?
A: No, the Meloso series features automatic draw-activation only without adjustable power or temperature control.
The Verdict: A Top Disposable Vape Series
Geekbar hits a home run with the Meloso disposable vape series. The range of flavors, easy usage, and performance capabilities cater to vapers of all levels.
From the standard Meloso to the marathon battery Meloso Max and advanced Meloso Pro, there's an ideal option for every vaping preference.
For flavor chasers and cloud makers alike, the Meloso series deserves a spot on your disposable vape wishlist. Pick up a device and enjoy the ultimate disposable vaping experience.
https://ecigator.com/wp-content/uploads/2023/10/1697349098-Geekbar-Meloso-Series-Review.jpg
650
1200
Ecigator
https://ecigator.com/wp-content/uploads/2023/04/ecigator-logo-white.png
Ecigator
2023-10-15 05:52:17
2023-10-15 05:58:40
Geekbar Meloso Series Review: Flavors and Performance