Nasty Bar Disposable Vape Review – 16 Flavors Tested

With their signature bold branding and extensive variety of profiles, Nasty aims to make a splash in the disposable vape space with their new Nasty Bar range. We conducted rigorous hands-on testing of all 16 flavors to provide the most comprehensive review possible.
An Introduction to Nasty Disposable Vapes
As one of the most recognizable names in vaping, Nasty brings considerable industry experience to the table. They've taken that expertise and channeled it into the Nasty Bar, their proprietary disposable vape line.
Like all disposables, Nasty Bars offer grab-and-go convenience – just remove from packaging and start puffing. No refilling, recharging, or maintenance required.
Each Nasty Bar houses 2ml of nicotine salt e-liquid for smooth delivery, evenly mixed at 50PG/50VG. The 20mg nic strength provides satisfaction without harshness.
A 500mAh battery aims to deliver around 600 puffs before depletion. And the LED indicator lights up during firing, flashing when the battery runs low so you know it's nearly spent.
While the hardware proves straightforward, Nasty brings innovation through their expansive flavor range. A whopping 16 options promise something for everyone.
Our task was to extensively test each Nasty Bar flavor profile and accurately convey its taste. Does the variety deliver on quality and accuracy? Let's dive in and see how they fare.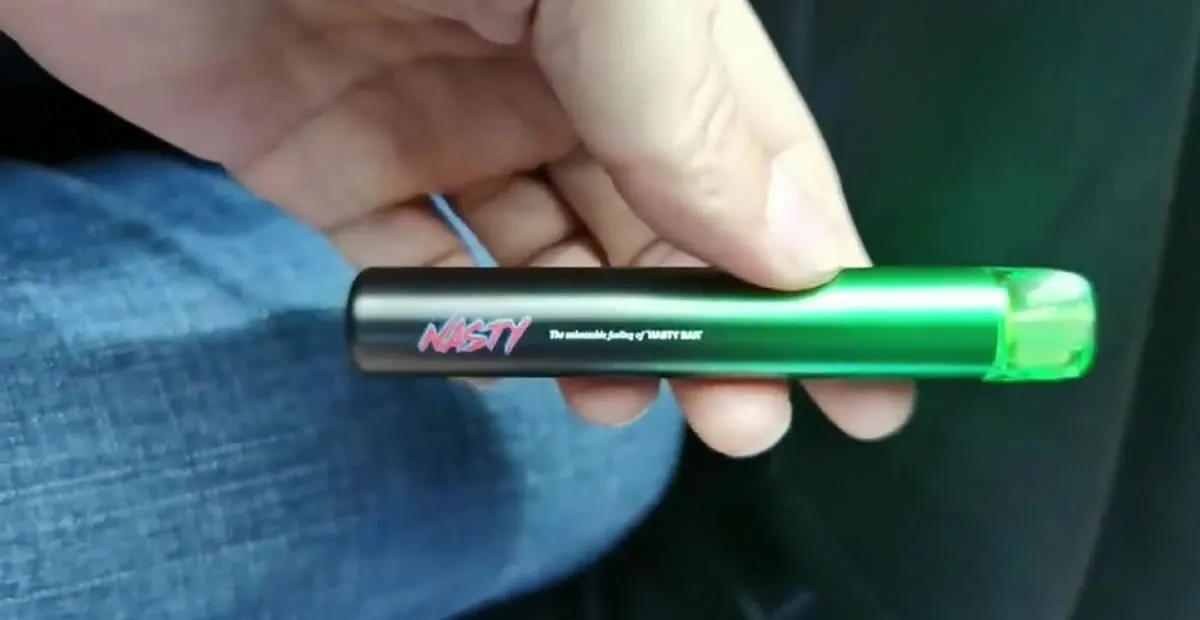 Specification
Delivers up to 600 puffs
Pre-filled 2ml e-liquid capacity
50VG/50PG mix ratio
Comes in 20mg nicotine salt strength
No buttons needed, simply pick up and puff
Mouth To Lung (MTL) draw
1.3ohm mesh coil
500mAh battery capacity
16 flavours available
LED light indicator
Build Quality and Performance
Before tasting the flavors, we made note of the Nasty Bar's construction and vapor quality. These disposables feel sturdily built, with a metal top section and plastic lower chassis.
The cylindrical shape fits nicely in hand, avoiding rolling when set down. Size remains pocket-friendly for portability. And the mouthpiece provides a secure grip.
During our multi-week testing process, we encountered no issues with leaking, spitting, or defects straight out of the sealed packaging. Quality control seems up to par.
The draw provides a consistent medium-tightness MTL inhale, nicely suited to the compact size. Vapor output is as expected for a lower-power disposable device.
Overall, the hardware performs reliably over the full 600 puff lifespan. With quality and draw addressed, we shifted focus to the flavors.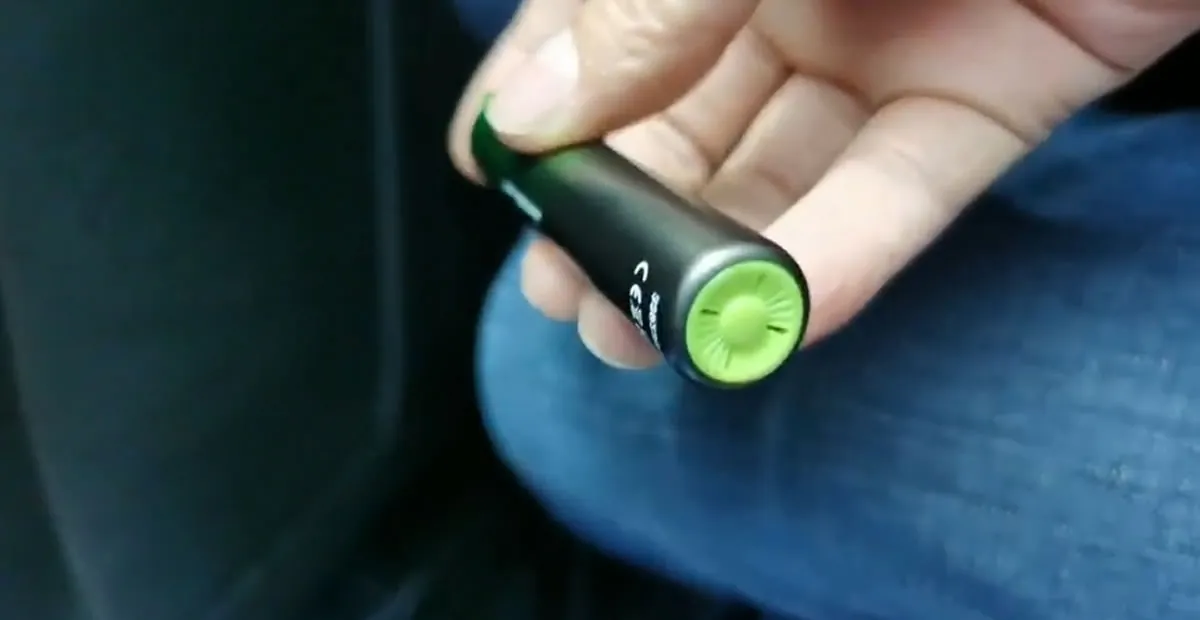 All 16 Nasty Bar Flavors Tested
With 16 diverse options, the Nasty Bar flavors span classic fruit and mint profiles along with unique concepts like mineral water. We broke down each flavor's taste and overall impressions below:
Watermelon Ice
The juicy watermelon flavor tastes fresh and authentic, like biting into slices of ripe melon on a hot summer day. It captures that slightly sweet and Crisp watermelon essence without any unpleasant artificial medicinal notes sometimes found in cheap watermelon vapes. Cooling is present but very smooth and mild. It rounds out the prominent melon without becoming overwhelming.
Mango Peach Pineapple
Mango and juicy peach are most noticeable in this tropical blend, delivering a sweet yet refreshing duo. The mango adds a slightly tart edge while the peach provides a creamy, nectarous element. Pineapple plays a subtle supporting role, adding faint fruity nuance in the background. The profile avoids becoming cloying or perfumey. Well-balanced sweetness makes it satisfying.
Strawberry Raspberry Cherry
As described, tangy strawberry and cherry take the lead here with the sweetness expected from each. They taste fresh, avoiding any candy-like synthetic quality. Tart cherry becomes most noticeable on the exhale. Raspberry contributes more subtly in the background, adding a jammy sweetness that rounds things out. This fruity trio creates brightness without heavy candy-like sweetness. Cooling is minimal, allowing the dynamic fruit interplay to shine.
Menthol
This proves less intense than some ultra-frosty menthol vapes that feel like inhaling icicles. Instead, the Nasty Bar Cool Mint delivers rounded, smoother mintiness without overwhelming intensity. It has a coolness that stops short of being icy and numbing. The mint essence proves laid back while still providing a cooling effect, making for an easy puffing menthol option compared to extremely potent chill profiles.
Blue Raspberry Lemonade
Immediately the sweet/tart raspberry flavor pops, tasting like fresh raspberries just short of the cloying candy-like taste some raspberry vapes take on. Zesty lemonade notes add crispness, creating a sweet and sour medley. Cooling is present but restrained enough to avoid dominating the nuanced fruits and citrus interplay. This profiles closely like a chilled raspberry lemonade drink. A highly refreshing and delicious flavor balance.
Lemon Lime
As hoped, this accurately evokes the zesty bite of lemon and lime, closely replicating the nostalgic fizzy soda flavor. The tangy citrus duo tastes crisp and refreshing, with spot-on sweetness to balance the sourness. Cooling contributes to a quenching chilled soda effect. Avoiding harsh sourness, this classic flavor combo satisfies with the ideal sweet yet tart lemon lime balance.
Pink Lemonade
Unlike some candy-fied versions overloaded with sweetness, Nasty's pink lemonade captures the natural tartness of cranberries and lemonade in the true proportion. The cranberry proves appropriately lip-puckering before sweet lemonade washes over with relief. These components meld wonderfully for a quenching, nuanced profile. Cool and vibrant without crossing into candy territory.
Mineral Water
This attempts to replicate plain mineral water, which seems like a dubious flavor for a vape. The end result tastes more akin to slightly sweetened mineral water, with detectable sweetener and cooling providing most of the flavor. While interesting in theory, the accuracy is questionable here. The uniqueness didn't work for our preferences but may appeal to some.
Gummy Bear
The promise of nostalgic gummy bear flavor drew me in, but the overwhelming sweetness without much nuance disappointed. Rather than picking out identifiable candy flavors, it ends up a sugary blast of indistinct fruitiness. It may satisfy hardcore candy fans with serious sweet tooths but ultimately lacks the balance and flavor clarity I seek. Too much of an ambiguous sweet mashup.
Fizzy Cherry
This cherry cola flavor nicely balances the sweet creaminess of cola against tart cherry notes, closely replicating a fizzy cherry soda candy flavor. Cooling contributes to the carbonated soda effect. There's definitely cherry and cola distinction. And the right amount of sweetness gives this profile a fun throwback charm without going overboard. If you enjoy cherry cola candy or soda, this flavor nails that fizzy cherry experience.
Blueberry Sour Raspberry
Neither the blueberry or raspberry are overpowering here. The flavors intermingle for mellow, not overly sweet or candy-like fruitiness. The blueberry contributes a subtle tart edge while the raspberry adds sweet jammy depth. Cooling helps keep the profile smooth rather than sugary. Very pleasant as an all day semi-sweet fruit vape option. Well-executed balance.
Cherry Ice
The straightforward cherry flavor tastes pleasant and natural, with enough sweetness to satisfy. It delivers familiar cherry candy essence without crossing into medicinal territory. Menthol provides a crisp chill that cuts any candy-like overtones for balance. Uncomplicated but delicious, this combination works well as an anytime fruit and cooling vape.
Pineapple Ice
Sadly the flavor here doesn't accurately capture pineapple's bright essence. There's a baffling harsh sourness coupled with powerful sweetness that misses the mark. It lacks any bright, tropical fruit nuance while coating your mouth in a sweet then sour assault. Menthol coolness tries valiantly to redeem it but can't override the flaws. One of the less successful flavor attempts due to poor pineapple replication.
Apple Ice
This crisp green apple flavor immediately evokes biting into a fresh ripe apple. It captures the tartness of a green Granny Smith apple balanced by sweetness, coated in menthol chill. Avoiding any burnt or chemical flavors that sometimes plague vape apple profiles. The authentic crisp apple flavor shines, amplified by the cooling effect without going overboard. A spot-on delicious, juicy apple experience.
Watermelon Strawberry Bubblegum
This aims to combine three distinct flavor dimensions – unfortunately they don't all pull through equally. Primarily the watermelon flavor dominates. It tastes like fresh watermelon without candy sweetness. Subtle strawberry manifests on occasion. And the bubblegum proves imperceptible to me. Pleasant overall but not as multifaceted as described. The natural watermelon essence remains satisfying but this doesn't fully deliver on the blend promise.
Kiwi Passionfruit Guava
Guava rightfully takes center stage here, delivering a characteristic tropical sweetness. Supporting roles from kiwi and passionfruit ride alongside, providing background tropical fruit depth. The kiwi adds a subtle zesty bite while the passionfruit contributes mild flowery pear notes. There's a nice overall tanginess. The trio collaborates seamlessly to create a cohesive tropical flavor blend with mass appeal. Well-executed balance makes this an easily enjoyable exotic flavor mix of fruit favorites.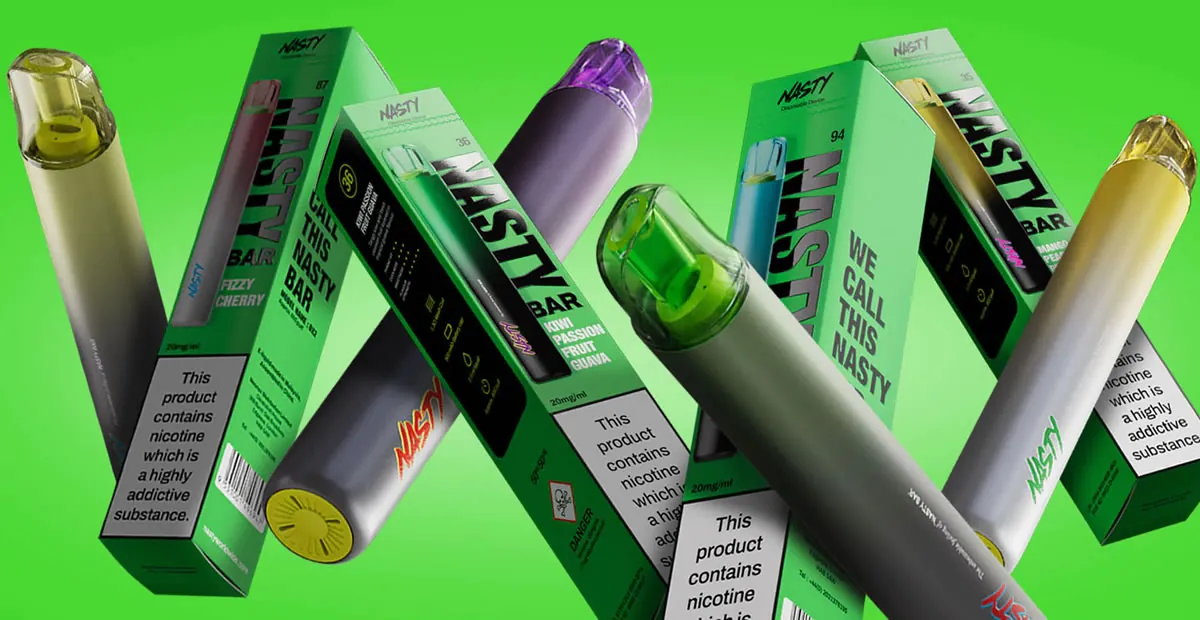 Battery and E-Liquid Longevity
The 500mAh Nasty Bar battery consistently lasted a full day of moderate use – around 400+ puffs on average. For lighter users, two days may be achievable.
This aligns well with the stated 600 puff rating. Chain vaping will burn through the battery quicker, but for average use it fits the bill.
The 2ml nic salt e-liquid reservoir lasted proportionally as long as the battery charge. And the LED accurately indicates firing and flashes when e-juice falls low.
No surprises here – the Nasty Bar battery and juice capacities meet expectations for a quality disposable in this class.
Final Verdict on Nasty Bar
Over several weeks and many packs of Nasty Bars, we came away impressed with the quality and diversity of this expansive disposable range.
The 16 flavor options skillfully avoid unpleasant chemical or artificial tastes that often plague budget disposable vapes. Most accurately replicate their intended profiles with realistic nuance.
Battery life reliably meets a moderate vaper's needs for on-the-go satisfaction. And flavors like Blue Raspberry Lemonade and Watermelon Ice prove downright delicious.
Few letdowns occurred – really only Pineapple Ice and Gummy Bear fell short due to inaccuracies. But with 16 choices, you can easily find multiple new go-to flavors.
For an easy yet customizable experience with each new purchase, Nasty Bar is hard to beat. We recommend sampling the range to discover your new all day vapes.
https://ecigator.com/wp-content/uploads/2023/11/1699816622-nasty-bar-review.jpg
675
1200
Ecigator
https://ecigator.com/wp-content/uploads/2023/04/ecigator-logo-white.png
Ecigator
2023-11-13 03:41:43
2023-11-13 03:41:43
Nasty Bar Disposable Vape Review – 16 Flavors Tested