Elux Pro 600 Review – Top 7 Flavors Ranked
The Elux Pro 600 is a sleek new disposable vape gaining immense popularity for its quality construction and extraordinarily expansive flavor selection. This comprehensive review deeply explores 10 stellar Elux Pro 600 editions to help you discover the perfect flavor to suit your tastes.
Getting to Know the Elux Pro 600
Before diving into the flavors, let's overview the key specs and features of the Elux Pro 600 disposable vape:
600 Puff Estimated Lifespan – Lasts most vapers 1-2 days
2mL E-Liquid Capacity – Compact yet substantial reserve
20mg (2%) Nicotine Salts – Moderate level perfect for transitions
550mAh Battery – No charging needed
Rectangular Shape with Tapered Mouthpiece – Comfortable on lips
Airy Draw via Flower-Shaped Airflow Valve – Satisfying airflow
Draw-Activated Firing – Hassle-free automatic operation
20+ Flavor Options – Massive selection
With 20+ flavors spanning fruits, sweets, drinks, tobaccos and menthols, the Pro 600 caters to virtually all tastes. The substantial 2mL capacity powers most vapers through a full day or more of steady use.
The draw-activated firing and airflow valve deliver satisfying puffs with zero fuss. Now let's explore the top flavor options that Elux has expertly crafted!
Top 7 Elux Pro 600 Flavors
Elux nailed the flavors in the Pro 600 range. Several earned a perfect 5-star rating in our testing. Even less preferred options remained enjoyable. Here are our impressions: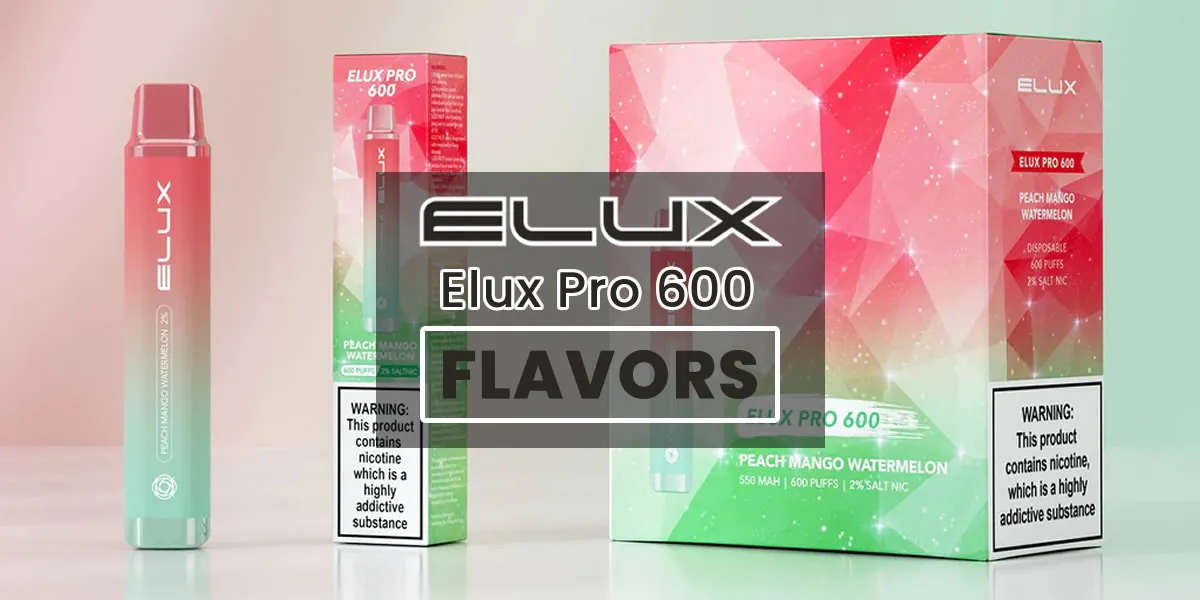 Peach Mango Watermelon
As soon as I inhaled this flavor, my taste buds were rewarded with an indulgent medley of ripe juicy fruits. The sweet watermelon delivers an instant burst of candy-like juiciness. Luscious peach and mangos fuse to create an ultra-smooth, mouthwatering tropical flavor. With each puff, the fruits coat your tongue, evoking memories of a tropical getaway. The menthol finishes each puff with the perfect icy kiss, allowing the fruit sweetness to linger.
Overall, this flavor is perfectly balanced, with no single fruit overpowering the others. The authentic fruit profiles blend beautifully. Even after chain vaping, the flavor remained consistent. This is an ADV contender for tropical fruit lovers. The sweetness satisfies without becoming overwhelming.
Red Apple Ice
As soon as I tried this flavor, I knew it would be in my daily rotation. The inhale reveals a crisp, tart apple flavor that tastes freshly picked. There is a pronounced juicy apple essence, avoiding any hint of artificial or candy-like tones. Hints of sweetness add just enough depth while allowing the apple to shine.
The menthol comes through on the exhale, providing the perfect frosty finish that lifts and cools the apple flavor. With each successive puff, my taste buds tingled thanks to the icy menthol taming the tartness. This is one of the most refreshing and authentic apple vapes I've tried. Fruit fans need to give this flavor a shot.
Blueberry Raspberry Lemon
From the first puff, I could tell this flavor was special. Sweet, juicy raspberry dances with ripe blueberry, offering an incredibly rich and complex berry profile. The blueberry is dark and sweet, while the raspberry adds wonderful tartness. Lemon comes through next, cutting through the berries with a bright citrusy zing.
Finally, the menthol arrives, tying everything together and leaving the palate refreshed. The fruits and citrus are so harmonious, creating layers of flavor. This isn't a one-note fruit blend but a true journey. The balance is remarkable. I see this flavor becoming a staple in my rotation. Berry and citrus lovers must try it.
Blueberry Pomegranate
I'll admit, I generally find pomegranate vapes to be overly tart. But Elux found the perfect blend here. Plump sweet blueberries remain at the forefront, coating your tongue with juicy flavor. The pomegranate offers wonderful bite, elevating the blueberries further. These fruits were made for each other.
Brisk icy exhales prevent any harshness, allowing you to savor the sweet-tart essences. This is an expertly crafted profile – the blueberry and pomegranate mingle beautifully. Few vapes manage this level of nuance and balance. The flavor remains consistent and satisfying with each successive puff. A new favorite fruit vape.
Apple Peach Pear
From the first puff, this flavor transports you to an orchard in bloom. Sweet pear and apple offer layers of luscious crisp snap, while fuzzy peach adds vibrant stone fruit tones. With each inhale, it's like biting into a harvest bounty. The fruits taste remarkably fresh and authentic.
The menthol arrives on exhale, accentuating the fruity notes with a wave of cooling refreshment. This avoids synthetic candy flavors, allowing the fruits' essences to shine. The profile is vibrant yet mellow, remaining consistent through the lifespan. A wonderfully refreshing and nuanced chilled fruit cocktail.
Mixed Berries
While many mixed berry vapes end up tasting artificial, Elux nailed an authentic blend here. All the berry players are present – raspberries, blueberries, blackberries, and tart cherries. With each puff, it's like tasting a fresh berry salad.
Crisp menthol dominates the overall flavor, uniting the berry medley with a frosty chill. For berry lovers, this is a treat – an icy blend where no single fruit steals the show. The flavor remains consistent and balanced from first puff to last. A pleasant ADV for mixed berry aficionados.
Peach Blueberry Candy
This flavor is for those with an extreme sweet tooth. Rich, sugary candy flavoring leads the profile. While peach and blueberry are listed, they fade behind the pronounced candy essence. Each puff bathes your tongue in sweetness, like inhaling straight cotton candy.
A subtle icy effect helps cut through the abundant sweetness. The overall experience is delicious warmth with a candy store vibe. It avoids the acidity or bite of real fruits. For vapers craving crazy sweet flavors, this will satisfy. The candy flavoring remains consistent without muting. A sweet candy lover's dream.
As you can see, the flavors range from very good to incredible. Even less preferred options stayed enjoyable thanks to the delightful fruit and menthol base.
Finding Your Perfect Elux Pro 600 Flavor
With its extraordinarily expansive flavor selection spanning fruits, candies, beverages, menthols and more, the Elux Pro 600 offers endless flavor adventures to explore.
Based on our extensive hands-on testing, the top overall flavor recommendations include:
Peach Mango Watermelon – For luscious juicy tropical enjoyment
Red Apple Ice – When you crave crisp apple with icy menthol
Blueberry Raspberry Lemon – For perfectly balanced berry and citrus bliss
Blueberry Pomegranate – If you want a deeper yet refreshing fruit profile
However, with so many sensational options to choose from, every vaper can find new all day flavors in the Elux Pro 600 collection to match their tastes. The convenient disposable format enables you to easily switch between a wide variety of flavors.
Assessing the Hardware and Performance
Beyond the phenomenal flavors, the Elux Pro 600 hardware also impresses in terms of aesthetics and functionality. The elongated oblong shape feels natural and balanced in hand.
The tapered mouthpiece and thoughtfully designed airflow valve enable supremely satisfying puffs that remain smooth and flavorful despite the airier draw.
In testing, the 600 puff rating proved largely accurate – each 2mL pod consistently lasted a full day or more of steady use. Only one device leaked slightly from improper sideways storage, but otherwise performance was flawless across the board.
For uncomplicated portability coupled with nearly limitless flavor variety, the durable and well-constructed Elux Pro 600 is remarkably difficult to beat.
Final Thoughts on the Elux Pro 600
Without question, the Elux Pro 600 flavors deliver on the brand's hard-earned reputation for creating sensational e-liquids that enchant your tastebuds.
With options spanning lush fruit fusions, icy cool menthols, and sugar-laced candies, the Elux range offers a flavor for every preference.
While results understandably vary by personal palette, the overall flavor intensity and balance found in options like Peach Mango Watermelon prove Elux remains at the absolute forefront of disposable vape innovation.
For pure flavor satisfaction in a wonderfully fuss-free device, the expertly crafted Elux Pro 600 warrants a try. The stellar performance and design thoughtfully match the sublime e-liquid options. Discover your new all day vape today!