Icewave B600 Disposable Vape Review – Striking Style Meets Refreshing Flavors

The Icewave B600 is a compact yet visually striking disposable vape that delivers satisfying flavor and an impressive 600 puffs from its petite frame.This Icewave disposable stands out with its faceted, gemstone-inspired design while also impressing with its bold fruit flavors and reliable performance.
For vapers seeking a portable yet eye-catching disposable, the B600 is a solid choice. Read on for our full review.
Icewave B600 Review – The Bottom Line
The Icewave B600 disposable vape punches well above its petite weight. Its faceted gemstone-inspired design is a breath of fresh air in a sea of samey disposables.
More importantly, it delivers bold, consistent flavor from its first to last puff thanks to the upgraded 1.2Ω mesh coil inside. With 20mg nic salts, it provides a satisfying throat hit to match the rich fruity flavors. For only 2ml of juice, it supplies an impressive 600 satisfying puffs.
While adjustable airflow would be a nice addition, overall the B600 offers an excellent compact disposable vape experience.
Key Specs
Size: 33.9 x 19.5 x 86.2 mm
Capacity: 2ml
Nicotine Strength: 20mg
Battery: Unknown
Coil Resistance: 1.2Ω
Puffs: 600
Airflow: Fixed MTL
Activation: Auto Draw
Charging: Non-Rechargeable
Striking Faceted Design Stands Out
One glance at the Icewave B600 and you can see why it's called the 'gemstone' disposable.
Its transparent shell encases a dazzling, multi-faceted inner layer reminiscent of a precious gemstone. This inner layer appears to shimmer and shine when it catches the light.
The angular hexagonal pattern contrasts nicely against the smooth curved edges of the outer shell. It definitely gives the B600 an eye-catching style not often seen in disposables.
Adding to the geometric look are ridged lines indented along the sides, perfectly matching up with the inner faceted pattern.
Everything from the slick tapering mouthpiece to the curved edges seem ergonomically designed to fit snugly in your hand.
While the bold 'ICEWAVE' logo emblazoned across the front is anything but subtle, it does suit the flashy styling.
The only downside to the transparent shell and bright colors could be the youthful appeal. However, this will likely come down to personal taste.
Overall, the Icewave B600 stands out with its unique gemstone aesthetic. Those seeking an incognito or minimalist look should look elsewhere.
10 Refreshing Fruit Flavors With Minimal Cooling
The B600 comes in a total of 10 fruity flavors, most of which are vibrant fruit medleys with very little added ice effect.
This makes nearly all flavors potential all-day vapes depending on your preferences. Even the solitary menthol option isn't overpowering.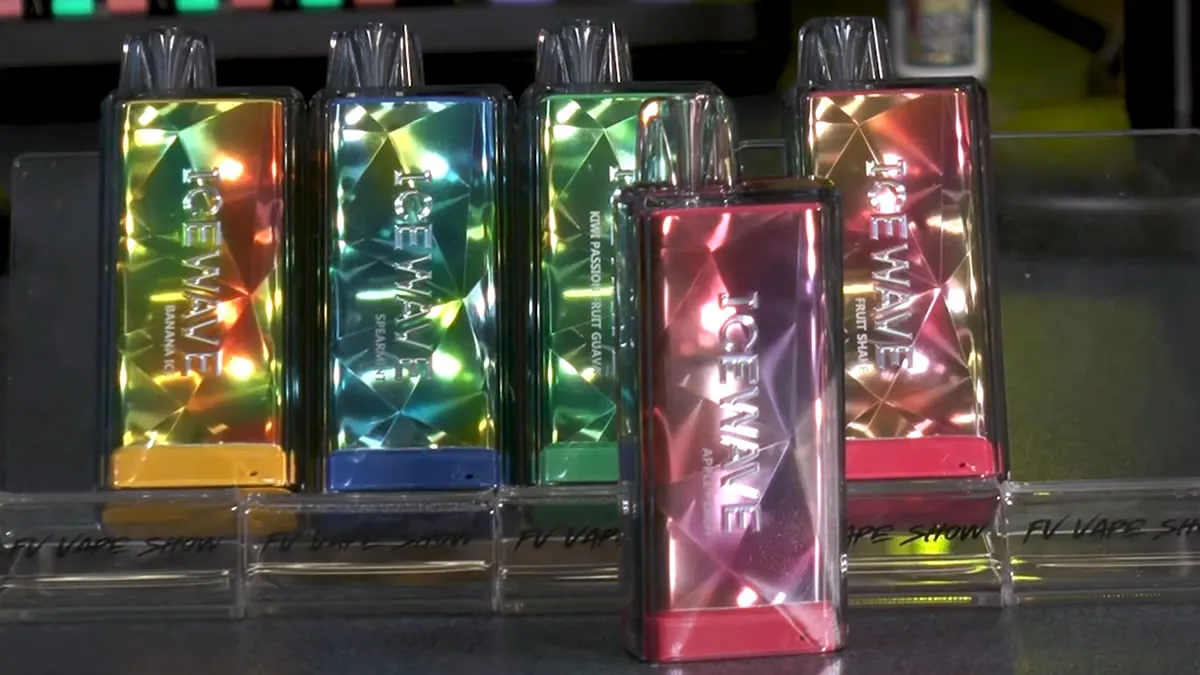 Here's a closer look at the range:
Blueberry Raspberry – This flavor perfectly balances the sweet, jam-like taste of ripe blueberries with the tangy tartness of fresh raspberries. Each puff delivers an explosion of mixed berry flavor, starting with the rich blueberry notes that transition into the brighter raspberry on the exhale. There's a nice complexity and evolution to the flavor. The blueberry brings a deep sweetness while the raspberry provides a zingy counterpoint. It's a highly accurate blend of two quintessential berries.
Spearmint – Cool, icy, and refreshing, this bold spearmint flavor is reminiscent of chewing strong spearmint gum. Every puff floods your mouth with a crisp, minty taste that finishes with a chilling menthol exhale. Of the range, it provides the strongest cooling sensation and throat hit. The authentic spearmint flavor has an invigorating freshness that lingers on the tongue. It's an excellent flavor for menthol lovers who want an extra frosty experience.
Grapefruit Berries – The bright, citrusy zing of pink grapefruit is accented by a mix of sweet strawberry, blueberry, and raspberry flavors. It starts with a sweet inhale of mixed berries that leads into the tart grapefruit notes on the exhale. The contrast between the sweet berries upfront and grapefruit on the tail end makes each puff an evolving flavor experience. It's a unique twist on typical berry and citrus blends.
Berry Cherry Ice – This flavor brings together the sweet, ripe taste of summer cherries and a cooling blend of mixed berries like blueberry and raspberry. Each puff delivers a juicy cherry flavor upfront that transitions into chilled, frosty berry notes on the exhale. It's a unique twist on typical berry and cherry vapes.
Fruit Shake – This vibrant tropical blend evokes a creamy, fruity smoothie flavor. It layers sweet mango and pineapple with hints of orange and banana. Every puff provides a lush tropical medley that's tangy, creamy, and highly refreshing. It's one of the most complex, evolving fruit mixes.
Watermelon – This flavor captures the quintessential juicy sweetness of watermelon candy. Each puff bursts with an intense, mouthwatering watermelon candy flavor reminiscent of Watermelon Jolly Ranchers. It will appeal most to hardcore fans of watermelon candy flavors.
Banana Ice – This intriguing flavor pairs cooling menthol with sweet, ripe banana. It offers a frosty menthol inhale that transitions into a mellow, creamy banana flavor on the exhale. The banana profile dances between candy and natural for a complex and satisfying vape.
Kiwi Passion Fruit Guava – A vibrant tropical medley of tart kiwi, tangy passionfruit, and sweet guava. Each puff is an explosion of lush fruit flavors with lots of evolving complexity. It provides one of the most accurate and refreshing kiwi passion fruit guava vapes out there.
Apple Peach – This fruit duo blends freshly picked peaches with bright apple juice. Every puff starts with juicy, authentic peach flavor on the inhale before transitioning into crisp, slightly tart apple notes on the exhale. A highly accurate and extremely juicy fruit pairing.
Pineapple Ice – Refreshingly cool menthol meets the sweet juiciness of pineapple in this icy tropical vape. It delivers a blast of frosty menthol upfront, followed by candied pineapple flavors that linger sweetly on the exhale. A nice balance of menthol and fruit.
According to Max Peterson, VP of Product at Icewave, the range leaves little to be desired with authentic flavors optimized for an all-day vape. The B600 focuses on nuanced fruit renditions that remain consistent throughout each device.
Smooth Performance & Handy Battery Gauge
Considering its petite 2ml size, the performance of the Icewave B600 is impressive.
The upgraded 1.2Ω mesh coil delivers outstanding flavor consistency from first to last puff. The tight MTL draw provides a satisfying nic hit from the 20mg nic salts.
The vapor production matches what you would expect from a compact disposable like this. However, the focus is on flavor delivery rather than big clouds.
My only gripe is the lack of airflow adjustability, as the draw sits on the tighter end. Slightly more airflow would allow for a warmer, airier vape.
On the plus side, the battery life reliably aligned with the advertised 600 puffs across testing. Having an LED gauge to track remaining battery is a handy feature for a disposable.
The 3-stage LED transitions clearly from green to blue to red. However, the tiny LED size makes quickly checking it a challenge. A slightly larger LED would be preferable.
The auto-draw function worked flawlessly throughout my experience. Also notable is the lack of any bothersome condensation around the mouthpiece.
Overall, it's impressive how consistent the vape quality and flavor remains from first puff to last.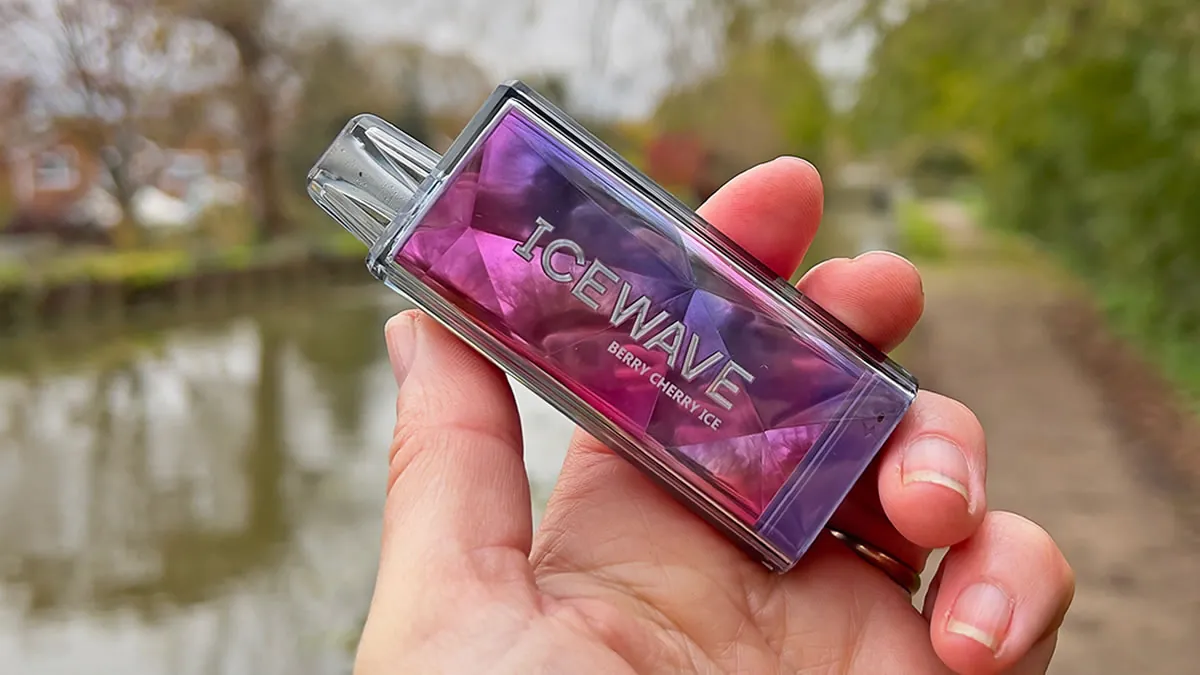 Final Thoughts
For its tiny 2ml capacity, the Icewave B600 disposable delivers outstanding performance.
The bold fruity flavors taste fantastic from the first vape thanks to the internal 1.2Ω mesh coil. Having 20mg nic salts provides a nice throat hit as well.
While adjustable airflow would be ideal, the draw is smooth and consistent. Seeing 600 puffs per device is impressive for a disposable this size.
Where the B600 truly stands out is its unique gemstone aesthetic. The faceted inner layer and sleek curved shell make it unlike any other disposable out there.
If you want satisfying vaping wrapped up in a stylish, eye-catching package, the Icewave B600 is a diamond in the rough.
https://ecigator.com/wp-content/uploads/2023/11/1700123240-Icewave-B600-disposable-vape-review.jpg
675
1200
Ecigator
https://ecigator.com/wp-content/uploads/2023/04/ecigator-logo-white.png
Ecigator
2023-11-16 08:52:06
2023-11-16 08:52:23
Icewave B600 Disposable Vape Review – Striking Style Meets Refreshing Flavors