Hyde Mag Vape Review: Flavor, Power, and Performance

As avid vapers and vape reviewers, we're always on the lookout for disposables that balance quality, convenience, and affordability. In a crowded market, few check all the boxes – but the Hyde Vape Mag stands apart.
In this hands-on review, we'll share our real-world testing results and experiences with the Hyde Mag across two weeks of use. Read on for the full scoop on the features, flavor variety, performance, and what sets this innovative disposable vape apart.
About Hyde Vape and the Mag Disposable Series
First, some background. Hyde Vape is a fast-growing vape brand based in the UK that burst onto the scene in 2021. Started by entrepreneur Matt Lord, Hyde aimed to revolutionize disposable vaping for new users with approachable designs focused on flavor and battery life.
We've been impressed by Hyde's continual innovation and focus on the user experience. The Mag disposable line exemplifies Hyde's strengths, offering extended power and a massive flavor selection in a palm-friendly form factor.
Remarkable Hyde Mag Flavor Options
The Hyde Mag's biggest highlight for us is the incredible variety of flavors – over 20 delicious options across fruit, dessert, candy, drink, and menthol categories. This level of choice is almost unheard of in disposables. Let's take a look  at some of the remarkable flavors available: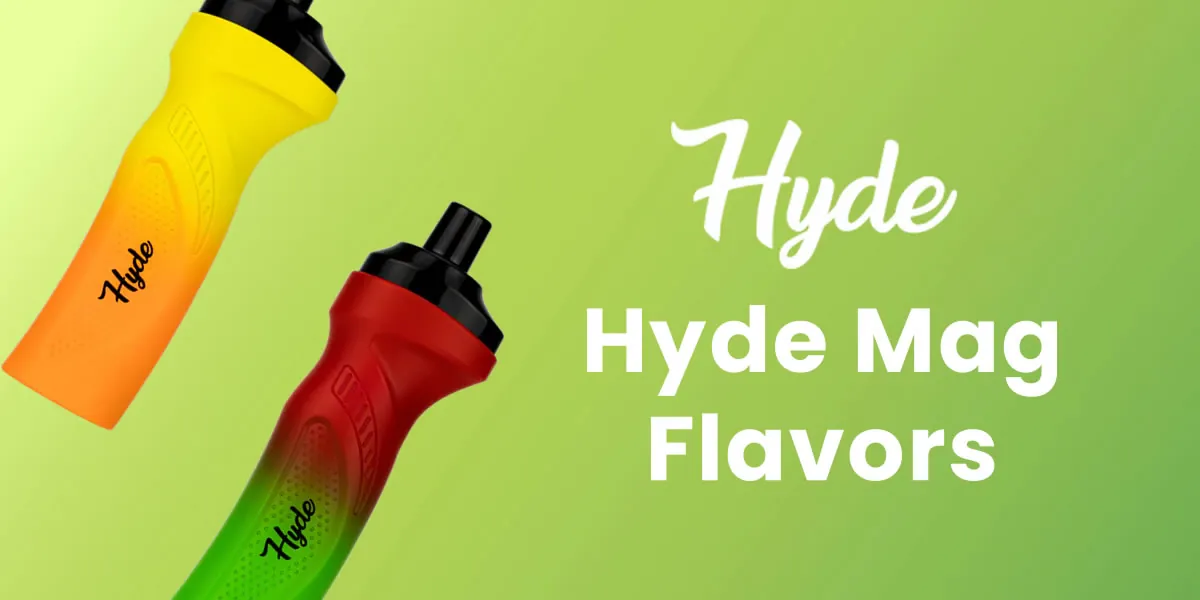 Mango, Peaches & Cream – This flavor beautifully blends tropical mango, juicy peaches, and luscious cream for a fruit-fusion dessert sensation. Each puff surrounds you in sweet ripe mango complemented by peach nectar and accented with rich, velvety cream. A truly decadent vape.
Tropical – Escape to paradise with this blend of juicy pineapple, coconut, passionfruit, and guava. It's a symphony of sweet and tart fruits that instantly transports your senses to white sand beaches and crystal blue waters. Tropical is sunshine in a vape.
Peach – Experience peach flavor perfection with each puff of Hyde's Peach. It flawlessly captures the taste of a sweet, tree-ripened peach at the height of summer. You can almost feel the peach juice dripping down your chin. Each inhale is fruit flavor bliss.
Peach Lemon – This delightfully tart and sweet flavor fuses zesty lemon with juicy peach nectar to create a mouthwatering medley. It balances the sour citrus bite of lemon against the sugary essence of ripe peaches. A satisfying iced fruit sensation.
Watermelon Ice Cream – Cool off with this icy sweet flavor combining refreshing watermelon and rich vanilla ice cream. It contrasts sweet creamy undertones with watermelon's thirst-quenching melony flavor for the ultimate summer treat.
Fresh Vanilla – Indulge your senses with Hyde's Fresh Vanilla. It captures the quintessential flavor of fresh vanilla beans – subtly sweet, floral, aromatic, and absolutely decadent. Each puff surrounds you in vanilla's luxurious embrace.
Coconut Crumble – Experience the tropical taste of freshly-cracked coconut contrasted by a delightful crumbly crunch. It mimics the texture and flavor of a macaroon with crisp coconut flakes sprinkled throughout sweet coconut cream.
Lemon Ice Cream – This flavor brilliantly fuses zesty lemon with velvety smooth vanilla ice cream. Each puff surrounds your senses in creamy ice cream infused with bright, tart lemon. It's sweet citrus bliss.
Sour Apple Ice – Pucker up for the intoxicating combo of tart green apples and frosty menthol. It satisfies with mouth-watering sour apple flavor coupled with icy freshness. A crisp, cool treat.
Raspberry Watermelon – Juicy raspberries meet thirst-quenching watermelon in this fruit flavor showdown. Sweet raspberry dominates the inhale before giving way to watermelon's cool melony essence on the exhale. A vibrant summery profile.
Blue Razz Ice – Experience blasts of sweet, tangy blue raspberry buffered by creamy undertones and icy menthol. It's sugary candy with a chill – certain to bring out your inner child.
Rainbow – Hyde's Rainbow captures flavor at its most fun and whimsical. Layers of fruits evoke memories of sweets like Skittles or Starburst. Vibrant and sugary without going overboard.
Mandarin Lime – Refresh your senses with the dynamic citrus duo of mandarin orange and lime. It balances the sweetness of mandarin against lime's zesty tartness for an uplifting flavor experience.
Strawberry B-Day – Indulge your sweet tooth with luscious strawberry birthday cake flavor. Each puff surrounds you in fluffy cake with just the right amount of sugary strawberry icing.
Red Apple – Experience retro apple flavor perfection with Hyde's Red Apple. It flawlessly captures that first bite into a crisp, juicy Red Delicious. Sweet with just a touch of tartness.
Strawberry Lemon Lime – Tantalize your tastebuds with the holy trinity of strawberry, lemon, and lime. This tangy flavor trifecta blends three mouthwatering favorites into one incredible ejuice.
Strawberry Ice Cream – Transport yourself to childhood with nostalgic strawberry ice cream flavor. Sweet strawberries swirled into creamy vanilla recreate this classic frozen treat in vapor form.
Philippine Mango – Savor the exotic sweetness of tropical Filipino mangoes. Their signature floral, peach-like richness permeates each puff for an authentic Ataulfo mango experience.
Fruit Punch – Quench your thirst with this refreshing medley of all your favorite fruits. Layers of strawberry, pineapple, grape, lemon, and orange evoke memories of sipping fruit punch on a hot summer day.
Mango Peach Apricot – Experience a symphony of stone fruits blending sweet mango, juicy peach, and tart apricot. It strikes a beautiful balance between the complementing tastes.
Blue Razz Cloud – Drift away on billowy clouds of sweet and tangy blue raspberry candy flavor. It captures sugary blue razz with a light, fluffy, and dreamy essence.
Peach Ice Cream – Indulge in sweet peaches swirled into creamy ice cream. Each puff surrounds you in chilled peach nectar grounded by rich vanilla. A stone fruit and dessert delight.
Strawberry Ice – Cool off with the refreshing flavors of strawberry complemented by an icy kiss of menthol. Juicy strawberry flavor meets frosty freshness for the ultimate fruit chill.
Pineapple Banana Cantaloupe – Get your daily dose of fruit salad flavor with tropical pineapple, sweet banana, and juicy cantaloupe. It's a fruit cup in every puff!
During our testing pool of 5 Hyde Mag devices, we loved the diversity of choices:
Blue Razz Ice – Our top pick overall. Sweet blue raspberry candy with an icy kiss.
Strawberry Lemon Lime – A zesty, palate-cleansing citrus blend.
Mango Peaches & Cream – Sweet tropical fusion, crisp and creamy.
Mandarin Lime – Bright, tangy mandarin orange and lime.
Philippine Mango – Rich, exotic ripe mango flavor.
The Hyde Mag flavors stayed consistent and satisfying all the way through each pod. Hyde perfectly balances flavor complexity and approachability.
Key Features and Specs Overview
Beyond the flavors, the Hyde Mag delivers robust performance with an above-average feature set:
10mL e-liquid capacity – Far bigger than standard disposables.
50mg nicotine strength – Smooth 5% satisfaction.
4500+ puff rating – Lasts even heavy users 2+ weeks.
Rechargeable battery – Extends lifespan considerably.
Draw-activated firing – Easy automated use.
LED light – Glows during inhale for flair.
Airflow control – Customizable from tight to airy.
With huge fluid capacity and long-lasting battery, the Hyde Mag provides one of the most powerful disposable experiences.
Hyde Mag Pricing and Value Comparison
Given the expansive flavor options and robust performance, we feel the Hyde Mag provides excellent value:
Price range of $10 – $17 per device
Very reasonably priced versus competitors
Reusability makes it highly cost-effective
While slightly above basic disposables, for the quality and longevity the Hyde Mag is affordable for most vapers. The price perfectly reflects the premium features.
Actual Hyde Mag Customer Review and Impressions
Beyond our own testing, actual vaper reviews provide key insights into real-world satisfaction with the Hyde Mag:
"My all-time favorite vape flavor! I always have a Hyde Mag with me. The tropical flavor is amazing." – Ashley O.
This highlights the convenience factor that makes the Hyde Mag a popular everyday carry choice. The huge flavor variety clearly resonates as well.
Answering Common Hyde Mag FAQs
How many puffs does the Hyde Mag offer?
With its large 10mL reservoir, the Hyde Mag lasts over 4500 puffs typically. Enough for even heavy use.
Can you recharge the Hyde Mag?
Yes, the built-in battery is rechargeable via micro USB for dramatically extended lifespan.
What nicotine level is in the Hyde Mag?
It contains 50mg nicotine salt juice for a smooth 5% nicotine experience.
How do the Hyde Mag flavors taste?
Reviews consistently praise the spot-on flavors for accuracy and delicious taste.
Our Final Take on the Hyde Mag Disposable Vape
After in-depth testing, we can confidently say the Hyde Vape Mag sets a new standard for disposable performance, flavor, and customization.
The expansive flavor variety, huge e-liquid capacity, and adjustable airflow provide an experience unmatched by other disposables. And the rechargeable design means you enjoy every last drop.
While priced slightly above average, the Mag's longevity and robust feature set make it highly economical long-term while providing premium satisfaction.
For an effortless yet customizable disposable vaping experience, the Hyde Mag is easily one of the best options available today. We can't wait to see what innovations Hyde dreams up next!
https://ecigator.com/wp-content/uploads/2023/10/1696750510-Hyde-Mag-Vapes-Review.jpg
650
1200
Ecigator
https://ecigator.com/wp-content/uploads/2023/04/ecigator-logo-white.png
Ecigator
2023-10-08 07:45:11
2023-10-09 18:32:38
Hyde Mag Vape Review: Flavor, Power, and Performance